Training with a "crunchy butt guarantee"
Climbing stairs as a workout? But yes! A stepper offers you an intensive endurance workout with which you can tighten your connective tissue, improve your endurance and effectively train the muscle groups in your legs and buttocks. A stepper is the ideal fitness equipment for beginners and quick training successes as well as for professionals with higher fitness goals. Keep fit at home with your own stepper, burn calories and look forward to a firm buttocks.
Buy Stepper
As a morning freshening kick to wake you up, or to power you out after a long day at the office. Just a few minutes of exercise on the stepper can have an enormous effect on our overall well-being. Your body can reduce stress through the sporting activity on the stepper and so you can also keep a clear head in the challenging situations of everyday life. Exercise is good for your body and soul, and with the right equipment you can get active from the comfort of your own home. So if you don't want to miss out on the necessary amount of exercise in your own four walls, you should definitely think about buying a stepper for your home.
The stepper is shipped to you free of charge. If you don't like your new stepper, you can return it to us within 14 days for a free refund.
Why should I buy a stepper?
A stepper is the perfect choice if you spend most of your day sitting in front of your laptop and often feel the need to loosen up your stiffened muscles. You can fit the stepper workout into your daily routine at your convenience and it saves you long trips to the gym. As soon as you feel the urge to move, you can start right away with your home trainer and do something good for your body on a regular basis. Whether it's during your lunch break at the home office or your evening marathon. A stepper is the perfect piece of sports equipment for getting closer to your fitness goals every day. And it's easy to do from the comfort of your own home!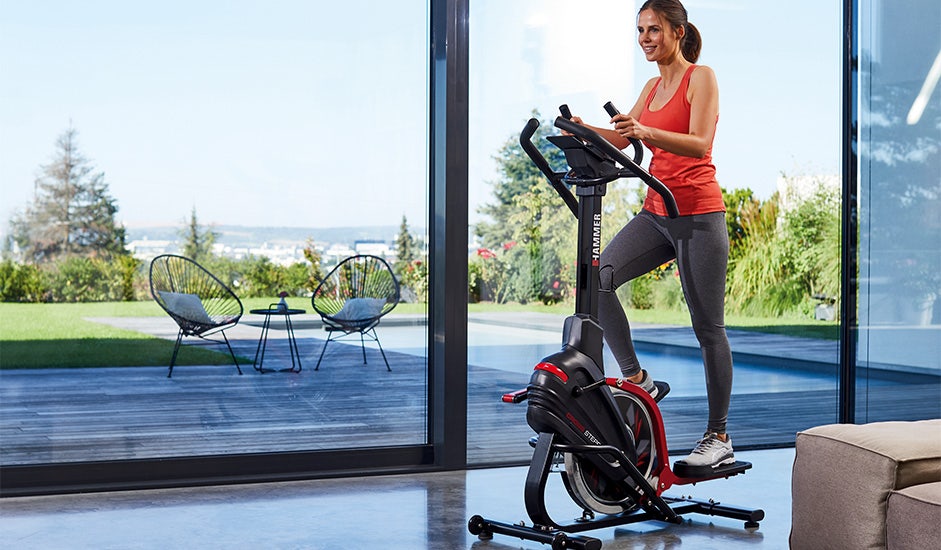 What do you train with a stepper?
With a fitness stepper you train in a so-called locked position. In this position, your arm muscles are not specifically involved in the movement. If you wish, you can also exercise your arms during the stepper exercises. If you feel confident that you can maintain the correct posture and balance on the treads, you can transform your workout into a full-body workout in no time at all by adding bicep curls, for example. With the additional movement you burn calories even more effectively. If you want to focus on a holistic workout including the upper body right from the start, a Rowing machine is the perfect alternative or supplement to your stepper. Perfect for combining your cardio and weight training preferences!
How does exercising with a stepper work?
A stepper, on the other hand, simulates the movement of climbing stairs. You place your feet on the treads on the left and right and use the power from your legs to move the foot pedals of the stepper alternately up and down. Climbing stairs with the stepper is particularly demanding on the muscles in your legs and buttocks and can strengthen the connective tissue if you train regularly. The gluteus maximus is the largest muscle we have. The movement of climbing stairs on the stepper trains your largest muscle and gets it in shape. On the one hand, this muscle provides stability in the thighs, but it also supports flexible movements such as hip extension or opening and closing the legs. A well-trained buttocks also takes a lot of pressure off your back!
Which muscles are trained with the stepper?
When you climb stairs, you mainly feel the muscles in your buttocks, thighs and legs. These are also the muscle groups that are very strongly trained when exercising with the stepper. The movement sequence on the stepper trains:
Buttocks
Thighs
Legs
Calves
With the stepper you train all muscle groups in the thighs, buttocks and calves. You also benefit from a flatter stomach with intensive training, as stepper fitness stimulates fat burning and the fat is burnt evenly throughout the body. In addition, a home stepper is the ideal machine to improve your endurance and increase your general fitness level. Regular training sessions with the stepper not only boost your calorie consumption, but also strengthen your cardiovascular system and promote optimal blood circulation in your legs.
How to use a stepper properly?
If you buy a stepper, you should be sure how to use it correctly before using it for the first time. We'll give you a brief and concise explanation of the movements and what you should look out for during your workouts on the stepper:
Movement sequence on the stepper
First, place your feet on the treads with the entire sole. This is followed by a natural sequence of movements as soon as you bend one leg after the other and the knees automatically move forward. At the same time, the heels alternately lift off the foot pedals. The balls of the feet should always be in contact with the treads. Step by step you move on the stepper as if you were walking.
Correct posture on the stepper
As with any exercise, it is important to maintain correct posture on the stepper. Keep your shoulders and upper body back and let your arms hang loosely beside your body. Keep your back straight and lean your upper body slightly forward. Keep tension in your abdominals and core throughout the workout and make sure that you push your knees out as you shift your weight to each leg and that they do not drop inwards in an x-leg fashion.
Short and effective warm-up before stepper training
In addition to the correct posture on the stepper, it is also important to prepare yourself for the actual workout with a short warm-up programme. Set the stepper to the lightest level (lowest resistance) and prepare your body for the upcoming workout with slow steps.
Length and number of training sessions
When training with the stepper, the following rule applies: endurance before intensity. In other words, before you increase the training intensity in terms of pedalling resistance or pedalling speed, you should first increase the training duration on the stepper. Try stepping on one level for at least 25 minutes. If you do not feel overly stressed, you can slowly increase step by step. For beginners we recommend 2-3 sessions per week. Fixed training sessions will help you stay disciplined and motivated. Through regular use you will immediately become a professional stepper and you can quickly expect visible results.
Our recommendation for beginners
Are you a beginner and want to see fast training results? The Cross Stepper can be an interesting and affordable stepper option for you. The mix of cross trainer and stepper ensures quick and effective training results. The movement of the HAMMER Cross Stepper activates the muscles in the thighs and buttocks and thus burns up to 700 calories per hour. Thanks to its light and compact design, the stepper is also very easy and quick to stow away.
Our recommendation for higher fitness goals
.

With the FINNLO by HAMMER Ellipsentrainer Fly RX you can train from 30 to 400 watts like on clouds. So it's also ideal for athletes with sports injuries who still need to keep the load low. With the 10 inch TFT touchscreen training computer, 21 training programmes can be selected quickly and easily with the stepper. Via WLAN, you can access pre-installed apps on the training computer such as iRoute, Kinomap, Chrome, YouTube, Netflix and Spotify and stream your favourite series or check the latest news on Facebook and Instagram during your workout.
What to look for when buying a stepper?
Stability and safety are the top priorities for our products. If you want to buy a stepper, you can be sure at HAMMER that non-slip tread plates and a stable construction provide a secure hold. Our stepper models with support bars or handrails also help you to keep your balance. Cardio steppers, mini steppers, power steppers - the choice on the fitness market is large. To help you keep track, here is an overview of the criteria you should consider when buying a stepper:
Size and weight of the exercise machine
Your fitness goals and the desired training resistance
Noise level during use
Possible extras such as AUX connection or Bluetooth connection
Integrated training programmes and training computer
Pulse measurement via hand pulse grips or chest strap
The more intensive the training, the more efficient the fat burning and muscle building. In contrast to slower training units, this requires sufficient resistance. For a targeted strengthening of the muscles and for lowering the body fat content, we recommend our steppers with built-in programmes including various interval workouts. If your focus is on fat loss, you can incorporate HIIT units into your stepper training. The higher load of these units not only increases calorie consumption, but also creates the necessary variety in the workout.
What are the benefits of stepper training?
Whether as a warm-up, additional cardio session or main workout - with a stepper you can customise your workouts and do them as often and as long as you like. Stormy weather or long journeys to the gym are no longer obstacles. Both beginners and professionals can improve their fitness level with a stepper from home and increase the intensity of their workout every time.
For better endurance, schedule a 20-40 minute session two to four times a week. These cardio sessions burn a lot of calories. In terms of actual calorie consumption, you can burn up to 800 calories per hour on a stepper. Of course, this is only a guideline. Factors such as weight and training intensity play a role in your individual consumption. The number of calories burned is therefore comparable to training on a cross trainer or rowing machine. In any case, a stepper at home is ideal for getting toned, strong legs and a firm butt.
Training with a stepper offers you the following advantages:
Can be used as a warm-up, cardio session or main workout
Suitable for beginners and advanced exercisers
Improves endurance
Burns calories and stimulates fat burning
Builds muscle in thighs, buttocks and legs
Shapes the body, especially the buttocks
For all newcomers who want to buy a fitness stepper, we advise not to overdo it for a start. Compared to a cross trainer, exercising with a stepper puts a lot of strain on your joints and intervertebral discs. In order for your joints to get used to the strain, you should start gently with the training device. If you feel pain in your knees or hips, you should consult a doctor and find out whether a stepper is really the right piece of sports equipment for you. If this is the case, you can find many more fitness machines in the HAMMER online shop or in your local store that can transform your home into a sporty oasis of well-being. If you are looking for an alternative that is easier on the joints, a Crosstrainer from HAMMER might be the right choice for you. These simulate the natural movement of walking and are the ideal equipment for a comprehensive full-body workout.
Test and buy a stepper
If you're still undecided about what stepper to buy, it's worth checking out our fitness equipment steppers in person at one of our HAMMER stores. Feel free to come by for a test stepping session and get detailed advice from one of our fitness experts. We will also be happy to assist you with our expertise over the phone. Whether it's a cross trainer, stepper or treadmill - we'll help you choose the right fitness equipment according to your wishes and requirements.
Give us a call: HAMMER expert phone: +49 731 974 88-518 (Mo - Sa 9am - 7pm). We'll be happy to call you back!