Kinomap
Zwift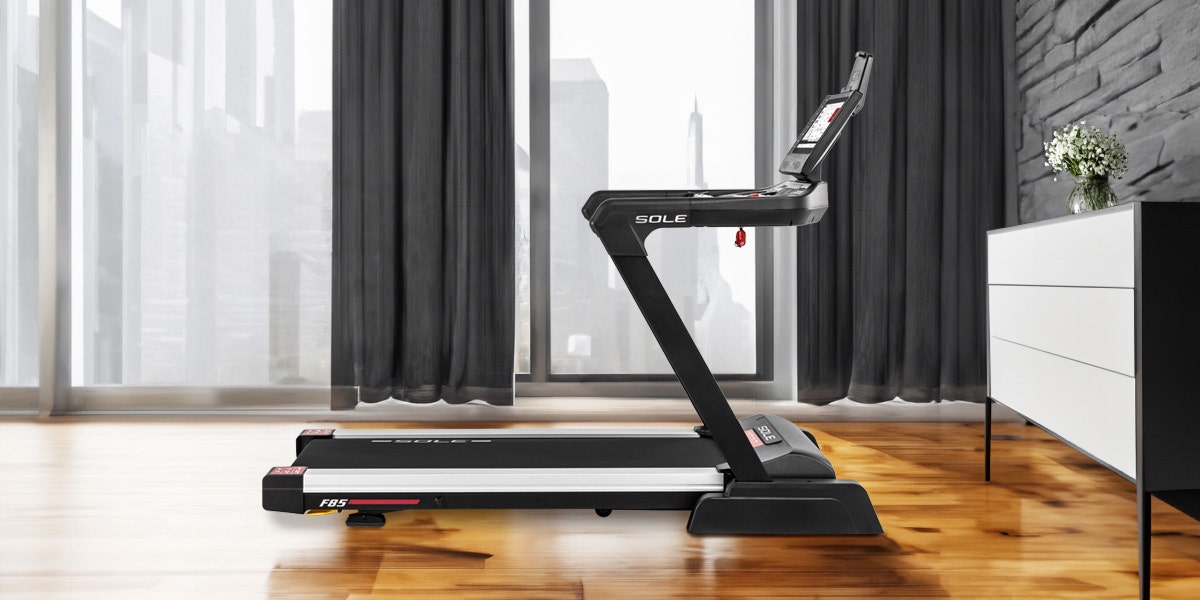 F85 - The ultimate running experience with XXL touchscreen and innovative Decline function
With an impressive 15.6" LCD touchscreen and many pre-installed apps, including YouTube and Netflix, the F85 offers a true multimedia experience. But that's not all! The treadmill also allows screen mirroring to give you multiple entertainment options. The F85 offers 12 different custom programmes, which guarantees flexibility and variety in your workouts.
Of course, the F85 is equipped with Wi-Fi connectivity. A redesigned console display, tablet holder, multiple cooling fans and wireless charging station make your workout more convenient and fun than ever before.
The top model in the folding series and SOLE's best-selling model, combines the best specifications of the F80 and shines with a new Z-shaped frame and a powerful 4.0 hp motor. The impressive 56 cm wide running surface offers maximum comfort and safety. Not only is a positive incline possible, as with ordinary treadmills, but also a negative incline. Choose incline levels from -6 to +15 for maximum variety and workout variation. The impressive maximum weight capacity of 180 kg provides optimal stability even for heavy users.
The F85 treadmill combines performance, entertainment and versatility in one. Get your dream treadmill for the ultimate running experience!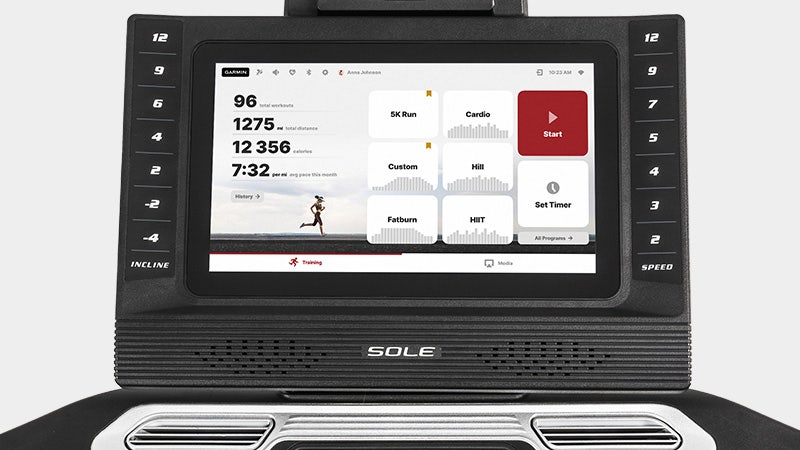 Impressive 15.6" LCD touch screen
The XXL display offers you a true multimedia experience with many pre-installed apps such as YouTube and Netflix. You can even use screen mirroring and customise workouts to your liking.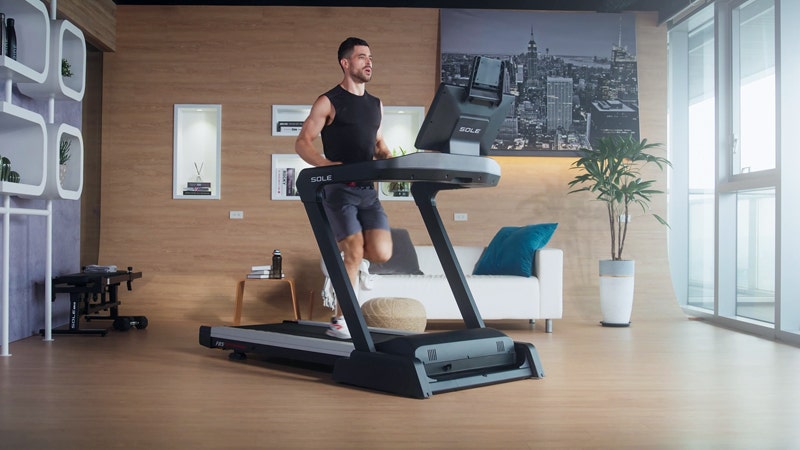 Check out all the features of the SOLE F85!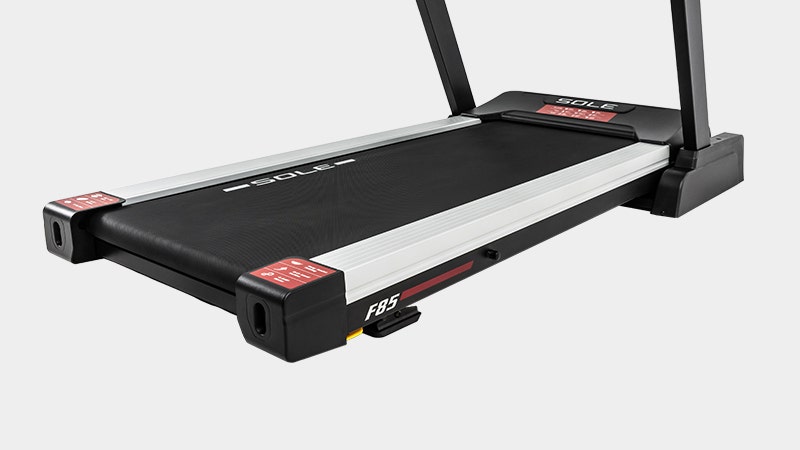 With a generous running surface of 156 x 56 cm, the F85 offers you maximum running freedom and additional safety during your workout.
Discover your favourite workout
With HAMMER Workouts we constantly offer you new and motivating courses with your treadmill. Work out together with our competent trainers and achieve your individual fitness goals in 10 to 50-minute workouts. No matter whether you use a smartphone, tablet or laptop, no additional subscription is required.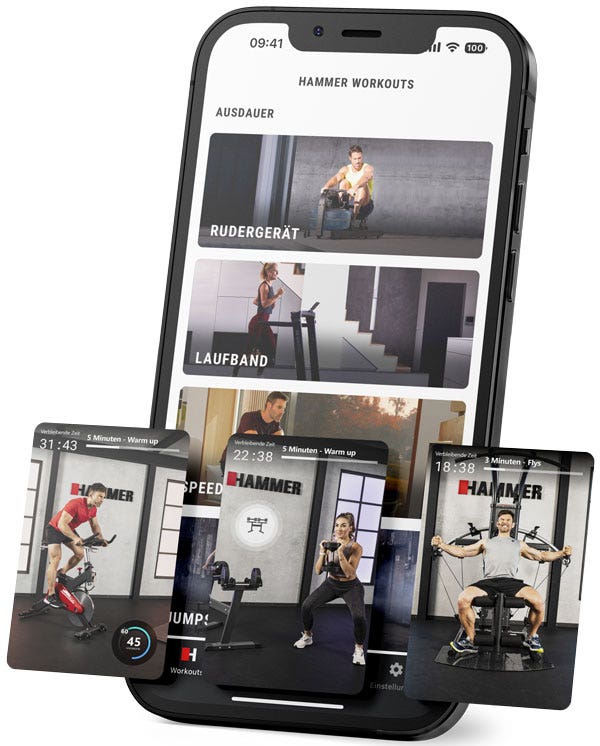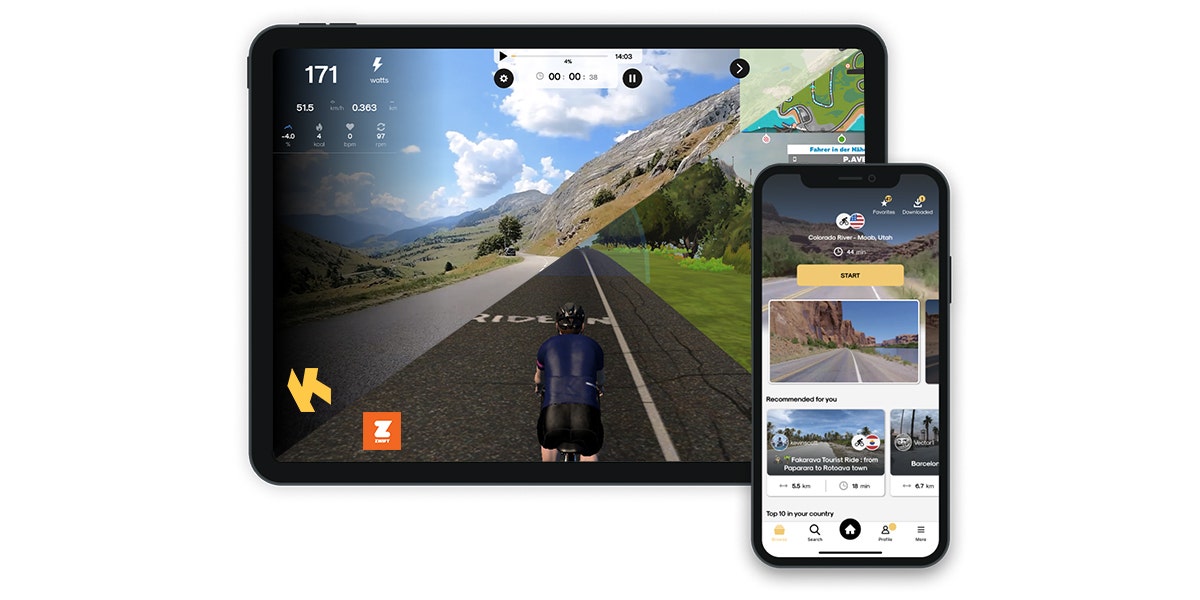 Compatible with Zwift & Kinomap
The seamless integration of Zwift and Kinomap opens the door to a virtual world full of exciting routes and varied workouts. Immerse yourself in real landscapes, challenge yourself in interactive challenges and compete with other fitness enthusiasts worldwide.
Computer
Display
15.6" TFT Touch Display
Multimedia
App, Bluetooth, Speakers, Tablet support, Wireles Charging
Apps
Kinomap, Zwift, SOLE
Operation
Touch & Buttons
Integrated pulse receiver for chest belts
5 kHz und Bluetooth
Display
Load profiles
Distance, Speed, Heart rate, Calories, Incline, RPM, Resistance Level, Time
Programs and profiles
Heart rate controlled programmes
2
Adjustable pulse limit
Upper pulse limit
Dimensions and weight
Build up size (L x W x H)
210 x 96 x 168 cm
Folding dimension (L x W x H)
112 x 96 x 182 cm
Other features
Speed
1-22 km/h in 0,1 km/h steps
Incline
-6-15% in 1% Schritten, motorisch verstellbar
Transportation rollers
Yes
Performance
4.0 hp (continuous power) / 10.0 hp (maximum power)
DIN Norm
DIN EN ISO 20957 -1/6
Shipping
Delivery time
4-8 working days
Delivery Information
Delivery to curbside (Please leave your phone number when ordering, so we can arrange a suitable delivery date for you)
Private use
on the main frame
10 years
Semi-professional use
on the main frame
5 years
* Semi-professional use: For use in hotels, sports clubs, etc. - not in fitness studios
Clients ask, our fitness experts answer
Do you need more information about the product? Ask your question here. Our fitness experts will answer quickly and easily.
Our recommendation for you