Kinomap
Zwift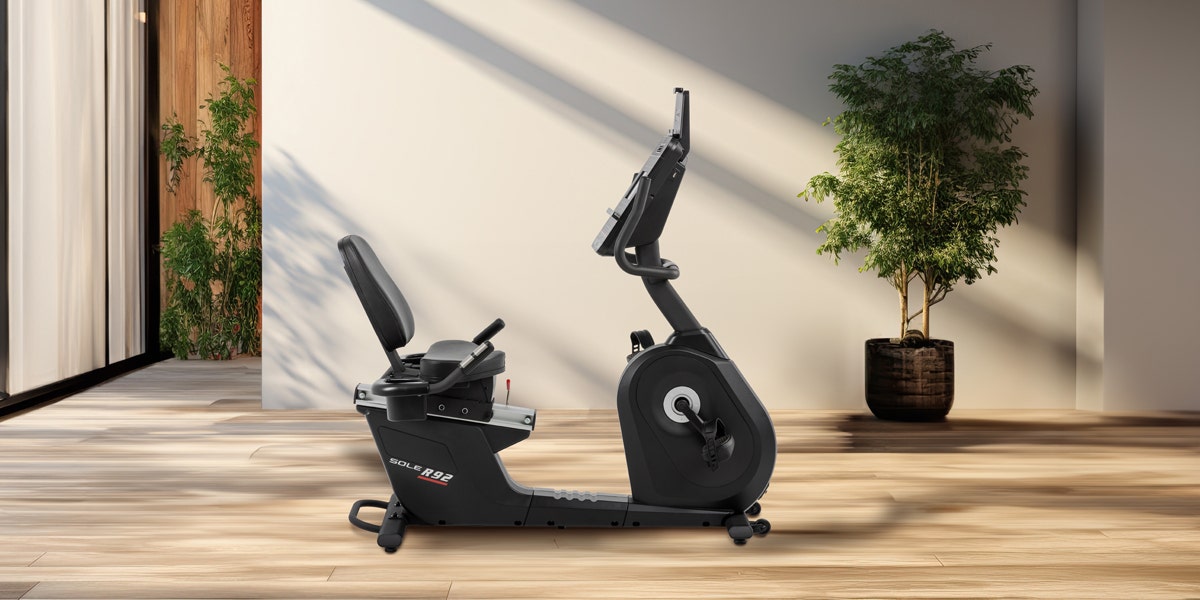 R92 - The recumbent ergometer for comfortable and effective workouts
Enjoy a first-class workout in total comfort and relaxation with the new and improved SOLE R92 ergometer! For users with foot or joint problems, the R92 ergometer is a real boon. Thanks to the patented design of the foot pedals, with a slight 2-degree inward tilt, your posture is optimised, minimising discomfort and pain. Back pain is often the reason why people avoid exercising. The recumbent ergometer has a padded and adjustable seat that perfectly adapts to your needs and allows you to fully concentrate on your fitness. The R92 not only shines in the home gym, but also in professional environments such as hotel gyms and fitness studios. Thanks to its outstanding stability and high-quality workmanship, this ergometer is a true all-rounder.
The improved 9" LCD display offers a clear and easy-to-read display. With the help of the user-defined function, you can now also create your own programmes as well as train pulse-oriented with the heart rate control. Stay connected and entertained with the R92's new features! The ergometer now comes with an integrated tablet holder so you can use your smart devices to watch shows or follow your workout routines. There's also a USB port for charging and Bluetooth speakers for your favourite music during your workout.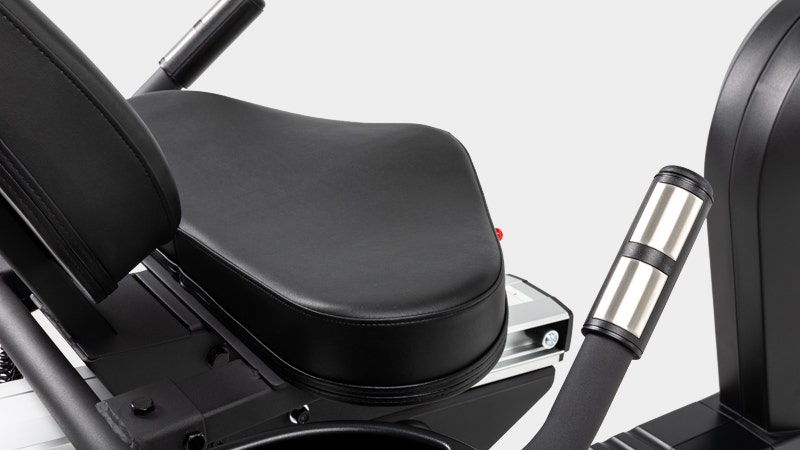 Back-friendly design
For those worried about back pain, the R92 ergometer offers the perfect solution. With a padded, adjustable seat and a patented pedal design that's easy on your joints, you can work out pain-free and in comfort.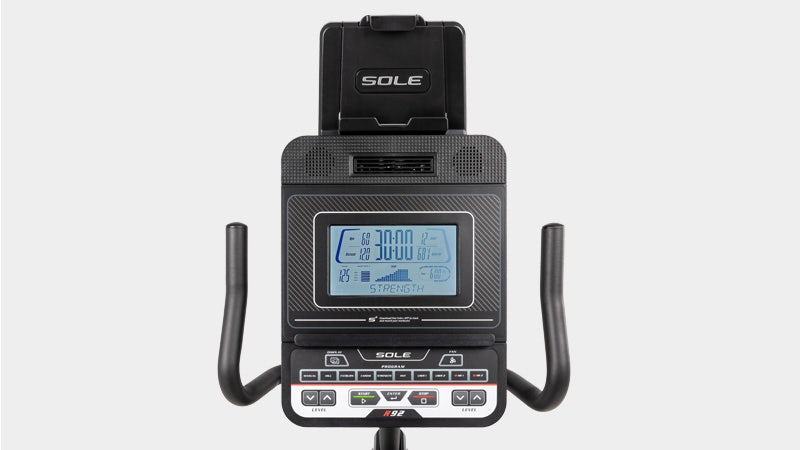 Clear training computer
The R92 features a 9" LCD display that puts your fitness goals within reach. Choose from a variety of programmes to diversify your workouts and maximise your results.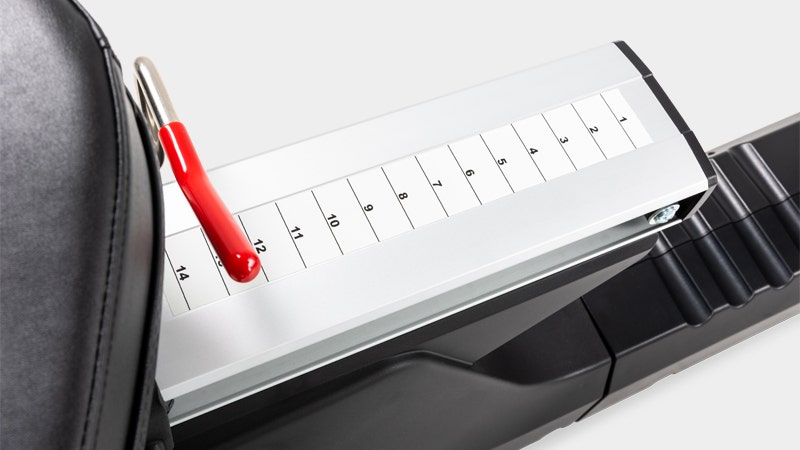 Perfect ergonomics
The adjustable seat and ergonomic handles provide the ideal training position, no matter how tall or short you are. Easily adapt the ergometer to your body proportions.
Discover your favourite workout
With HAMMER Workouts we constantly offer you new and motivating courses with your ergometer. Work out together with our competent trainers and achieve your individual fitness goals in 10 to 50-minute workouts. No matter whether you use a smartphone, tablet or laptop, no additional subscription is required.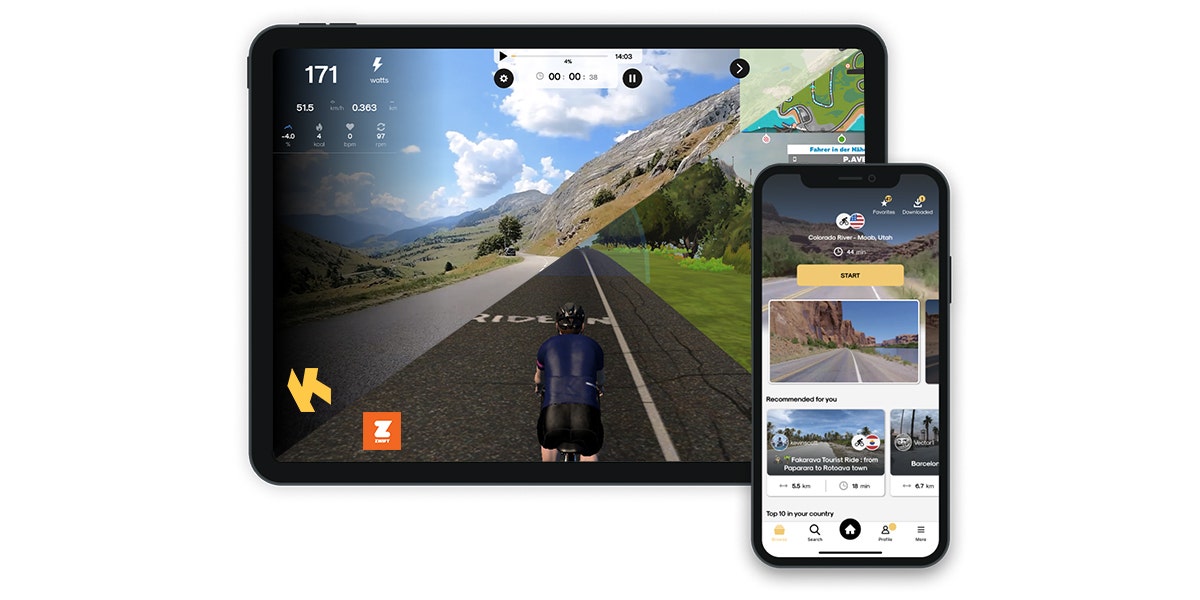 Compatible with Zwift & Kinomap
The seamless integration of Zwift and Kinomap opens the door to a virtual world full of exciting routes and varied workouts. Immerse yourself in real landscapes, challenge yourself in interactive challenges and compete with other fitness enthusiasts worldwide.
Computer
Display
LCD Blue Backlight
Multimedia
App, Bluetooth, Speakers, Tablet support, USB
Apps
Kinomap, Zwift, SOLE
Integrated pulse receiver for chest belts
5 kHz und Bluetooth
Display
Load profiles
Distance, Speed, Calories, RPM, Watt, Resistance Level, Time
Programs and profiles
Heart rate controlled programmes
2
Adjustable pulse limit
Upper pulse limit
Drive/brake system
Drive system
Grooved belt
Load control
RPM dependent
Braking system
Permanent Magnetic
Resistance adjustment
Computer controlled
Dimensions and weight
Build up size (L x W x H)
142 x 74 x 151 cm
Other features
Transportation rollers
Yes
Saddle height adjustment
14 times
Saddle adjustment
Horizontal
Handlebar adjustment
Fixed
DIN Norm
DIN EN ISO 20957 -1/5
Shipping
Delivery time
4-8 working days
Delivery Information
Delivery to curbside (Please leave your phone number when ordering, so we can arrange a suitable delivery date for you)
Private use
on the main frame
10 years
Semi-professional use
on the main frame
5 years
* Semi-professional use: For use in hotels, sports clubs, etc. - not in fitness studios
Clients ask, our fitness experts answer
Do you need more information about the product? Ask your question here. Our fitness experts will answer quickly and easily.
Our recommendation for you