Kinomap
The FINNLO elliptical trainer FLY RX is a workout device that combines state-of-the-art technology with stylish design and maximum comfort. The premium machine features a touchscreen console and a generous selection of multi-media entertainment options. These components make the FLY RX a perfect workout partner in your own home.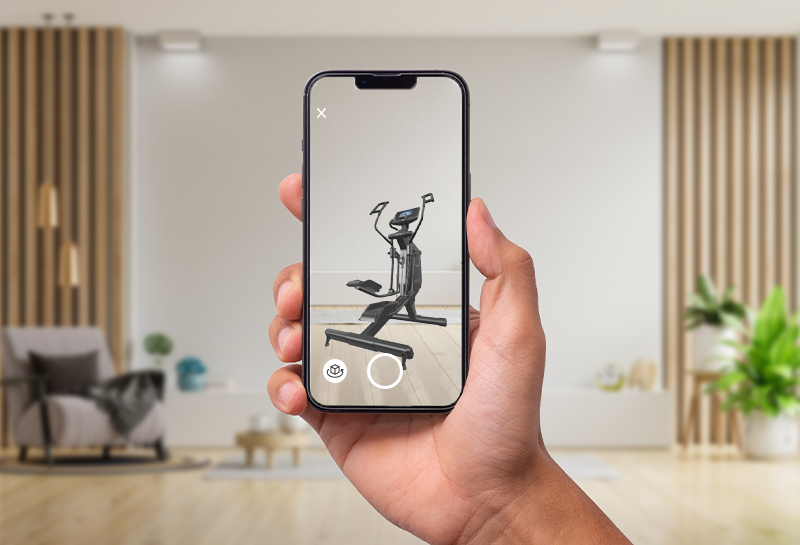 Experience your product in your own home now!
Whether as a 3D view on the PC or virtually in your own room via smartphone - immerse yourself in a whole new kind of product experience with HAMMER Augmented Reality.
Training options for beginners and advanced users. Easy warm-up programme or an intense power workout
From leisurely 30 watts right up to full-power 400 watts. The FLY RX allows you to adjust your workout to your current fitness level. The possibility of workouts at low wattage resistance makes this device the perfect choice for people who need to keep stress levels low after a sports injury or due to advanced age. 30 watts is the perfect setting! You can, however, ramp up resistance all the way to 400 watts to give you a high-intensity workout that will need every ounce of power you've got!
Keep an eye on your performance at all times! Computer with integrated fitness test
The recovery programme lets you view your personal fitness grade after each workout. Simply take a pulse measurement after your workout and the computer will quickly calculate your fitness grade from 1 to 6. A great way to check and challenge yourself and improve your performance with each workout.
Touchscreen console with 21 rograms to choose from for fantastic workout variety
The touchscreen console with 21 training programs is at the core of the FLY RX. Choose your route from 12 uphill and downhill profiles and get going! You can even create your own routes to make your training even more personalised. The touchscreen gives quick and easy access to all programs. The on-board computer can store up to four individual user profiles, so that you don't have to enter your personal information (age, weight, etc.) again every time you use the machine.
Multi-media entertainment just the way you like it: YouTube, Spotify, Instagram, Facebook, etc.
The on-board computer of the FLY RX will keep you entertained and motivated! The computer can connect to the Internet wirelessly, allowing you to surf while you work out.
The best thing about the FLY RX is its pre-installed apps: YouTube, Netflix, Spotify, Chrome, iRoute and Kinomap.
Want to check out the latest YouTube videos while you work out? Or watch your favourite film on Netflix? Scroll through Facebook for the latest news? No problem at all for the FLY RX – a fun workout is guaranteed!
How about trying out the Kinomap fitness app – it offers you the opportunity to ride breathtaking "live" routes all around the world! Ride through forests or along the seafront! The app responds to inclines in the route with higher resistance and reduces resistance on downhill stretches – realism at its best!
Vario handlebars and super soft footplates for comfortable training
The vario handlebars allow you to change your grip for different riding positions. You will really appreciate arm position changes during extended workouts.
The extra comfortable super soft footplates make longer workout sessions much easier to overcome. The foam padding adapts to your feet perfectly and gives you the best possible training comfort.
4 cardio programs for your health! Your heart rate is always displayed
FLY RX offers the perfect prerequisites for a fully controlled and health-oriented cardio-vascular workout. Heart rate measurements are taken continuously via the handgrip or via the optional chest strap
The 4 cardio programs round off the health aspects of this elliptical trainer. Setting an upper pulse rate limit will ensure that you always train safely. An acoustic warning signal will sound when you reach the upper heart rate limit and the machine will reduce resistance automatically. Super easy!
Perfectly thought out!
Space-saving design to fit the smallest rooms
The design of the FINNLO elliptical trainer FLY RX is as exceptional as it is innovative and modern. The freely swinging footplates of the FLY RX are designed to allow for maximum step length with a surprisingly small footprint. Perfect for training at home! The sporty proportions of this premium elliptical trainer give the machine a dynamic design and exceptional quality.
Adjustable step length. Training for the whole family
The adjustable step length of the FLY RX is another design highlight and a premium feature. The ability to adjust the step length is a great bonus for households where more than just one person wants to get fit. Adjusting the step length means that the machine can adapt to users with different body heights quickly and easily.
The step length adjustment also allows the simulation of different running styles. A short step length simulates the movements of a stepper, which focuses the workout mainly on the glutes. A greater step length changes the motion to a fast run to simulate an outdoor jog. You train with the same intensity, burn the same amount of calories and the entire workout is easy on the joints!
The fluid, very dynamic running motion makes the whole thing a lot of fun as well.
The step length of the FLY RX can be adjusted in two settings between 45 and 55 cm.
More premium details. Integrated transportation rollers for easy relocation
The FLY RX comes with two integrated transportation rollers to move the machine quickly and easily. You can do your workout in the living room and then store the machine in the spare room in seconds. The adjustable foot caps ensure perfectly levelled placement on uneven ground.
Computer
Display
10" Inch TFT Touchscreen with Android Softwar
Multimedia
App, Speakers, Tablet support, USB
Integrated pulse receiver for chest belts
5 kHz
Display
Load profiles
Distance, Speed, Heart rate, Calories, RPM, Watt, Time
Programs and profiles
Heart rate controlled programmes
4
Adjustable pulse limit
Upper pulse limit
Drive/brake system
Drive system
Grooved belt
Load control
RPM independent
Braking system
Permanent Magnetic
Resistance adjustment
Computer controlled
Dimensions and weight
Build up size (L x W x H)
130 x 91 x 167
Other features
Transportation rollers
Yes
Stride
45 - 55 cm 2x adjustable
Performance
30 - 400 Watt
DIN Norm
DIN EN ISO 20957-1/9
Shipping
Delivery time
4-8 working days
Delivery Information
Delivery to curbside (Please leave your phone number when ordering, so we can arrange a suitable delivery date for you)
Private use
on the main frame
10 years
Clients ask, our fitness experts answer
Do you need more information about the product? Ask your question here. Our fitness experts will answer quickly and easily.
Our recommendation for you