Kinomap
Health orientated ergometer cross training class HA. Premium equipment for ambitious cardio training: Induction braking system, 20 kg flywheel mass, 16 cm optimal footplate distance, 8 workout programs and 3 pulse driven programs

Do an effective cardio workout at home with the FINNLO Ergometer Loxon XTR. The incredibly precise class HA power control is perfect for health orientated cross training. The dynamic movement is perfectly suited for improving your stamina and boosting your circulatory system. You can also activate your upper body with simultaneous movement of your arms, thereby burning more calories – perfect for weight loss and fat reduction. You will also strengthen your muscles and define your body at the same time.
Effective cardio training with the Cross Trainer:
Improves the heart and respiratory functions
Effective weight and fat reduction
Body shaping and tissue tightening
Strengthening all muscle groups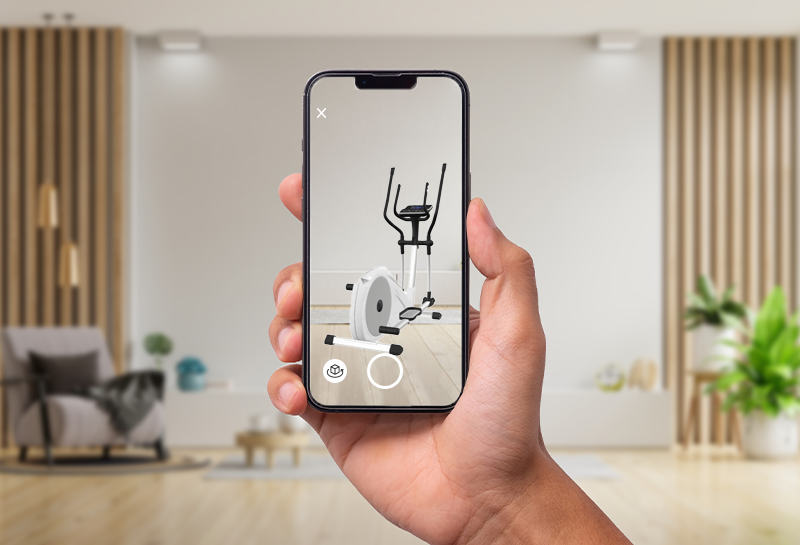 Experience your product in your own home now!
Whether as a 3D view on the PC or virtually in your own room via smartphone - immerse yourself in a whole new kind of product experience with HAMMER Augmented Reality.
FINNLO Cross Trainer Loxon XTR – features and functionality
Now with a new, comprehensive training computer

All of the functions on the Ergometers Loxon XTR Cross Trainer are controlled via the computer and its detailed display. This permanently displays different values, including: Distance, time, calories, speed, step frequency, performance, training program, 400 m rounds and your pulse. 8 exercise profiles and 3 pulse programs ensure the most variety. These can be easily adjusted using the quick select buttons. You enter a certain wattage or pulse value and your ergometer will control the resistance levels independently, to keep these values in check.
The rotational speed independent load control can be set to a range of between 20 and 400 watts (in accordance with DIN EN 957 – Norm) Additional premium features: Recovery pulse measure with fitness score as well as space to save 30 workout results. The pulse measurements are taken via integrated hand pulse sensors or an optional chest strap. The clear display shows the following performance statistics: Distance, time, speed, step frequency, calories, pulse, wattage as well as a 400 m training session.
Perfect workout ergonomics

You will be amazed at the perfect ergonomics of the Ergometers Loxon XTR Cross Trainer from the very first session. A minimal distance between the foot plates of only 16 cm makes your movements very natural. High-tech ball bearings with 2-way set handles as well as a precise induction braking system ensure a quiet and even workout session every time. A low maintenance grooved belt moves the 20 kg flywheel mass so the reversal point is easily overcome. The foot plates are also adjustable and can be fitted to any body size.
Important product information:
HA class Cross Trainer Ergometer (DIN EN 957-1/9) with precise, rotational speed independent power control
Automatic resistance adjustment using the computer
Low maintenance induction braking system for particularly even movements and jerk-free movement
20-400 watt adjustable in 5 watts increments
Load control is independent to the pedalling speed
Incredibly low, optimised and ergonomic footplate distance of 16 cm
Grooved belt system and premium ball bearings for the perfect rotation
Swivel joints with 2-way ball bearings
High-tech ball bearings for very quiet running
Firm handles with hand pulse sensors and moving handles
Clear, easy to use training monitor with 8 different displays
Tablet/smart phone holder and USB charger port
Displays distance, time, km/h step frequency, calories burned, pulse wattage and 400 m rounds
8 automatic Workout program as well as 3 pulse programs
Hand pulse and integrated sensors for pulse measurement using a chest strap (chest strap optional)
Adjustable pulse limit
Quick start button
Odometer (total training time)
Approx. 20 kg flywheel mass
Gear transmission ratio: 1:9<
Transport wheels and level compensation<
Max. body weight: 150 kg
Dimensions set up (LxWxH) 148 x 58 x 158 cm
Power supply: 230 V, 50 Hz
Computer
Multimedia
Bluetooth, Tablet support, USB
Integrated pulse receiver for chest belts
5 kHz
Display
Load profiles
Distance, Speed, Heart rate, Calories, RPM, Watt, Resistance Level, Time
Programs and profiles
Heart rate controlled programmes
2
Adjustable pulse limit
Upper and lower pulse limit
Drive/brake system
Drive system
Grooved belt
Load control
RPM independent
Resistance adjustment
Computer controlled
Dimensions and weight
Build up size (L x W x H)
148 x 58 x 158 cm
Other features
Transportation rollers
Yes
Performance
20 - 400 Watt
DIN Norm
DIN EN ISO 20957-1/9
Shipping
Delivery time
4-8 working days
Scope of delivery
Loxon XTR BT
Delivery Information
Delivery to curbside (Please leave your phone number when ordering, so we can arrange a suitable delivery date for you)
Private use
on the main frame
10 years
Clients ask, our fitness experts answer
Do you need more information about the product? Ask your question here. Our fitness experts will answer quickly and easily.
1 questions already answered
Question:
Kann ich irgendwo eine Bedienungsanleitung herunterladen? from Manuela Zuber
Answer:
Gehe auf
www.hammer.de
und klicke oben rechts das "Fragezeichen" an. Wenn man dann auf "Häufig gestellte Fragen" klickt kommt man in ein Serviceportal, wo man auch Bedienungsanleitungen, u.a. für den Loxon...
Our recommendation for you
Loxon

Special Price

€999.00

Regular Price

€1,299.00