FINNLO Bio Force
The Bio Force from FINNLO by HAMMER is a revolutionary weight station for your home.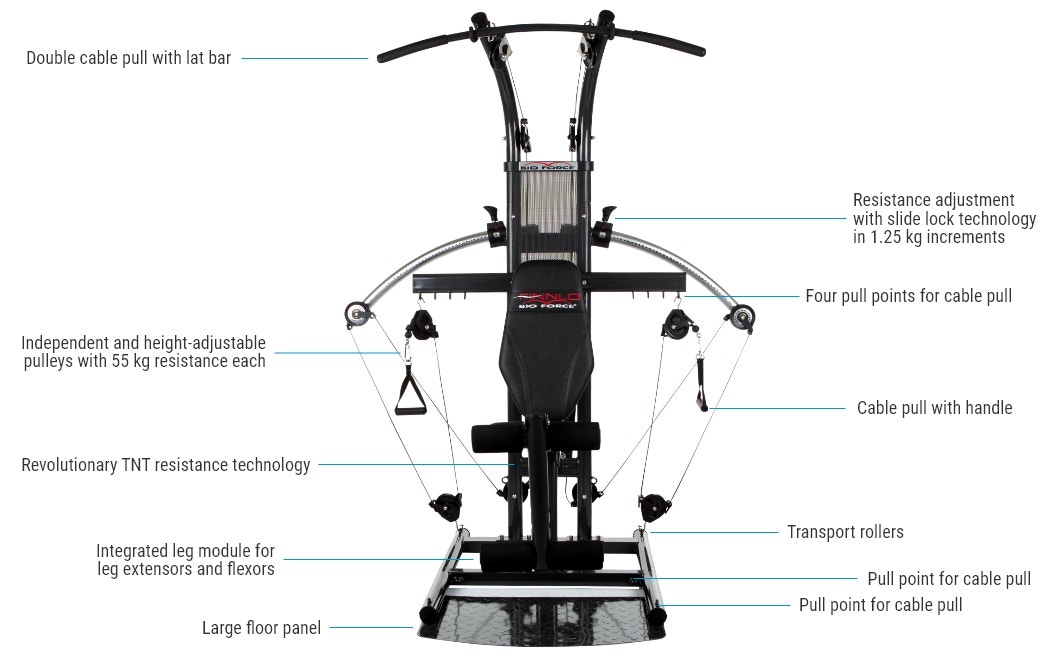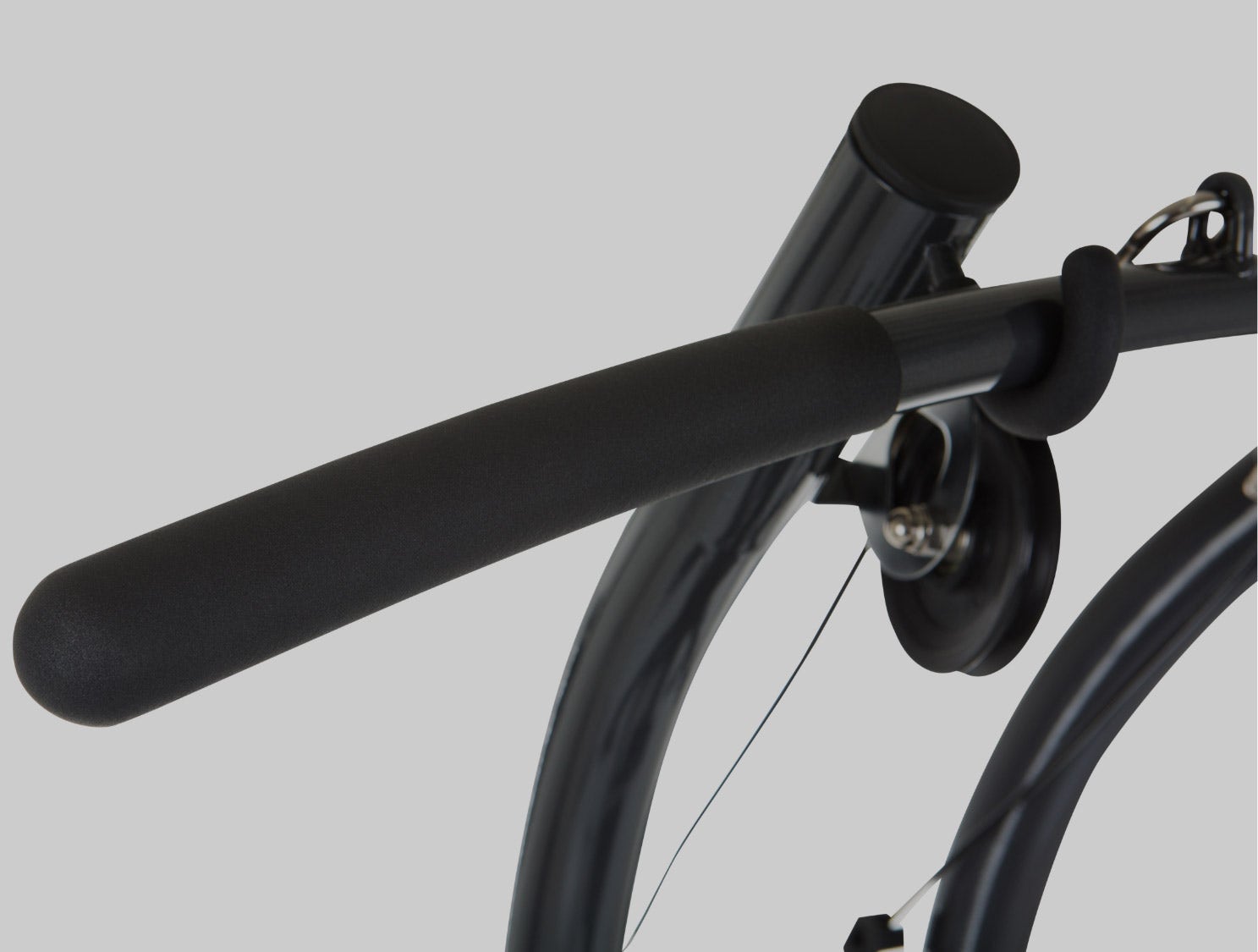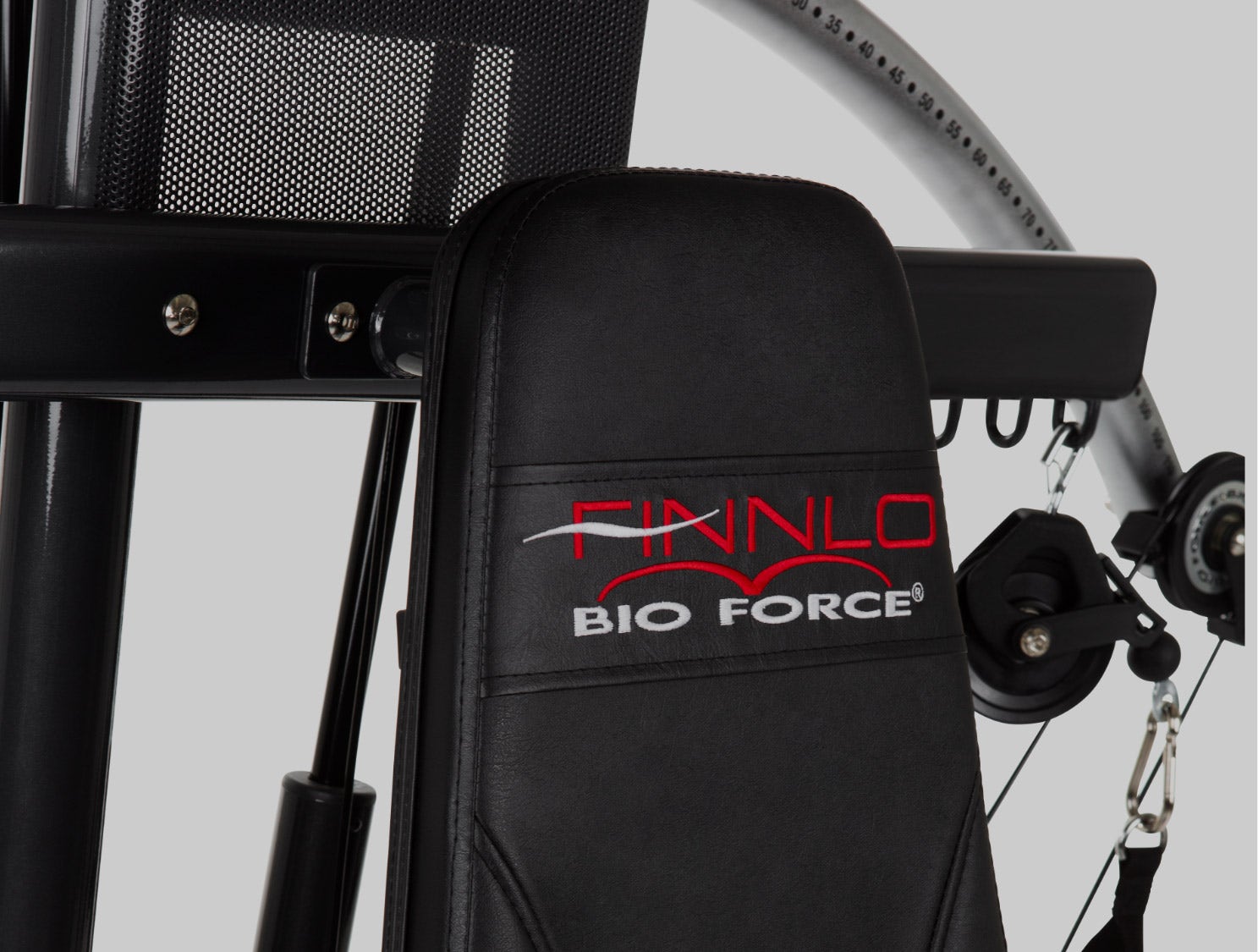 Innovation for your success!
FINNLO by HAMMER Bio Force weight station is the perfect weight station for a comprehensive and varied workout in your home gym. The two independent cable pulleys allow an almost endless variety of exercises and customised training thanks to flexible cable guides. By connecting them with the supplied lat bar, you get an even wider range of training options and can train every muscle in your body effectively and according to your wishes!
Thanks to the flexible positioning of the pulleys and the exercise-specific use of the handles and foot straps, every conceivable pull-push or rotation movement is possible. This allows you to train both your upper body and your leg muscles effectively from all angles and work every muscle precisely and efficiently. Look forward to: Effective muscle building for the whole body, whisper-quiet training despite intensive training, functional training, core training, body shaping and weight reduction, supersets and reduction sets with quick adjustment, leg training at home.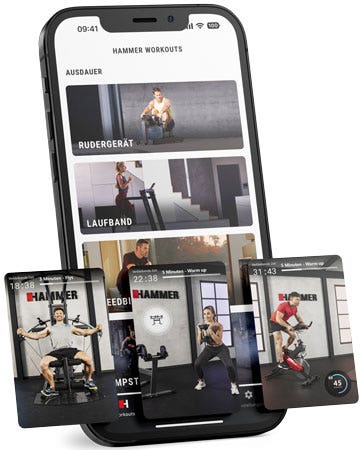 Discover your favourite workout
With HAMMER Workouts, we constantly offer you new and motivating classes with your Bio Force. Work out together with our expert trainers and achieve your individual fitness goals in 10 to 50-minute workouts. All in one place and without the need for an additional subscription.


Compact all-rounder
Unlike traditional training equipment, the resistance of the Bio Force power station from FINNLO is not provided by weight discs, but by a pressure cylinder. This TNT technology, which originates from the aerospace industry, not only saves a lot of weight, but also enables almost silent training. In addition, the imparted resistance works completely without momentum and is therefore similar to isokinetic training for professional athletes. In addition to classic strength training, you can now also train your explosive strength at home for the first time and generate further strength and muscle gains.
Thanks to the high resistance range and high-precision adjustment, training on the Bio Force is suitable for all fitness levels and fits into any home gym thanks to its space-efficient dimensions and transport rollers.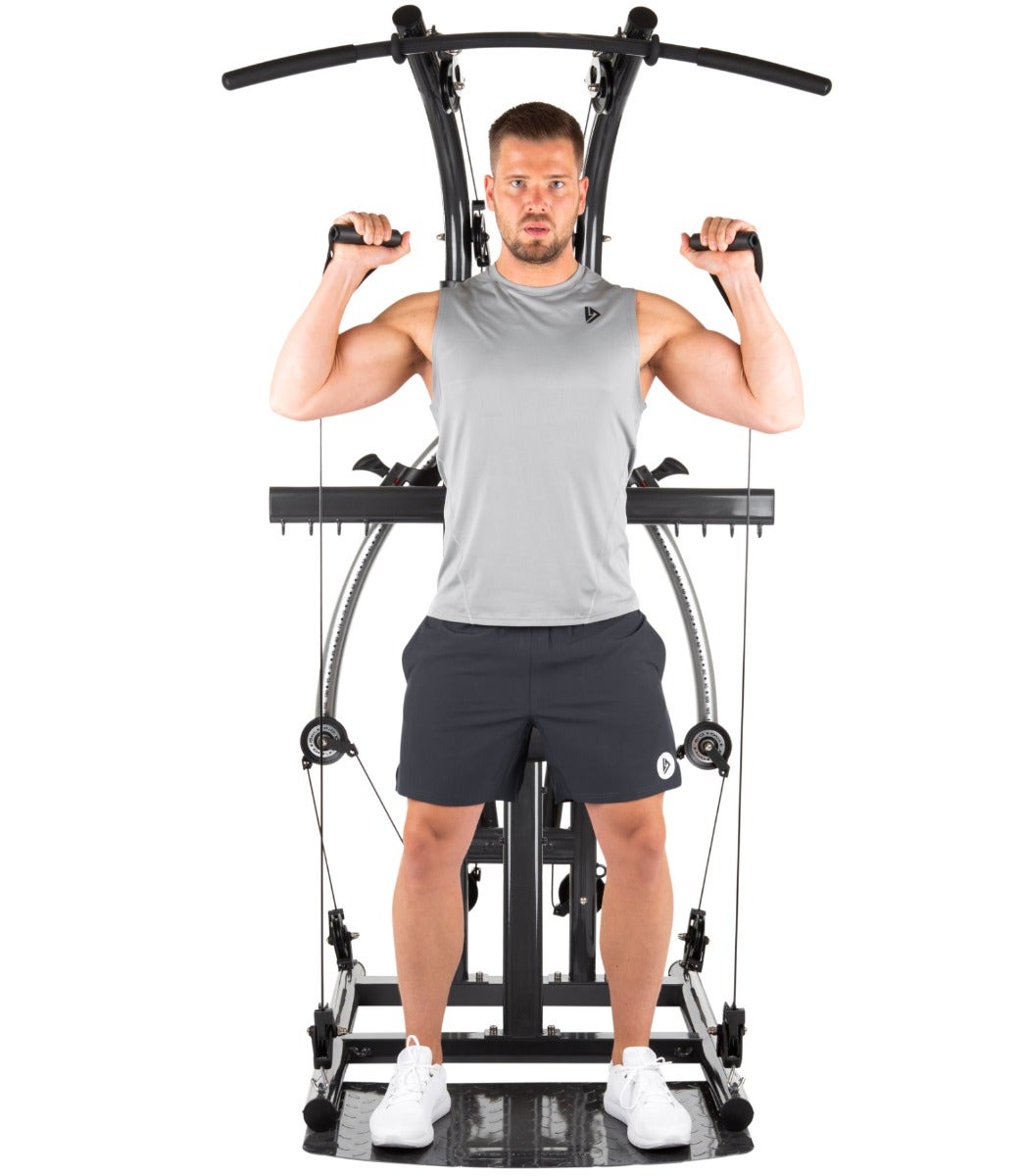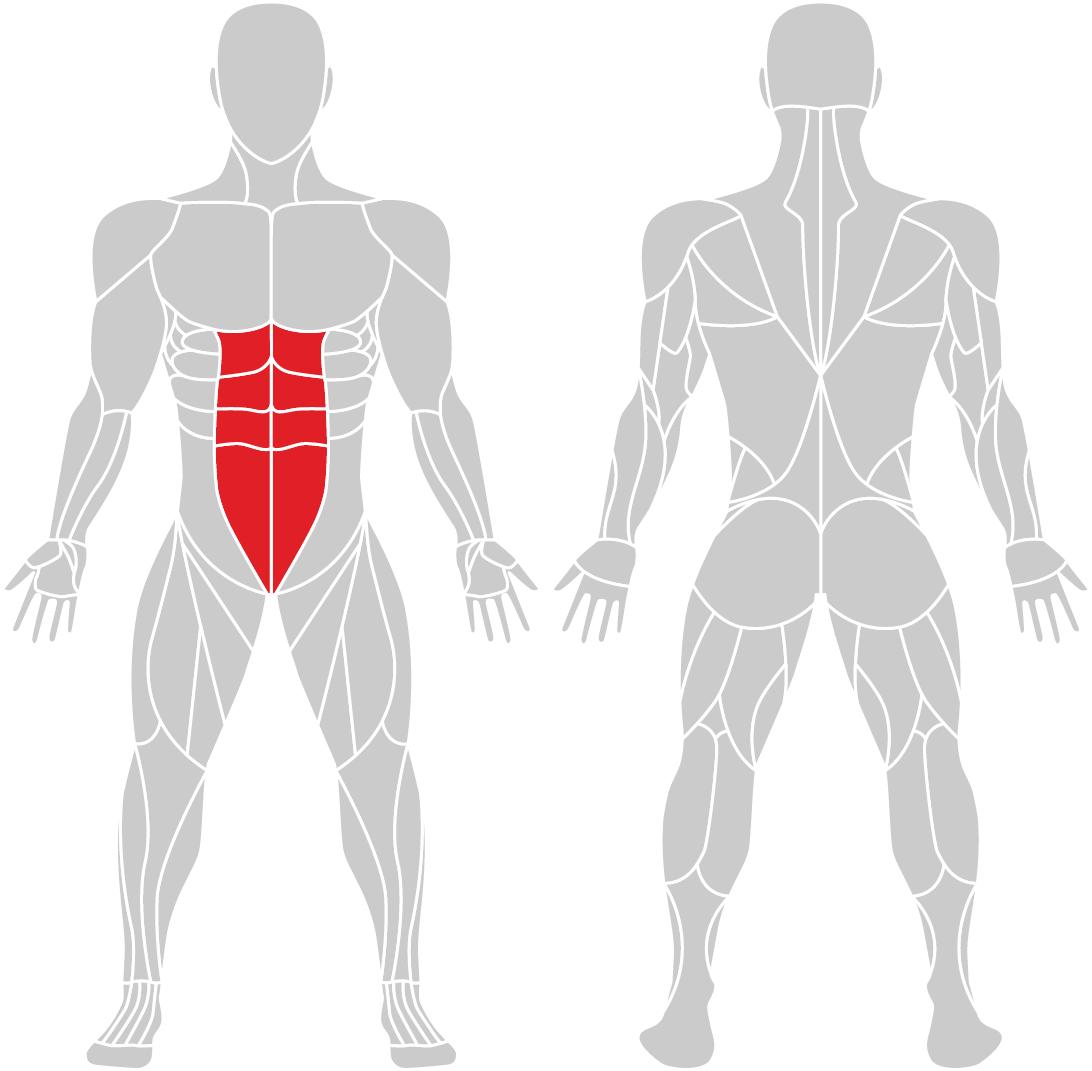 Over 100 exercises - in your own home!
The Bio Force from FINNLO makes your workout unique and varied. Thanks to the wide range of positioning options of the movable pulleys, you can train your muscles with an enormous variety of exercises and variations. Whether standing or sitting, alone or with a training partner: combine your favourite exercises and design your training individually and and varied.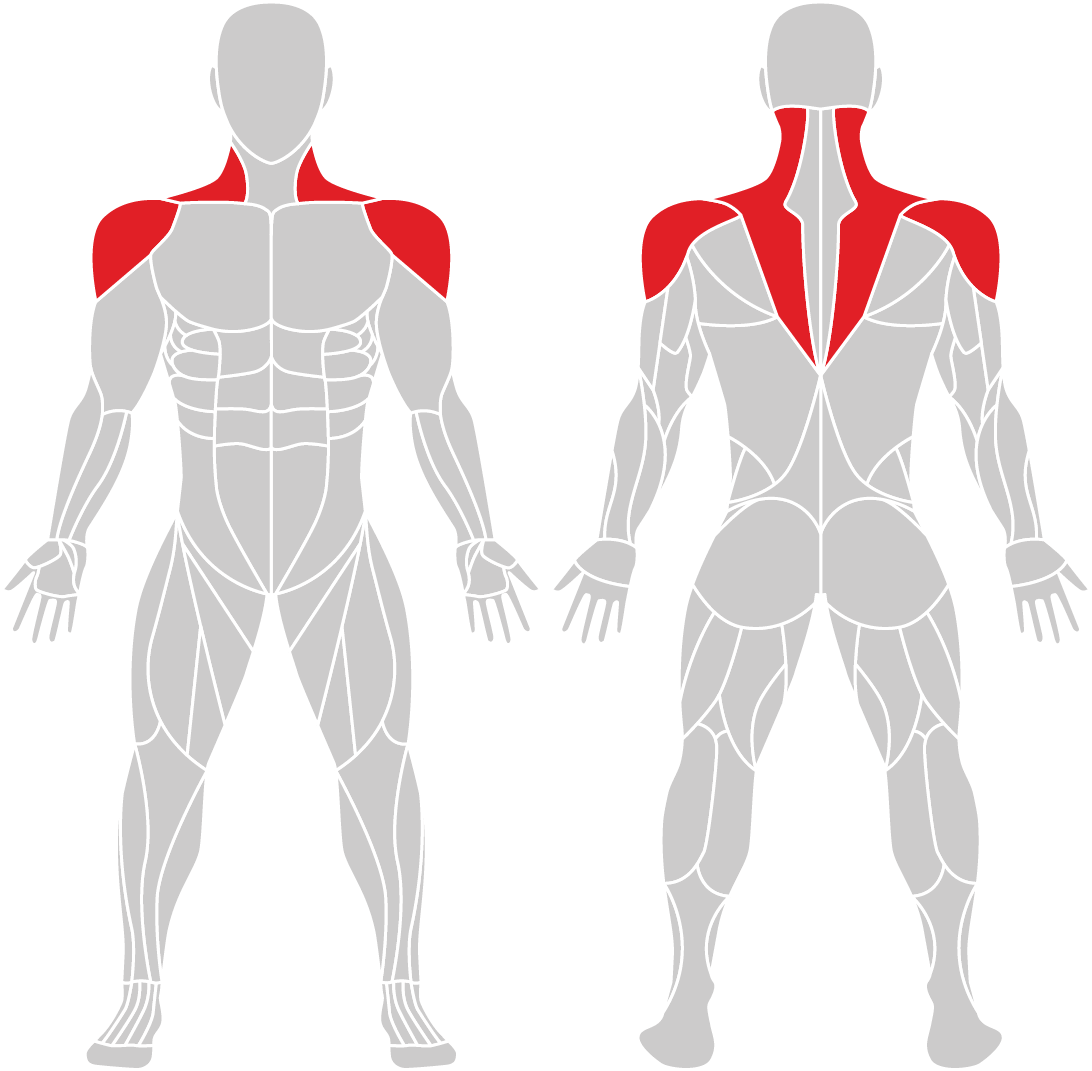 Strong shoulders
Shapely shoulders not only look good, they also stabilise your cervical spine together with your neck muscles and ensure an upright posture. Use the Bio Force strength station to train the front, centre and back shoulders in equal measure back shoulder. Exercises such as side raises, front raises, shoulder pulls or reverse flys are ideal for this and can be performed particularly well thanks to the performed particularly evenly thanks to the TNT resistance system.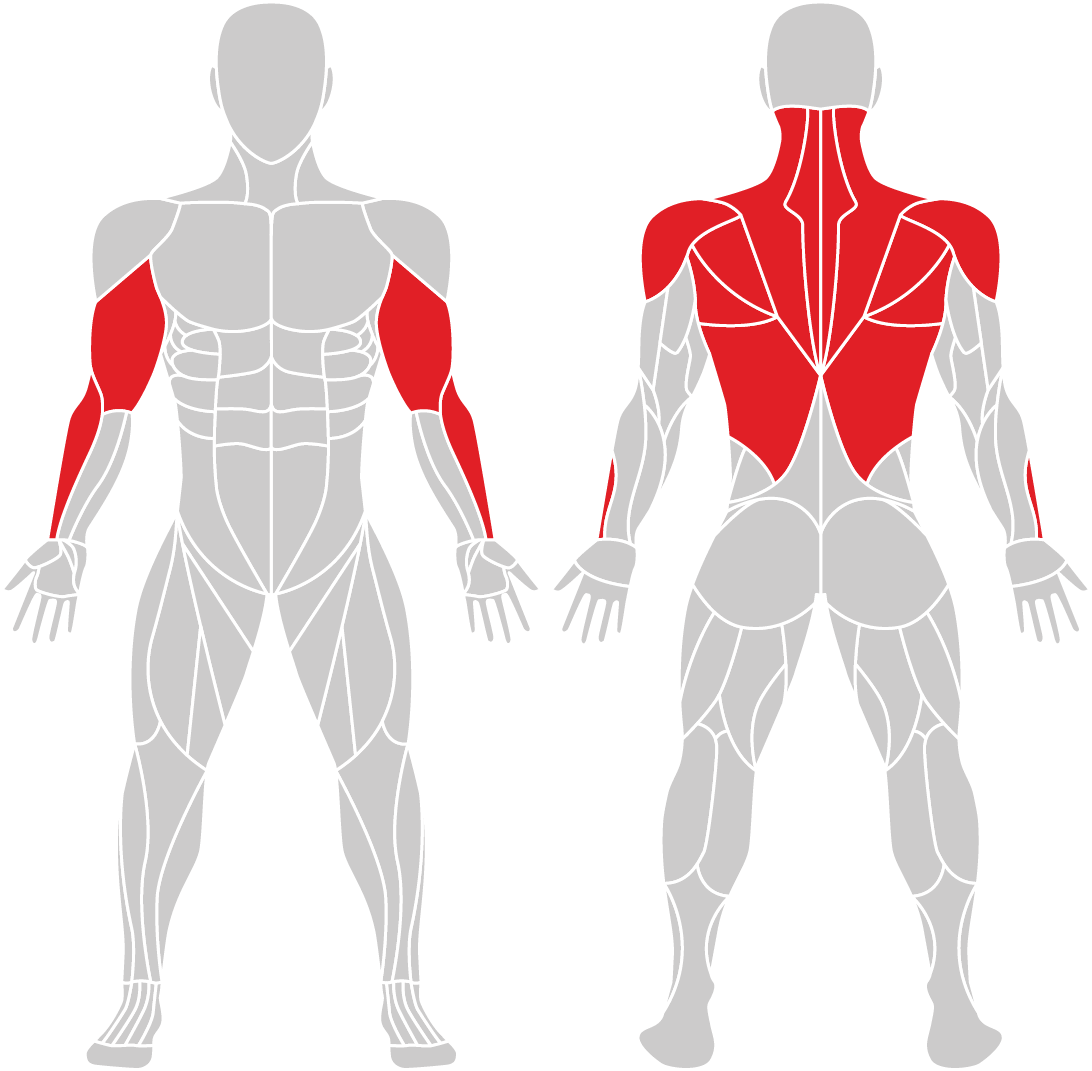 Defined back
With a strong back, you benefit from an upright posture in everyday life, avoid back pain and maintain the typical V-shape. With the Bio Force, intensive back training at home is now possible without any problems. Train for a strong latissimus and for a strong latissimus and increased back width primarily with lat pulldowns and rowing on the cable pulley and improve the muscles between the shoulder blades mainly with wide rowing or deadlifts.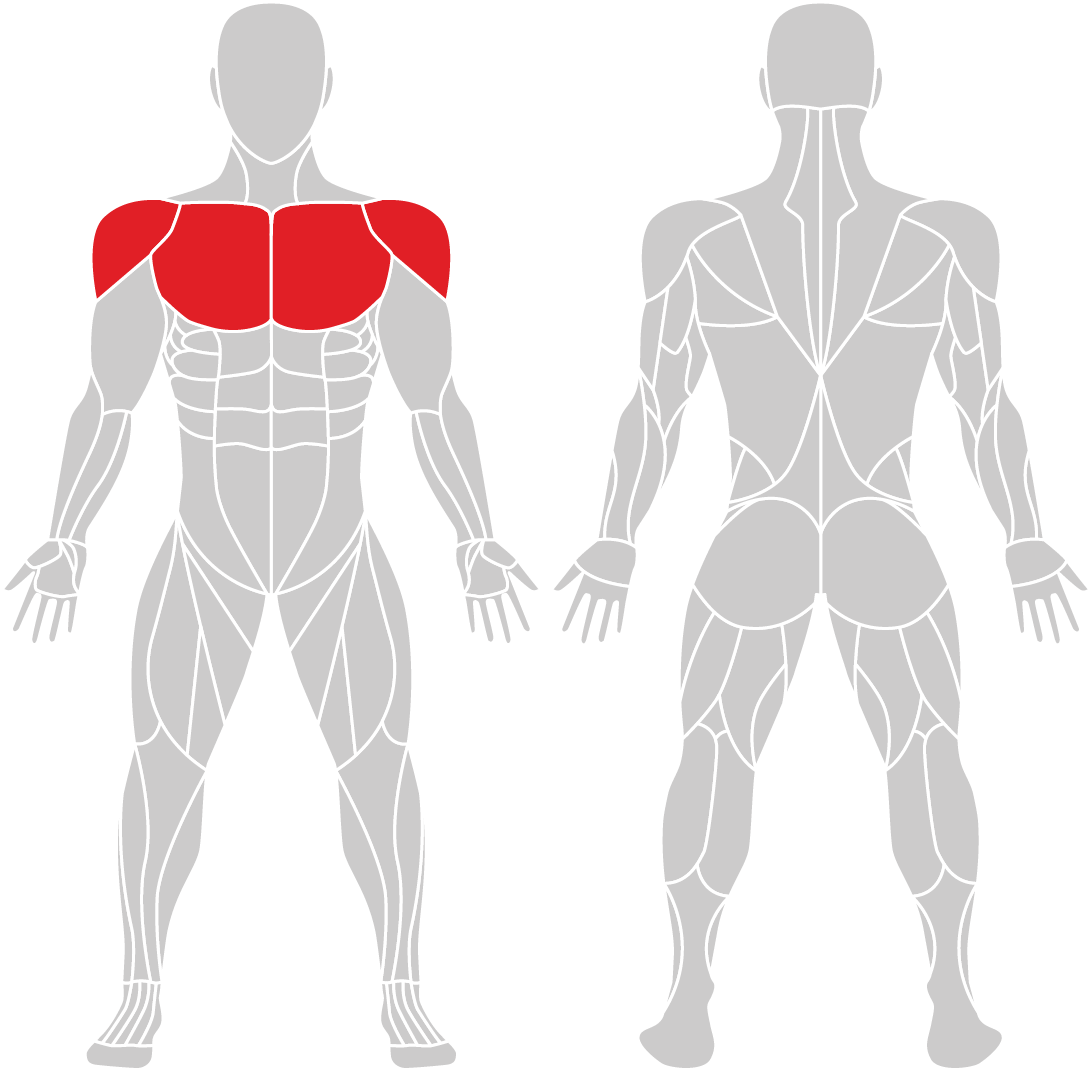 For a broad chest
To train your chest muscles optimally, we recommend a combination of basic exercises and isolation exercises. Therefore, different variations of the bench press and the butterfly movement allow you to optimise the use of your chest muscles your chest muscles. The Bio Force power station also allows you to perform functional chest exercises such as the rotation press while standing and at the same time promote your core stability and athleticism.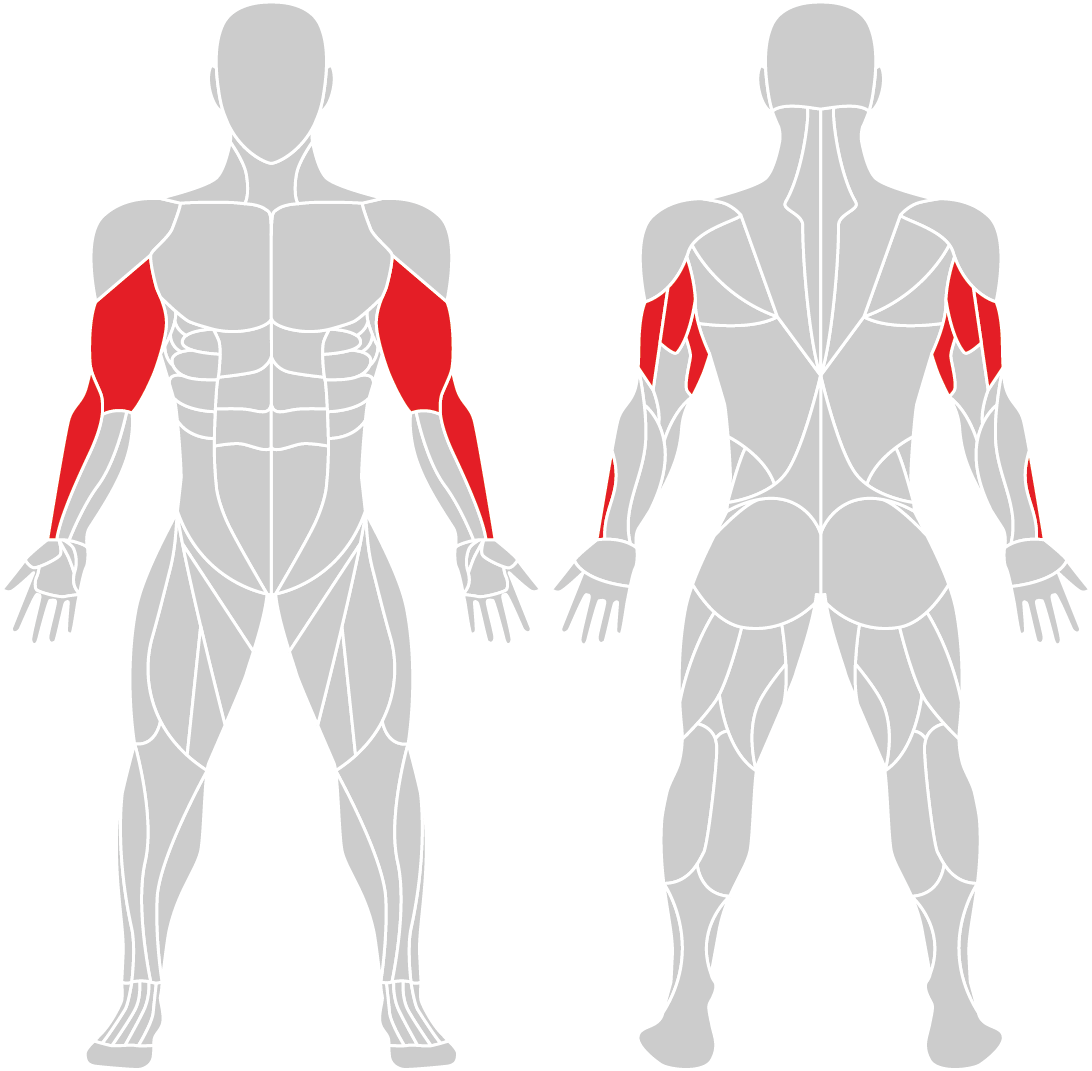 Muscular arms
The Bio Force weight station from FINNLO is made for your perfect arm workout. The combination of different flexion and extension Flexion and extension movements from different angles, you can train your arms completely and with maximum efficiency. Use either the ergonomic handles or the lat pull-down bar and complete exercises such as barbell curls, twisted curls or hammer curls for your biceps and tricep stretches and shoulder presses for your triceps. All Arm exercises can be performed with the Bio Force both seated and standing and offer you the greatest possible freedom.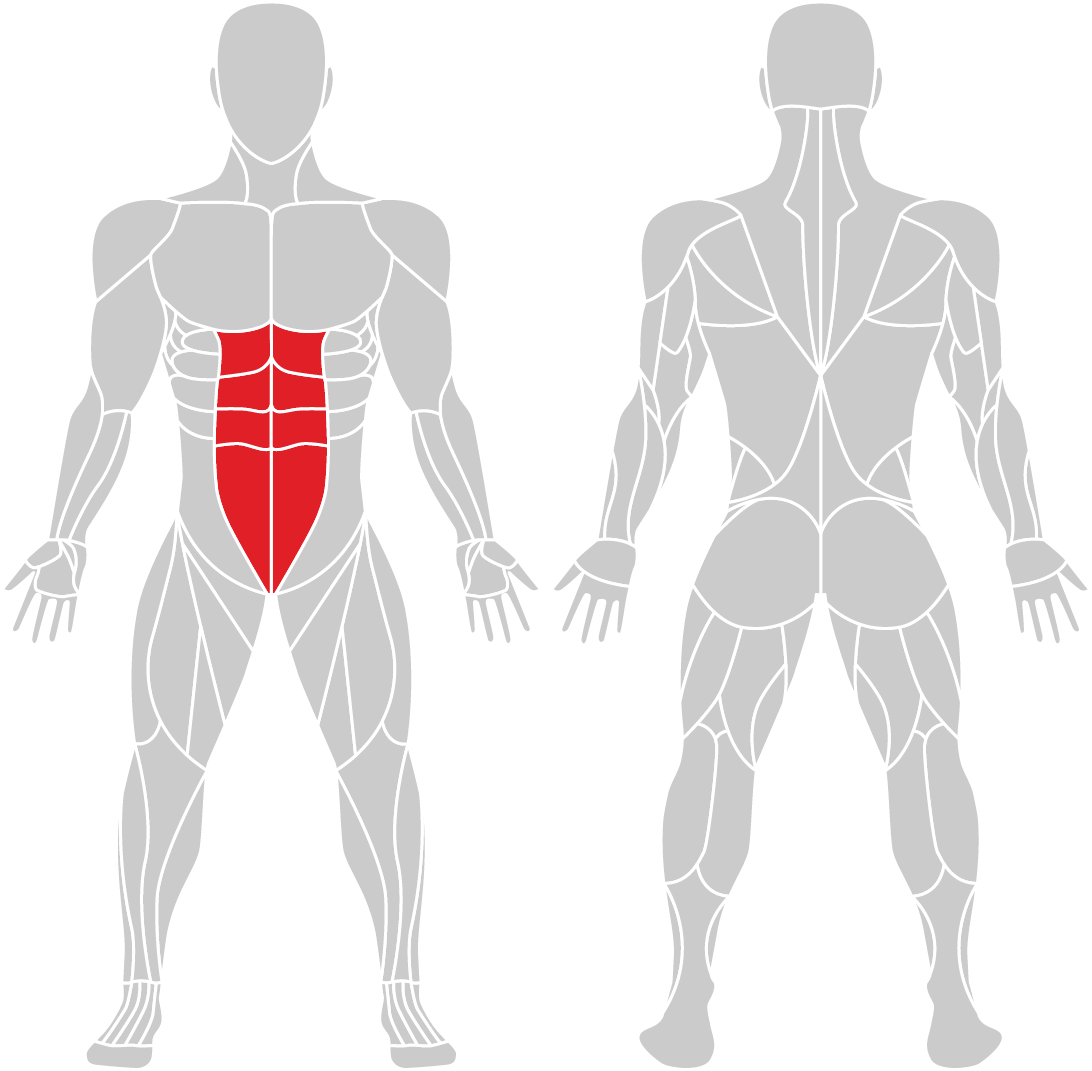 Defined abdominal muscles
For lean and defined abdominal muscles, the Bio Force power station can be used to perform exercises such as crunches on the cable pulley, side bends or even functional rotation exercises. Thanks to the innovative TNT resistance technology, abdominal muscle training with the Bio Force creates new stimuli for your muscle development.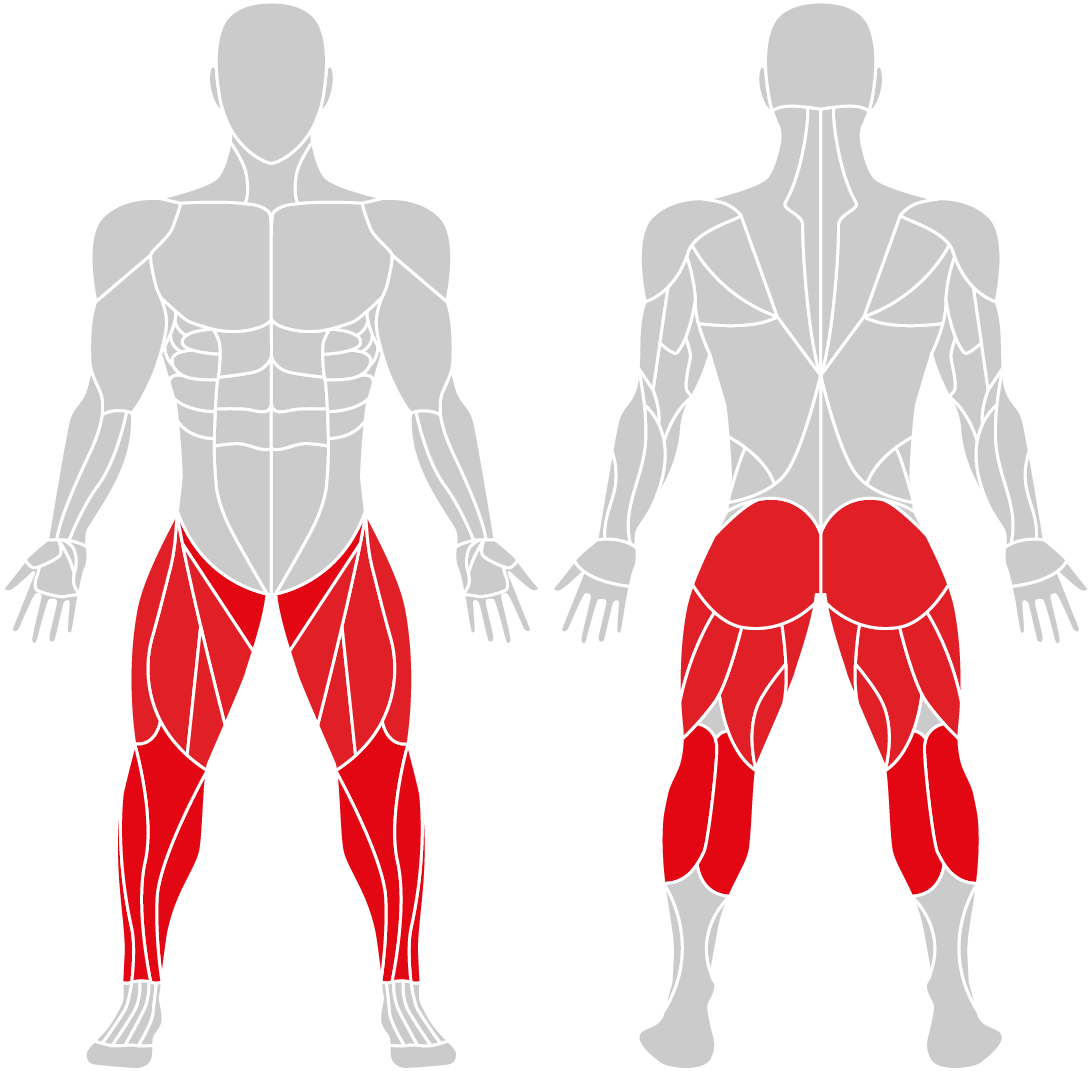 Sculpted legs and bum
Unlike many home training machines, the Bio Force from FINNLO enables effective leg training at home. Functional basic exercises such as squats, Deadlifts, but also isolated leg extension training is easily possible and improves the strength and definition of your legs. Complete your leg training with abduction and adduction on the cable pulley and hip extensions using the foot straps supplied for a comprehensive leg workout.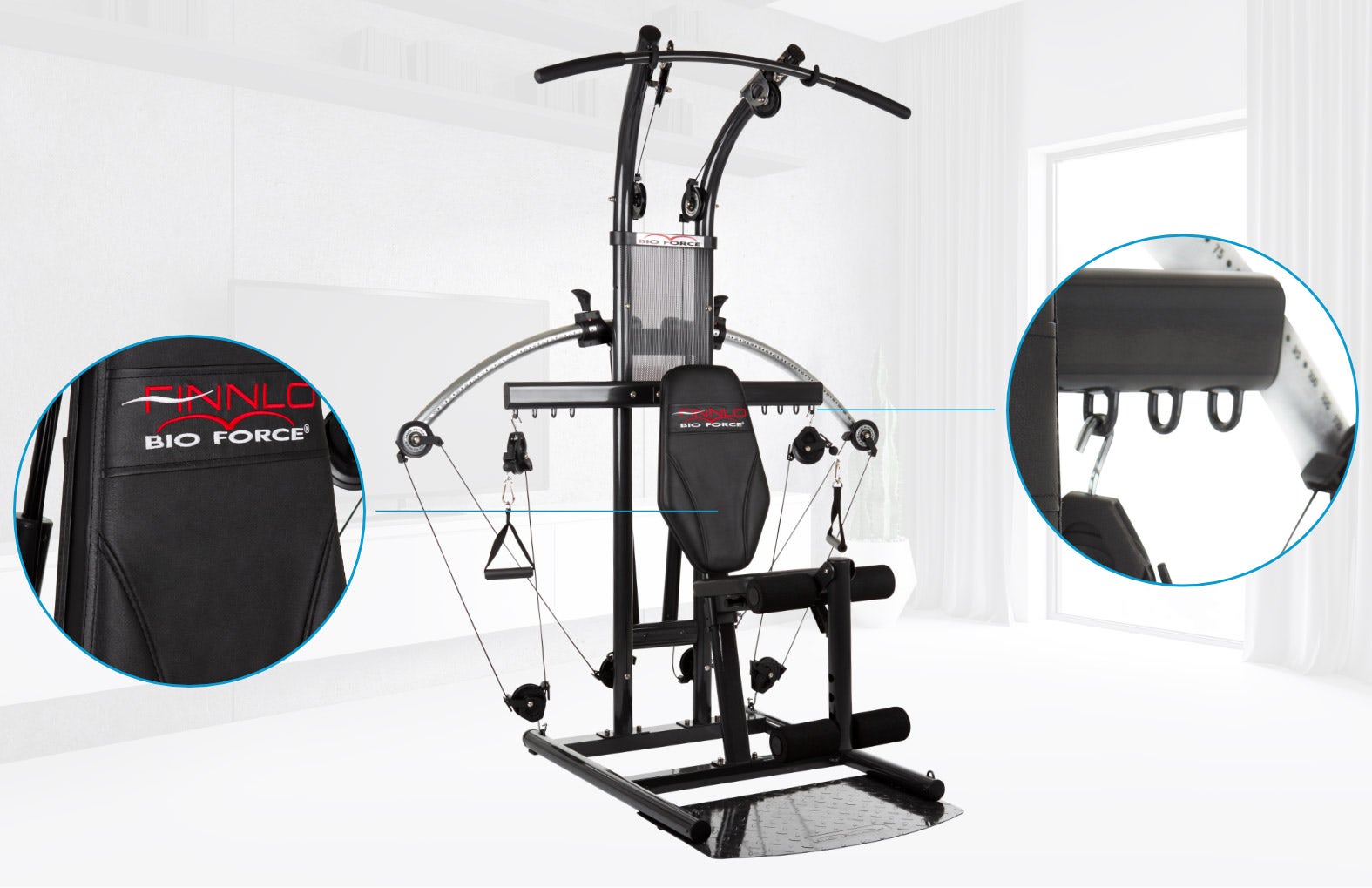 More flexibility for your training
With the Bio Force weight station from FINNLO, you can do all the exercises at home that are normally only possible in the gym. The pulleys, which can be positioned in a variety of ways, enable different pulling directions and can be flexibly attached to the sturdy frame using the handles or the lat bar. This allows you to switch between several exercises with just one movement and you can make individual variations according to your training preferences, body size and desired exercise execution. The Bio Force has 4 usable pull points at shoulder height to regulate the range of motion for pulling and pressing exercises such as rowing, bench presses or butterflies. The safety hooks guarantee maximum safety and free suspension of the pulleys for perfect rope guidance.
The station also has additional pull points on the lower struts next to the seat cushion. This means that all exercises that require traction from below are possible. These include side raises, front raises, curls, side bends and squats.
You can remove the seat pad with leg module in one easy step so that you always have the space you need in your training programme. This allows you to perform standing exercises and functional training with maximum freedom of movement.
Compact all-rounder
by using the lat bar, the foot straps or the hand grips, as well as one or both cable pulls simultaneously, you can perform numerous individual exercise variations and add even more variety to your training. For example, the pull from above can also be performed with single handles or a bar, allowing you to choose your own individual exercises.
For effective leg training, the leg module is connected to the pulley and can then be easily adjusted in intensity using the sliding mechanism.
You can remove the seat pad with leg module in one easy step so that you always have the space you need to organise your training. This allows you to perform standing exercises and functional training in particular with maximum freedom of movement.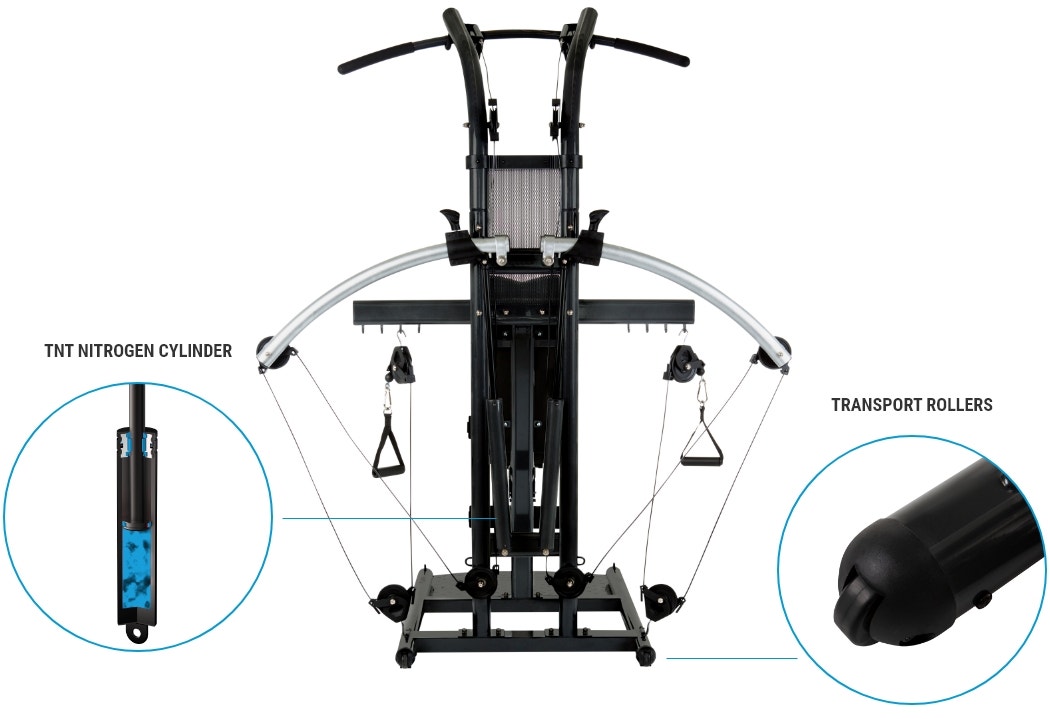 More mobility for your training
Thanks to the use of revolutionary TNT resistance technology, the Bio Force power station from FINNLO requires no weights at all. As a result, the station itself weighs just 66 kg and can be easily moved around the room thanks to the integrated transport rollers. Unlike most strength equipment for home use, you can therefore position the Bio Force flexibly in your home and do not need a fixed location. Despite its light weight, the construction of the Bio Force is reliably robust and also enables intensive training.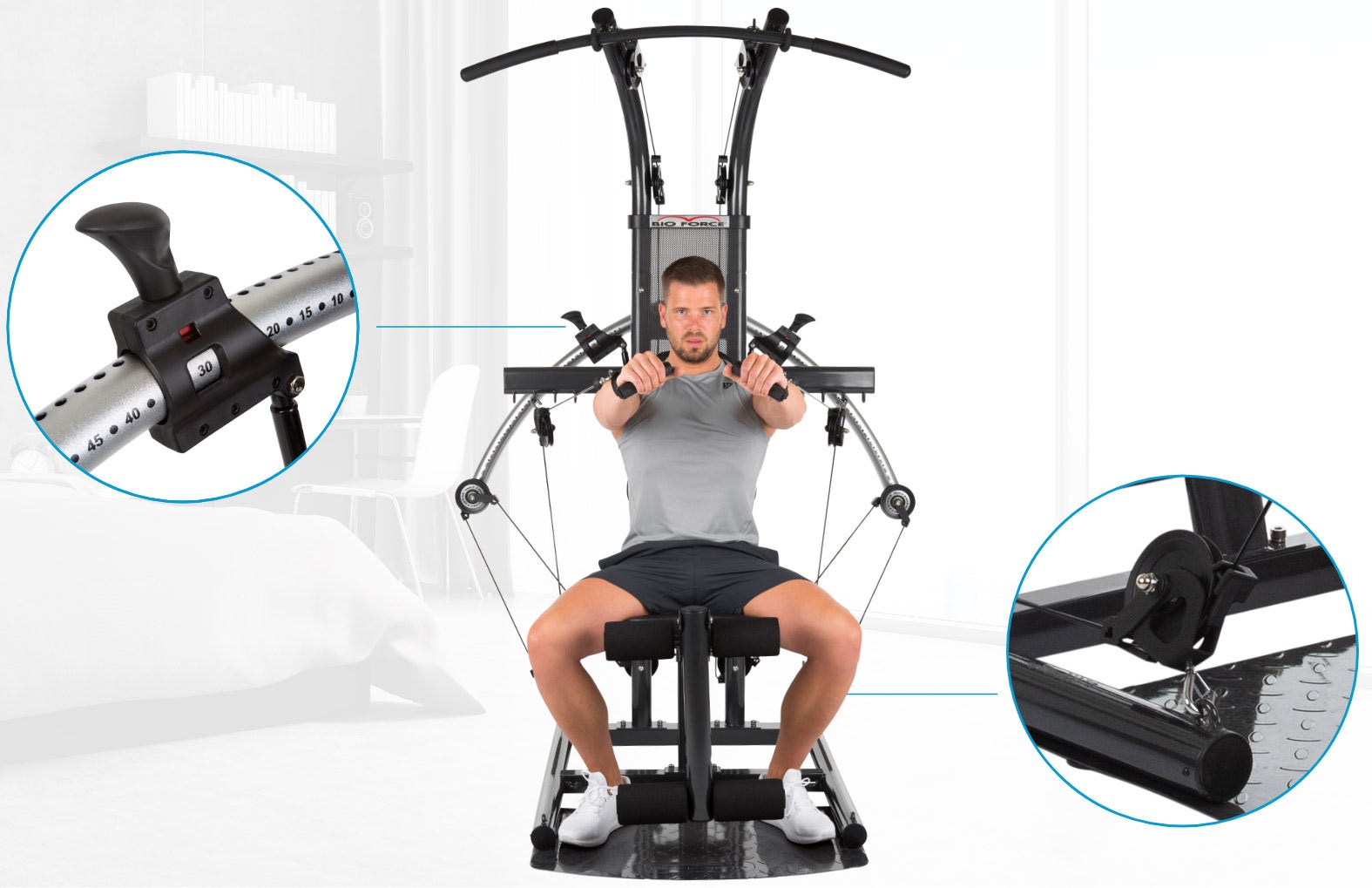 Powerful and quiet
The high resistance range of the Bio Force from FINNLO enables training at any performance level. The training resistance can be selected and changed in a matter of seconds thanks to the smooth-running slide lock. The total resistance ranges up to 55 kg per side, which can be used either independently or combined with up to 110 kg. The Bio Force therefore also provides advanced athletes with sufficient resistance for new muscle stimuli. The precise gradation of 2.25 kg allows you to control your training precisely and offers the right resistance for every exercise and every training level.
Thanks to the innovative TNT technology from the aerospace industry and the quality pulleys, the resistance is provided particularly evenly. Thanks to this particularly comfortable rotation, the Bio Force provides a training experience just like in the gym. With this user-friendly design, training with the Bio Force is almost silent and is therefore ideal for any living situation.
Further powerful benefits
With the included accessory set, you can start training straight away and keep adding variety to your workouts! It includes two hand grips, two foot straps, an AB strap and a lat bar for maximum exercise variety. Thanks to the flexible use of the accessories and the variable adjustment options for the pulling directions, there are over 100 possible combinations.
Alone or in pairs
Thanks to the two independent cable pulls, it is possible to train on the Bio Force with a training partner. Make your training even more varied and benefit from mutual motivation and even more fun!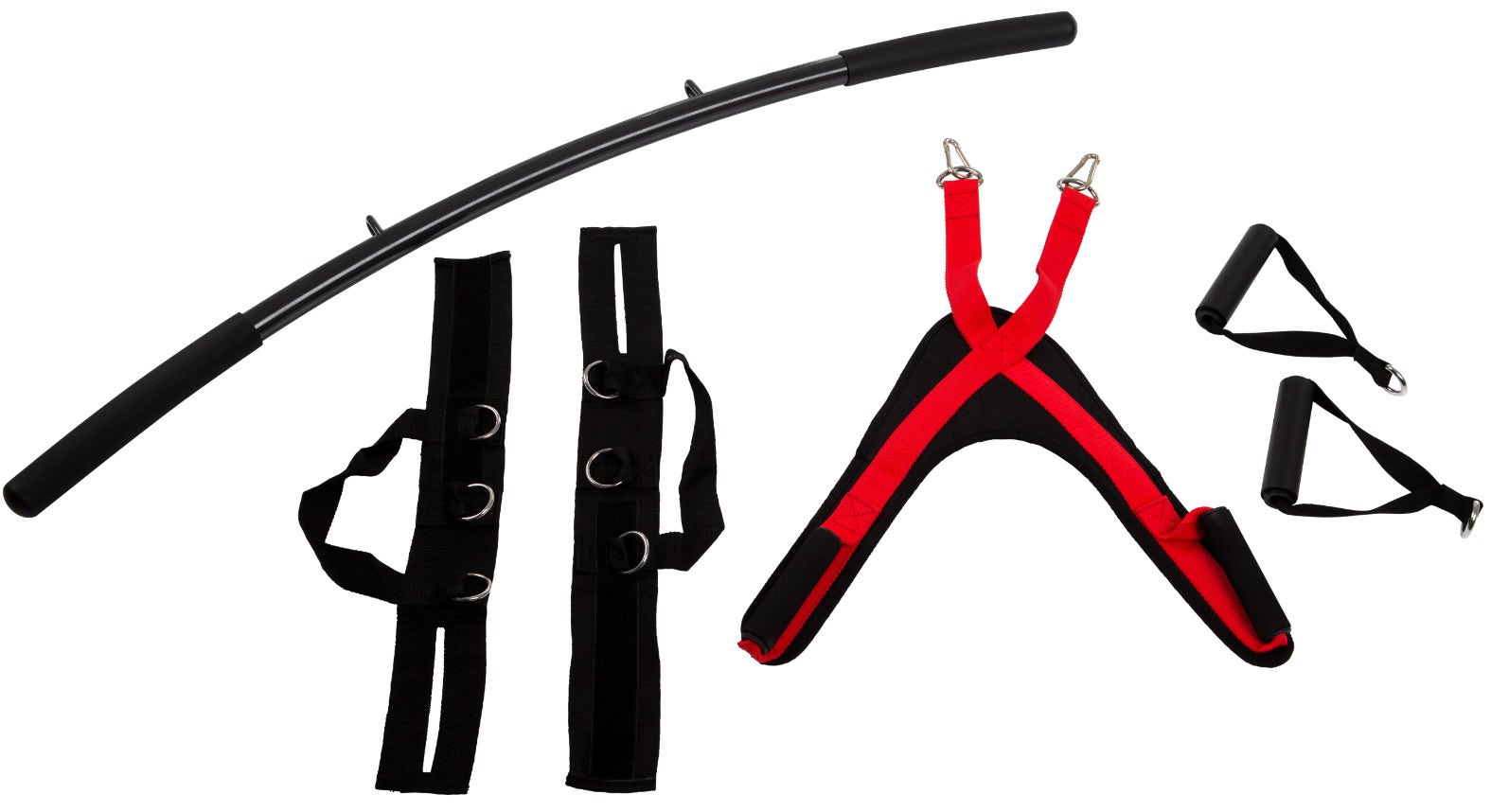 Dimensions and weight
Build up size (L x W x H)
125 x 165 x 208 cm (Space requirements 170 x 225 x 208 cm)
Shipping
Delivery time
4-8 working days
Scope of delivery
Bio Force
Delivery Information
Delivery to curbside (Please leave your phone number when ordering, so we can arrange a suitable delivery date for you)
Private use
on the main frame
10 years
Summary of all possible strength exercises with the Bio Force
You can find out how to do the exercises correctly and exactly which muscle groups are trained by clicking on the respective exercise.
Clients ask, our fitness experts answer
Do you need more information about the product? Ask your question here. Our fitness experts will answer quickly and easily.
Our recommendation for you
Autark 1500

Special Price

€1,499.00

Regular Price

€1,599.00