Kinomap
Zwift
Is an intelligent all-rounder treadmill with interactive training methodology that makes it a true personal trainer. During your workout, you are fully connected to the world of fitness and can leave your mark via a complete multimedia package and the central Android Touch console. The extra large tread area ensures the necessary safety and the one-touch control elements allow you to adjust your training intensity at the touch of a button.
A high-performance treadmill – designed to make you the best you can be...
SMART training with the Social Workout training computer
FINNLO Performance makes a clear statement for the new treadmill generation and offers you a full performance spectrum with its innovative and very user-friendly Android TFT Touch fitness computer. Make fitness your lifestyle and keep your training firmly in the overtaking lane. All your performance data is in plain view at all times on the large 10.1" display.
Connected to the world: Watch likes and feeds in real time during your workout
Share pictures and videos of your workout directly with your friends and get those motivating likes while you are giving your all on the treadmill. Having all the most important social media platforms like Facebook, Instagram, Twitter and YouTube right there at your fingertips will boost your performance to new heights as you present your efforts to the community and share your success with your family and friends.
Use the web browser to get helpful running tips while you are training, order a new pair of running shoes or look for recipes for a delicious post-workout smoothie or snack.
Play your own music, listen to Spotify or watch Netflix during your power workout
The smart console comes with a USB charger for your smart device and an integrated sound system for motivated power workouts to your favourite music, which you can access directly via Spotify or the audio port for playback via the integrated stereo speakers.
Limitless connectivity via Bluetooth and WiFi
A Bluetooth interface for coupling your own smart device like a smartphone or tablet PC, plus a WiFi interface offer you unheard of possibilities and the full spectrum of state-of-the-art connectivity. A place for your smartphone or tablet PC is provided in the practical, integrated tablet bracket.
Personalised app support
The app capability of your FINNLO Performance treadmill gives you the boost you need to reach your performance goals while enjoying your run to the fullest.
Jog through the streets of Paris today and take a breathtaking run through the Grand Canyon tomorrow. The right app puts the world at your feet.
The most intuitive and advanced way to operate a treadmill
A central control button allows you to navigate the menu with its clear and modern tile layout easily, conveniently and intuitively. The centralised and minimalist control concept, which includes just a few touch buttons and a push-and-turn toggle, offers optimal user comfort.
Created for optimal joint-friendliness
The multi-layer, 3.1 mm thick orthopaedic tread area of the FINNLO Performance with an 8-point cushioning system softens the impact of each step and offers a comfortable and natural running experience. As a result, your entire musculoskeletal system benefits, your running dynamics improve and your foot, knee and hip joints, as well as your spine, are subjected to less stress.
Running on Cloud 9 – simply heavenly!
Our Performance treadmill loves the way you run
Define your personal running experience and your very own pace! Are you a passionate long-distance runner and marathon enthusiast, a dedicated, performance-oriented sprinter, or are you running for rehabilitation and improving your overall fitness? FINNLO Performance is an all-round talent, supporting you with everything from rehabilitation to professional, top performance objectives.
Running, jogging, walking – a versatile training partner for everyone.
Limitless performance for any requirements
The efficient, whisper-quiet and perfectly aligned 3.5 hp continuous output motor of FINNLO Performance achieves a peak output of 9 hp and offers an amazing range of speeds between 0.8 km/h and 22 km/h. Your FINNLO Performance treadmill is therefore the perfect training partner for rehabilitation and top athletic performance. Its exact speed adjustment in 0.1 km/h increments guarantees a healthy training session.
8-step "One Click" intensity adjustment
Your running training will benefit significantly from the high-grade technology at work in the FINNLO Performance. The soft One Touch function selection buttons allow you to change your speed and incline at the push of a button. The quick function and intensity changes make sure your training never gets boring – and it feels more like you are actually jogging outside.
The quick selection buttons allow you to set the incline electronically in 15 incline increments (to max. 15%) – great preparation for uphill runs or trekking tours.
The XXL tread area can handle virtually anything
The high-resistance treadmill features an impressive 1520 x 520 mm tread area, which is suitable for very tall users or those with a max. bodyweight of 160 kg and offers a completely natural, comfortable and authentic running experience. The generous width of 520 mm, as well as the robust, large area lateral steps ensure optimal conditions for safe and steady running training.
Feel the versatility. With every step you run.
The Performance treadmill by FINNLO is true to its name and offers you and three other users a perfectly attuned running training method. Control the training with your heart rate and measure your heart frequency continuously via a chest belt or set yourself goals for performance-related distances, calorie consumption or training duration.
Best of all: you will receive a detailed summary of your average speed, training time and average incline displayed right there on screen after each workout.
Uncompromising program variety for 4 users
With 10 highly effective pre-set training programs, which you can easily adjust via the touch display to suit your changing needs, you can design the perfect workout just the way you want it.
The extensive program package provided for the FINNLO Performance treadmill offers all kinds of training types:
Gentle jog
Timed endurance run at your physical limit
Long-distance run with increasing physical impact and duration
Speed training and interval training in preparation for competitions or marathons
Uphill training
Running in pace with our modern time
You will achieve the best results in cardio training with a heart-rate-controlled workout that monitors your heart rate. The two pre-set heart rate limits will help beginners to strengthen their circulatory system at 60% heart frequency and promote fat burning, while more ambitious athletes train their endurance and improve overall fitness at 80% of their heart frequency.
A third custom heart rate limit can be stored for specific workout goals and gives you the freedom to push and achieve your objectives faster.
Easy to fold up and move anywhere in the room
The practical folding function and the integrated transportation rollers allow you to set up or move your Performance treadmill with ease, and make it just as easy to store with very little space requirements.
Impressive performance in the test
"The model scores well in all key test disciplines and offers a handful of "treats" that other models cannot boast thanks to its media compatibility alone. This is precisely why it was deservedly awarded the test rating of "very good" (94.1 %). Despite 120 hours of walking, jogging and sprinting with the model, there was not even any significant material abrasion on the top of the mat."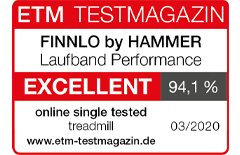 Computer
Display
10.1" TFT, 1280*800 Pixel
Multimedia
App, Aux, Bluetooth, Speakers, Tablet support, USB
Integrated pulse receiver for chest belts
5 kHz
Display
Load profiles
Distance, Speed, Heart rate, Calories, Incline, Time
Programs and profiles
Heart rate controlled programmes
3
Adjustable pulse limit
Upper pulse limit
Drive/brake system
Resistance adjustment
Computer controlled
Dimensions and weight
Build up size (L x W x H)
200 x 90 x 135 cm
Folding dimension (L x W x H)
110 x 95 x 162 cm
Other features
Speed
0.8-22 km/h in 0,1 km/h steps
Incline
0-15% (in 1% Schritten, motorisch verstellbar)
Transportation rollers
Yes
Performance
3.5 hp (continuous power) / 9 hp (maximum power)
DIN Norm
DIN EN ISO 20957 -1/6
Shipping
Delivery time
4-8 working days
Scope of delivery
Performance
Delivery Information
Delivery to curbside (Please leave your phone number when ordering, so we can arrange a suitable delivery date for you)
Private use
on the main frame
10 years
Clients ask, our fitness experts answer
Do you need more information about the product? Ask your question here. Our fitness experts will answer quickly and easily.
Our recommendation for you