Premium workouts with the FINNLO E-Glide SR
The FINNLO E-Glide SR elliptical machine offers you varied cardio workouts with the best possible comfort. The dynamic workout on the elliptical machine works your entire body and increases the number of calories you burn in a natural way, which also increases effectiveness. From the calves to the shoulders, all of your large muscle groups are included in the workout and strengthened.
You can achieve the following effects with long-term workouts on the E-Glide SR:
Improved cardiovascular system
Reduction in body weight and fat reserves
Tightening of the legs and buttocks
Optimal body toning
Increase in endurance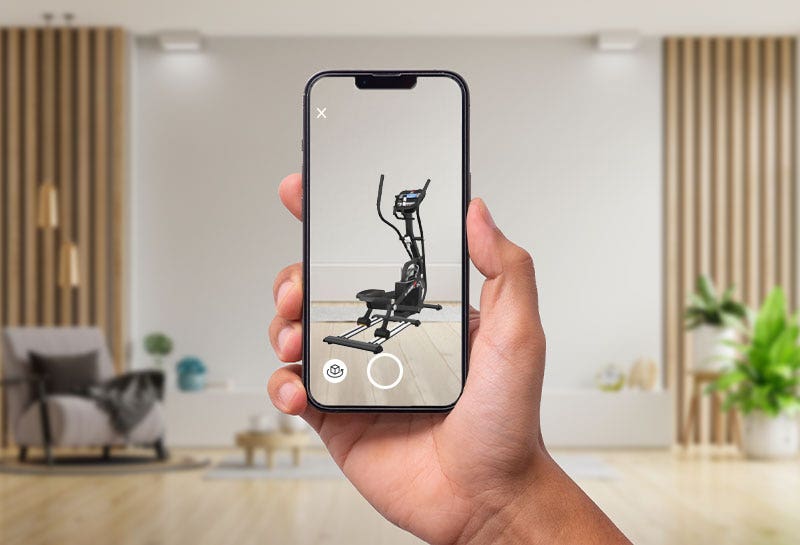 Experience your product in your own home now!
Whether as a 3D view on the PC or virtually in your own room via smartphone - immerse yourself in a whole new kind of product experience with HAMMER Augmented Reality.
FINNLO E-Glide SR elliptical machine– Product specifications
Hi-tech workout computer with many programs
You can centrally control all of the workout functions using the modern workout computer integrated into the E-Glide SR. But you can also vary the intensity directly on the handles. Choose a suitable workout session from the 5 strain profiles with mountain and valley variations and 2 heart rate-controlled programs. There are 20 levels at which the resistance can be set.
You can measure your heart rate via the sensors in the handles or chest strap included in the delivery. Use your heart rate measurement for a targeted workout with an upper heart rate limit to get even more out of your workout.
A practical muscle activity program also shows you the muscles currently being worked.
Harmonious rotation that goes easy on the joints
The precision ball bearing is equipped with double ball bearing joints to make your workout even more comfortable. This, coupled with 20kg centrifugal force, guarantees optimal running smoothness. The elliptical machine is driven by a stable grooved belt that is counteracted by the tried-and-tested FINNLO permanent magnet brake system, thereby guaranteeing exact intensity settings. A fan and an AUX input connection (so you can play music from your cell phone or iPod) round out the high-quality fittings of the E-Glide SR.
Here is an overview of additional product information:
Transmission ratio: 1:8
Permanent display: 8
Drive system: Grooved belt
Brake system: permanent magnet brake system
Integrated transport rollers
Fan
Muscle activity program
Height regulator
Precision ball bearing
5 cm Footplate spacing
Approx. 20 kg centrifugal force
Strain profiles
2 heart rate-controlled workout programs
Workout intensity: 20 strain levels
LCD display: blue, backlight
Power supply: 230V, 50Hz
Color: silver / black
Dimensions when set up (LxWxH) cm: 175 x 60 x 168 cm
Max. permissible body weight: 150 kg
Computer
Multimedia
Aux, Speakers, Tablet support
Integrated pulse receiver for chest belts
5 kHz
Display
Load profiles
Distance, Speed, Heart rate, Calories, RPM, Resistance Level, Time
Programs and profiles
Heart rate controlled programmes
2
Adjustable pulse limit
Upper pulse limit
Drive/brake system
Drive system
Grooved belt
Load control
RPM dependent
Braking system
Permanent Magnetic
Resistance adjustment
Computer controlled
Dimensions and weight
Build up size (L x W x H)
175 x 60 x 168 cm
Other features
Transportation rollers
Yes
DIN Norm
DIN EN ISO 20957-1/9
Shipping
Delivery time
4-8 working days
Scope of delivery
E-Glide SR
Delivery Information
Delivery to curbside (Please leave your phone number when ordering, so we can arrange a suitable delivery date for you)
Private use
on the main frame
10 years
Clients ask, our fitness experts answer
Do you need more information about the product? Ask your question here. Our fitness experts will answer quickly and easily.
Our recommendation for you