HAMMER Ferrum TX4
Your all-round multi-gym with plenty of accessories – get in the best shape of your life!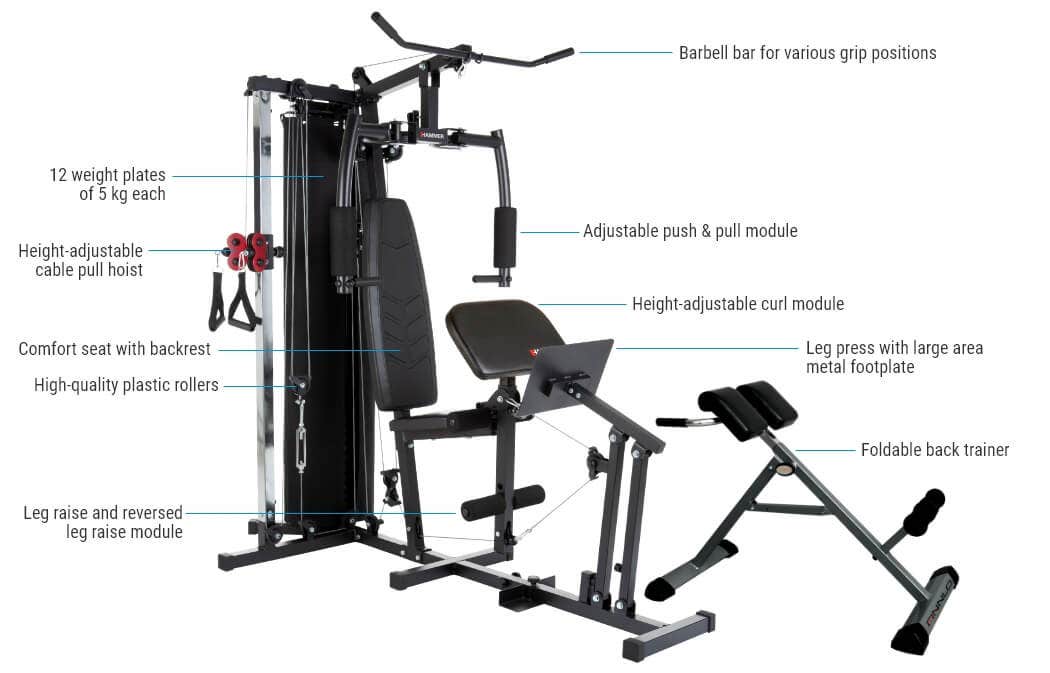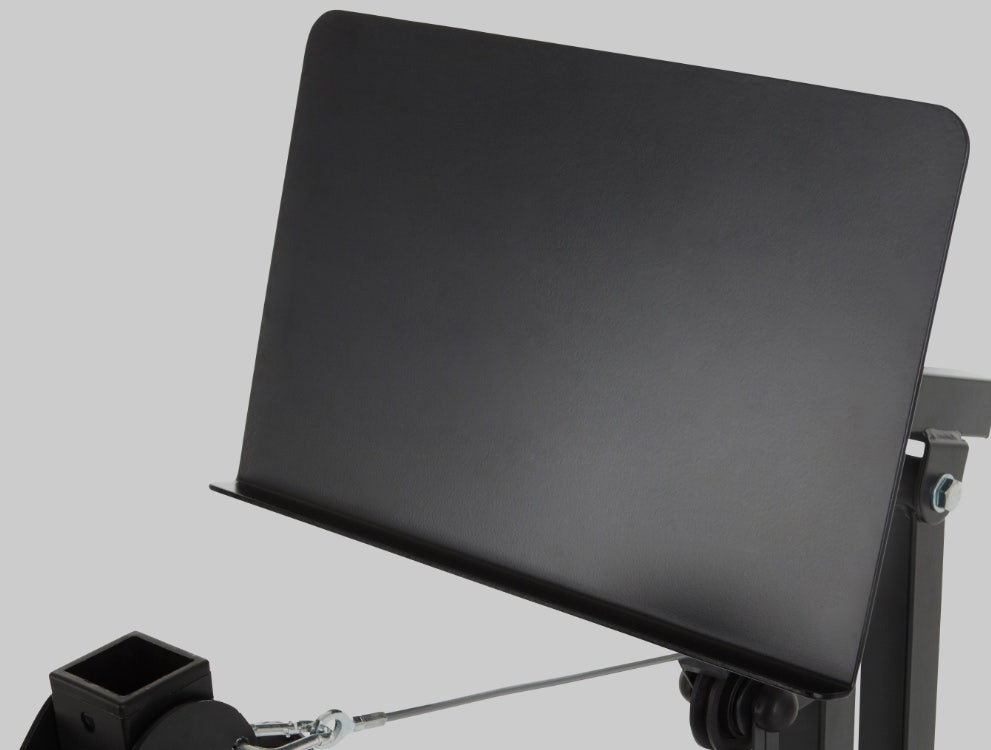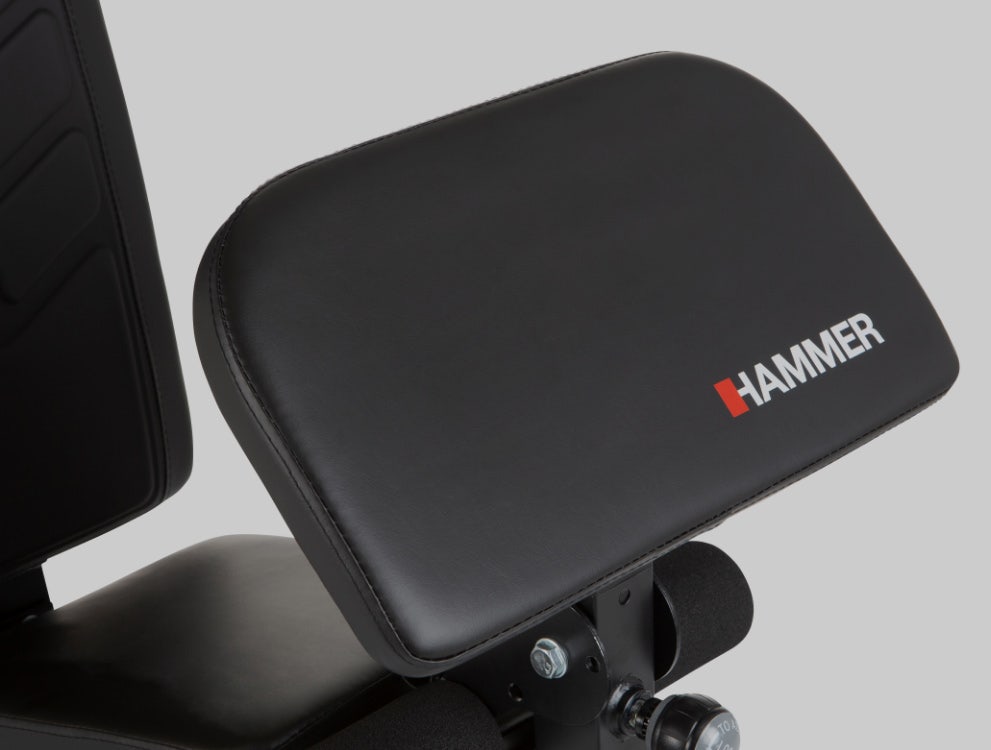 Your weight training machine for a powerful body
The Ferrum TX4 multi-gym offers everything you need to get your muscles in the best shape of your life. Forget about annoying traffic jams on the way to and from the studio, about paid memberships, etc. – train at home whenever you want and as much as you want! The compact and space-saving footprint of the Ferrum TX4 make it a great choice for your home. There are lots of training options to offer you plenty of variety, target specific muscle groups, add super sets to your training or work your way through all main muscle groups in your body! The added leg press and independently height-adjustable cable pull tower allow you to stimulate muscles individually and with a variety of exercises. With the back trainer included in the Ferrum TX4, you can round off your full-body workout program and specifically target your back muscles and glutes.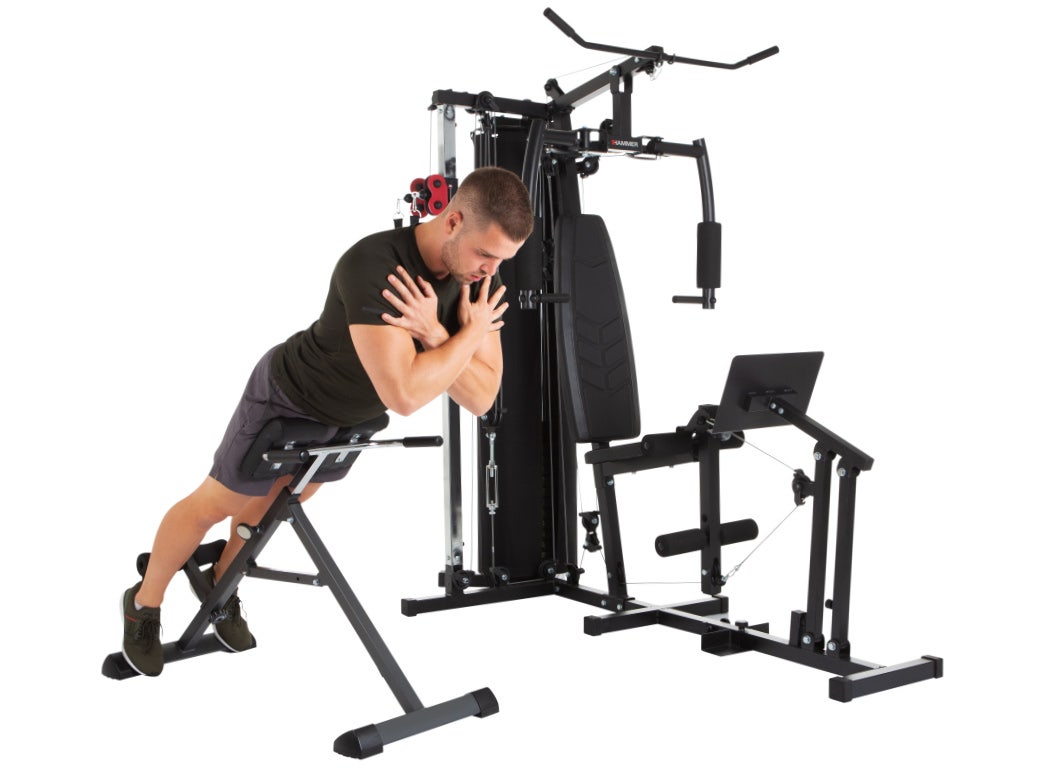 Get in the best shape of your life!
The Ferrum TX4 offers a wide range of push and pull options that allow you to add many different exercises into your weight training. The compact multi-gym, with its highly sophisticated design, is great for basic exercises and isolation exercises. Training resistance can be easily adjusted using the weight block. Super sets let you push yourself to your limits for additional muscle growth. You will be blown away my all the accessories included in your delivery. There is a curl and lat bar you can use for a variety of exercises that will also strengthen the muscle groups in your lower back. The Ferrum TX4 allows you to target specific muscle groups individually. Start your 'body upgrade' at home today, with all the latest technology at your fingertips.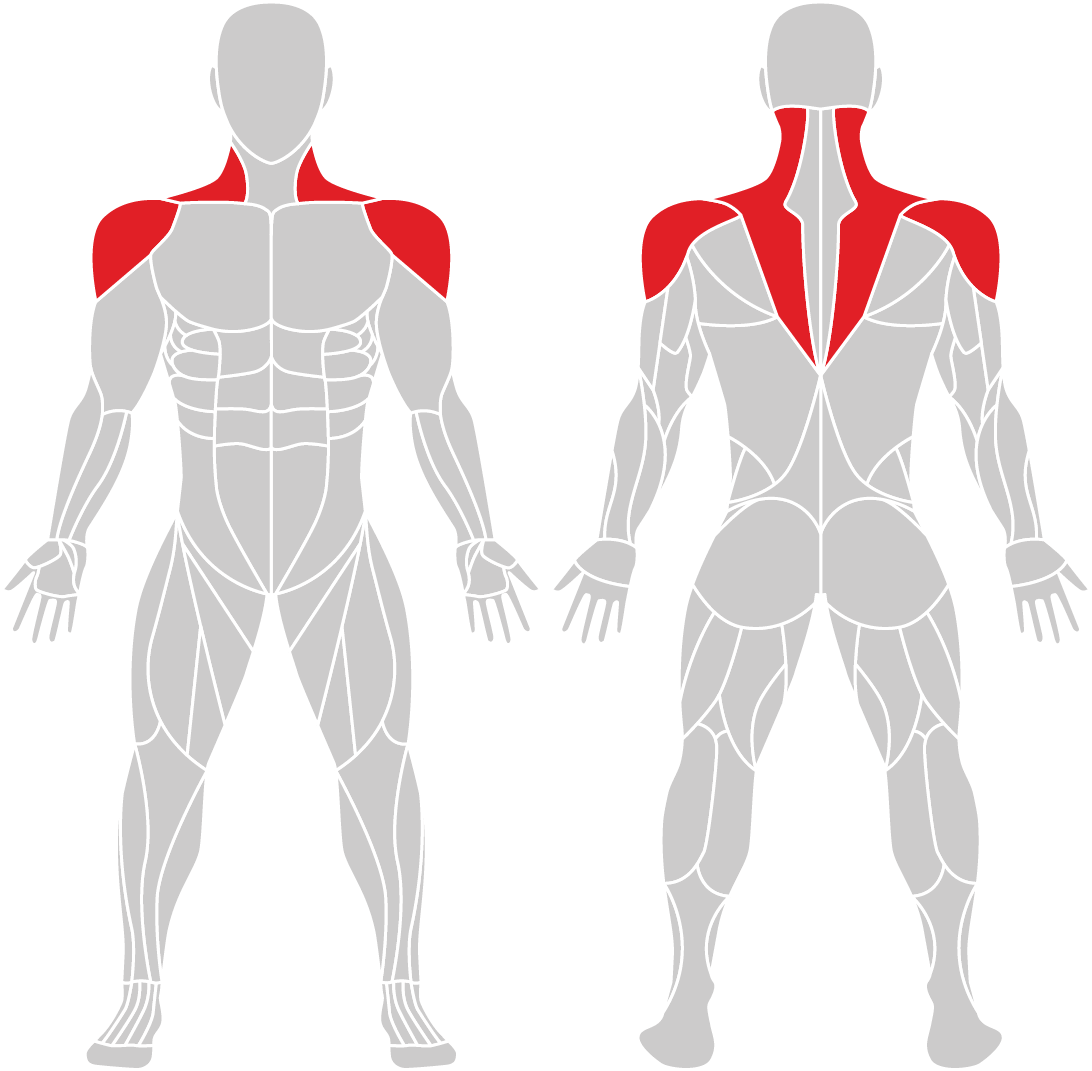 Sculpted shoulders and a powerful neck
Use the curl bar (included in the delivery) for shoulder lifts to strengthen the muscles in your shoulders. Lateral lifts on the cable pull tower are also an excellent way to target each and every muscle in your shoulders.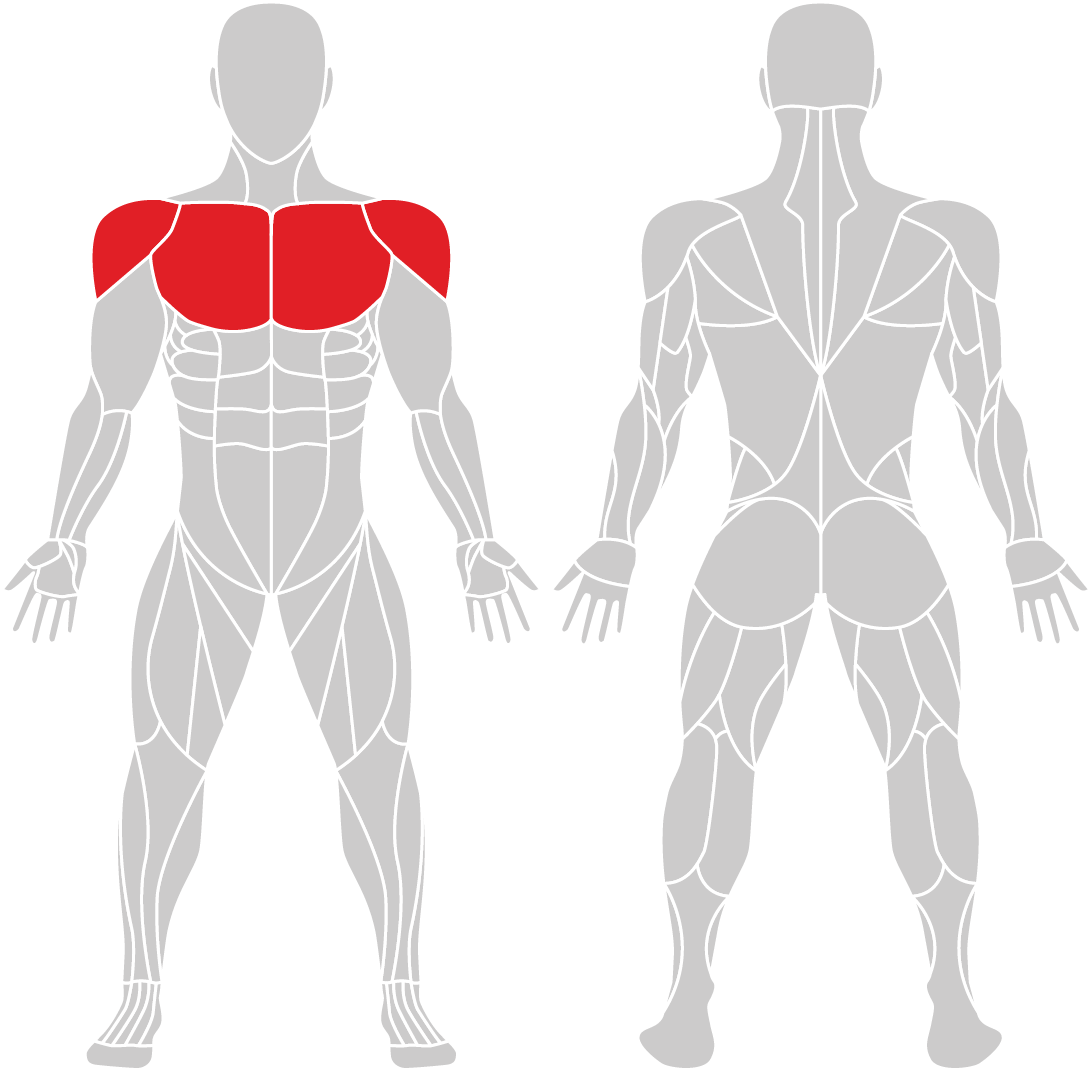 XXL chest workout
There are plenty of exercises you can use to build muscles in your chest! Use the accessories provided, like the combined and ergonomic butterfly bench press unit or the two independent and height-adjustable cable pull hoists.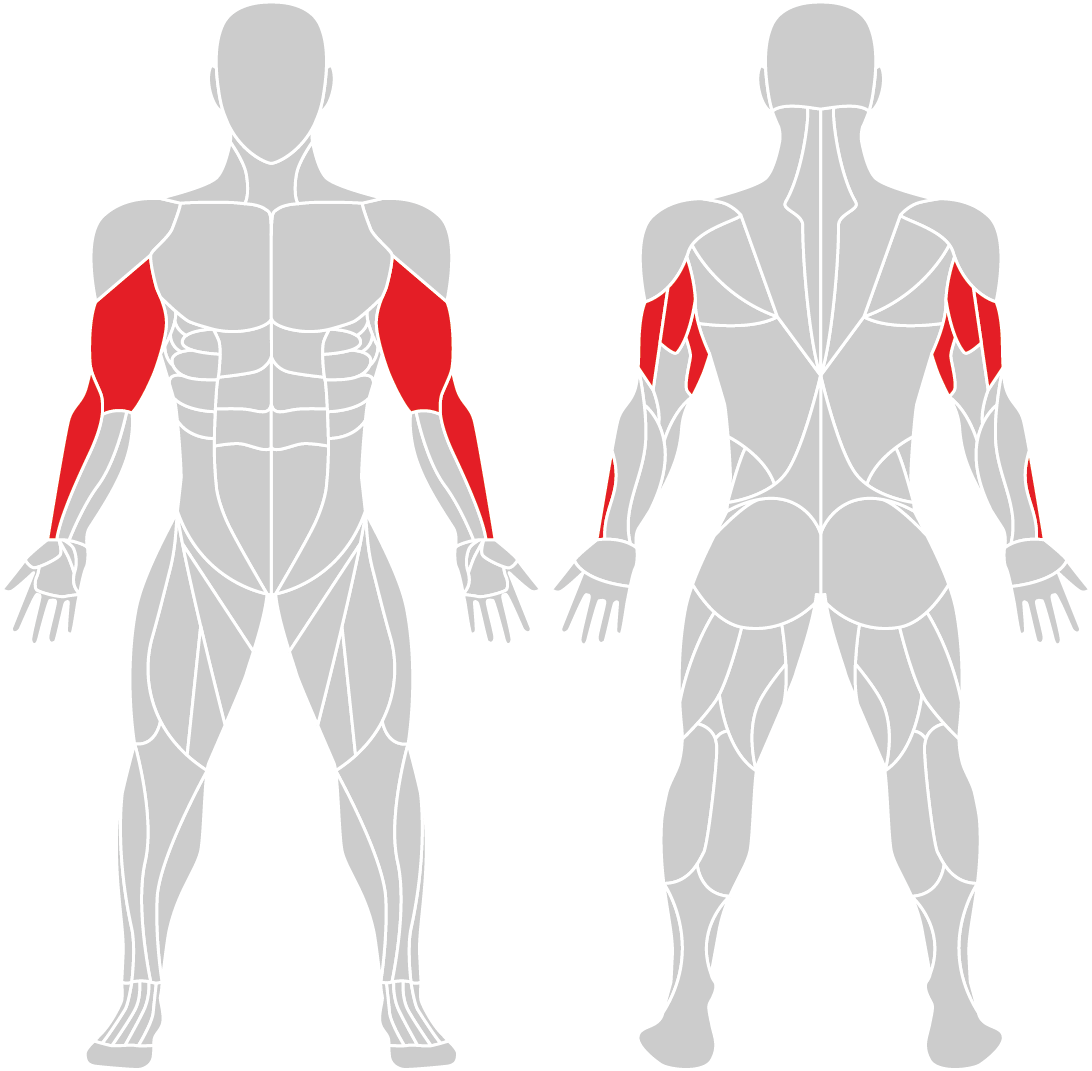 Powerful biceps and triceps workout
Hey! You're getting noticed! Train your arm muscles (biceps and triceps) with the variably height-adjustable curl bench, the curl bar or the triceps pulley.
Additional back trainer for a powerful back
The foldable back trainer is a free extra. It will help specifically with training of the muscles in you lower back area. The back trainer will strengthen the muscles in your back and you can do a complete back workout in combination with the multi-gym (e.g. using lat pulls).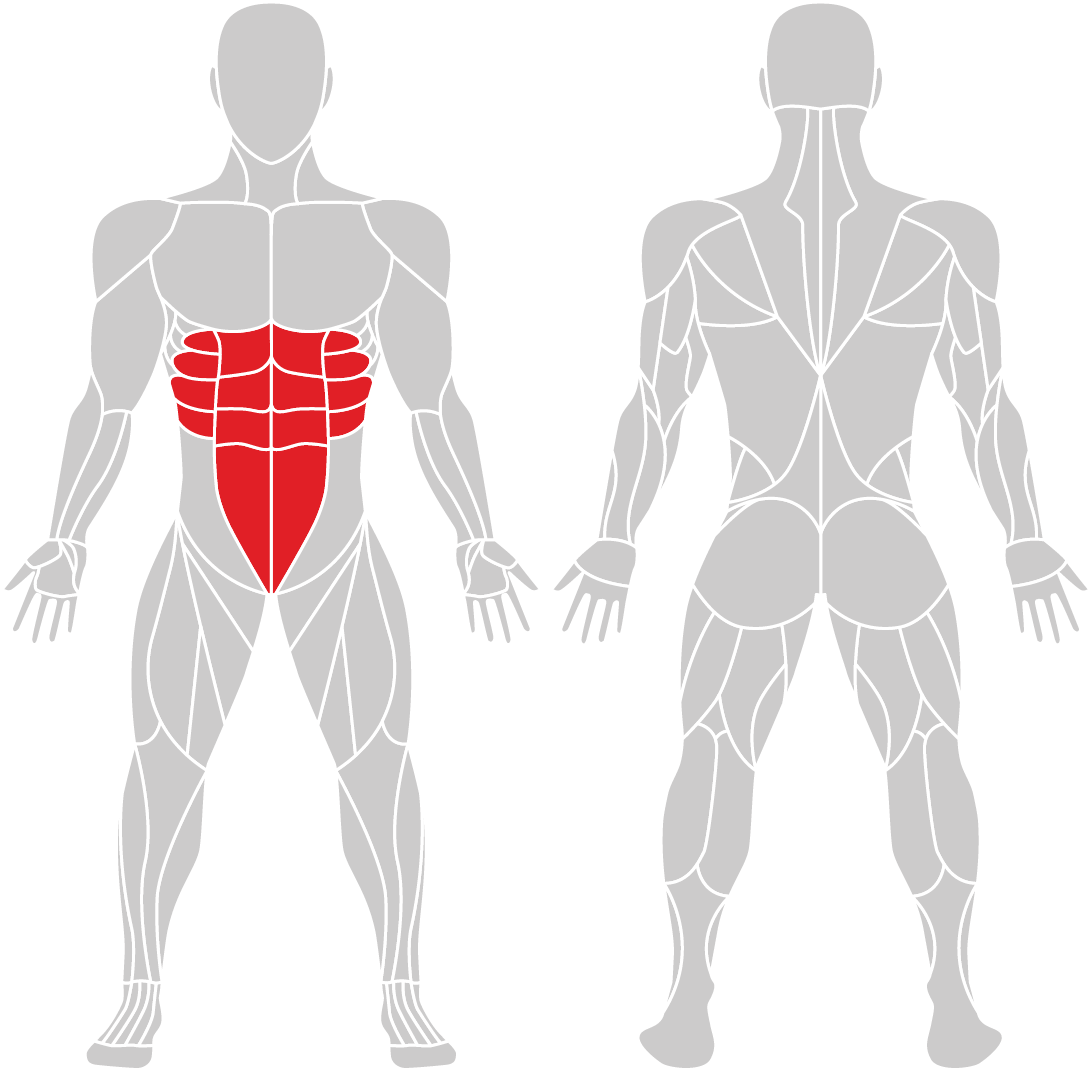 Beer belly to six-pack
Your abdominal muscles will turn to steel after enough intense standing crunches and lateral cable pull hoists.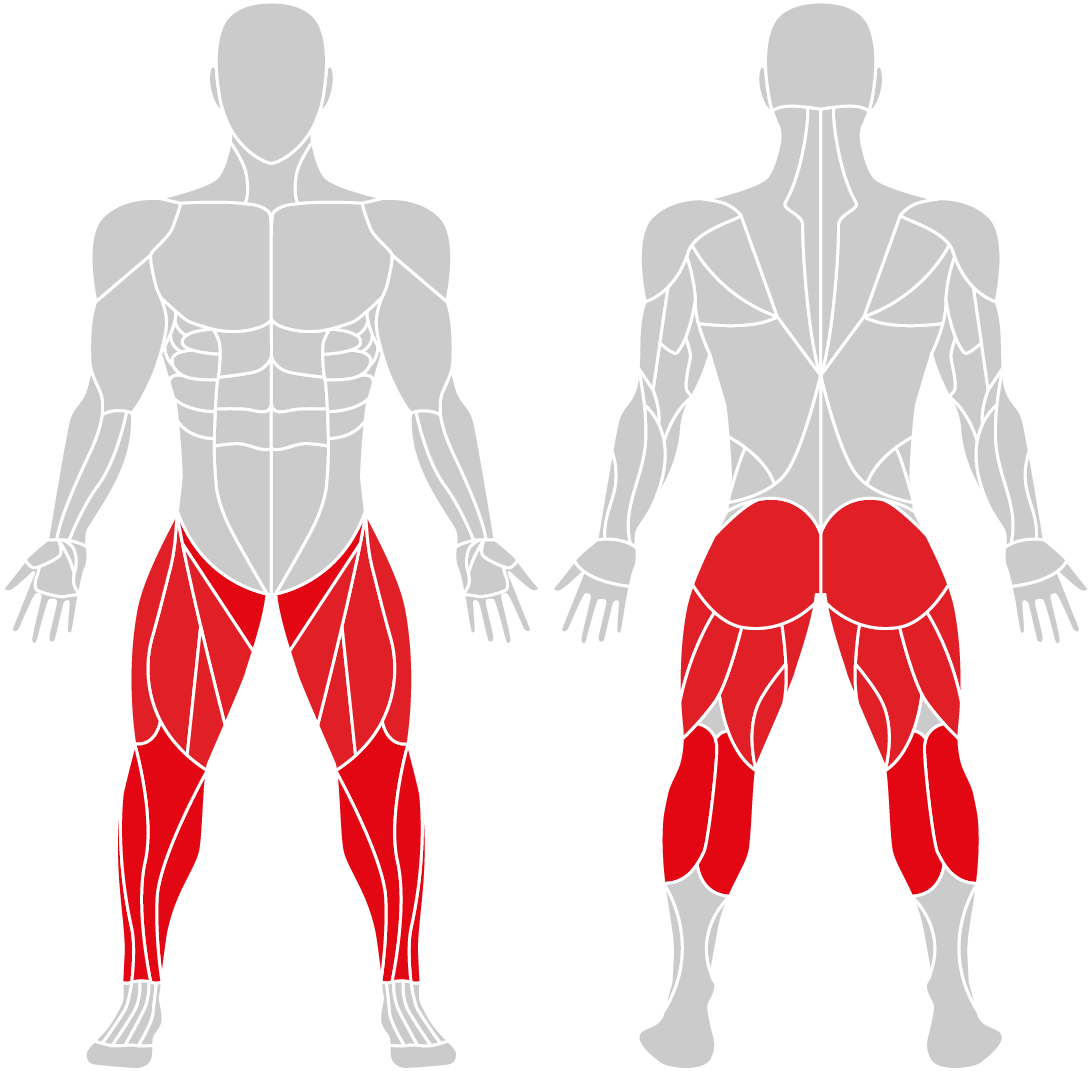 Leg workout just like at the studio
Super practical! The adjustable leg raise and reverse leg raise module is the perfect tool to get your thigh muscles going. The comfortable round pad on the module can be adjusted to offer more or less resistance. The leg loop (also included in the delivery) will have you moving your adductors and abductors effectively on the cable pulley. The detachable leg press module of the Ferrum TX4 offers another workout option for powerful thighs.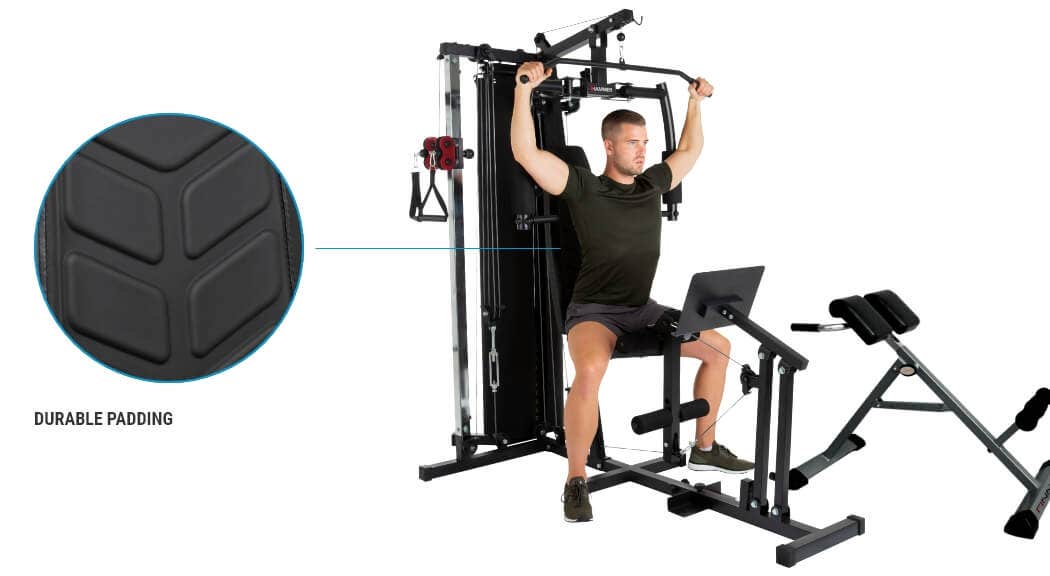 Wear-resistant and comfortable
The ergonomic comfort seat with padding made of highly durable materials offers excellent back support during your weight training session. Weight lifting athletes up to a body height of 1.88 m have a comfortable workout space here and can really work on their muscles.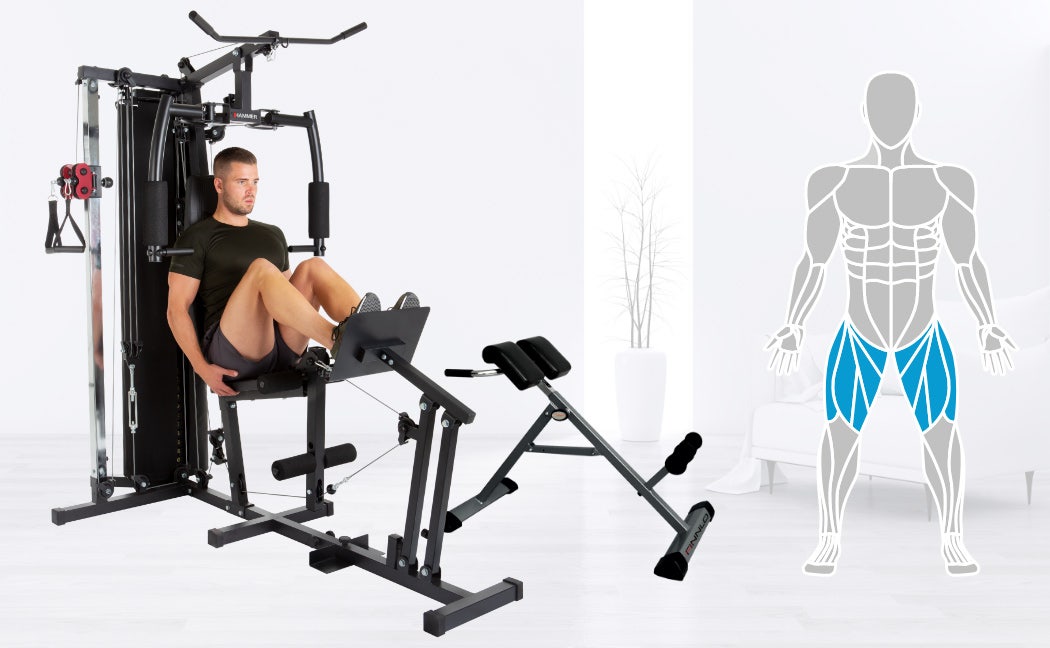 Never skip leg day!
The high-quality, detachable leg press module is an ideal addition to the multi-gym and a must-have for any complete weight training workout plan. This module focuses particularly on exercising the quadriceps. This very robust leg press allows you to focus your efforts on creating a more defined muscle for a more powerful appearance. Super practical! The leg press module is easily detached to make space for a number of other exercises.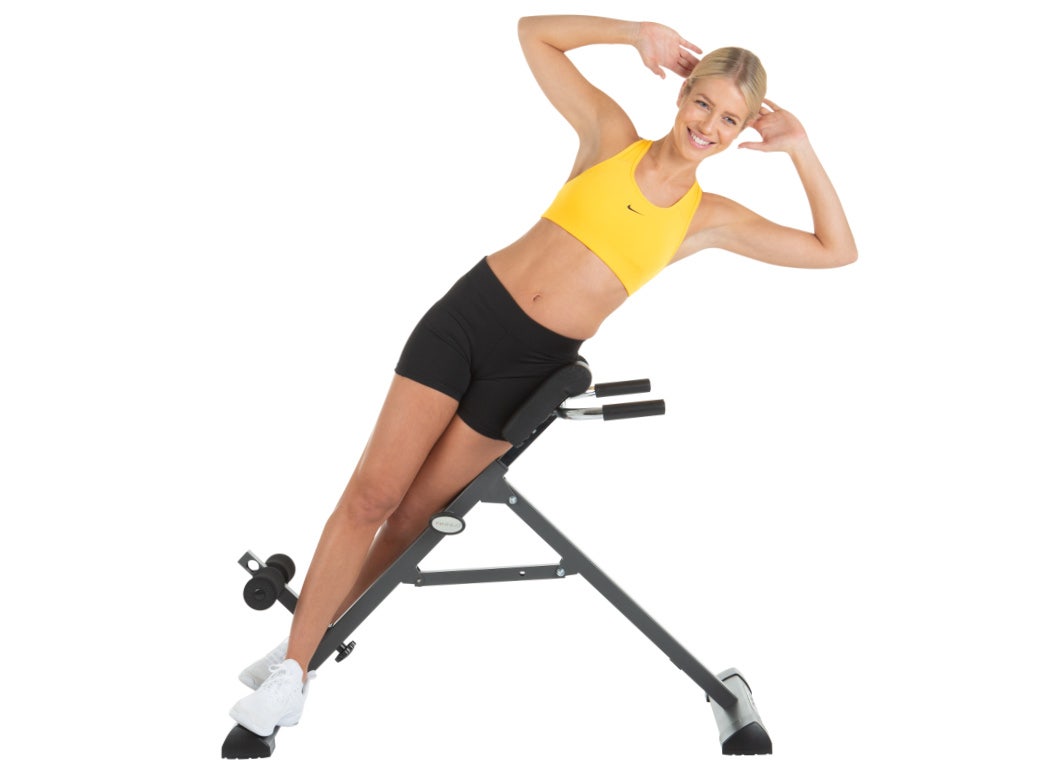 Powerful back support
The back trainer, which is part of the Ferrum TX4, is your ally when it comes to preventing muscle tension, unhealthy posture and stiff muscle in the upper body. Our daily lives are spent mostly in a seated position, which often leads to back pain and posture issues, which, in turn can result on chronic headaches. Regular use of the TX4 back trainer as part of your workout regime will stabilise your core and strengthen your back and neck. The premium-quality construction will hold a body weight up to 130 kg without any issues. The broad surface area of the foot rests will give you the support you need during your training session. At the end of the workout, simply fold the back trainer up – it needs very little storage space.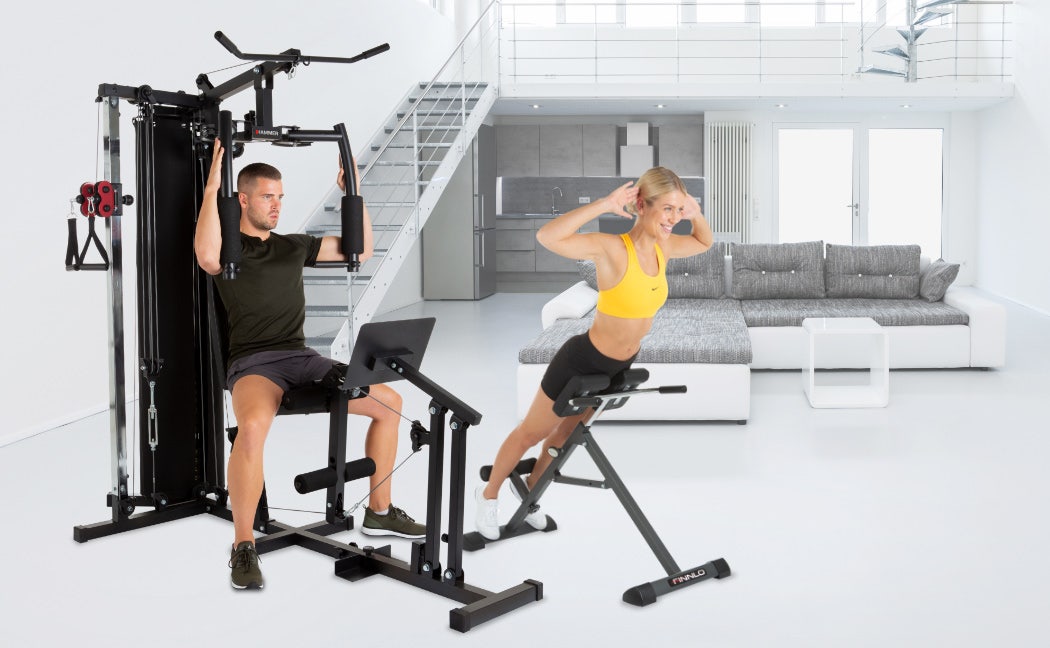 A highlight for your home
The robust design and black finish of the Ferrum TX4 has a definitive "wow" effect in your apartment or your basement. The HAMMER multi-gym has an extremely robust basic structure made of premium materials – perfect for your muscle building workouts. The trendy padding is highly wear-resistant. The moisture-repellent material can be easily wiped down with a cloth. The Ferrum TX4 is suitable for weight lifters with a weight class up to 120 kg.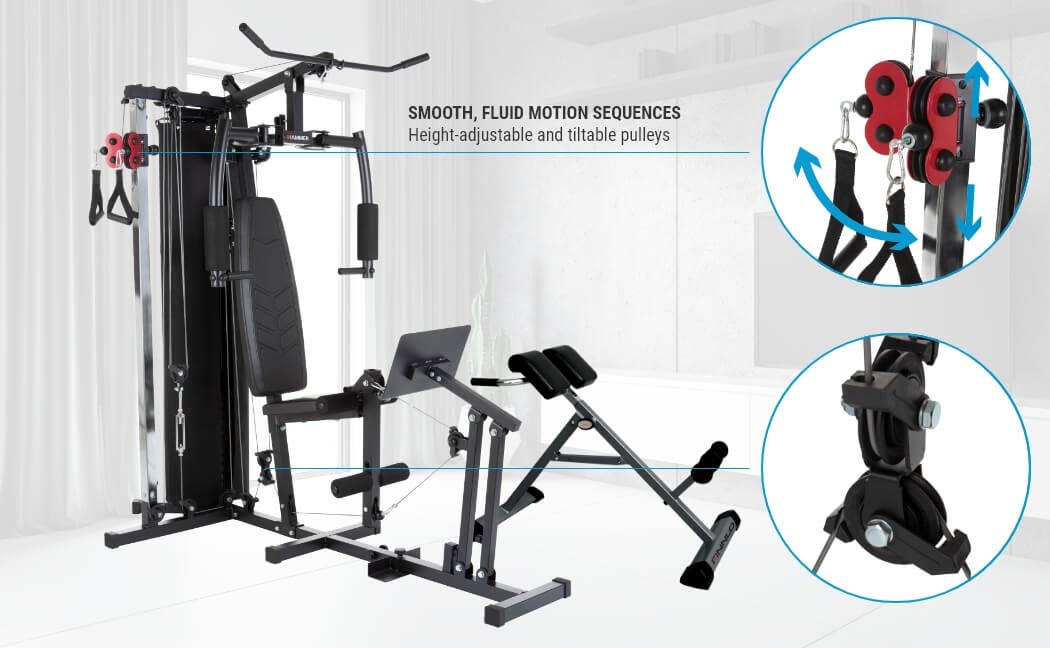 Perfectly on a roll
The high-end ball bearings inside the plastic pulleys create a super smooth and even motion sequence during cable-pull workouts and help you finish each exercise perfectly. The plastic-coated steel cables move evenly and ensure optimal motion sequences in free training.
Cable pull hoist with gradient adjustment
The two independent and height-adjustable cable pulley hoists on the lateral cable pulleys allow you to change workout angles and heights in free training. Your muscles are challenged with more diversity and stimulated more fully. Super practical! You can fold in the butterfly module on the right to give you more space for your cable pull exercises.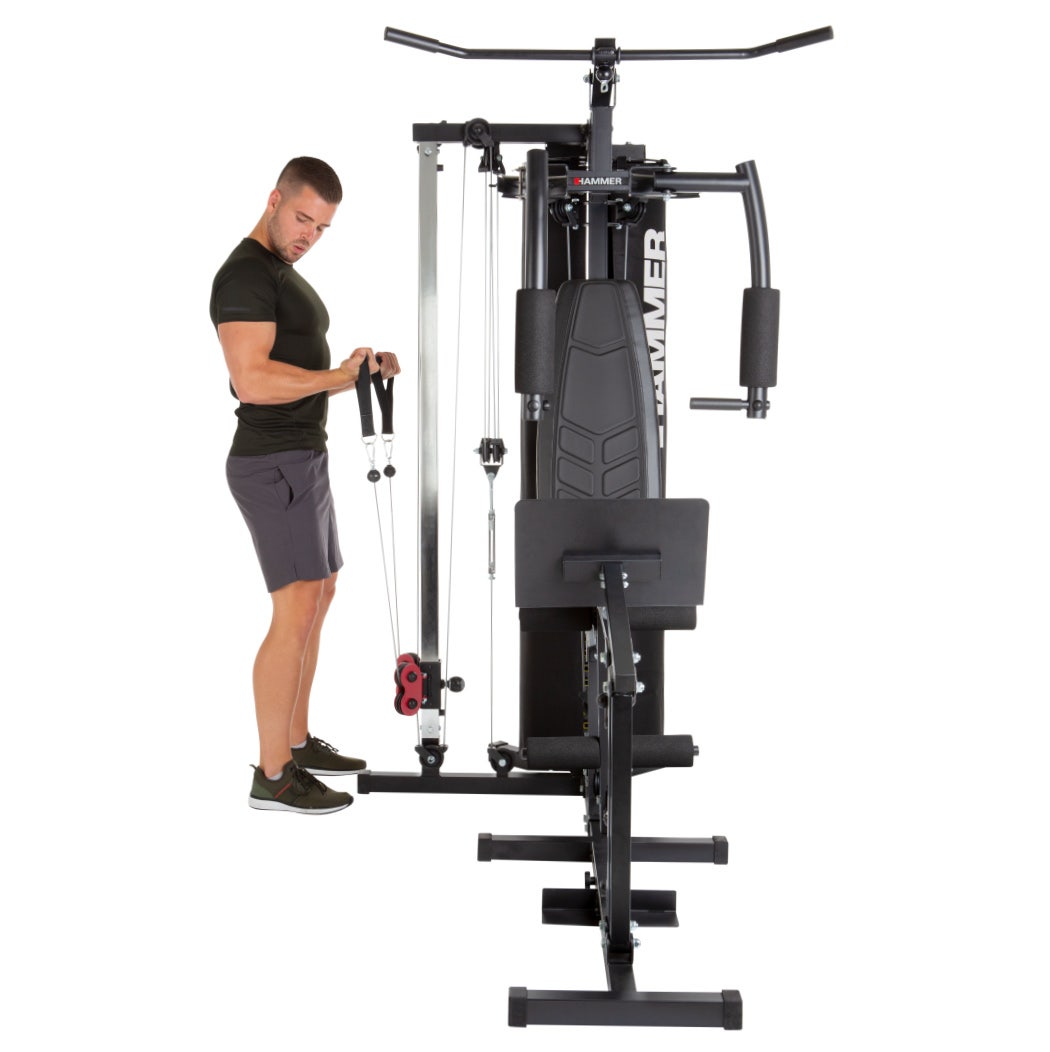 Other power benefits
Upgrade your muscle mass
The highly effective workout options offered by the Ferrum TX4 make it a compact multi-gym for all your body-building needs. No more getting stuck in traffic on the way to or from the studio – do your weight training at home! Your own personal multi-gym will give you everything you need in the comfort of your own home.
You can achieve the following workout goals with your Ferrum TX4 multi-gym:
A broad, sculpted chest and torso, powerful XXL arms and a strong, V-shaped back
Pumped, muscular thighs and calves
Broad shoulders
Full back workout for a super powerful back
Dimensions and weight
Build up size (L x W x H)
210 x 120 x 198 cm
Shipping
Delivery time
4-8 working days
Scope of delivery
Ferrum TX4
Delivery Information
Delivery to curbside (Please leave your phone number when ordering, so we can arrange a suitable delivery date for you)
Private use
on the main frame
10 years
Summary of all possible strength exercises with the Ferrum TX4
You can find out how to do the exercises correctly and exactly which muscle groups are trained by clicking on the respective exercise.
Clients ask, our fitness experts answer
Do you need more information about the product? Ask your question here. Our fitness experts will answer quickly and easily.
Our recommendation for you