Kinomap
Zwift
High-tech treadmill for ambitious long-distance runners. Multi-media support for additional motivation.
Sprint away from the competition
Are you looking for a treadmill with all the bells and whistles? It needs to be high-tech and have a large touch screen? Q.VADIS 10.0 is exactly what you've been looking for! Improve your fitness levels at home and keep beating your own fastest times. The ingenious running features of the HAMMER Q.VADIS 10.0 will make your heart skip a beat:
Top speed 22 km/h
3 hp treadmill motor
Quick selection buttons: change the speed from 4 km/h to 5, 6, 8 or 10 km/h, as well as the incline: from 3% to 6% or 9%
44 training programs + live routes
Tread area of 152 x 51 cm
15.6" colour TFT touch screen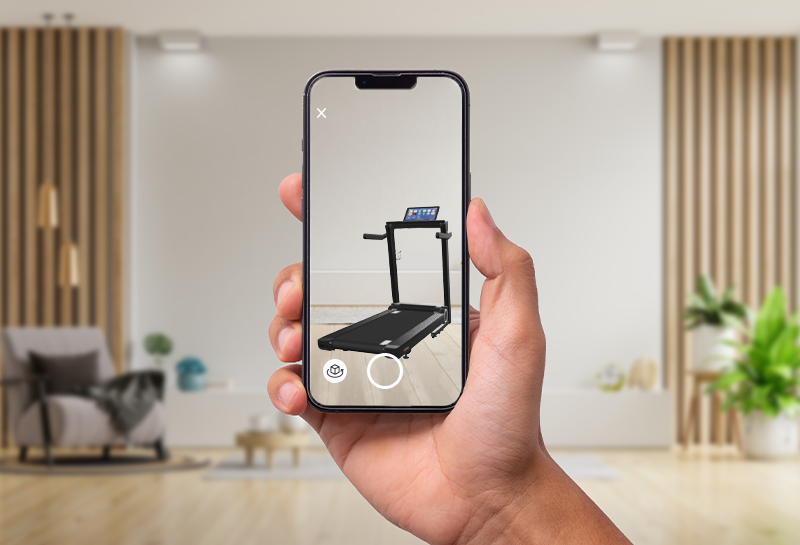 Experience your product in your own home now!
Whether as a 3D view on the PC or virtually in your own room via smartphone - immerse yourself in a whole new kind of product experience with HAMMER Augmented Reality.
Innovative Fitness Apps
Add more variety to your training with fitness apps such as ZWIFT and Kinomap (pre-installed). The clever design of the Q.VADIS 10.0 treadmill folds away vertically in seconds for maximum space-saving. You even have a bottle holder integrated in this treadmill model. Transform your home into a running track and reward yourself with the unique running feeling only the Q.VADIS 10.0 can give you!
World-class folding system leaves competitors in the dust
The revolutionary folding system makes sure that your limited living space is not impacted. The innovative and revolutionary folding system of the Q.VADIS 10.0 lets you lock the treadmill in a vertical position when you are done with your training. The practical integrated transport rollers let you move the system effortlessly.
Your control unit with colour TFT touch display
The quick selection buttons on the console let you control your running speed and incline angle. A tablet holder directly on the console offers a secure spot for your mobile device. The computer buttons ensure immediate access to all your key training settings. The buttons control training start/stop, incline and speed. The Bluetooth-compatible on-board computer connects easily to your tablet or smartphone to help you improve your running experience with motivating music or pre-installed apps (Netflix, Chrome, YouTube – compatible with ZWIFT and Kinomap). The computer has a WLAN function for even more variety! The treadmill can be connected to a hotspot or directly to your home network to use the various fitness apps and surf the Internet.
Keep an eye on your performance using the large colour TFT touch screen
All your training data is easily accessible via the large 15.6" touch screen. Access the following data in colourful diagrams via touch control: Distance, incline, calories, heart rate, training time, speed, access to various apps, USB access, settings, live routes and the large selection of integrated training programs.
Live route experience with 6 pre-installed live routes or via Kinomap and ZWIFT
Get off your butt and get running! Try our virtual routes in the mountains or on the beach! These routes are pre-installed on your Q.VADIS 10.0 treadmill. Alternatively, you could install the ZWIFT app on your tablet PC. Connect the device to the on-board treadmill computer via Bluetooth. ZWIFT lets you run across fascinating virtual worlds while competing against a worldwide running community. Train with other running enthusiasts from around the world to improve your best performance even more. The Kinomap app is pre-installed on the on-board computer of your new treadmill. It allows you to experience Kinomap directly on the treadmill screen.
The integrated USB connection charges your smartphone or tablet PC automatically while you train. Play music or movies from a USB stick. The integrated speakers enhance the running experience.
Large tread area for top performance
The large tread area measures 152 x 51 cm. Its robust construction gives runners with a body weight up to 150 kg an authentic running experience. The surface of the Q.VADIS 10.0 tread area comes with an anti-skid grip to ensure safety during your most intense sprints. Enjoy the freedom of endless runs during each of your training sessions.
As if you were running on the forest floor...
The vibration-dampened, super soft tread area, in conjunction with the 6-point dampening system, ensures a realistic running feeling with every step. The joint-friendly motion sequence on the treadmill feels as if you were running on a soft forest floor. This innovative treadmill technology lets you complete the longest training sessions without strain.
Customised incline function
The treadmill motor of the Q.VADIS 10.0 has a 3 hp output and offers speeds between 0.3 and 22 km/h. You can increase the incline from 0% to 12% while you run, using the arrow buttons on the console. Touching one of the three Quick Incline buttons (3%, 6% or 9%) will change the incline of the treadmill instantly.
Best of all: The unique structural design of the Q.VADIS 10 raises the entire structure upward when the incline angle is changed, which means that the display angel is automatically adjusted to the new incline.
Heart rate control with display
Safely run by heart rate. Q.VADIS 10.0 comes with integrated hand pulse sensors. You can measure your heart rate at any time during your workout. Simply touch the silver-coloured hand pulse sensors to get an accurate reading of your current heart rate on the display. You can alternatively use the optional chest belt, which comes with an integrated heart rate receiver.
Other innovative features
Programs on the run
Choose from 30 pre-set training programs. Each program is divided up into 16 legs in which you can change the speed and incline whenever you want. You can also save your own user programs (max. 12), in which you set the exact speed and incline you want for each of the legs using your finger on the touch screen.
The Q.VADIS 10.0 treadmill guarantees safe training conditions in line with the heart rate limits you set. You will need to use the optional chest belt for this feature.
Computer
Display
15.6" TFT Touch Display
Multimedia
App, Bluetooth, Tablet support, USB
Integrated pulse receiver for chest belts
5 kHz
Display
Load profiles
Distance, Speed, Heart rate, Calories, Incline, Resistance Level, Time
Programs and profiles
Heart rate controlled programmes
1
Adjustable pulse limit
Upper pulse limit
Dimensions and weight
Build up size (L x W x H)
181 x 83 x 143 cm
Folding dimension (L x W x H)
74 x 83 x 170 cm
Other features
Incline
0-12% in 1% Schritten, motorisch verstellbar
Transportation rollers
Yes
Performance
3.0 hp (continuous power) / 7.5 hp (max power)
DIN Norm
DIN EN ISO 20957 -1/6
Shipping
Delivery time
3-6 working days
Scope of delivery
Q. VADIS 10.0
Delivery Information
Delivery to curbside (Please leave your phone number when ordering, so we can arrange a suitable delivery date for you)
Private use
on the main frame
10 years
Clients ask, our fitness experts answer
Do you need more information about the product? Ask your question here. Our fitness experts will answer quickly and easily.
Our recommendation for you
Alpine TFT

Special Price

€1,899.00

Regular Price

€2,399.00