HAMMER Cobra XTR Plus
Change course from now on! Row away from the stress of everyday life and steer towards your dream figure.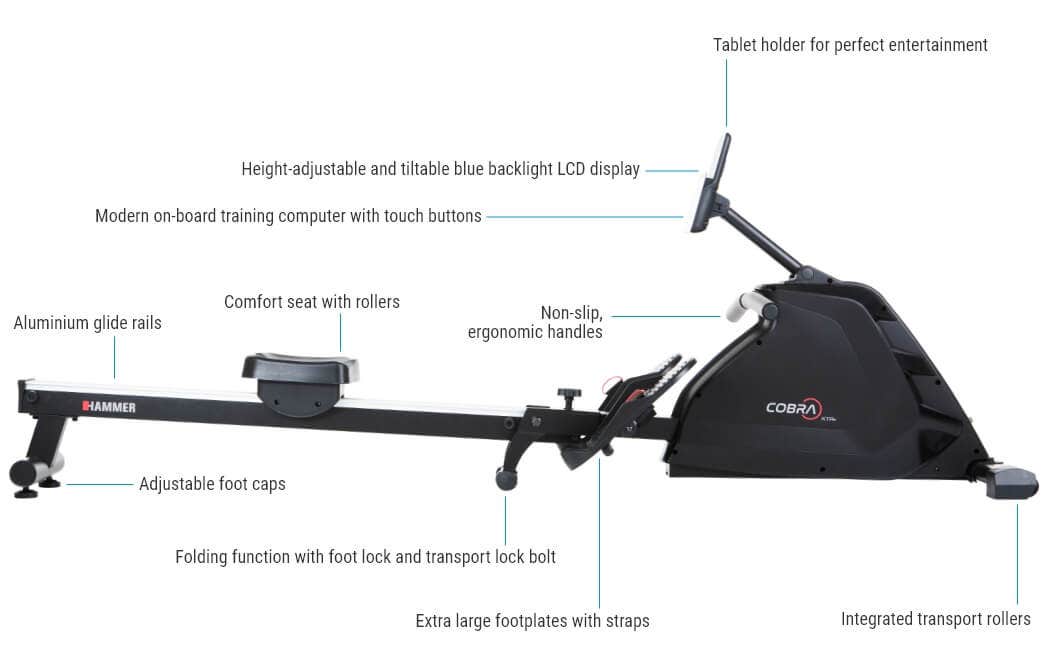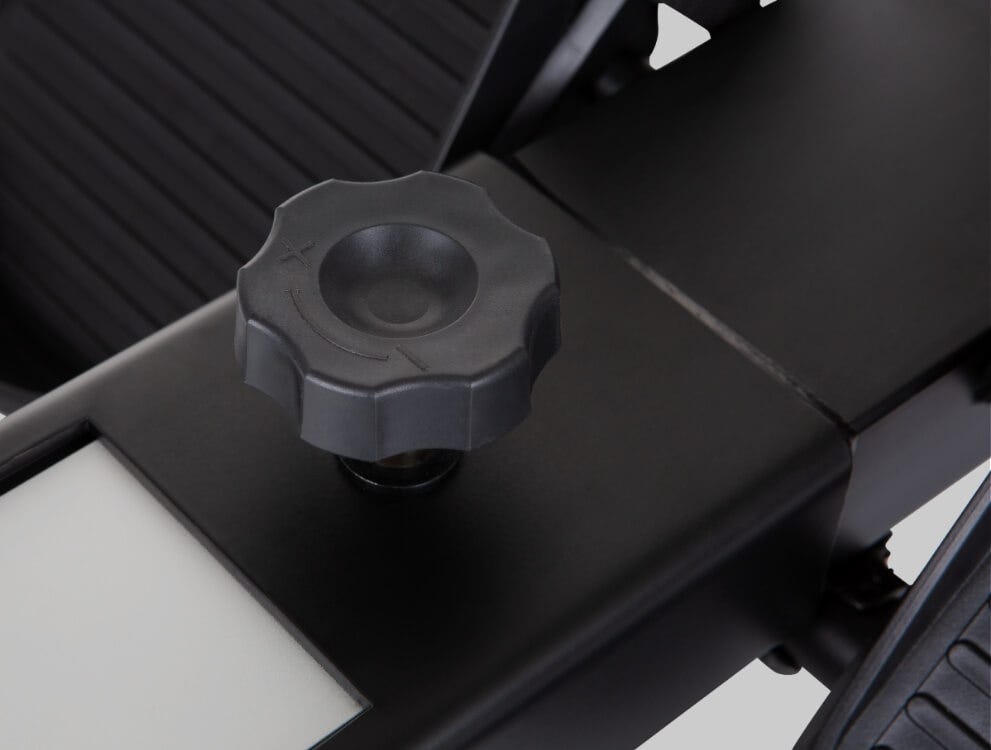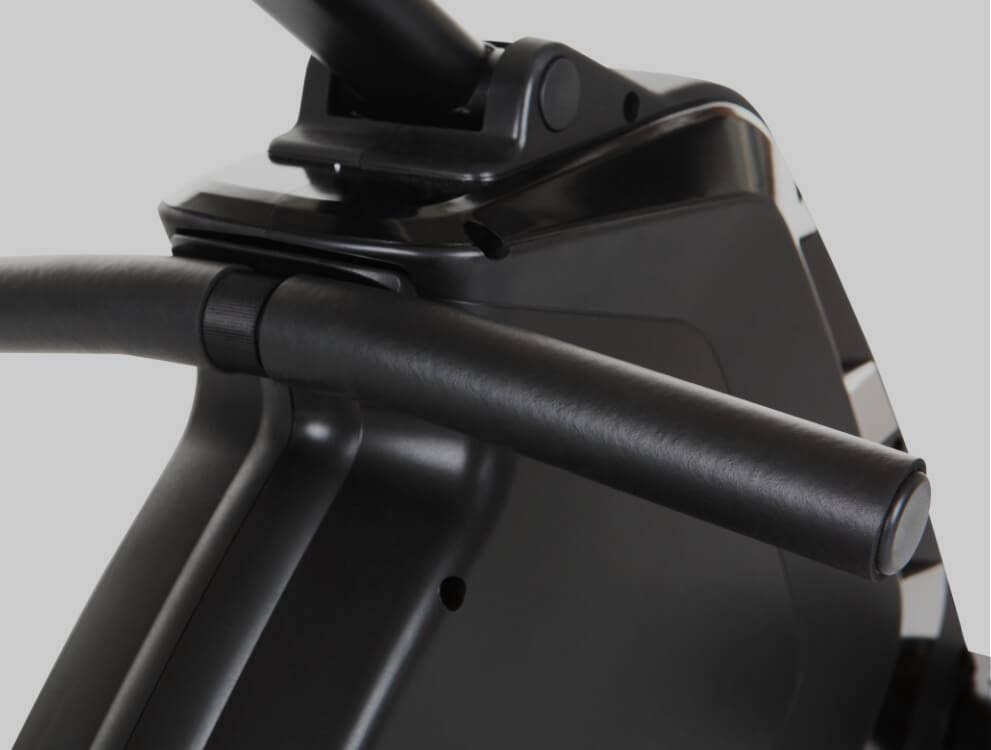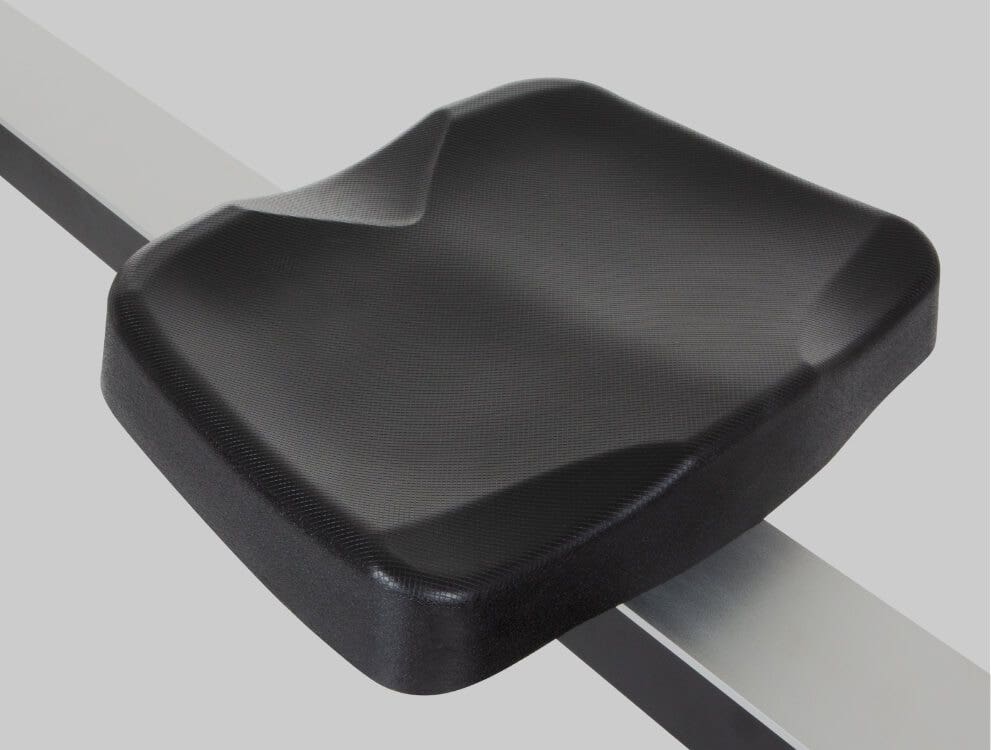 Full body commitment
You are a passionate runner and kilometres are the measure of all things for you? Then lace up your running shoes at home and get going! With the FINNLO MAXIMUM by HAMMER treadmill TR 8000 you always run on the home straight! The innovative Orthobelt running surface provides a particularly pleasant feeling of movement. You train in a way that is easy on your joints and you can also cover long distances comfortably in your living room. Thanks to the clever design of the TR 8000, the running belt automatically centres itself during training and always offers you a pleasant and maintenance-free training experience, even with loads of up to 150 kg.
During training, you can compete with other athletes via interactive apps such as ZWIFT or Kinomap on your smartphone or tablet. The live track experiences make your training individual, entertaining and bring the best running tours to your home. The holder for your smartphone or tablet allows direct access to your apps and charges your device directly during training via USB! Thanks to the powerful AC motor with 4 hp continuous power, the TR 8000 can be adjusted to any training level. Independently vary the incline angle of up to 15% and the speeds up to 22 km/h for a highly effective running workout.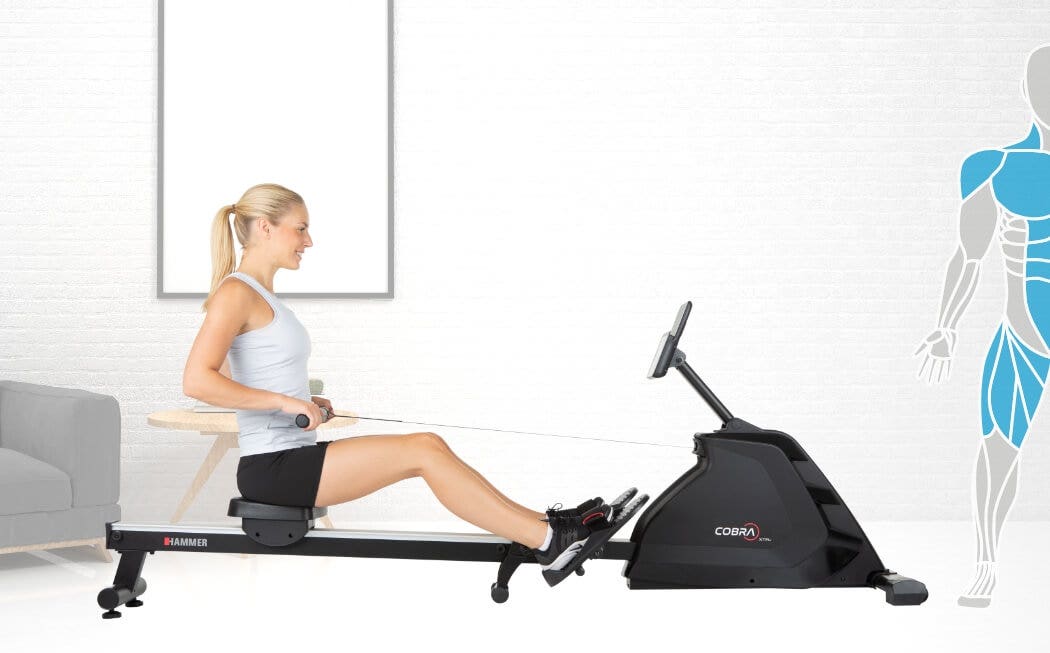 Get all your muscles working at once
Who doesn't wish to work as many muscles as possible at once with just one piece of fitness equipment!?
Rowing works your legs and upper body at the same time. You effectively increase your fitness and endurance. Experience a gentle strength-endurance workout. The perfect stress relief after a hard 8 hour work day. Every row brings you closer to your dream figure and you experience a relaxed rowing feeling with your COBRA XTR II Plus.
Check your fitness after every workout
Use the heart rate recovery button on the training computer to measure your heart rate. The pulse recovery test compares your heart rate before and after training. The result is displayed as a fitness score (1-6). An optional chest strap is required for the test. Perfect feature to increase your fitness!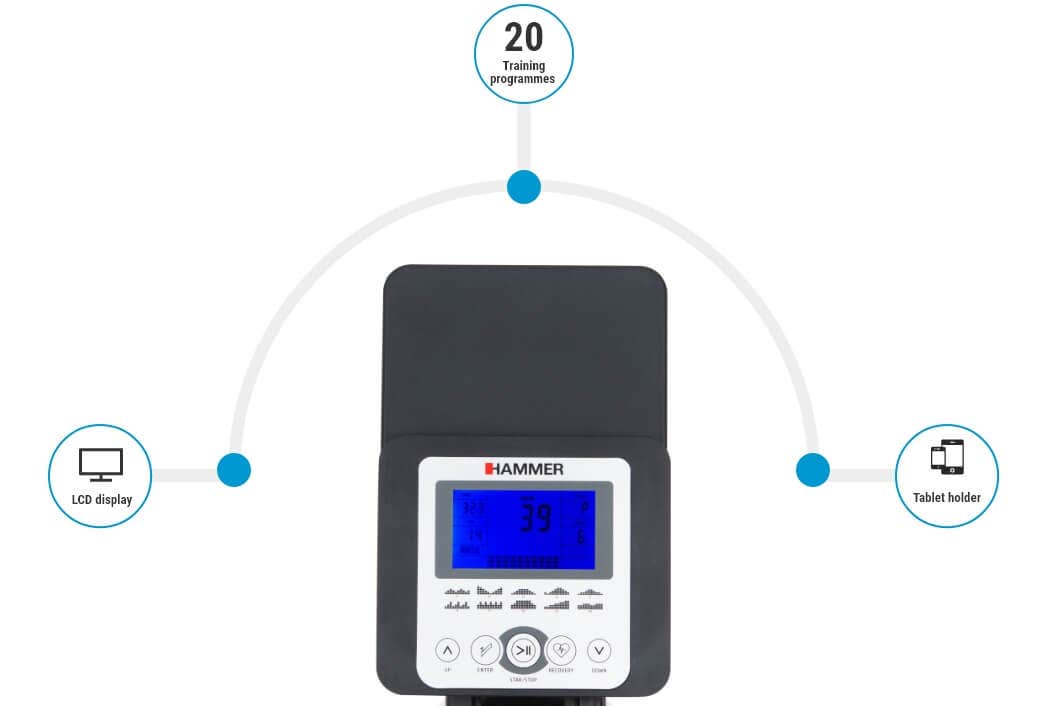 Advanced training computer, but you'll have it figured out super fast
Your COBRA XTR II Plus rower is equipped with a sleek easy-to-use computer that helps you constantly improve. You have variety and you can read a variety of training data on a clear LCD display. The following information is displayed: training time, all rowing strokes of the training unit, training distance, calories burned, difficulty level and pulse. You can increase your motivation with the 10 training programmes such as "Fatburn" and "Cardio" or the 4 heart programmes and 5 individual user programmes.
It has to be fast, because your training time is precious. You can adjust the height of the computer. It can be tilted forwards and backwards. With the 5 soft-touch shortcut buttons directly on the computer, you can select your training programme and start!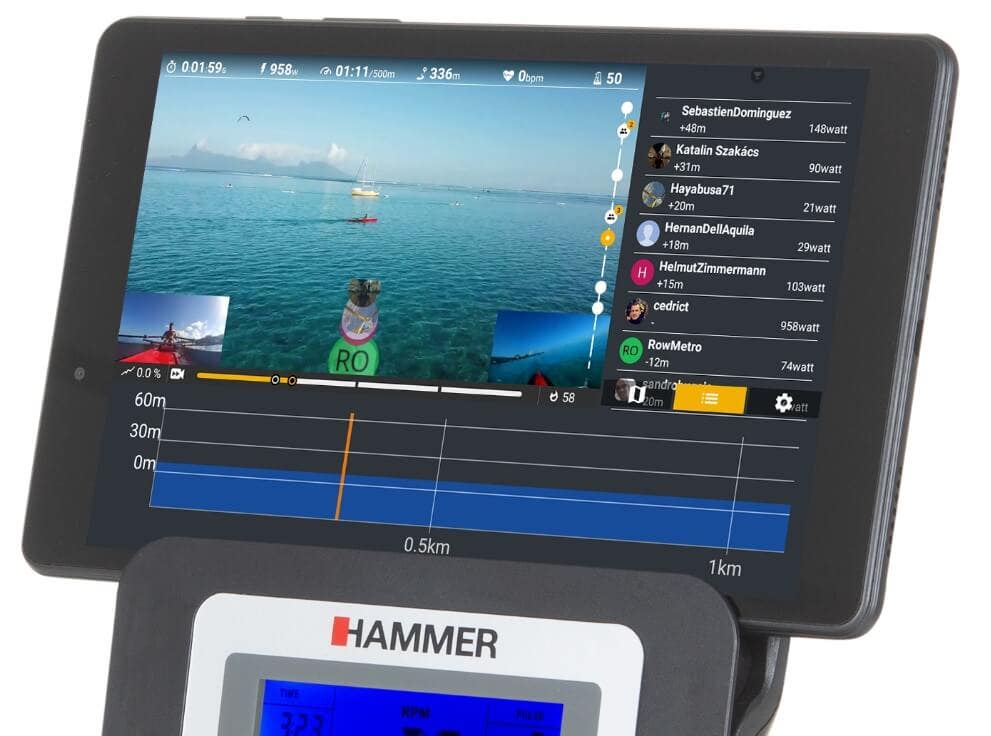 "Let me entertain you!" Interactive workout variety with fitness apps
Who doesn't know it, monotonous workouts and no variety in sight. But with fitness apps, you row exciting regattas in a "live experience" while enjoying your favourite music or watching an exciting film. With the camera function of BitGym and Kinomap, you can experience raging rivers and deep lakes from all over the world. In addition, you are provided with interactive information on speed and location. You hear the real ambient sound of your rowing tour. You can train with the Kinomap videos using your front camera on your smartphone/tablet. This measures your train frequency and thus offers you a realistic live track experience. The driving speed automatically adjusts to your current train frequency in real time. Get into the virtual adventure and row yourself fit!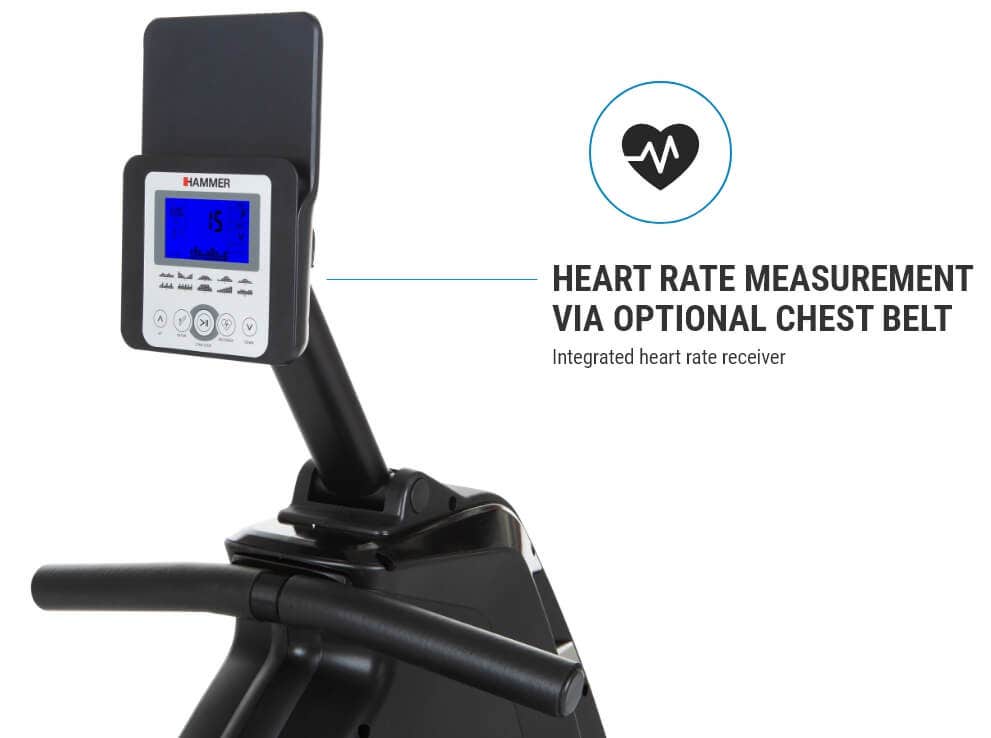 Rowing training with heart rate
You should keep an eye on your heart rate when rowing towards a specific fitness goal. Your pulse rate determines your training goal. A heart rate receiver is already integrated in the computer. The pulse measurement via an optional chest strap allows you to always keep an eye on your personal pulse rate and to achieve your personal fitness goal.
You can define your own heart rate limit with the computer. If your target is exceeded, a warning tone sounds. Row with a sure feeling and the optimal pulse rate towards your desired figure!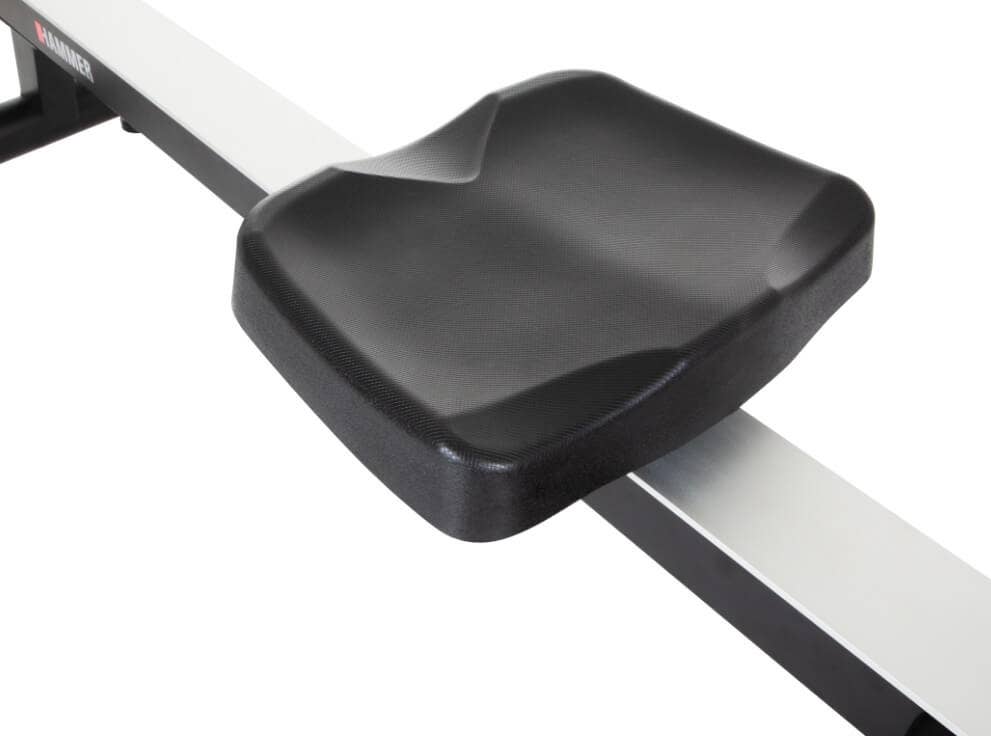 Jerk-free movements that are easy on the joints
A stable aluminium slide rail allows you to perform your rowing movement particularly smoothly, easily - and above all quietly - with the roller seat. The proven HAMMER resistance system with premium magnetic brake technology produces gliding movements that are easy on the joints, jerk-free pulls without the so-called dead spots and therefore particularly realistic rowing fun!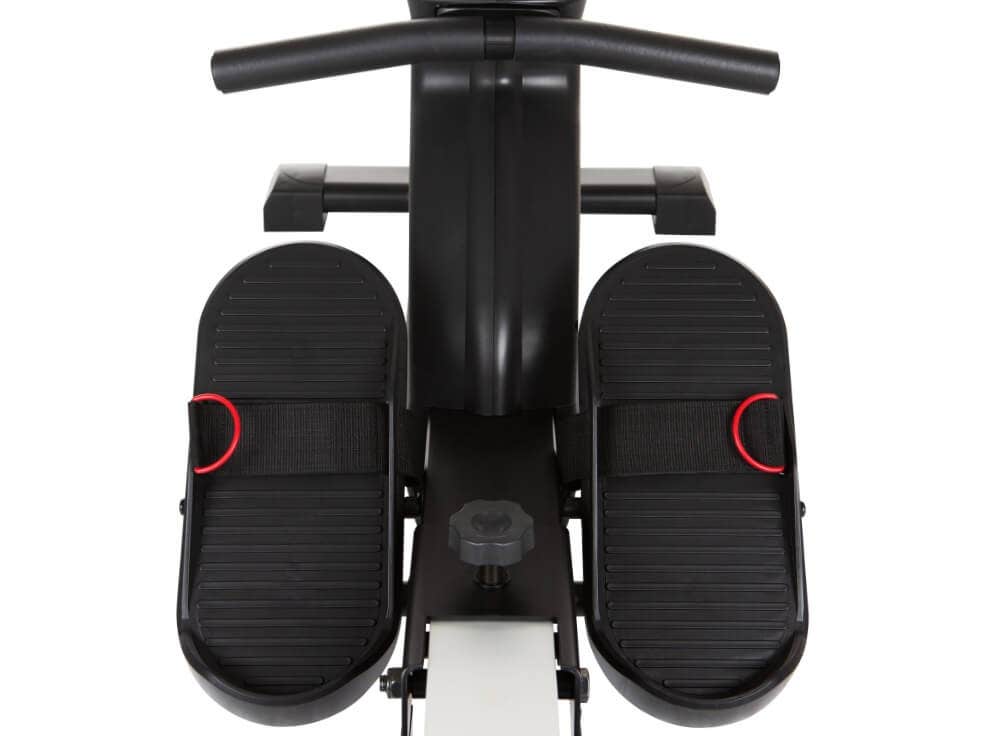 Sit well, hold on tight and strap your feet in
The ergonomically shaped handle ensures a healthy posture and a relaxed position for hands and arms. Likewise, the ball-bearing seat enables a comfortable dynamic rowing position by adapting to any body. The foam-padded comfort seat enables a pleasant workout even during longer rowing sessions and relieves the spine.
Each kick plate has straps that keep your feet securely in place during every rowing movement. The extra large anti-slip step plates are placed at a hip-friendly distance of 16 cm, so that your hips are not overloaded even during longer training sessions. Other family members can also use the Cobra XTR II Plus rowing machine and enjoy the rowing feeling individually.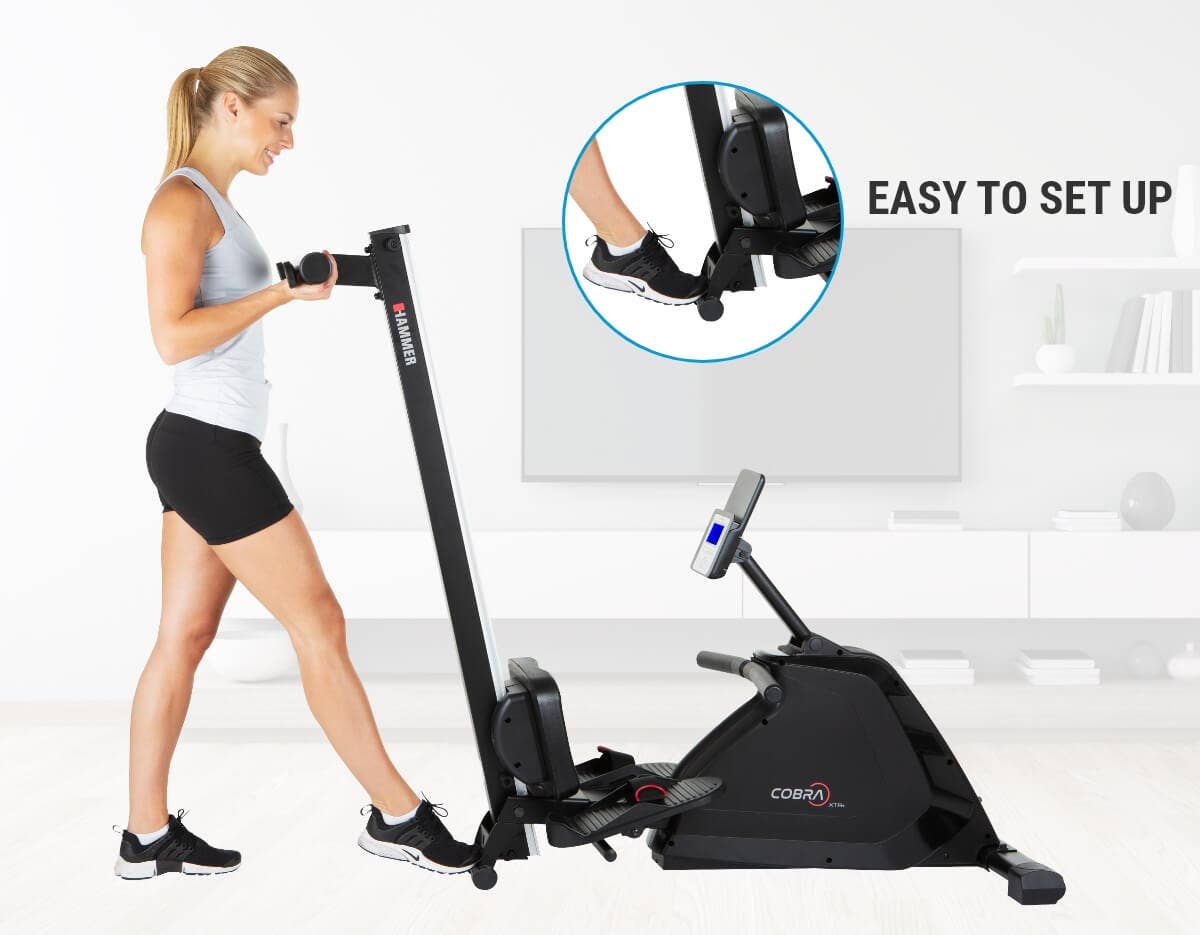 More innovative details
Turn your home into a rowing club
With the HAMMER Cobra XTR II Plus rower you can fulfil your dream of rowing without getting wet. You can train focused for you in peace! Quickly set up, you can turn your living room into a rowing club within seconds. After training, the innovative tilt function makes it easy to fold up the track and store it in a space-saving way with the practical footrest and transport lock. The integrated transport wheels allow you to move your Cobra XTR II Plus rowing machine around the room.
With the small dimensions of only 232 x 55 x 75 cm, your HAMMER Cobra XTR II Plus rower is optimally suited for rowing training up to a body height of 2.0 m. To ensure that your rowing machine stands professionally during training, you can use the adjustable foot caps to compensate for uneven floors. Now it's your turn! Row yourself into shape, feel the change in your body and get into top form!
Computer
Display
LCD Blue Backlight
Multimedia
Tablet support
Operation
Soft-touch quick keys
Integrated pulse receiver for chest belts
5 kHz
Display
Load profiles
Load profiles, Distance, Heart rate, Calories, Resistance Level, Time
Programs and profiles
Heart rate controlled programmes
4
Adjustable pulse limit
Upper pulse limit
Drive/brake system
Braking system
Permanent Magnetic
Resistance adjustment
Computer controlled
Dimensions and weight
Build up size (L x W x H)
232 x 55 x 75 cm
Folding dimension (L x W x H)
118 x 55 x 155 cm
Other features
Transportation rollers
Yes
DIN Norm
DIN EN ISO 20957-1/7
Shipping
Delivery time
3-6 working days
Scope of delivery
Cobra XTR Plus
Delivery Information
Delivery to the apartment door
Private use
on the main frame
10 years
Clients ask, our fitness experts answer
Do you need more information about the product? Ask your question here. Our fitness experts will answer quickly and easily.
1 questions already answered
Question:
Ist das Gerät mit der App "Kinomap" kompatibel und funktioniert? from dfornito
Answer:
Das Cobra XTR Plus ist kompatibel mit der Kinomap App. Bitte beachte, dass dies nur über die Kamerafunktion funktioniert.
Our recommendation for you