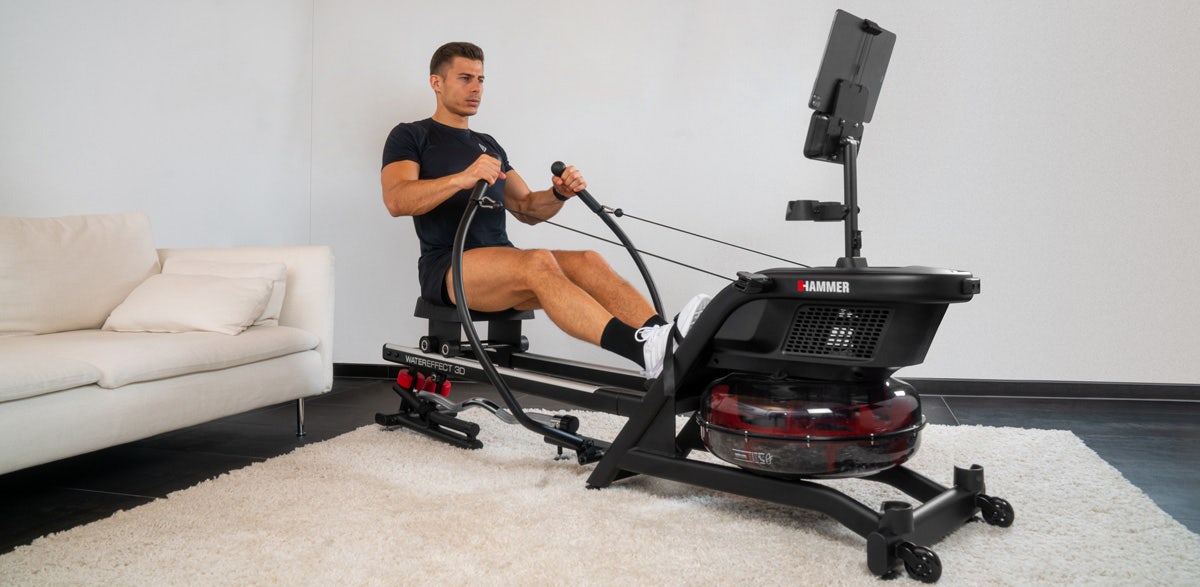 Rowing like never before!
Unlike conventional rowing machines, you can use 6 different rowing styles in different grip positions when training with this rowing machine.
The 3D outrigger arms provide a realistic water resistance and a flexible use of the cardio weights for a movement feeling like on water. You train strength, endurance and coordination at the same time with only one piece of equipment.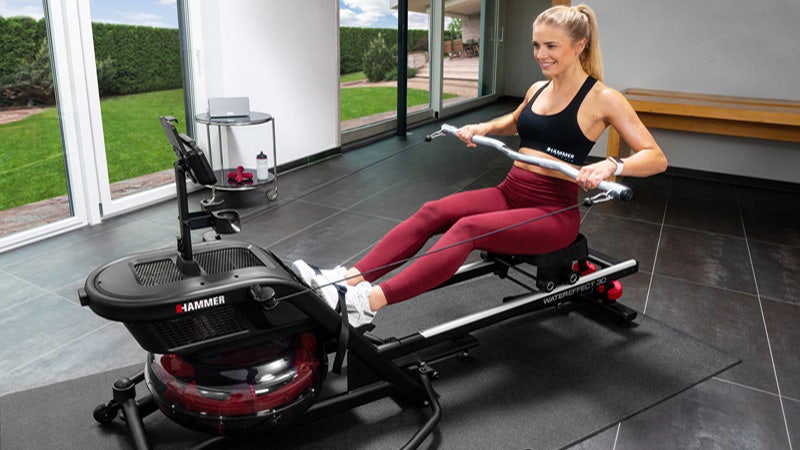 The most varied rowing machine!
Highly effective training and realistic rowing experience with 6 rowing styles.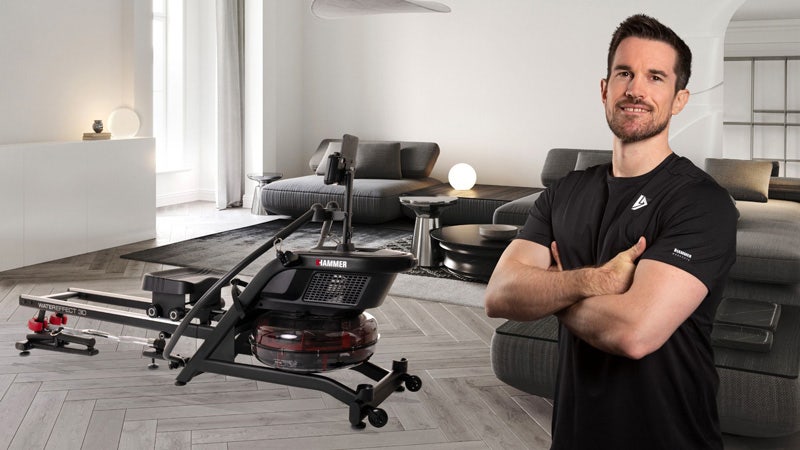 Coach Christian explains
In the following video, Coach Christian gives you the perfect insight for your optimal training.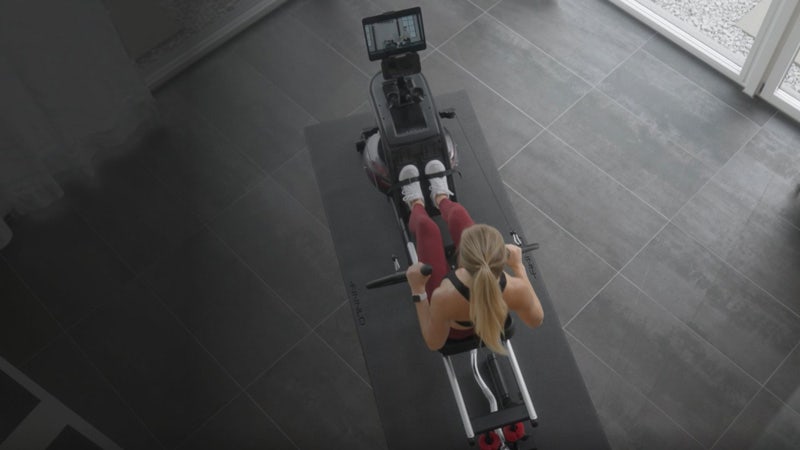 Product Highlights
Check out all the features!
Discover your favourite workout
With HAMMER Workouts we constantly offer you new and motivating courses with your rowing machine. Work out together with our competent trainers and achieve your individual fitness goals in 10 to 50 minute workouts. All in one place and without an additional subscription.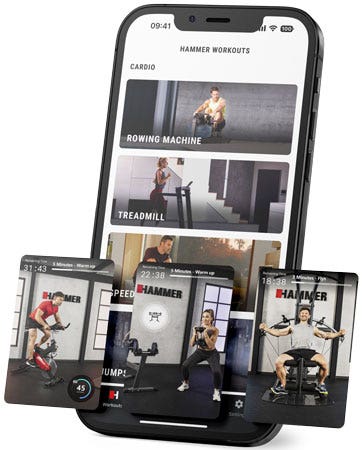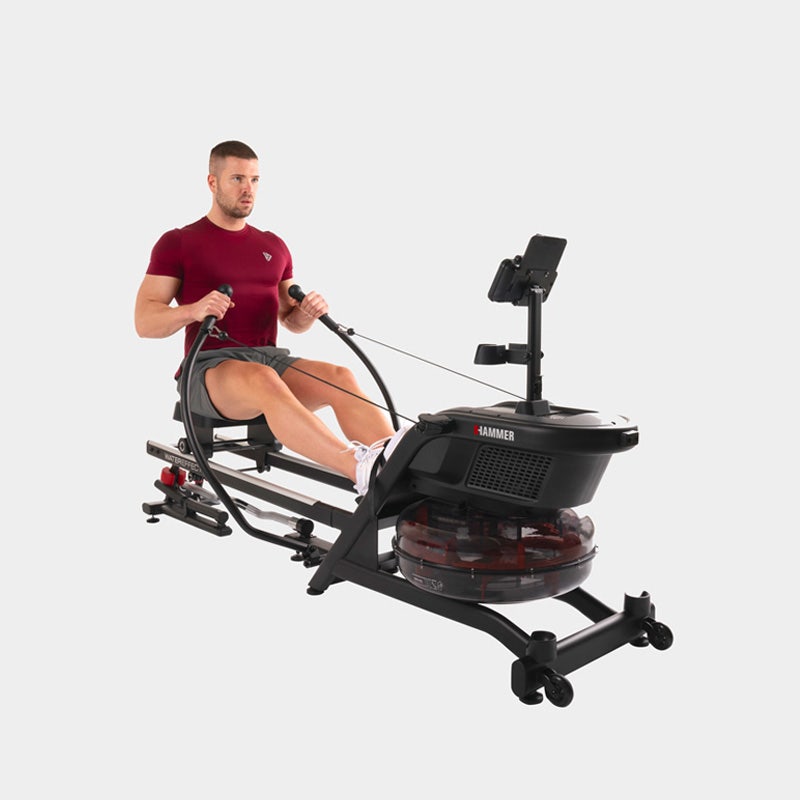 1. Classic extension arms
When rowing with outrigger arms, you row with a comparable rowing technique as in a 1-man boat. Experience the maximum freedom in your arm movement of almost 180 degrees.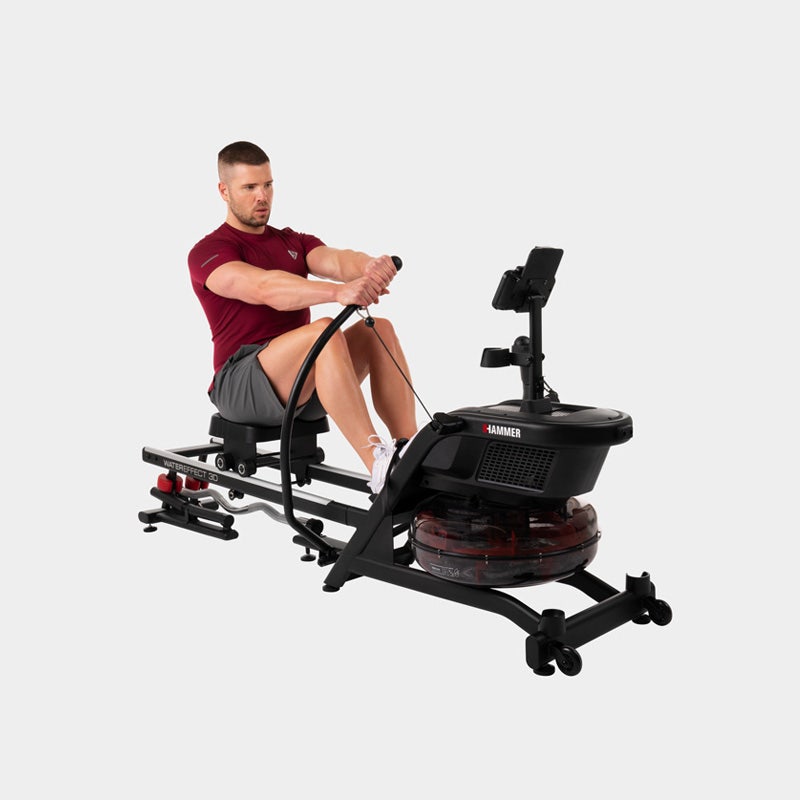 2. Outrigger arms one-sided
For rowing with one outrigger arm alternately, you grip the same outrigger arm with both hands and row on one side as in a multi-man boat. In this way you train the diagonal torso muscles intensively and then switch to the other side.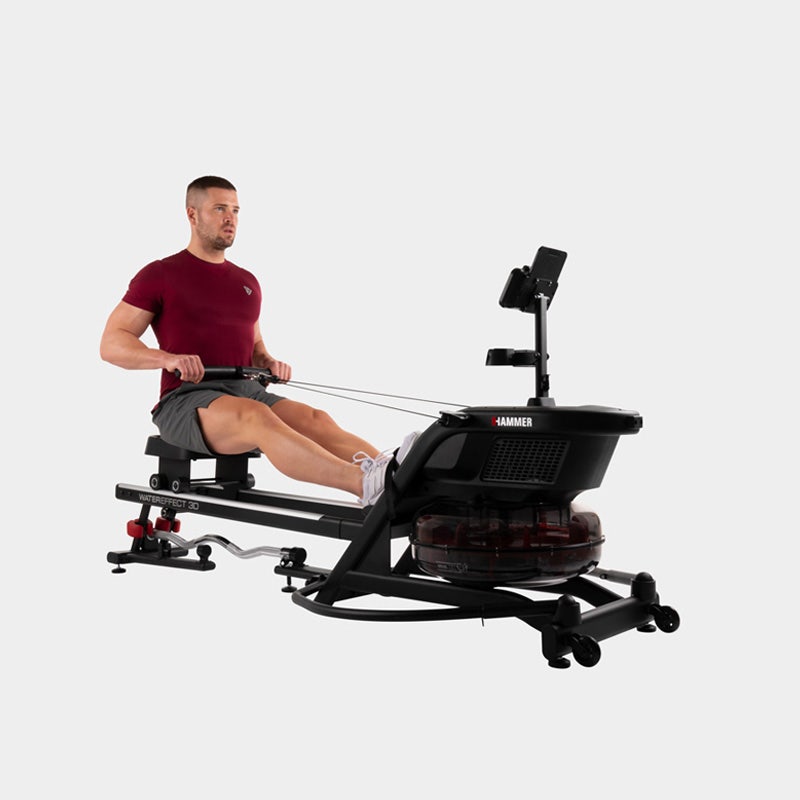 3. Classic rowing handle
In classic rowing you use the rowing handle. The straight pull movement allows you to focus on increasing the number of strokes and intensifying your training.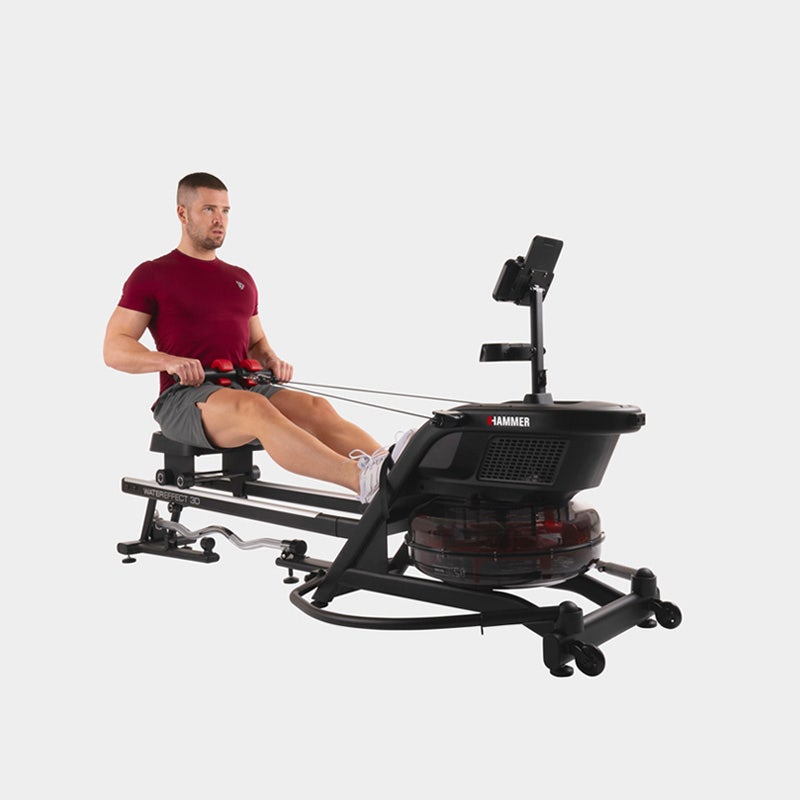 4. Rowing handle + cardio weights
Classic rowing with the Cardio Weights intensifies your training with the normal rowing handle. With the 2 additional weights of 1 kg each, you create an even more intensive muscle stimulus with every movement and focus the training of strength endurance.
5. SZ-bar classic
By using the SZ rowing bar, you move your elbows further outwards and complete an intensive back workout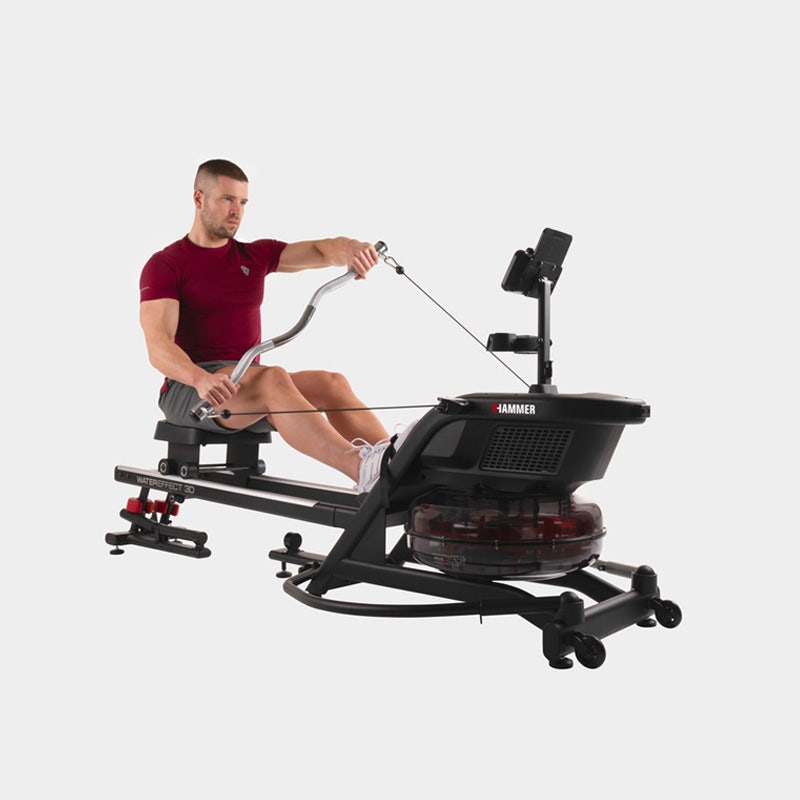 6. Kayaking - SZ bar
Training with a special fun factor: kayaking with the SZ rod! Use alternating movements for spear-like dipping on one side and stabilise the movement with the opposite side. This new type of training improves your shoulder muscles and coordination.
Fitness Rowing
Experience maximum freedom when rowing with the outrigger arms and convince yourself of a variety of unique rowing variations. A feeling as if you were flying over the water.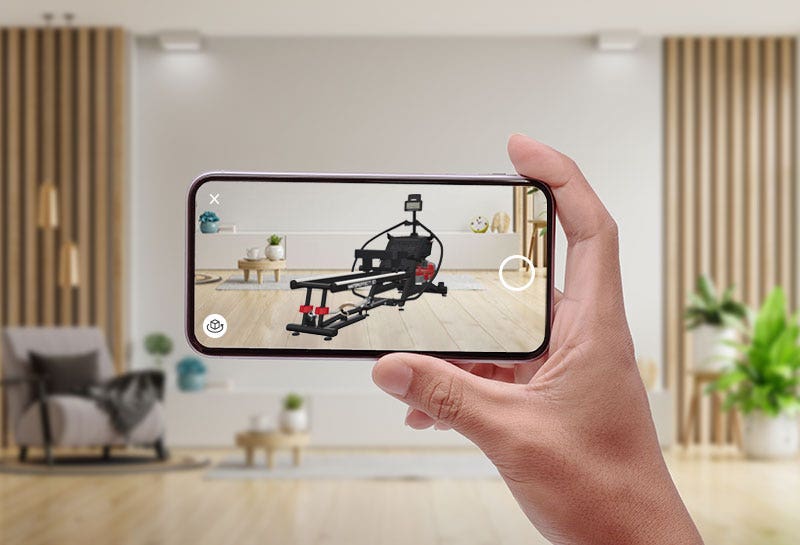 Experience your product at home now!
Whether as a 3D view on your PC or virtually in your own room via smartphone - immerse yourself in a completely new kind of product experience with HAMMER Augmented Reality.
Christian
"As a competitive athlete, I naturally always want the maximum and I can confirm that this rowing machine supports me optimally in my preparation for competitions. With it, we get the last percentages out!"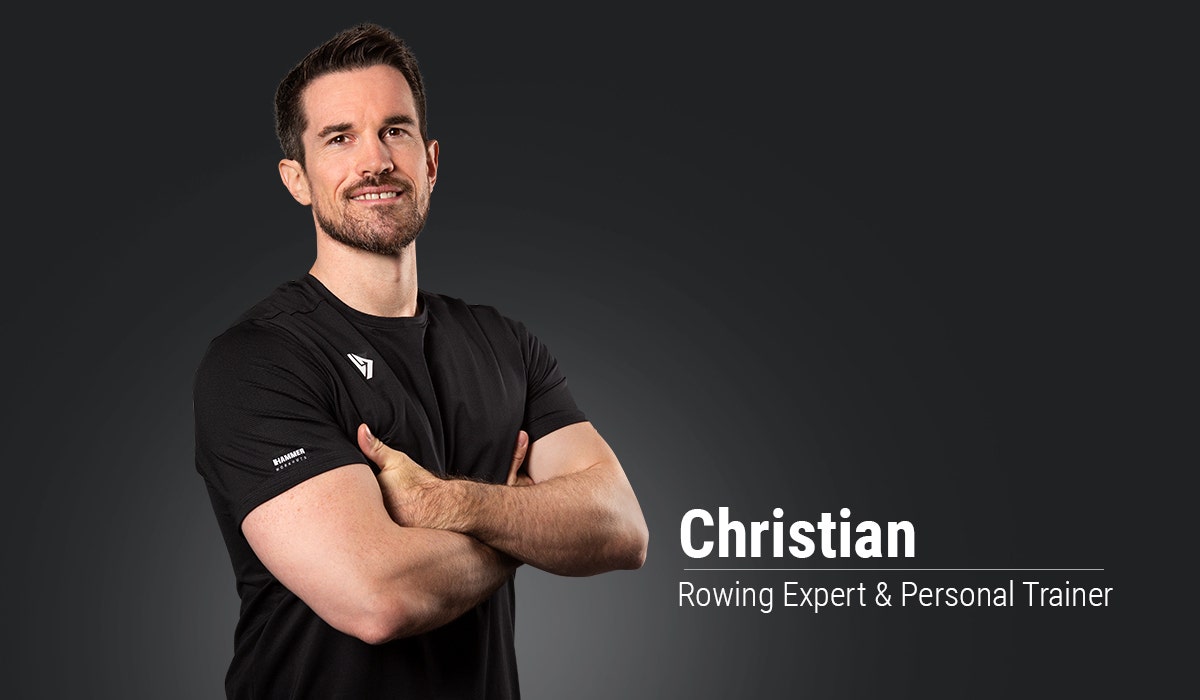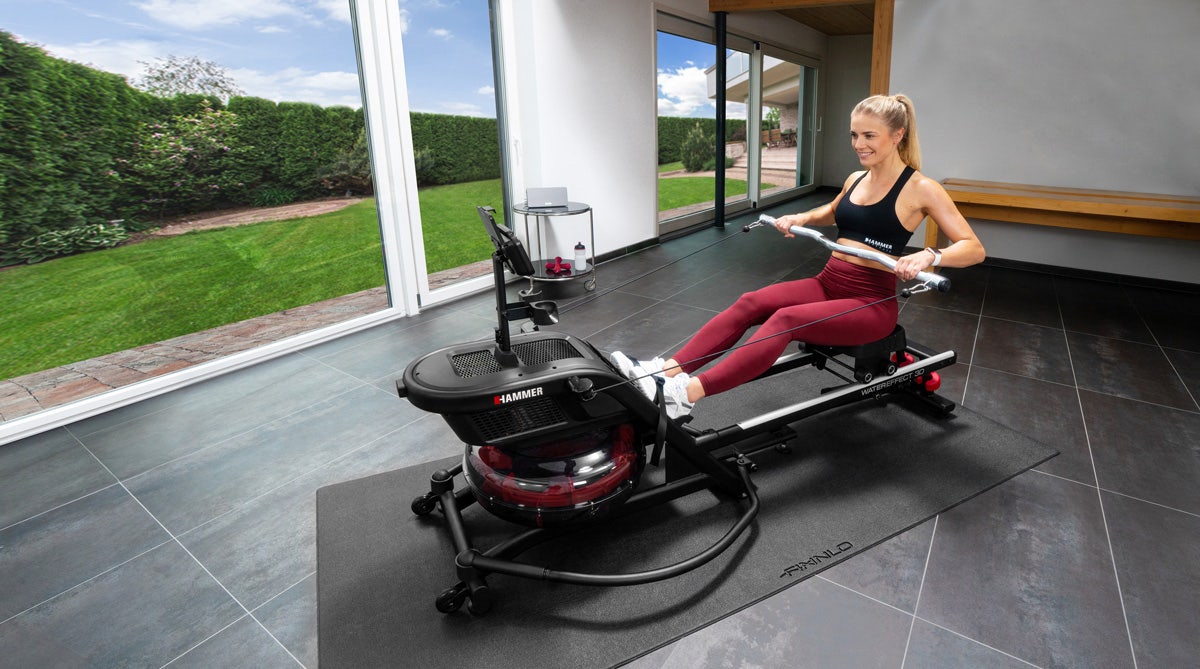 As free as on the water
Thanks to the extra-long aluminium rail of 105 cm, even people taller than 2m can effectively use the full range of motion.
With the combination of different handles and 6 possible rowing styles, you constantly set new training stimuli and prevent one-sided training.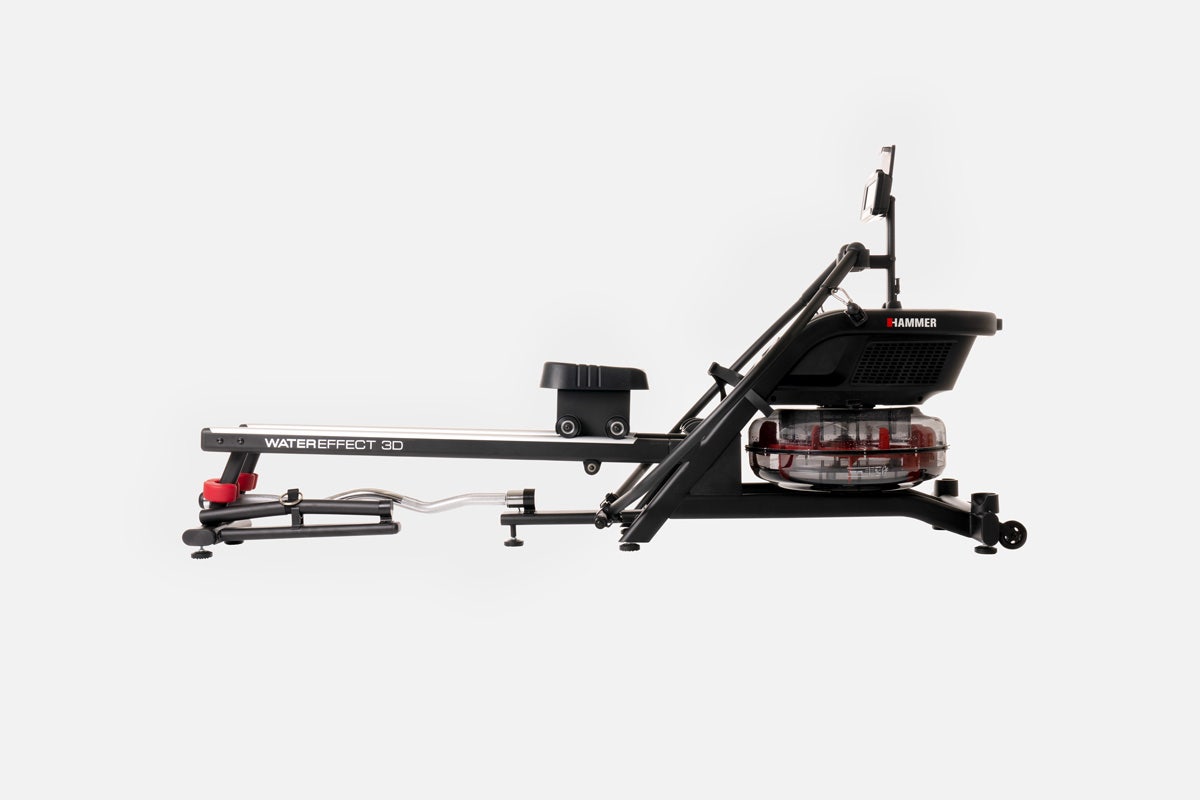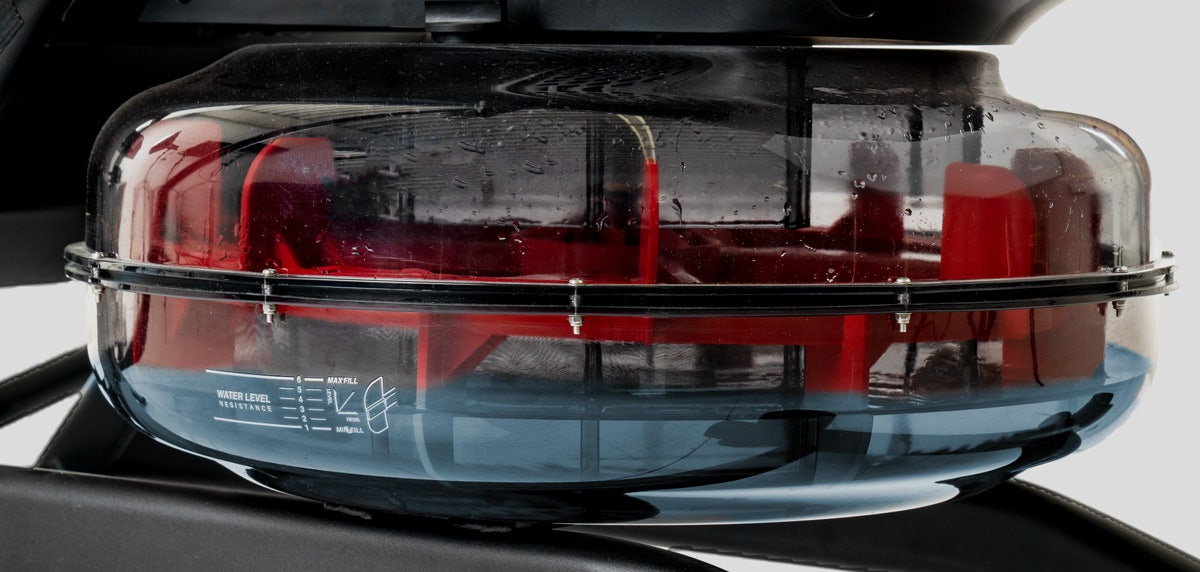 Just the right size!
The WaterEffect 3D was designed with a 17-litre tank to provide the optimum balance between compactness and resistance. For your ultimate rowing experience, the emphasis was placed on the best possible volume and the optimum training stimulus!
If you like rowing and can't always do it in the water, take a WaterEffect 3D, like me.
Rowing Gerd
You won't find this combination of water rowing machine and the lateral rowing arms a second time.
Josh
The rowing is uniquely authentic and above all varied.
Guest speaker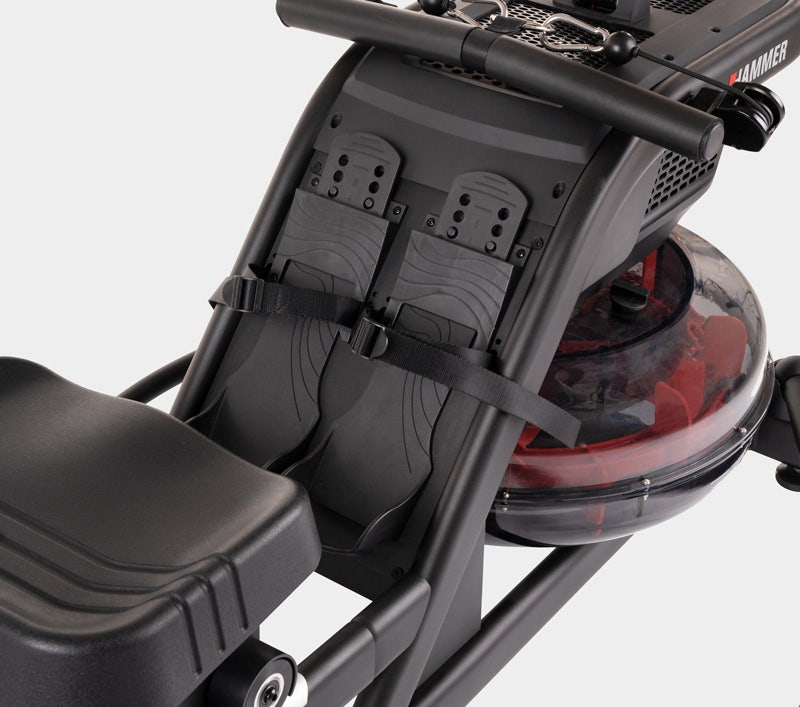 Professional design for highest demands
Due to the small and ergonomic distance between the tread plates of only 4cm, your feet are in a perfect training position: easy on the joints and effective. This small distance between your feet is a quality feature of high-quality rowing machines and ensures movements that are particularly easy on the joints.
A comfortable seat height of 50 cm and feet with adjustable foot caps ensure a safe feel-good workout.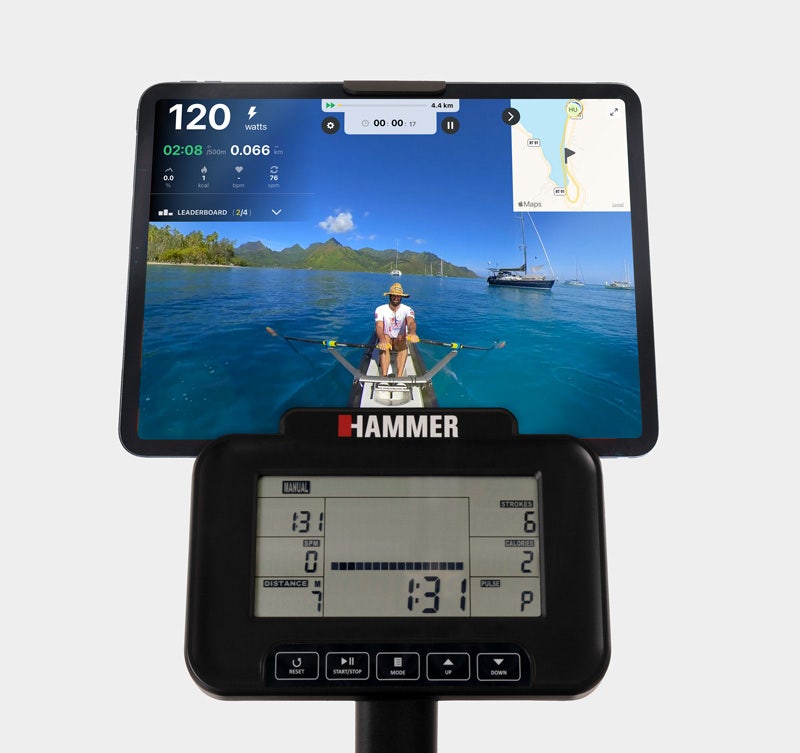 Your perfect entertainment
For unlimited rowing pleasure, the device can be used with apps such as Kinomap. Use the camera function of your smartphone or tablet and row with your avatar along the most beautiful routes with the original route sound. This creates a live track experience with realistic driving speed in real time.
For a real competition feeling, you can compete against the computer in race mode and choose your favourite from 15 race modes.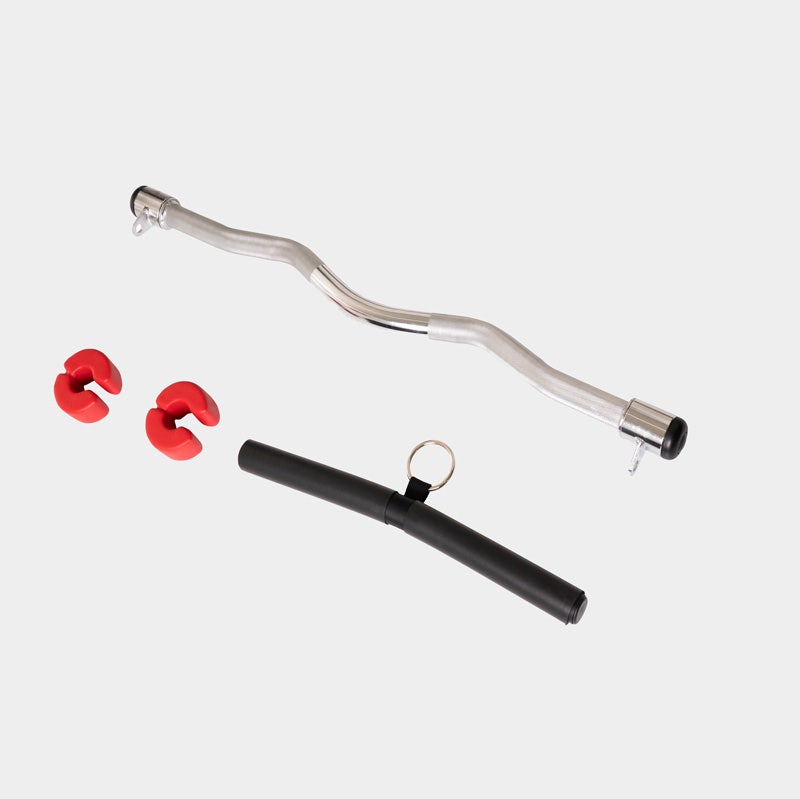 Ergonomic design and accessories
The ergonomically designed rowing handle and SZ rowing bar accessories ensure that your workout is always particularly easy on your joints and effective. With the Cardio Weights you achieve an even more intensive training stimulus.
With the power of water
You can regulate the intensity of your workout by adjusting the fill level of the tank in 6 steps as well as the stroke force, so you always row in the optimal range.
The high-quality water tank made of robust polycarbonate provides the soothing sound of the water.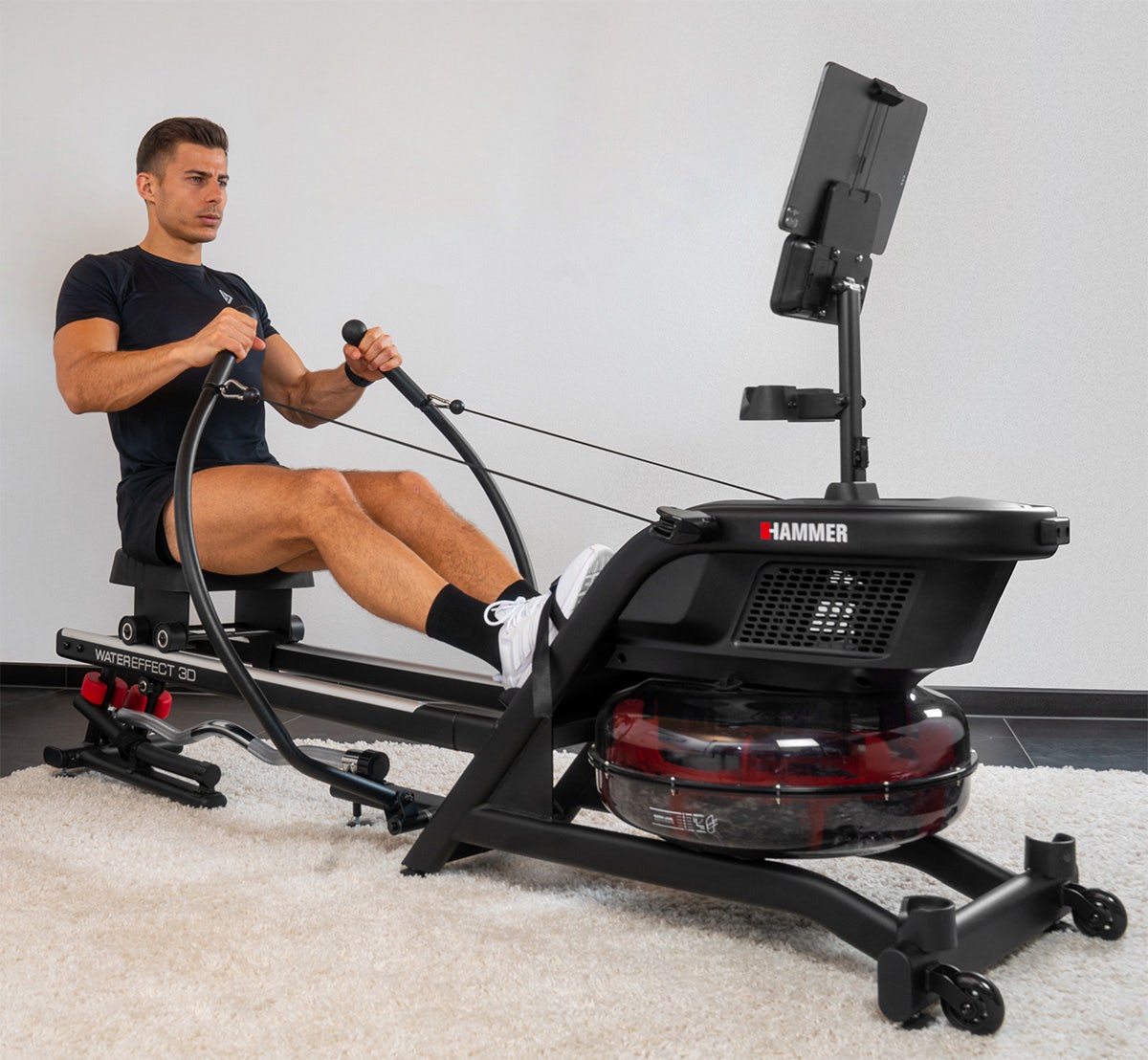 WaterEffect 3D convinces in the test
"Consumers who want to build up their endurance, muscles & co. through rowing and are therefore looking for a rowing machine of appealing quality will certainly enjoy the HAMMER WaterEffect 3D."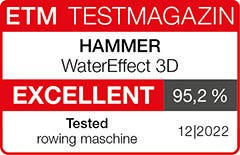 Test winner WaterEffect 3D
Our WaterEffect 3D was awarded the title of test winner in the "Premium Rudder" segment in Sweden. Among other things, the Bäst-i test explicitly emphasised the "excellent quality of workmanship".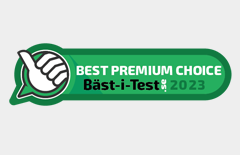 Computer
Multimedia
Tablet support
Integrated pulse receiver for chest belts
5 kHz
Display
Load profiles
Distance, Heart rate, Calories, Time
Programs and profiles
Heart rate controlled programmes
1
Adjustable pulse limit
Upper pulse limit
Drive/brake system
Braking system
Water resistance
Resistance adjustment
Water level dependent
Dimensions and weight
Build up size (L x W x H)
203 x 85 x 103 cm
Folding dimension (L x W x H)
107 x 85 x 203 cm
Other features
Transportation rollers
Yes
DIN Norm
DIN EN ISO 20957-1/7
Shipping
Delivery time
4-8 working days
Scope of delivery
WaterEffect 3D
Delivery Information
Delivery to curbside (Please leave your phone number when ordering, so we can arrange a suitable delivery date for you)
Private use
on the main frame
10 years
Clients ask, our fitness experts answer
Do you need more information about the product? Ask your question here. Our fitness experts will answer quickly and easily.
1 questions already answered
Question:
kann man dieses Rudergerät per Bluetooth it einem APP verbinden? from Ringer
Answer:
Du kannst die Kinomap App über die Kamerafunktion verwenden! Ansonsten stehen dir auf
www.hammerworkouts.de
viele spannende und auch verschiedene Workouts für dieses Rudergerät bereit!
Our recommendation for you