HAMMER Store Frankfurt
Contact
Hanauer Landstraße 205
60314 Frankfurt am Main
Free customer parking is available directly at our HAMMER Store Frankfurt.
Experience our best products live
We look forward to welcoming you personally to our HAMMER store. You will find a wide range of fitness equipment for your home, which you can of course test on site. Our HAMMER experts will advise you personally and individually, answer all your questions and are happy to help you before, during and after your visit.
As soon as you have chosen your perfect fitness equipment, you can take it home or have it delivered and assembled by us.
Our latest reviews
Gut zu erreichen, kleiner Innenhof zum Parken vorhanden, nettes Personal, passables Sortiment und faire Preise

Gekommen um Liegeergometer zu kaufen. Mit Rudergerät 3D Watereffect gegangen. Nachdem ich, auf Nachfrage meine Problemzonen bzw. meine Wünsche bzgl. der beanspruchten Muskelgruppen,genannt habe, wurde mir das Rudergerät empfohlen. Insbesondere durch die 3 verschiedenen Zuggerätschaften (normale Kurzstange, gewellte Langhantel und den beiden seitlichen bogenförmigen Zugstangen gibt es viele verschiedene Möglichkeiten das Gerät zu nutzen. Mit der mitgelieferten Workout App ist mir der Anfang leicht gefallen und es schleichen sich keine Fehler ein. Macht mir Riesen Spaß und nach 45 Minuten Workout ist man schweißgebadet. P.S. Zuvor waren wir auf der Hanauer Landstraße noch bei Sport Tiedje. Wir wurden von 2 Mitarbeitern "beraten ", die kaum Ahnung hatten. Ich glaube, nehme an, muss kurz mal nachlesen usw. waren Standard Sprüche. Deshalb sind wir bei Hammer gelandet.

Die Mitarbeiter sind sehr freundlich. Hr. Kliesch, der uns bediente zeigte uns die verschhiedenen Modelle. Im Laufe des Gesprächs, dass immer wieder durch Rückfragen und Anmerkungen von Hr. Kliesch sehr positiv war, entschieden wir uns für einen Fahrradtrainer. Hier zeigt sich tolle Beratung, Fachkompetnz und es geht nichts über Beratung vor Ort. Deshalb 5 Sterne! Jederzeit wieder, super!
Our experts at the Frankfurt am Main store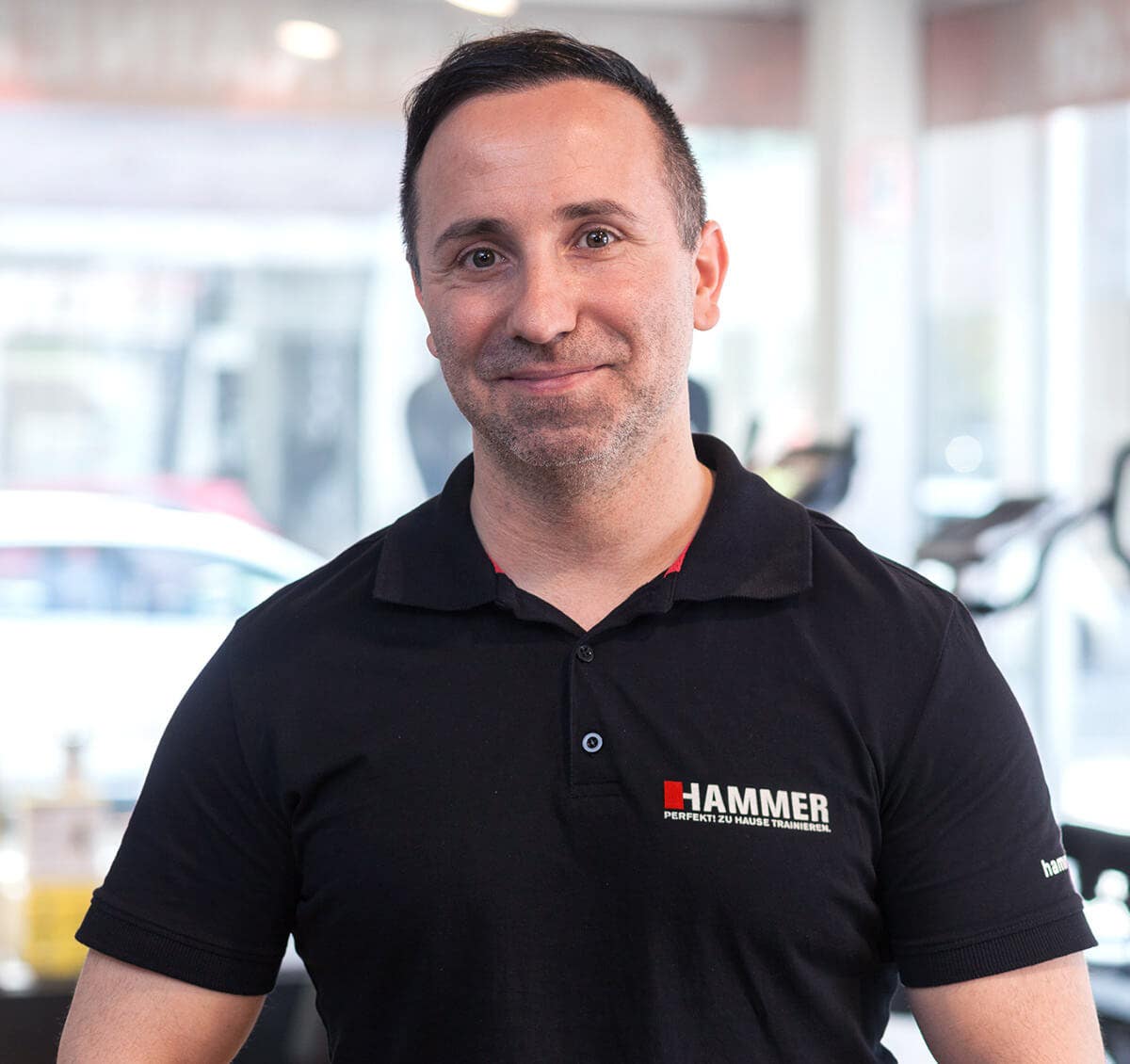 Matthias Kliesch
Store Manager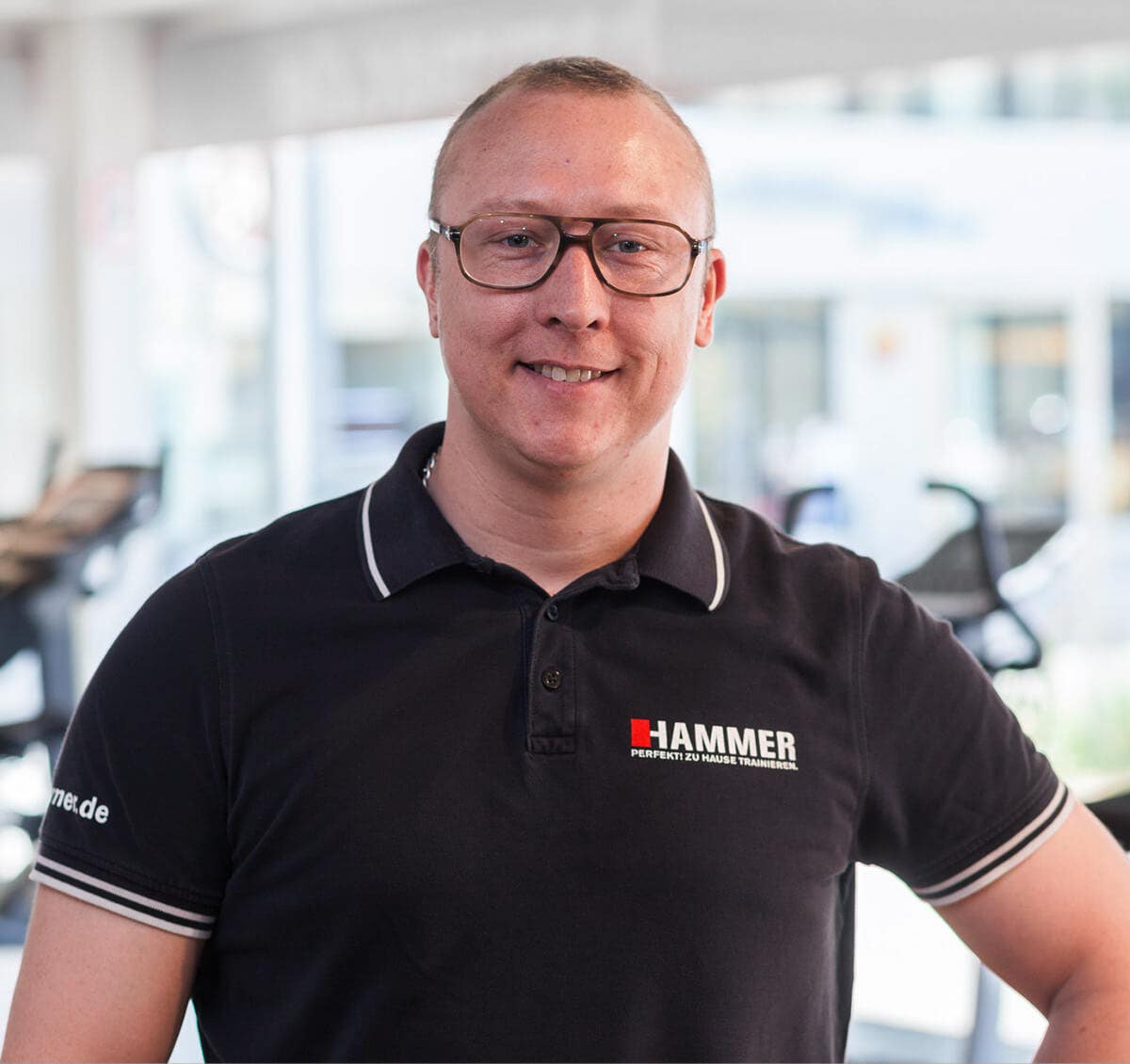 Markus Scholz
Deputy Store Manager
Buy fitness equipment for home use in Frankfurt
Test the complete HAMMER SPORT brand range in detail in our store in Frankfurt and experience competent and individual manufacturer advice. Take advantage of our additional services, such as warranty extensions and attractive special models, and enjoy our high-quality services. Whether for home or professional use - we have the right equipment for you. Our competent team in Frankfurt will be happy to advise you and looks forward to your visit!
Experience the world of home fitness at the HAMMER Store Frankfurt
With its more than 100 sports fields, stadiums and arenas and teams such as Eintracht or the Fraport Skyliners, Frankfurt is a city that lives for sport and is also more than attractive for recreational athletes. The Frankfurt HAMMER store was opened in 2012 as the fifth HAMMER branch in Germany. Since then, it has been a reliable contact point for all those who value high quality, user-friendly products and comprehensive advice when buying fitness equipment in Frankfurt. On more than 500m², fitness equipment, wellness articles and boxing equipment directly from the manufacturer await you in the middle of the city. Among other things, you can choose from:
Cardio equipment, such as treadmills, cross trainers, indoor cycles and ergometers.
Strength equipment, such as weight stations, weight benches, weights and accessories
Wellness articles
Boxing equipment
Fitness equipment, such as ab trainers or back trainers
Test our devices directly on site in Frankfurt
At the HAMMER Store Frankfurt you can get active yourself. After a detailed consultation - during which a member of our team will work with you to determine which equipment could best support you in achieving your sporting goals - you will have the chance to test each piece of equipment in detail.
Of course, before your trial training, you will be thoroughly instructed by our expert Frankfurt staff and provided with valuable tips and tricks. This guarantees safe and efficient training. If necessary, we will also be happy to help you set up the equipment of your choice. We will also show you how to make the appropriate settings yourself so that you can start your training at home in the best possible condition.
Cosy atmosphere, competent advice
We would be happy to invite you for a cup of coffee or a glass of water. The professionally trained staff will take time for you. If you are still unsure which workout suits you or whether there is enough space at home, we will find the right training equipment for you together! The team from Frankfurt will advise you in detail and competently.
We plan the perfect place for your equipment with you. You are sure to find your optimal fitness equipment - the right equipment in the right place. This will keep you motivated in the long term and make it easier for you to achieve your goals.
The perfect fitness equipment in Frankfurt - also for companies
We are also very happy to advise companies. For many companies, it is becoming increasingly important to invest in the health of their employees. Together, we develop possibilities for a great working atmosphere in which sport is part of everyday life - and thus promotes togetherness in a pleasant way.
Buy fitness equipment for home in Frankfurt
FIn our HAMMER Store rankfurt you can pay as follows:
Cash
EC card
Visa
Mastercard
American Express
Santander hire purchase
in individual cases a bank transfer of the invoice amount is possible
Fitness equipment and wellness articles - directly from the manufacturer
You can find over 600 HAMMER SPORT AG brand products in our HAMMER Store Frankfurt. Test our products in detail and experience competent manufacturer advice and exclusive additional services in our specialist store. After all, you can buy directly from the manufacturer here.
This means that you can get the complete HAMMER SPORT AG brand range, including expert manufacturer advice and exclusive warranty extensions.
Manufacturer's warranty and advice
Our team at the HAMMER Store Frankfurt will advise you competently and individually. We guarantee to take time for you. Whether you're a beginner or an ambitious athlete, our competent and sporty staff are guaranteed to find the right product for your needs.
Get active now - in the HAMMER Store in Frankfurt
Making your life more active and healthier is a very personal matter. We at the HAMMER Store Team Frankfurt are therefore looking forward to supporting you in this project. From Monday to Friday, we are open for you in our premises at Hanauer Landstraße 205 from 10:00 to 19:00 and on Saturday we are open from 10:00 to 18:00. Take the first step into an active life. We are happy to help you!