HAMMER Store
Frankfurt am Main
Experience our best products live
We look forward to welcoming you personally to our HAMMER store. Here you will find a wide range of fitness equipment for your home, which you can of course test on site. Our HAMMER experts will advise you personally and individually, answer all your questions and are happy to help you before, during and after your visit.
Once you have chosen your perfect piece of fitness equipment, you can take it home with you or have it delivered and assembled by us.
Expierences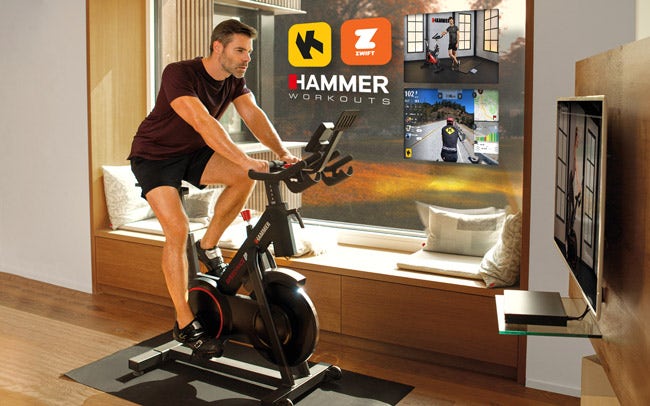 Test training apps
Experience the wide range of our digital offer for free in your local store. Train live tracks with the Kinomap training app and Zwift on the Crosstrainer , Speedbike , Ergometer or Treadmill or let our experienced coaches inspire you with HAMMER Workouts and really power you up.
Discover our digital training apps like Kinomapp, Zwift & HAMMER Workouts for free in your store now.
Customer reviews
Our latest reviews
Top Beratung immer wieder gerne

Absolut empfehlenswert! Sehr freundliche und kompetente Fachberatung beim Kauf eines Ergometers Cardio XT6 BT.

Djordje, hvala ti.. Sve preporuke za firmu, cak su mi licno dovezli stvari... Sta se dogovorite sa firmom, bude ispostovano..
Expert Team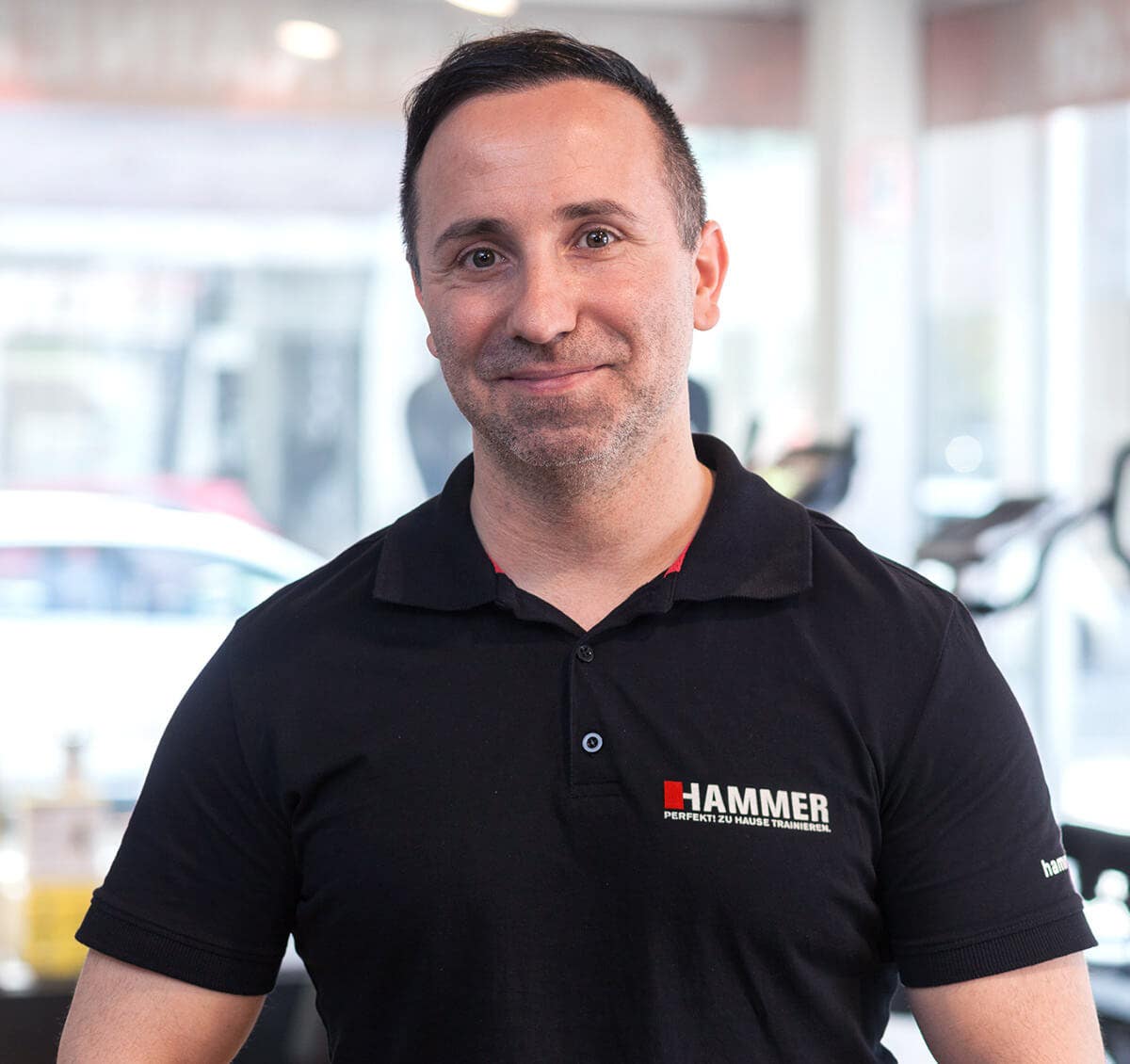 Matthias Kliesch Store Manager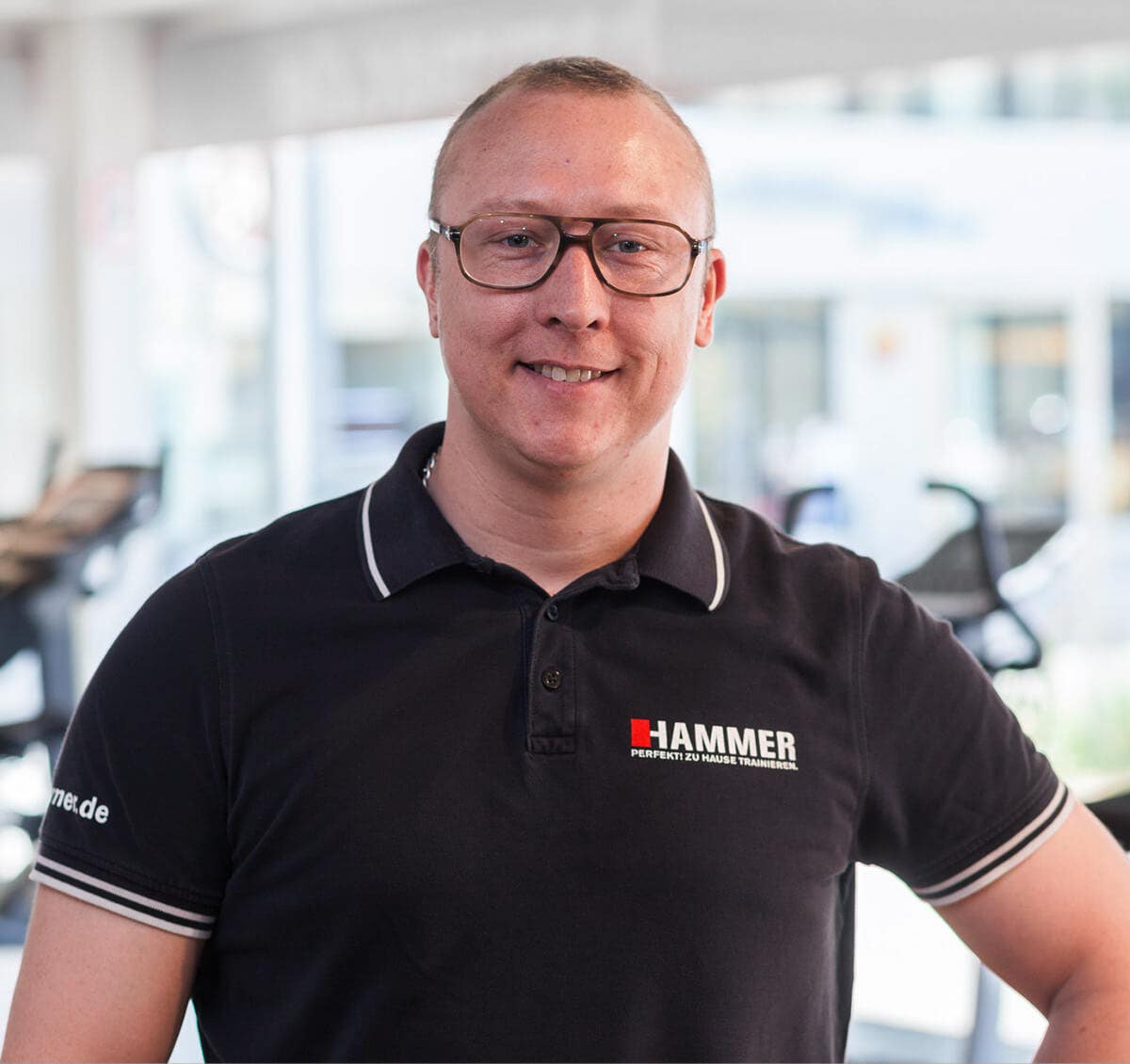 Markus Scholz Deputy Store Manager
Payment methods
Cash
EC card
Visa
Mastercard
American Express
Santander hire purchase
in individual cases a bank transfer of the invoice amount is possible
Buy fitness equipment for home use in Frankfurt
Test the complete HAMMER brand range in detail in our store in Frankfurt and experience competent and individual manufacturer advice. Take advantage of our additional services, attractive special models and enjoy our high-quality services. Whether for home or professional use - we have the right equipment for you. Our competent team in Frankfurt will be happy to advise you and looks forward to your visit!
Experience the world of home fitness at the HAMMER Store Frankfurt
With over 100 sports fields, stadiums and arenas and teams such as Eintracht or the Fraport Skyliners, Frankfurt is a city that lives for sport and is also more than attractive for recreational athletes. The Frankfurt HAMMER store was opened in 2012 as the fifth HAMMER branch in Germany. Since then, it has been a reliable contact point for all those who value high quality, user-friendly products and comprehensive advice when buying fitness equipment in Frankfurt. On more than 500m², fitness equipment, wellness articles and boxing equipment directly from the manufacturer await you in the middle of the city. Among other things, you can choose from:
Cardio equipment, such as
, , and
Strength equipment, such as
, , and
Fitness equipment, such as
or back trainers
Test our equipment directly on site in Frankfurt
In the HAMMER Store Frankfurt you can get active yourself. After a detailed consultation - during which a member of our team will work with you to determine which equipment could best support you in achieving your sporting goals - you will have the chance to test each piece of equipment in detail.
Of course, before your trial training, you will be thoroughly instructed by our expert Frankfurt staff and provided with valuable tips and tricks. This guarantees safe and efficient training. If necessary, we will also be happy to help you set up the equipment of your choice. We will also show you how to make the appropriate settings yourself so that you can start your training at home in the best possible condition.
Cosy atmosphere, competent advice
We would be happy to invite you in for a cup of coffee or a glass of water. The trained staff will take time for you. If you are still unsure about which type of training suits you or whether there is enough space at home, we will find the right training equipment for you together! The team from Frankfurt will advise you in detail and competently.
We plan the perfect place for your equipment with you. You are sure to find your optimal fitness equipment - the right equipment in the right place. This will keep you motivated in the long term and make it easier for you to achieve your goals.
The perfect fitness equipment in Frankfurt - also for companies
We are also happy to advise companies. Because for many companies it is becoming increasingly important to invest in the health of their employees. Together, we work out ways to create a great working atmosphere in which sport is part of everyday life - and thus promotes togetherness in a pleasant way.
Fitness equipment and wellness articles - directly from the manufacturer
You will find over 600 brand products from HAMMER SPORT AG in our HAMMER Store Frankfurt. Test our products in detail and experience competent manufacturer advice as well as exclusive additional services in our specialist store. After all, you can buy directly from the manufacturer here.
This means that you can get the complete brand range of HAMMER SPORT AG including competent manufacturer's advice and exclusive warranty extension.
Manufacturer's warranty and advice
Our team in the HAMMER Store Frankfurt will advise you competently and individually. We guarantee to take time for you. Whether you're a beginner or an ambitious athlete, our competent and sporty staff are guaranteed to find the right product for your needs.
Get active now - at the Frankfurt HAMMER Store
Making your life more active and healthier is a very personal matter. We at the HAMMER Store Team Frankfurt are therefore looking forward to supporting you in this project. From Monday to Friday, we are open for you in our premises at Hanauer Landstraße 205 from 10:00 to 19:00 and on Saturday we are open from 10:00 to 18:00. Take the first step towards an active life. We are happy to help you!
Free customer parking is available directly at our HAMMER Store Frankfurt.