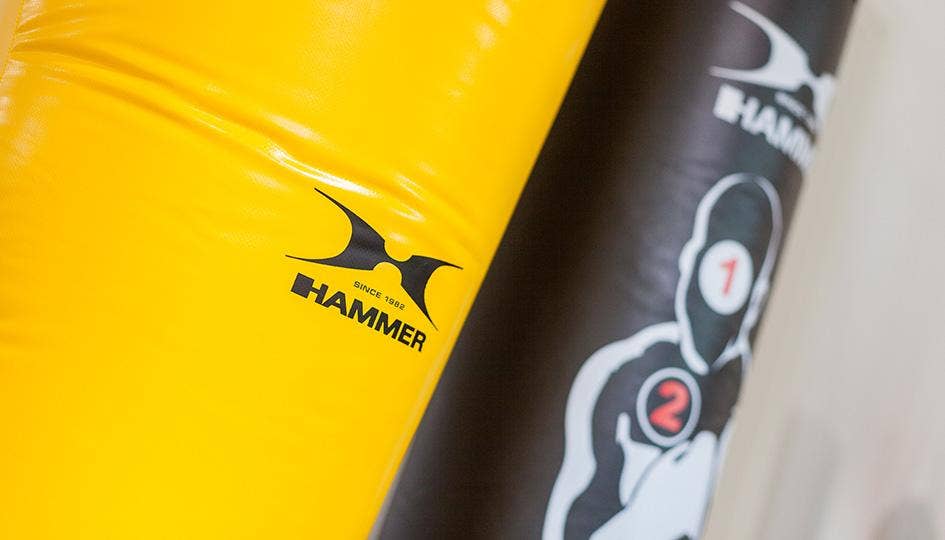 HAMMER Store Nuremberg
Contact
Rothenburger Straße 116
90439 Nuremberg
There are 2 underground parking spaces and other parking spaces in the vicinity. For loading and unloading, it is possible to stop directly in front of the store.
Experience our best products live
We look forward to welcoming you personally to our HAMMER store. You will find a wide range of fitness equipment for your home, which you can of course test on site. Our HAMMER experts will advise you personally and individually, answer all your questions and are happy to help you before, during and after your visit.
As soon as you have chosen your perfect fitness equipment, you can take it home or have it delivered and assembled by us.
Our latest reviews
Ich war dort um mir ein paar Rudergeräte anzusehen. Ich wurde sehr gut und freundlich beraten und konnte verschiedene Geräte testen. Kann den Laden nur weiterempfehlen.????

Sehr freundliche und kompetente Beratung durch den Storeleiter.

Große Auswahl und tolle Beratung.
Our experts in the Nuremberg store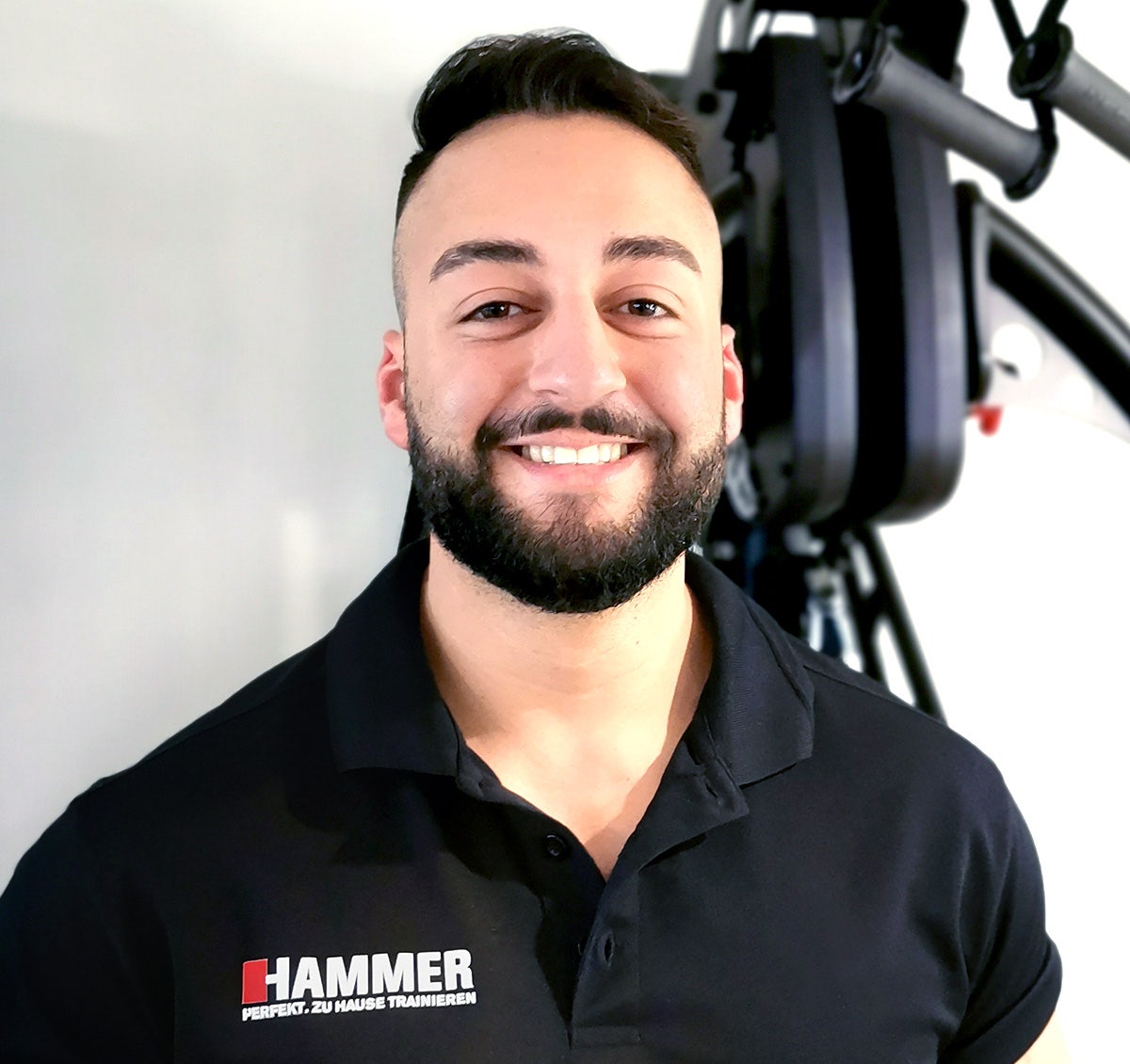 Sezar Yaman
Store Manager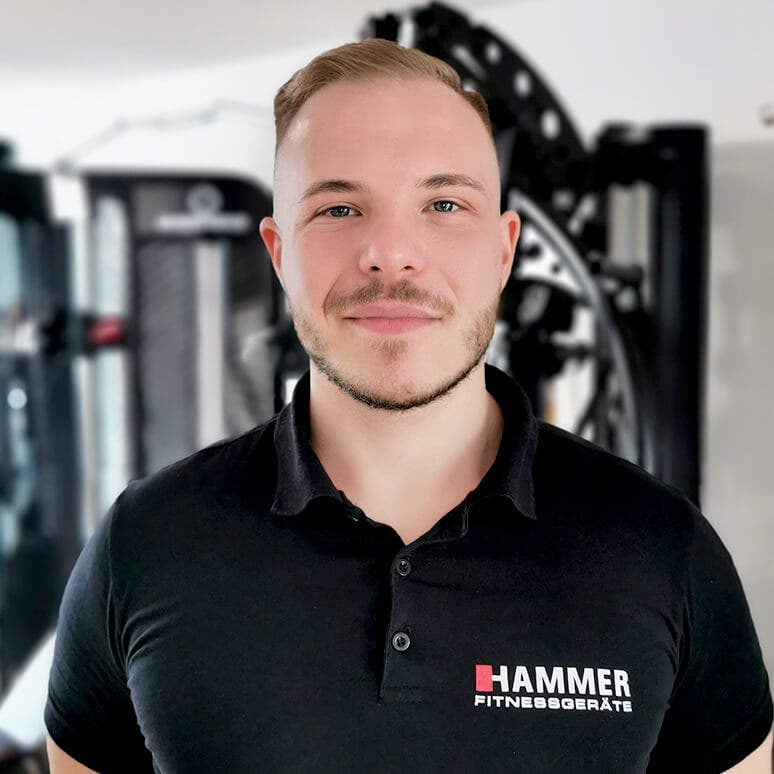 Alessandro Spitaleri
Sport and health trainer
Buy fitness equipment for home in Nuremberg
Our HAMMER store is located about 2.5 kilometres southwest of the city centre in Rothenburger Straße, well connected to public transport. Access is barrier-free, so that we are also ideally accessible for wheelchair users and people with mobile limitations. Our fitness experts will be happy to advise you personally and individually about our wide range of fitness equipment.
Shopping at the HAMMER Store Nuremberg
Nuremberg is a city that promotes its sporting talents and scores particularly well with its football club, 1 FC Nuremberg, and its ice hockey team, the Nuremberg Ice Tigers. The HAMMER Store Nuremberg focuses on leisure and professional athletes who want to get active in their own four walls and are enthusiastic about the world of home sports.
On 200 square metres, you will find products from the entire brand world of HAMMER SPORT AG suitable for all training goals and fitness levels - and completely accessible. We have a large selection of products in the cardio equipment segment in particular, but you will also find equipment from the strength training, fitness, wellness and health sports sectors. Among other things, we offer you:
Strength equipment: weight stations, dumbbells and weight benches, as well as accessories.
Cardio equipment: treadmills, cross trainers, indoor cycles, ergometers and rowing machines
Fitness equipment: ab trainers and back trainers as well as various small equipment and accessories for fitness sports
Wellness products: for relaxation after training
Test our devices directly on site in Nuremberg
All our equipment is waiting to be tested by you! Our experts on site in Nuremberg will help you with words and deeds, show you the right settings and exercise options. Together we will find the right product for you.
So just bring your sports clothes and let off steam on our cross trainers, ergometers, rowing machines or one of our numerous weight stations. Of course, you only start training after a thorough introduction, so that even beginners can train safely and effectively.
Whether you want to buy a weight bench, ergometer, exercise bike, cross trainer, weight station, rowing machine or treadmill - put your new favourite product through its paces. You can take your new fitness equipment home with you or have it delivered and assembled by us.
The perfect fitness equipment - also for companies
Of course, we also advise companies. After all, the health of employees is a decisive factor for more and more companies - not only when it comes to reducing absenteeism. In terms of employer attractiveness, health and fitness offers have also become practically indispensable.
Buy fitness equipment for home in Nuremberg
Payment methods
In our HAMMER Store Nuremberg you can pay as follows:
Cash
EC card
Visa
Mastercard
American Express
Santander hire purchase
in individual cases a bank transfer of the invoice amount is possible
Fitness equipment and more - directly from the manufacturer for your fitness at home
In our HAMMER store in Nuremberg, we offer you a large selection of our brands, which always focus on functionality and quality as well as user-friendliness and effectiveness. Depending on your sporting goals, you can choose the brand that best meets your needs, such as FINNLO MAXIMUM by HAMMER for semi-professional use by customers with high demands or HAMMER products for customers who like it compact and sporty.
HAMMER
FINNLO by HAMMER
FINNLO MAXIMUM by HAMMER
HAMMER BOXING
FinnSpa
SOLE by HAMMER
INSPIRE by HAMMER
If you are still unsure, our Nuremberg team will advise you comprehensively and introduce you to products from the various HAMMER brands.
Start immediately for more success - in your HAMMER Store in Nuremberg
If you have made the decision to invest in your fitness and health and are curious, we look forward to your visit to the HAMMER store in Nuremberg. We are open Monday to Friday from 10:00 to 19:00 and Saturday from 10:00 to 18:00. To load your car, you can stop directly in front of the shop at Rothenburgerstraße 116. For a longer visit, parking spaces are available in the underground car park and the surrounding area.