HAMMER Store Stuttgart
Contact
Breitscheidstraße 8
70174 Stuttgart
If you come by car, you can park for one hour free of charge in the Liederhalle multi-storey car park, directly opposite our store. We will gladly validate your parking card.
Experience our best products live
We look forward to welcoming you personally to our HAMMER store. You will find a wide range of fitness equipment for your home, which you can of course test on site. Our HAMMER experts will advise you personally and individually, answer all your questions and are happy to help you before, during and after your visit.
As soon as you have chosen your perfect fitness equipment, you can take it home or have it delivered and assembled by us.
Our latest reviews
Eine sehr gute Beratung im Store Stuttgart. Prima Auswahl an Geräten zum Ausprobieren. Die Geräte an sich sind alle sehr gut und sehr wertig Gebaut. Bisher nur sehr gute Erfahrungen bei der ersten Nutzung des Laufbands (Finnlo Alpine TFT) und des Crosstrainers (Sole E25) Danke Herr Dogrugiden.

Ich wurde von Herr Dogrugiden ausführlich beraten und habe mich dann für die FT2 entschieden. Die Lieferung erfolgte mit der Spedition sehr schnell (ca. 3 Tage). Ein außergewöhnlich gutes Gerät, sehr wertig verarbeitet und mit der Anleitung in Kombination mit dem Youtube-Video auch fehlerfrei aufzubauen. Vielen Dank!

Freundliche und gute Beratung
Our experts in the Stuttgart store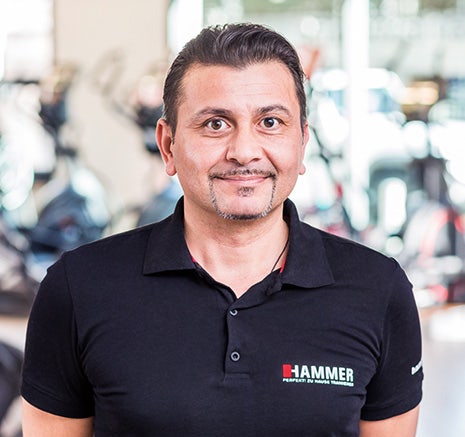 Deriya Dogrugiden
Sales Consultant
Fitness equipment for home use in Stuttgart
HAMMER now also makes the Swabians fit! Centrally located, directly opposite the Liederhalle Culture and Congress Centre, you will find the HAMMER Store Stuttgart in the Bosch-Areal. In the capital of Baden-Württemberg, you will find a wide range of home fitness equipment directly from the manufacturer. The Stuttgart team will advise you individually and personally on the best fitness equipment for your home.
Shopping for fitness equipment at the HAMMER Store Stuttgart - a special experience
Stuttgart is not only a sporty city as a venue for top sporting competitions and with its numerous sports facilities for popular and top sport, but the Swabians themselves are also active. You will find products from the entire HAMMER SPORT AG brand world on more than 400 square metres, suitable for all training goals and fitness levels. Directly opposite the store, you can park your car in the Liederhalle multi-storey car park and park for up to 60 minutes free of charge if you have your ticket validated here in the Stuttgart HAMMER store. Our range of products includes:
Strength equipment: weight stations, dumbbells and weight benches, as well as accessories.
Cardio equipment: treadmills, cross trainers, indoor cycles, ergometers and rowing machines
Fitness equipment: ab trainers and back trainers as well as various small equipment and accessories for fitness sports
Wellness products: for relaxation after training


You can take your new fitness equipment home with you or have it delivered and assembled by us.
Test our devices directly on site
We have a large selection of our equipment ready for you to try out. Our experts on site in Stuttgart will help you with words and deeds, show you the right settings, exercise possibilities and find the right product for you together.
Feel free to bring your trainers and try out any piece of equipment you like. Of course, you will only start training after a thorough introduction, so that you can train safely and effectively even as a beginner.
Our team in Stuttgart will then help you with tips on how to use the equipment optimally and will adjust everything individually and optimally for you. After the extensive trial training, we will be happy to offer you a thirst-quenching drink and you can compare the products at your leisure before making a purchase decision.
Buy Fitness Equipment for Home in Stuttgart
Competent advice - our team takes time for you!
You don't know yet which training equipment is the right one for you? Our professionally trained staff will advise you in detail and competently, taking into account your personal fitness level, your preferences and training intentions as well as your budget and your spatial situation. We are sure to find the optimal equipment for you - a fitness machine that will motivate you to achieve your goals in the long term. We are also happy to answer any questions that arise and, if required, provide you with ready-made training plans for every fitness level so that you can get started right away at home.
The perfect fitness equipment - also for companies
Of course, we also advise companies. After all, the health of employees is a decisive factor for more and more companies - not only when it comes to reducing absenteeism. In terms of employer attractiveness, health and fitness offers have also become practically indispensable.
Payment methods
In our HAMMER Store Stuttgart you can pay as follows:
Cash
EC card
Visa
Mastercard
American Express
Santander hire purchase
in individual cases a bank transfer of the invoice amount is possible
Get active now and visit us at the HAMMER Store in Stuttgart.
Do you want to fight your inner bastard and do something for your health with home fitness? The team at the Stuttgart HAMMER Store congratulates you on this decision and welcomes you to our premises at Breitscheidstraße 8 on weekdays from 10:00 to 19:00 and on Saturdays from 10:00 to 18:00!