Heavy training for at home
With a power rack, both beginners and advanced users can safely perform a variety of barbell exercises and also work with heavy weights. Especially for ambitious fitness athletes, the power rack is therefore an indispensable part of the training equipment. Discover different power racks for your training at home.
Buy a Power Rack
High-quality racks stand out due to their enormous stability and training variations. With a Power Rack you can do different workouts at home and target different muscle groups. By deciding to buy a power rack, you can set up your home gym in a space-saving way and still train in a versatile way.
Shipping is free of charge - as the manufacturer, we pay the shipping costs for you. Easy & risk-free ordering: If you don't like your new rack, you can return it to us within 14 days and get your money back.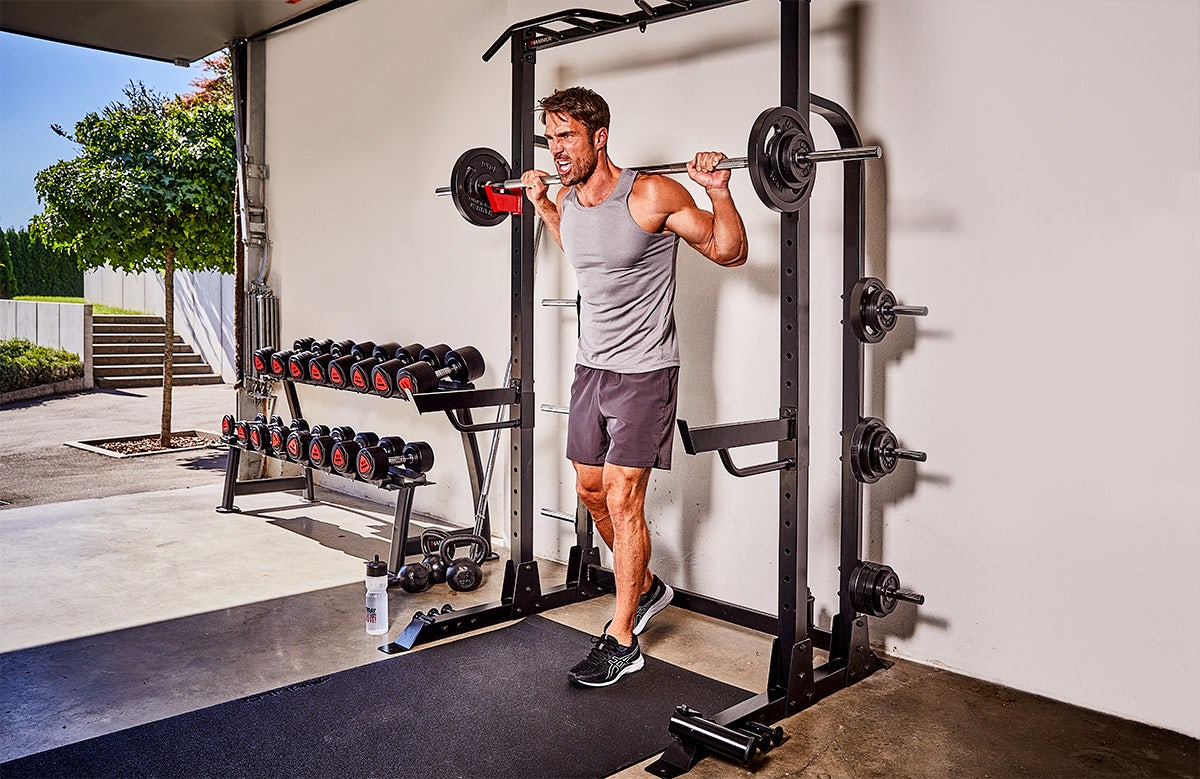 What is a power rack?
A power rack or fitness or weight training rack is a stable rack for the Barbell bar . The rack gives you the necessary stability and safety during training and ensures optimal execution of your exercises. Since squats in particular require a stable support from which you can lift the bar, the power rack is also often referred to as a squat rack. Sometimes, however, a squat rack is understood to be a support system that only consists of two stands. Using a power rack makes every barbell exercise much safer and more ergonomic, as you can individually adjust different rack heights for the respective exercise. Power Racks are equipped with stable feet and different height shelves as standard, which already enable intensive Strength training barbell training at home.
Advanced weight training racks also have height-adjustable shelves for the barbell and longer bars in front of or between the standing legs, known as safety shelves. Versions of racks with one shelf and safeties are usually called half racks. With a half rack you can adjust the start and end position of an exercise or the individual range of motion of a movement to your body conditions. For pulling exercises from below, the bar often rests on the Safetys, while for exercises from higher positions such as squats, shoulder presses or front squats, the racks are used. If you also want to perform pulling exercises such as barbell rowing and deadlifts, or generally train to muscle failure, your rack should have a lower safety shelf.
Power racks where you train inside the system and are secured by both barbell racks and safeties are also called (power) cages or full racks. Such full racks often have additional training options such as a module for pull-ups, landmines or hooks for resistance bands and battle ropes. All racks, but especially full racks, are an excellent basis for your home gym. Power cages offer maximum safety and functionality, but also require more space. Therefore, pay attention to the dimensions and the space available in your home gym. For all racks you should also consider the height of the rack itself and your ceiling height.
If you want to do more functional exercises or even Crossfit in addition to classic barbell exercises, look out for holders for battle ropes, a landmine and a pull-up module. These are usually found on half or full racks, as very good stability is important.
What are the advantages of training with a rack?
With a fitness rack, some of the basic barbell exercises can be performed in a meaningful way. These include squats and shoulder presses. But also other exercises like deadlifts or barbell rowing are safer and more comfortable with a rack. With a rack you increase the number of exercises you can do effectively. With a power rack and a barbell you can already train your entire body. Training with a barbell is not only considered the most effective way to build muscles and increase strength in competitive sports.
A power rack replaces your training partner and allows you to train to muscle failure thanks to the barbell rest. When buying a power rack, make sure that it has the maximum load capacity. Furthermore, the height-adjustable barbell rack and, depending on the model, the adjustable safeties allow you to adapt each exercise to your body conditions and the desired range of motion. In addition to classic barbell exercises, some racks offer further training possibilities. But you can also use the resting bar in the rack alone for other exercises such as rowing with your own body weight. If your rack also has a landmine and a Crossfit Battle Rope holder, you can perform even more exercises from functional training and Crossfitand incorporate high-intensity interval training into your workouts.
The barbell rack also allows you to change the required Weight plates weight plates during the workout more easily than when the bar is lying on the floor. The weight plates can be tidied up directly on the rack's plate holders, so they are always within reach. When training with free weights always pay attention to the hole diameter of the discs and the bar.
For whom is it worth buying a Power Rack?
As a fitness beginner you can already start with a few Dumbbells , a Barbell and a Fitness mat and a Weight bench make great progress. However, at the latest when you can increase your training weights and need a suitable rack for your weights, you should train with a power rack. Ideally, of course, you should start with a rack from the beginning and use the full range of barbell exercises right from the start.
The rack is particularly relevant for heavy barbell exercises such as squats, deadlifts, bench presses or shoulder presses. A stable rack is essential for these exercises. In addition, squats or shoulder presses with the barbell without a rack require awkward repositioning of the barbell, which quickly becomes a limiting factor in your training. With the bench press, on the other hand, the safety of the workout is paramount. Without a barbell rack and safeties or training partners, training to muscle failure is not possible. So if you want to train the classics among barbell exercises, you can't do without a power rack.
For some exercises, it is not desirable to have to pick up the weight from the floor every time. A power rack offers an ergonomic and back-friendly position for all barbell exercises. Therefore, especially heavier weights and intensive training sets make the use of a rack necessary.
A power rack is therefore worthwhile for all those who:
want to do ambitious weight training with the most important basic exercises
want to train the whole body
do not have a training partner or deliberately train alone
do not want to do without heavy weights
Want to integrate highly effective barbell exercises into their workouts
Seek maximum safety and ergonomics during training
Want to train until muscle failure
Do powerlifting or Olympic weightlifting
Do Crossfit and Functional Training at home
So if you want to move heavy weights and train to muscle failure with a barbell at home as you would in the gym, a power rack is a must for you.
Which rack suits me?
If you don't want to miss out on effective barbell training at home, you should buy a rack. However, make sure that it fits your planned exercises so that you can perform all exercises correctly.
Squat Rack
A squat rack is the simplest form of rack. The height-adjustable dumbbell rack allows you to train your squats safely and without having to move the dumbbell. Note that other racks are often referred to as Squat Rack , although many more exercises can be performed with them. If the rack only contains a shelf and no safety bars, it can still be used to perform shoulder presses, front squats or neck presses. Alternatively, with some racks the shelf can be set very low, so that pulling exercises are also possible through a deep shelf. Some squat racks are adjustable not only in height but also in width. This means you can also use shorter barbell bars than the standardised Olympic bars . Therefore, always pay attention to the length of your barbell including the plate holder and the width of your rack if you are not using an Olympic bar. A squat rack is therefore the basis for squats and some other exercises for beginners in barbell training and smaller space conditions
Half Rack
A Half Rack has a height-adjustable shelf and safety bars. This makes all basic exercises with the barbell possible. Many half racks also have a pull-up module for additional training with your own body weight. Overall, a half rack is usually a little more stable because it has a larger base area and sometimes several cross braces. As with the squat rack, the training takes place in front of the rack. You should use a half rack if you want to perform all relevant barbell exercises and you want to use an adjustable barbell rack as well as safety bars.
Full Rack
ith a Full Rack or cage you are completely safe. You can take the barbell out of the holder in front of the rack and train as well as do exercises inside the rack. In addition to the safety bars on the outside, a full rack also has metal bars for barbell storage on the inside. This gives the Power Cage even more freedom and the highest possible level of safety during training. A full rack almost always has a pull-up module and disc holders for your training weights. Some half and full racks also allow single-arm barbell exercises via the landmine or crossfit training with the battle ropes. Thus, a power cage represents a comprehensive basis for your home gym and enables numerous exercises. Due to the extremely high stability and adjustment possibilities, you can individualise your training very well and can safely perform all known barbell exercises. A Full Rack is suitable for advanced and professional users as well as for beginners who are looking for uncompromising training equipment right from the start.
What accessories do you need with a Power Rack?
You cannot train sufficiently with a Power Rack alone. You need a barbell and weight plates of the right diameter and in sufficient quantity. Use additional Dumbbell Locks at the end of the disc holder. If you want to use the Power Rack for barbell bench presses, you will also need a Weight bench . You can place these in your rack and make the best use of the stable dumbbell racks and, if necessary, safety bars. Make sure that your weight bench does not have a barbell holder itself, otherwise it could get in the way or simply be duplicated.
For heavy training with the barbell, additional Floor protection mats and Training gloves a useful addition. Pulling aids can also be helpful for pulling exercises with heavy weights. Furthermore, resistance bands in different strengths are a good addition to diversify your training with the barbell or to facilitate bodyweight exercises such as pull-ups. For Crossfit training at home, your rack needs holders for a Crossfit Battle Rope, a landmine and a module for pull-ups. Then you can also integrate this exercise into your training with a complementary Battle Rope. For more variety and individual training, barbells of different lengths can be used in the landmine to adapt your training perfectly to your needs.
Test the Power Rack
Find out which Power Rack suits you and your needs best. Test our products live on site in one of our HAMMER stores. You can also get more information and personal advice from our fitness experts by phone
HAMMER expert phone: +49 731 974 88-518 (Mon. - Sat. 9 am - 7 pm). We will also be happy to call you back.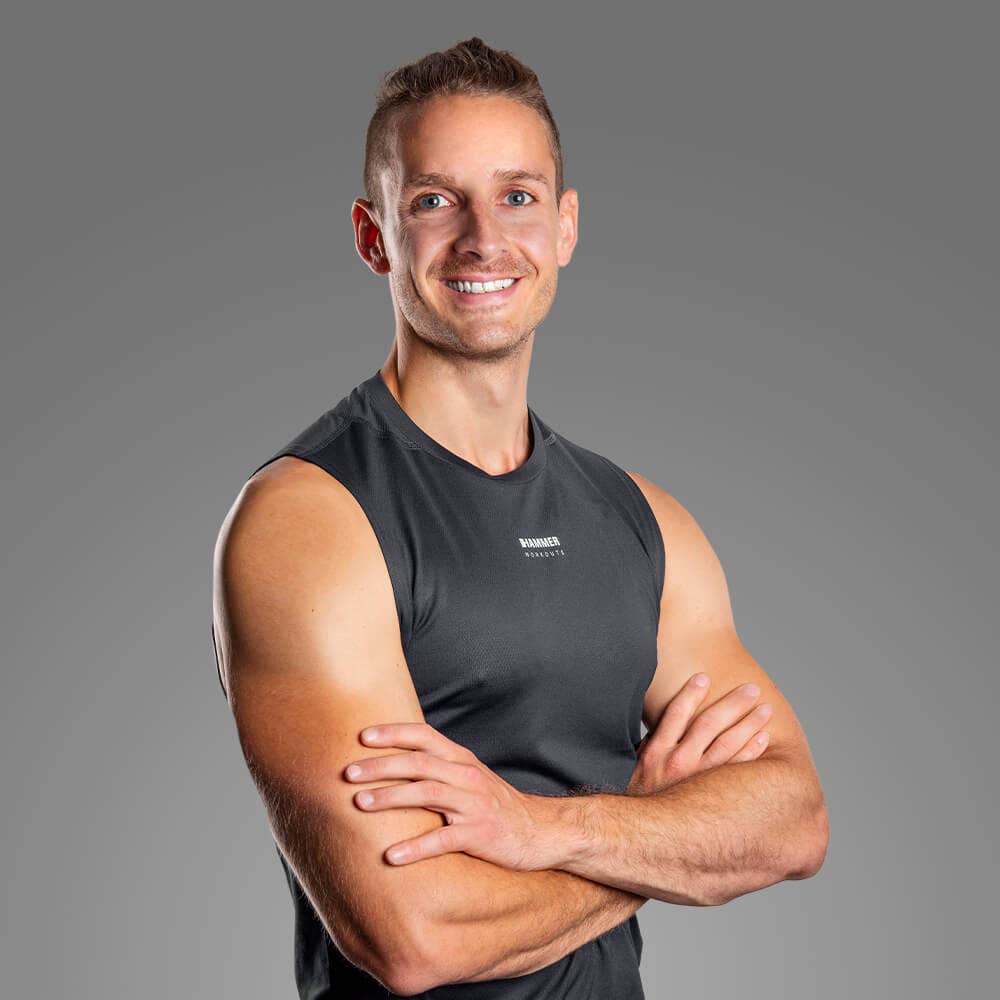 Alexander Seifried
Personal trainer, B. Sc. nutrition management and dietetics, M. Sc. clinical sports therapy and sports physiology