A Multi-functional studio training tower and "strength turbo" for professional fitness and weight training at home. With integrated abs & back trainer for effective and health-oriented training of the abs and back muscles. Includes leg extension / leg curl function, separate butterfly unit, and roller system that swivels 160 degrees and adjusts vertically for efficient muscle training.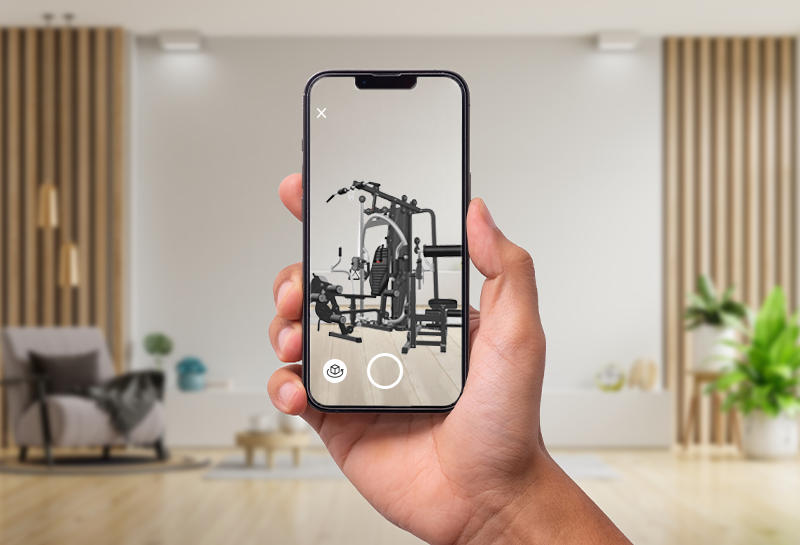 Experience your product in your own home now!
Whether as a 3D view on the PC or virtually in your own room via smartphone - immerse yourself in a whole new kind of product experience with HAMMER Augmented Reality.
The expanded model of the FINNLO Autark 6000 with even more exercise options.
You can finally train all of your body's important muscle groups at home just like in a professional fitness studio with the new Autark 6600 weight training station from FINNLO. For added value, the package includes a separate, multi-position butterfly unit. This gives the user ample range of motion for row exercises and bench presses. Swivelling grips are also attached, providing perfect motion. A special feature of the weight training station is a premium ab & back trainer that strengthens the stomach and back muscles for the challenges of everyday life. The weight training station includes a weight block with 100 kg, consisting of 20 5-kg weight discs. This station enables even advanced weight lifters to perfectly train and define muscles across their entire body. It targets women's problem areas and helps men build attractive muscles.
You can achieve the following goals with the FINNLO Autark 6000:
Men
Broad, muscular V-shape
Strong, defined shoulders
Muscular arms
Six-pack and defined abs
Health-oriented training with the back stretcher
Women
Tones the chest
Strengthens the back
Tones shoulders
Tones/defines arms
Tones/defines legs
The FINNLO Autark 6600 weight training station provides a variety of exercises for every muscle group as well as professional equipment features and adjustment options, making the weight training station a real alternative for the gym.
Important product information:
Resistance system via weight discs (100 kg, 20 5-kg discs)
Maximum resistance of 110 kg
Effective stomach and back training with the ab & back trainer. Intensity can be adjusted according to your fitness level
Professional leg curl / leg extension function with quick adjustment
Side roller system is vertically adjustable and swivels 160 degrees
Comfortable seat adjusts to several vertical positions
Cable rollers with ball bearings for smooth and easy training
Separate butterfly unit and additional bench press unit
Professional studio accessories: Wide, cushioned latissimus bar, tricep cable and premium hand grips
Exercises: Butterfly, bench press, lat pulls, leg curls, rows, tricep press, crunches.
Dimensions: (LxWxH) cm: 193x215x223
Space required: (LxWxH) cm: 235x350x223
Maximum body weight: 120 kg
Colour: anthracite/black
Dimensions and weight
Build up size (L x W x H)
190 x 263 x 223 cm (Space requirements 230 x 363 x 223 cm)
Upgradable with additional weights
No
Maximum of usable weight
100 kg
Shipping
Delivery time
4-8 working days
Scope of delivery
Autark 6600
Delivery Information
Delivery to curbside (Please leave your phone number when ordering, so we can arrange a suitable delivery date for you)
Private use
on the main frame
10 years
Summary of all possible strength exercises with the Autark 6600
You can find out how to do the exercises correctly and exactly which muscle groups are trained by clicking on the respective exercise.
Clients ask, our fitness experts answer
Do you need more information about the product? Ask your question here. Our fitness experts will answer quickly and easily.
Our recommendation for you