Fast and targeted muscle building at home
Your weight station is open 24/7! Complete professional strength and muscle-building training with a gym-level strength station in your own four walls. As a multi-talent, a home weight station is the perfect alternative to the gym, both for beginners and advanced users. With your own weight station, you can shape your body and build muscles effectively. Save yourself a trip to the gym and reach your fitness goals faster with a home gym.
Buy a weight station
Your own weight station is the solution for smart muscle-building training from home. With your own weight station, you can train regularly and save yourself a trip to the gym. Many weight stations cover a wide range of exercises and are therefore also called multi-stations. Depending on your individual goals, there are a few things you should consider before buying a weight station.
Muscle building at home: shaping the body and achieving optimal fitness
The importance of well-developed muscles for a healthy body is elementary, especially in today's sedentary times, and the scientific evidence is clear: muscle strength training is just as important for keeping your body healthy as endurance training. Buying a weight station gives you the opportunity to do an effective whole-body workout in a small space at home.
What positive health effects are possible when training on a weight station?
Strength training has long since ceased to be associated with bodybuilding alone. Rather, a varied whole-body workout offers numerous positive effects on health and reduces many risks of disease.
Among other things, strength training economises the cardiovascular system and improves oxygen supply. Strength training also has a preventive effect on numerous musculoskeletal complaints such as back pain or osteoporosis. Strengthening the postural muscles and the entire trunk area is particularly important in today's sedentary lifestyle to prevent complaints. Chronic lack of exercise is one of the greatest health risks of our time. Regular strength training effectively counteracts this and also effectively prevents other diseases of civilisation such as diabetes, obesity, high blood pressure or fatty liver.
What do I have to pay attention to during training on the weight station?
Before you start exercising on your new weight station, you should follow a few tips. This will help you train successfully and prevent injuries. Make sure you do a warm-up before your workout. Both light cardio training and basic gymnastic exercises that utilise the range of motion of the joints are helpful. During training with the weight station, it is best to pay attention to the following points:
No Pressed breathing!
To avoid an unhealthy increase in blood pressure, make sure you breathe evenly. Exhale evenly during exertion and inhale during release - returning to the starting position. Advanced athletes without elevated blood pressure can increase their stability and performance at maximum exertion with press breathing. However, you should not use it for health sports or if you already have high blood pressure.
Technique before weight
When performing the movement, make sure you can control the weight in every phase of the movement. Targeted deflection in the technique should be reserved for professionals who want to get the most out of a training set. Beginners and less advanced exercisers, on the other hand, should pay attention to a controlled movement sequence and thus minimise the risk of injury. A good guide for most exercises is to maintain a movement consisting of 1-2 seconds of the strenuous (concentric) phase, 1 second of holding in the end position and 2 seconds of the yielding (eccentric) phase. A good weight station will allow for fluidity of movement and small gradations in resistance, such as with the Bio Force .
First train strength endurance
When you buy a high-quality strength station, you have a large pool of different exercises for all major muscle groups. Depending on the selected weight and the number of repetitions, different types of strength training can be distinguished:
Strength endurance training: 15 - 25 repetitions
Muscle building training with the help of: 7 -12 repetitions
Maximum strength training: 1 - 6 repetitions
Since you use more weight for fewer repetitions, the strain on tendons, ligaments and joints increases. Beginners should therefore start with strength endurance training and muscle building, and advanced athletes should also train only occasionally in the area of maximum strength.
Start Low, get high
If you want to buy a new multistation, you should start with light training and increase gradually. Otherwise the risk of injury increases and you exhaust your recovery before you can achieve results.
For beginners and those returning to the gym, it is therefore advisable to do some set training, which can soon be increased to a 2-set and finally a 3-set workout. Exhaustion to the last possible repetition is also not necessary, especially at the beginning. The rule is therefore: it is better to train more frequently and regularly than sporadically and highly intensively.
You will train most effectively if you train the same muscle 2-3 times a week and only feel a slight muscle soreness now and then. For most (re-)beginners, a full-body workout at the weight station makes sense. Your weight station should therefore offer you the possibility to train the whole body and should also be smooth-running and easy to use in order to keep your training fun.
Note your regeneration
You want to put on more weight blocks every workout on your new multistation? Unfortunately, this requires some patience.
The muscle needs a recovery period to recover and grow. The load during the workout must be slightly higher than the muscle is used to. The right load activates an adaptation process in the muscle, as well as in the tendons and ligaments, to be better able to cope with the high load in the future. Regular training over months with a slow increase in weight will inevitably lead to success - if you also take your regeneration phases into account.
Train the entire body
For healthy and attractive muscles as well as optimal posture, it is absolutely necessary to train the entire body evenly. If you only train bench presses with the power station and neglect other muscles, you are working towards an imbalance of the body. This can lead to overload and pain. Therefore, make sure to include all muscles in your training.
So that you can also train your legs effectively in addition to your upper body, your power station should also offer the possibility of effective leg training and include a leg curler, such as the Autark 600 .
Variety for continuous progress
To keep your training success high in the long term, a varied selection of exercises is recommended for your multistation or cable pulley station. Variations in movement execution and weight always provide new stimuli for the muscles. When buying a multi-gym, make sure you have a wide range of weight blocks as well as a large selection of training options and various accessories such as a curl bar or additional weight blocks. Watch the video about the different power stations of the Autark series and get inspired:
Progressive Increase
In order to make constant progress, it is important to increase your training over the long term. You don't have to add a weight plate every week, but you should increase the training weight, the number of repetitions or the frequency of your training at regular intervals in order to always set new training stimuli. Depending on your level of performance, your weight station should therefore have enough weight plates.
Which training plan should I follow?
Which training plan is best for you personally depends on many factors. We have written a separate article for you to answer this question.
Perfect at home in your your own home gym
If you don't want to create your own training plan, you can simply train with the professionals from HAMMER Workouts. HAMMER Workouts offers you a huge selection of workouts with unique trainers, infectious music and perfect training motivation - on your fitness equipment. The perfect workout for anyone who wants to train effectively and stress-free at home. Choose from a wide range of workout variations and intensities to suit your mood and individual fitness goals.
Watch this video for inspiration. Various professional trainers give you insights into the effective use of different fitness equipment and weight stations and provide you with motivational support.
Buying advice: Find the ideal power station for your home
In the HAMMER fitness shop you will find a large selection of power stations and cable pulley stations. Which power station is best for you depends on your fitness level, your budget and your goals, among other things.
Multi Gyms for beginners
If you are just starting (again) with strength training, it is best to concentrate on a few good exercises and train them with regular increases. For this purpose, you should choose a strength station that allows you to perform the most common basic exercises such as bench press, rowing, lat pulldown and leg curls and has a high resistance range. Easy handling and a pleasant training feeling are also important so that you stick with it, especially at the beginning, and enjoy training with your equipment. Power stations like the California XP , the Autark 600 or the Bio Force have everything you need to get started with strength training.
Strength stations for advanced users
As an advanced strength athlete, you place special emphasis on emphasising individual muscles and individualising your training through a high variety of exercises. By combining guided training and free exercises, you can activate even more muscle fibres and train more effectively. Your strength station should therefore allow for different exercise variations and also enable free exercises with the cable pulley. Make sure that your multi station has enough weights to offer you enough resistance for your workout. High-quality power stations such as the Bio Force Extreme Sixpack Plus FT1 6000 M3
Multi Gyms for Professionals
Numerous exercises, a high resistance range and heavy training. With professional weight stations like the Autark 6800 , the SCS Smith Cage System , the FT2 or the M5 professional athletes and sportsmen with the highest demands can train even more intensively. The high-end multi-stations are ideal if you already have several years of training experience or if you don't want to do without anything right from the start. When buying a power station, make sure that you can perform isolation exercises as well as basic exercises for each muscle in order to optimally load your body. For example, with the SCS Smith Cage System you can perform both bench press and butterfly for your chest, and with the Autark 6800 you can train with both a leg curler and a leg press. To benefit from a wide range of exercises, your strength station should also include a comprehensive accessory set. Note that a professional station requires more space and your home gym should offer the necessary room for it.
Test the strength station
.

If you still need help with your decision, you can test the various weight stations on site in our HAMMER stores. Our fitness experts will also be happy to help you on the phone with information about weight stations and other fitness equipment.

HAMMER expert phone: +49 731 974 88-518 (Mo - Sa 9 am - 7 pm). We'll also be happy to call you back.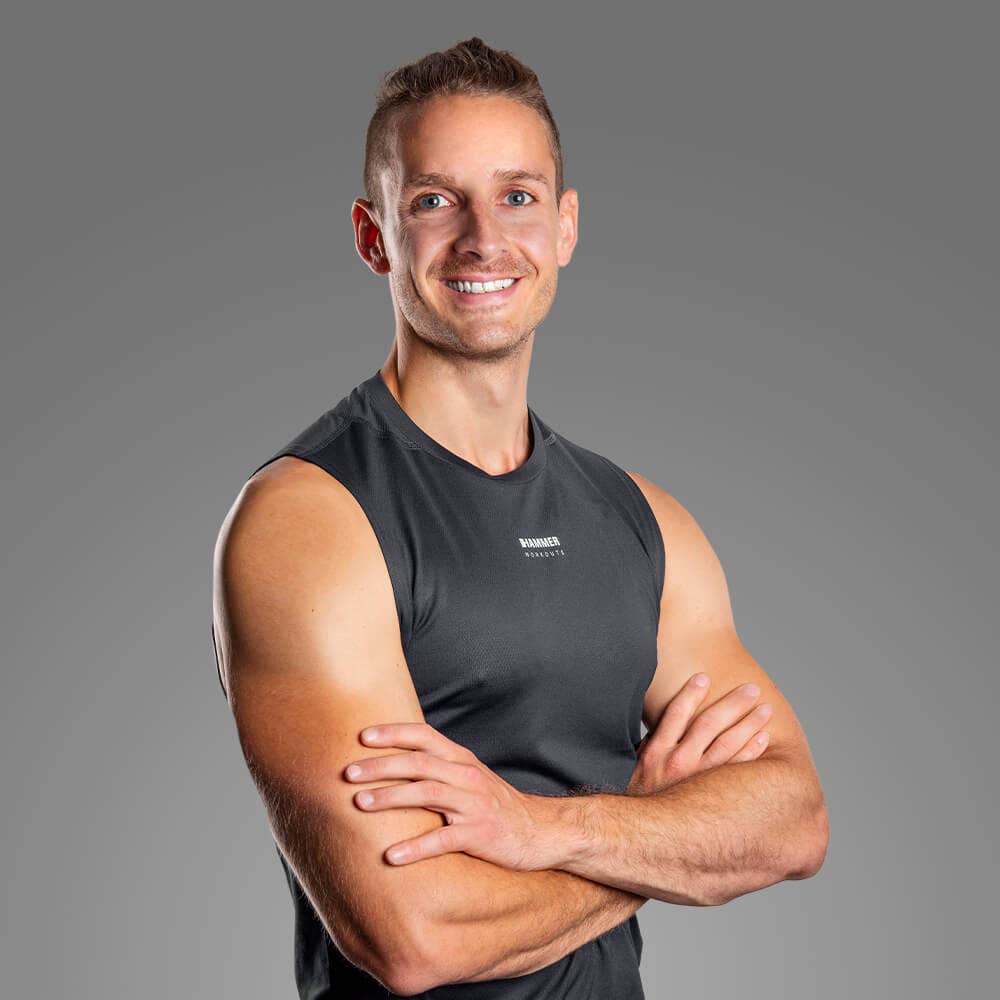 Alexander Seifried
Personal Trainer, B. Sc. Nutrition Management and Dietetics, M. Sc. Clinical Sports Therapy and Sports Physiology