Flexible and varied strength training
Dumbbells are the best-known and most ideal training aids for effective and targeted muscle training. With dumbbells you can target all muscle groups effectively. The handy dumbbells can also be stored in a space-saving way after training. Depending on your fitness level, you can train your muscles with a dumbbell set of different weights. Enjoy the advantages of a dumbbell for weight training and use the all-rounder of strength training at home.
Buy dumbbells
The dumbbell is one of the most well-known and effective pieces of fitness equipment. Dumbbells are so popular because you can train just about all muscle groups effectively and specifically. In addition, dumbbells are very handy and can be quickly stowed under the sofa or bed after training. If you want to make your strength training at home more versatile, you can't do without dumbbells.
Here you will find a selection of different dumbbells with weights. Whether it's a single dumbbell bar with matching weight plates or a dumbbell set with different weights (cast iron weight plates): there's something for every training goal.
Shipping is free of charge. Order your dumbbells easily and risk-free. If you don't like your dumbbell, you can return it to us within 14 days and get your money back.
What are the advantages of using dumbbells in your home gym?
The most important advantage first: with dumbbells you can train all muscle groups effectively and specifically. A compact piece of fitness equipment that doesn't take up much space. With a suitable dumbbell rack, your dumbbells are neatly stored in the home gym and always within reach. The advantages of the dumbbell are:
Effective and targeted muscle building training
Almost unlimited exercise variability
Improved intermuscular coordination between the individual muscles
Low acquisition costs
Compact fitness equipment without much space requirement
Dumbbells can be neatly stored with a suitable dumbbell rack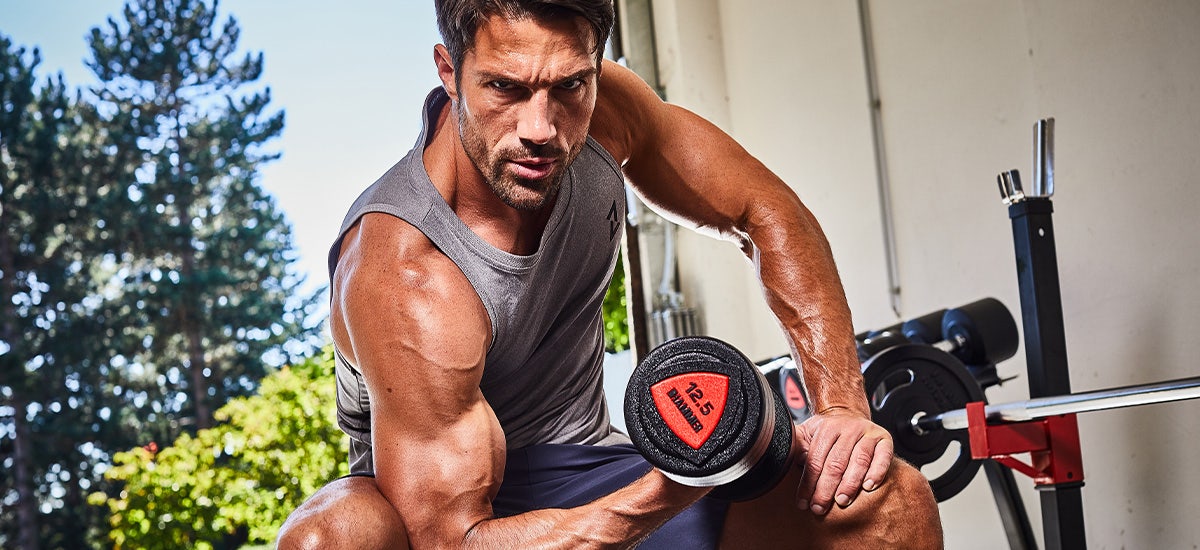 How do I train with dumbbells and which exercises are suitable for training with dumbbells?
Training with dumbbells promotes your body stability and is demanding in terms of coordination. Your torso serves as an anchor in strength training during exercises with free weights and has to do a lot of holding work. With the dumbbells you train not only your biceps but also your triceps, the lateral back muscles and your chest. Depending on the type of movement, the number of repetitions, the weight and your endurance, you can make your training with dumbbells even more effective.
One of the most popular dumbbell exercises is the hammer curl with dumbbell. Stand in a stable position. Your arms are slightly in front of your body with the dumbbells, palms facing forward. Now bring the dumbbells to your shoulders by bending your elbows. Hold briefly and lower arms again. This dumbbell exercise actively trains the biceps and arm flexors.
Start your dumbbell training with different exercises and small weight plates. Increase the number of weight plates as well as the number of exercises and executions from workout to workout. The 10 most effective exercises for dumbbells and barbells can be found in this Fitness Knowledge article: 10 effective dumbbell exercises.
Buying dumbbells: What weights and dumbbell sets do you need?
You can buy different dumbbells depending on your fitness level and fitness goal. A dumbbell set made of solid iron is an optimal dumbbell starter set to really get your muscles sweating. Dumbbells made of chrome also provide you with a classic and easy introduction to weight training with dumbbells. The dumbbell bar is equipped with different weight plates so that you have up to 10 kg in your hand when Chrome dumbbell set . The iron dumbbell set is available in 10 kg , 15 kg , 20 kg and 30 kg .
The further development of the classic dumbbell is the . When training with these dumbbells, you no longer have to select weight in weight plates. With a simple twist of the handle, you can vary the amount of weight on your barbell. The remaining weights remain safely in the rack. By turning the handle on the dumbbell you adjust the weight from 2-20 kg or 2-32 kg in one dumbbell. Changing weights and weight plates is a thing of the past. The Smartlock dumbbells offer you all the functions for a professional studio workout in your own home gym.
In this video, our personal trainer Fabian introduces you to the technical details and advantages of the Smartlock dumbbell set. He also shows the most popular and best exercises and for whom these simple and smart dumbbells are best suited.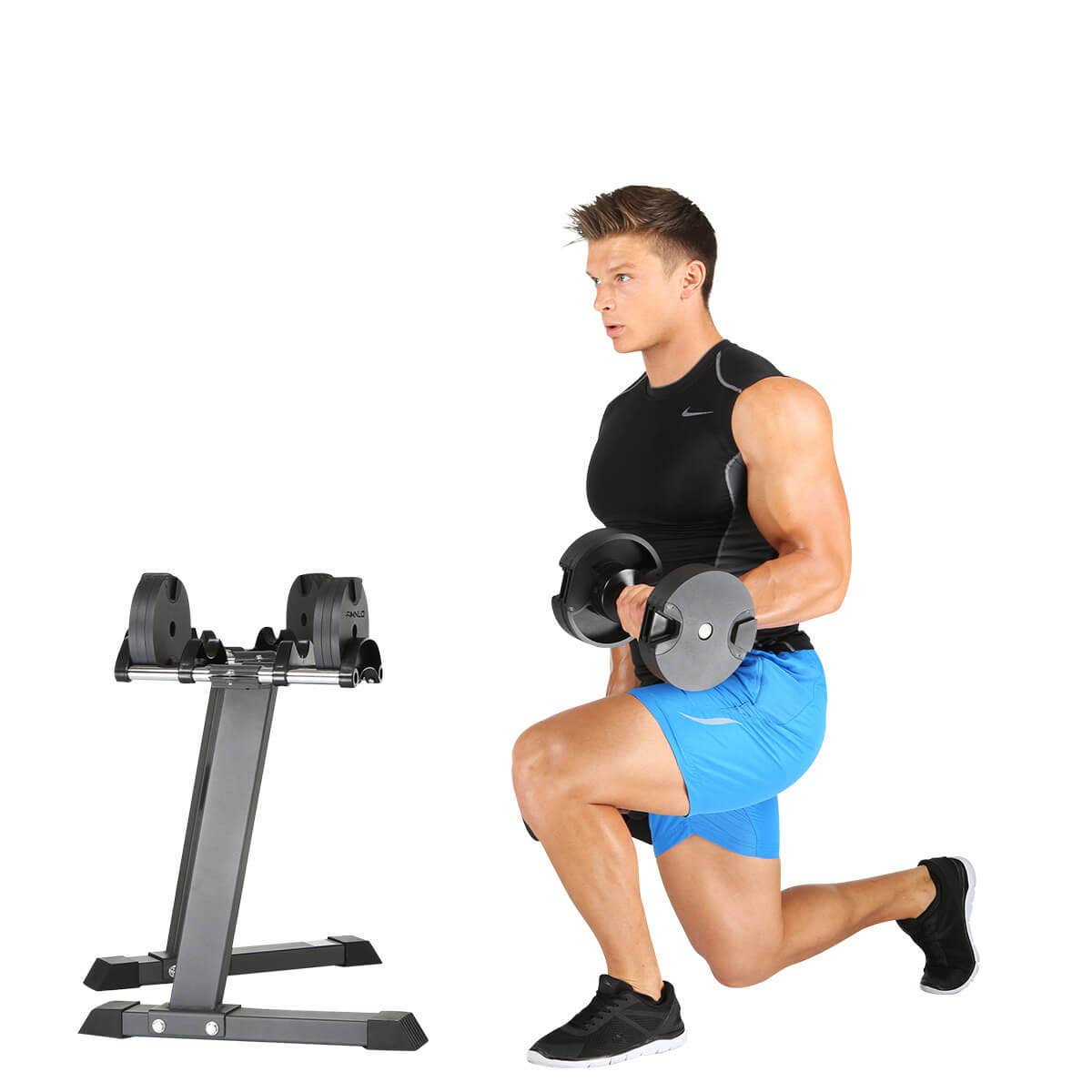 Dumbbells: What weight for beginners?
Depending on your fitness level, you can start your dumbbell workout with more or less weight. To prevent injuries and to keep your motivation high, we recommend that beginners start their dumbbell training with a low weight per weight plate and per exercise. Increase from workout to workout with the number of weights on your barbell and the number of exercises with the barbell. It is important that you always perform the exercises in a controlled manner - quality before quantity!
What are the different types of dumbbell locks?
The weights of a dumbbell are fixed to the barbell rod using either a star lock or a tension lock. The ends of the dumbbell bar with a star lock are threaded onto which the weight plates are turned into a star shape with the supplied twist lock. This type of lock is very popular especially for strength training with dumbbells in the home gym. With professional dumbbell bars, the weights are securely fixed with tension locks.
Which dumbbell weight for women?
Neoprene Dumbbells from 1 kg - 3 kg are perfect for women who are venturing into strength training with dumbbells and have no previous experience in strength or dumbbell training. If you are already at home in the weight training world and your fitness level is at a good level, dumbbells weighing 5 kg should be optimal for you. The Compact Dumbbell , available in weights from 2.5 kg to 40 kg, is a compact and handy dumbbell and perfect for your home weight training.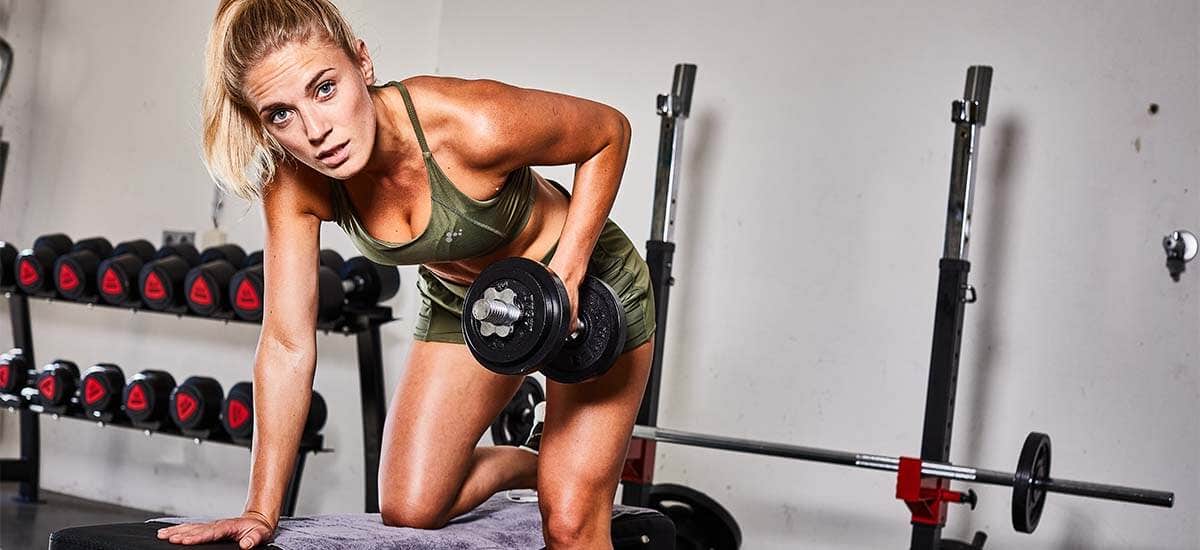 The right accessories for dumbbells
With dumbbells or a dumbbell set from HAMMER you can train different muscle groups effectively and specifically and make your strength training at home versatile and exciting. Suitable accessories can further increase motivation and training variety when training with dumbbells:
The weight bench is part of the basic equipment for your muscle training with dumbbells. Weight benches are versatile and can be used as a flat bench or incline bench so that many muscle groups can be trained with the dumbbells.
The non-slip material of the fitness glove gives you grip and enables a perfect grip for every exercise with the dumbbells or barbells. A real classic for strength training.
The floor protection mat protects your floor, dampens noise and is the perfect base for your dumbbell, barbell or dumbbell set.
Weight plates are available in chrome or cast iron and can simply be placed on the barbell bar. This way you always have different weights at home and at hand for your weight training. The weight plates are available for both dumbbells and barbells.
The premium quality dumbbell rack offers space for 16 HAMMER PU Dumbbells and ensures perfect order in your home gym. The high-quality hard plastic trays give the dumbbells a firm hold.
Where can I test dumbbells?
Still need advice and want to test dumbbells before buying a dumbbell set? Then visit us in one of our HAMMER stores and let us advise you extensively on the subject of dumbbells, dumbbell training and strength training. We are also happy to answer any other questions you may have about fitness, fitness equipment, training, strength and endurance. Of course, you also have the opportunity to test other fitness equipment besides dumbbells. After a professional instruction, you can start your test training directly. We look forward to your visit.
HAMMER expert telephone
You have questions and would like to get advice by phone? The HAMMER experts are available for all questions and topics concerning fitness, sports, quality and health and will advise you individually and personally on your dumbbell purchase.
Call us: HAMMER expert phone: +49 731 974 88-518 (Mo - Sa 9am - 7pm). We'll also be happy to call you back!