HAMMER JumpStep
The worldwide first trampoline with a flexible step board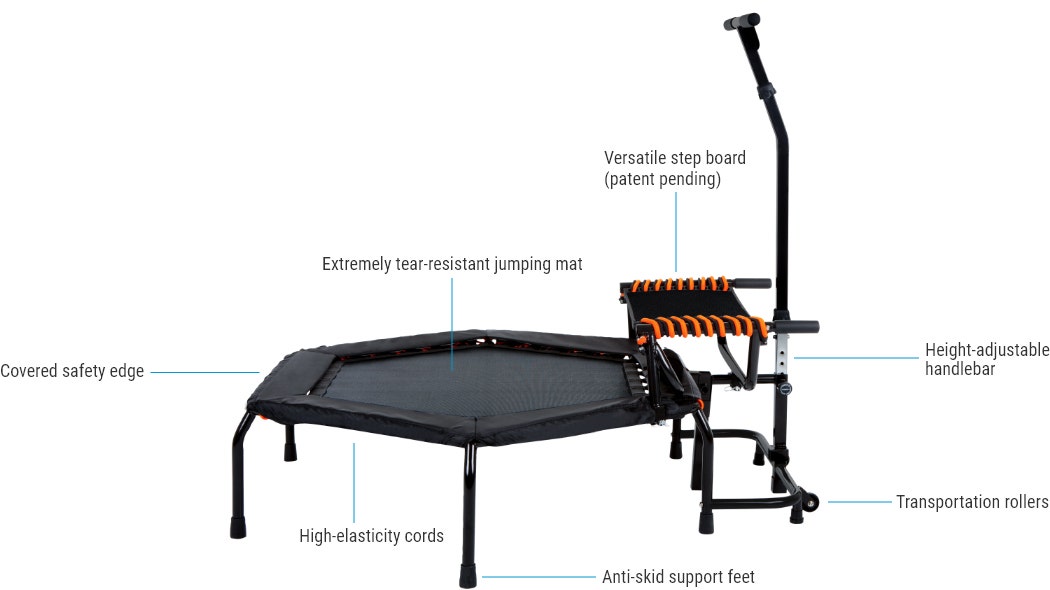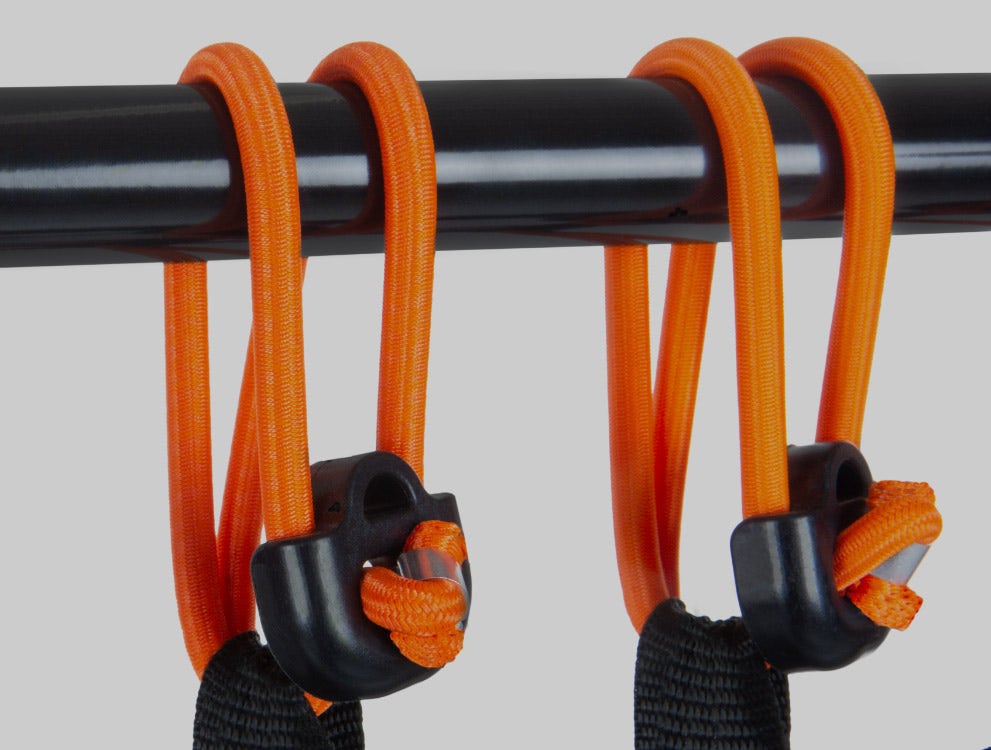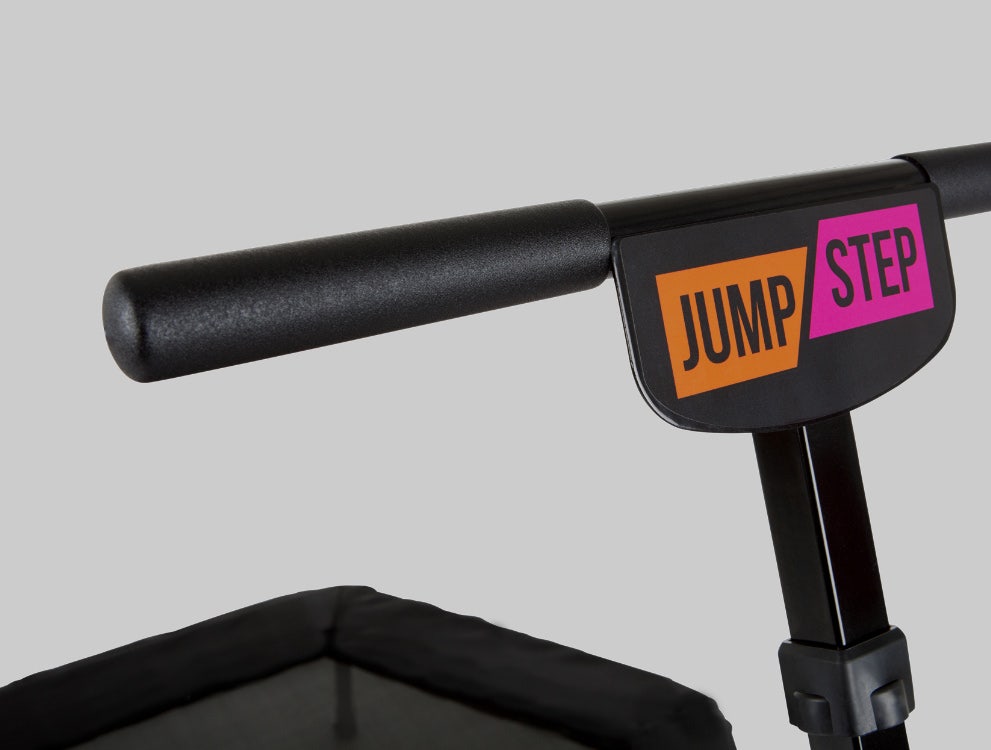 Endless fitness fun!
Combine jumping fitness with step aerobics
Does a standard trampoline just not offer enough of a challenge and get boring over time? We've got something completely new and unique for you: The innovative JumpStep fitness trampoline with added step board! Forget boring trampoline workouts! JumpStep is the world's first trampoline for home and studio use with an innovative jump step. In addition to the traditional trampoline, JumpStep comes with a flexible and joint-friendly step board featuring a non-slip surface – adding a whole new range of workout options to your trampoline training. Virtually endless options for jump combinations add a mega fun factor to high-intensity cardio workouts. JumpStep doesn't just burn more calories – the integrated step board challenges and strengthens your glutes and leg muscles much more than a traditional fitness trampoline ever could. The perfect combination of cardio training and body toning!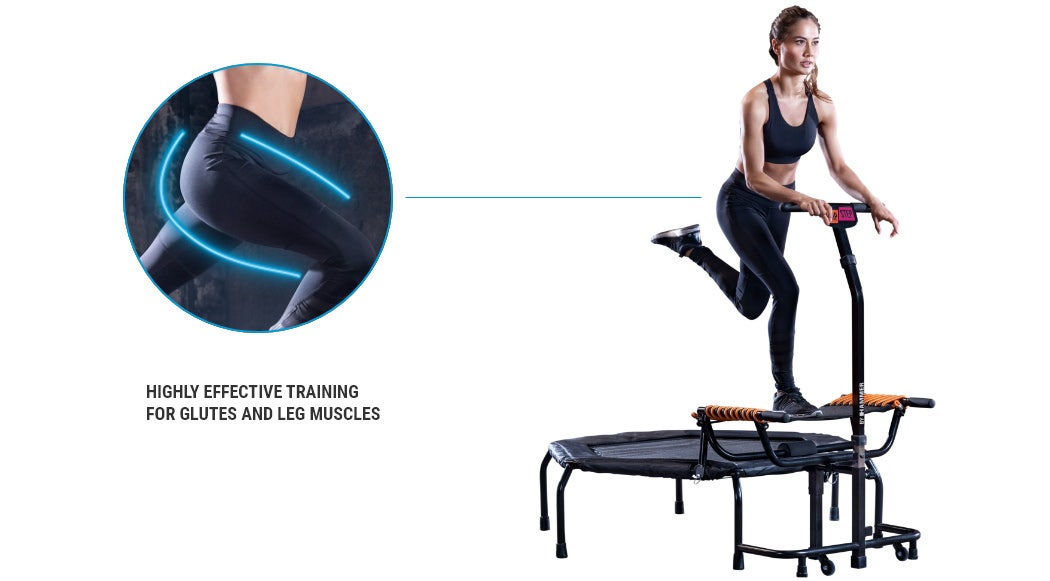 Intensive workout for glutes and leg muscles
Effective muscle definition
When training with JumpStep, the step board specifically targets and trains your glutes and leg muscles – the same way a step aerobics session would. In effect, you'll melt away those excess pounds in intense cardio sessions, while at the same time toning your whole body with muscle building. Perfect for body shaping!
Build strength!
Your JumpStep still has a lot more to offer when it comes to strength training. Use the various elements of the JumpStep like the jumping mat or the grip handles on the step board after your jumping workout to add some power exercises using your own body weight. Planks, push-ups, dips or mountain climbers – make the most of your JumpStep and push yourself to the limit!
Limitless workout options
JumpStep offers a virtually endless number of step and jump combinations!
The innovative, integrated step board on your JumpStep trampoline allows you to create much more and varied jump choreographies than a traditional trampoline. You work your way through intense yet joint-friendly training sessions that are much more fun and varied than you could ever imagine and never feel strenuous or like a chore. Guaranteed variety for a stimulating and motivating jump and step workout experience!
3 training videos included
With the purchase of your JumpStep you get access to three intensive and varied training videos. Together with our jumping trainers, we have put together three different programmes that will make you sweat. Whether cardio, dance or shape - with these workouts you'll burn more calories within 20 minutes than jogging, for example, and shape your dream body in the process. Mega fun and mega effective!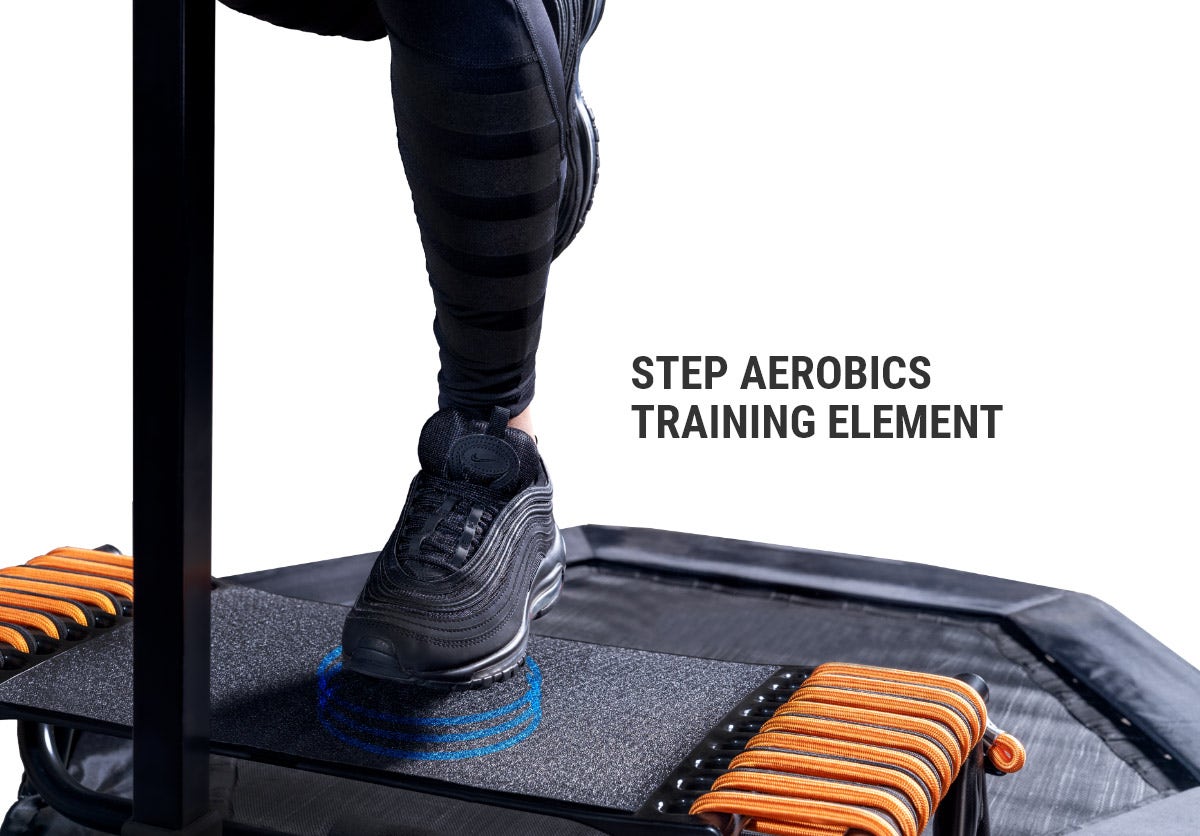 Mobility, coordination, balance
Limber tendons, muscles and ligaments
Workouts with JumpStep will limber up and stretch your tendons, muscles and ligaments. The blood supply to cartilaginous tissue, inter-vertebral discs and the entire spine is enhanced, while overall elasticity is improved. Your physical coordination is targeted specifically in connection with the step board and the virtually endless number of possible step choreographies. Your balance and equilibrium is improved with each new workout session.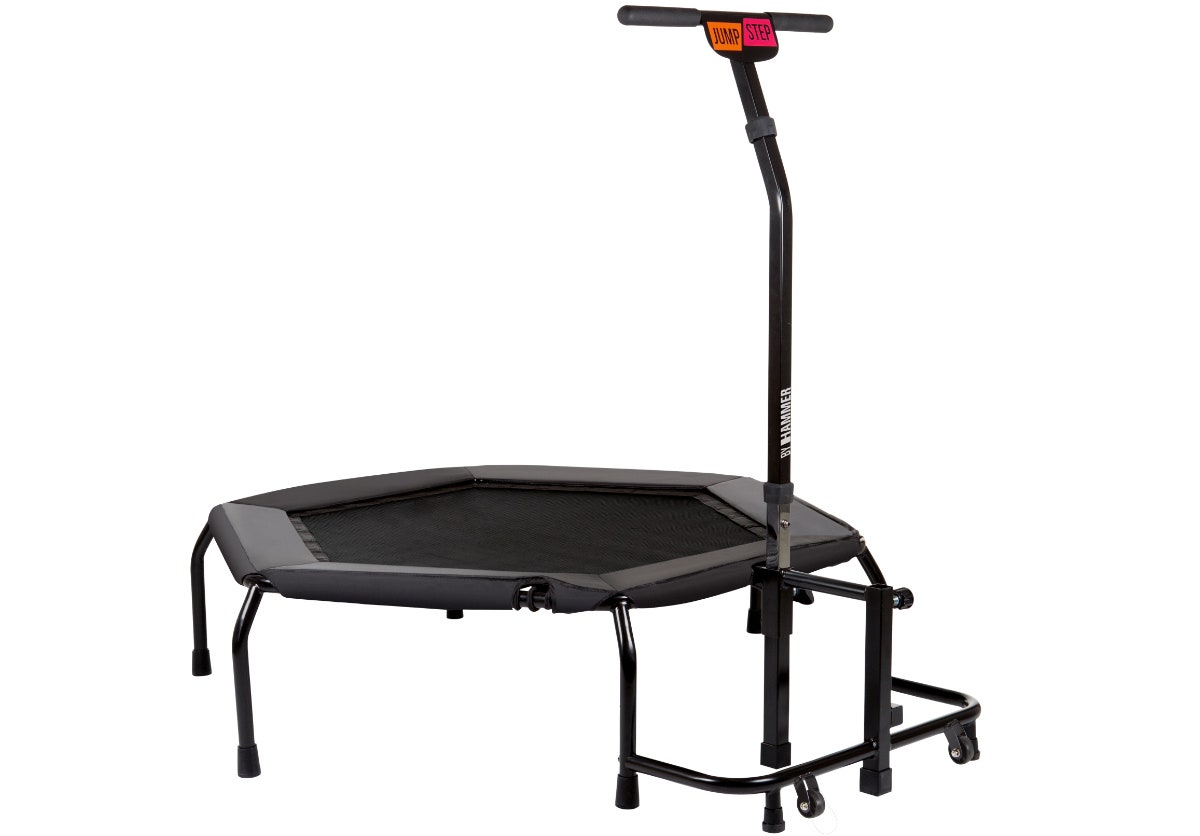 Variable training options
Training with or without the step board
You can transform your JumpStep into a regular trampoline whenever you like and do a workout session completely without the step. The step board is easily removed in seconds and the T-bar can be set to the second position to allow you to do more traditional trampoline workouts.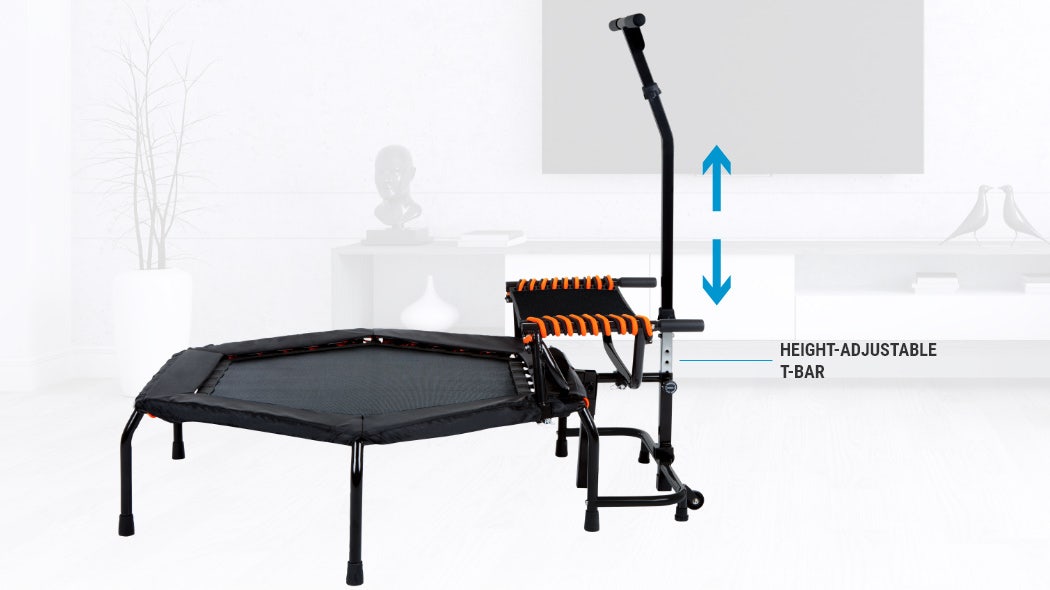 Ergonomic, height-adjustable hand grip
Adjusts to your body height
The ergonomic T-bar has seven height-adjustment settings, which means you can set it to your own body height in seconds. The T-bar with padded handles ensures maximised safety – no matter how hard you train. The T-bar makes it easy to perform faster and more challenging exercise sequences. Advanced users with more experience can use it as a support or push-off aid as part of their choreographies.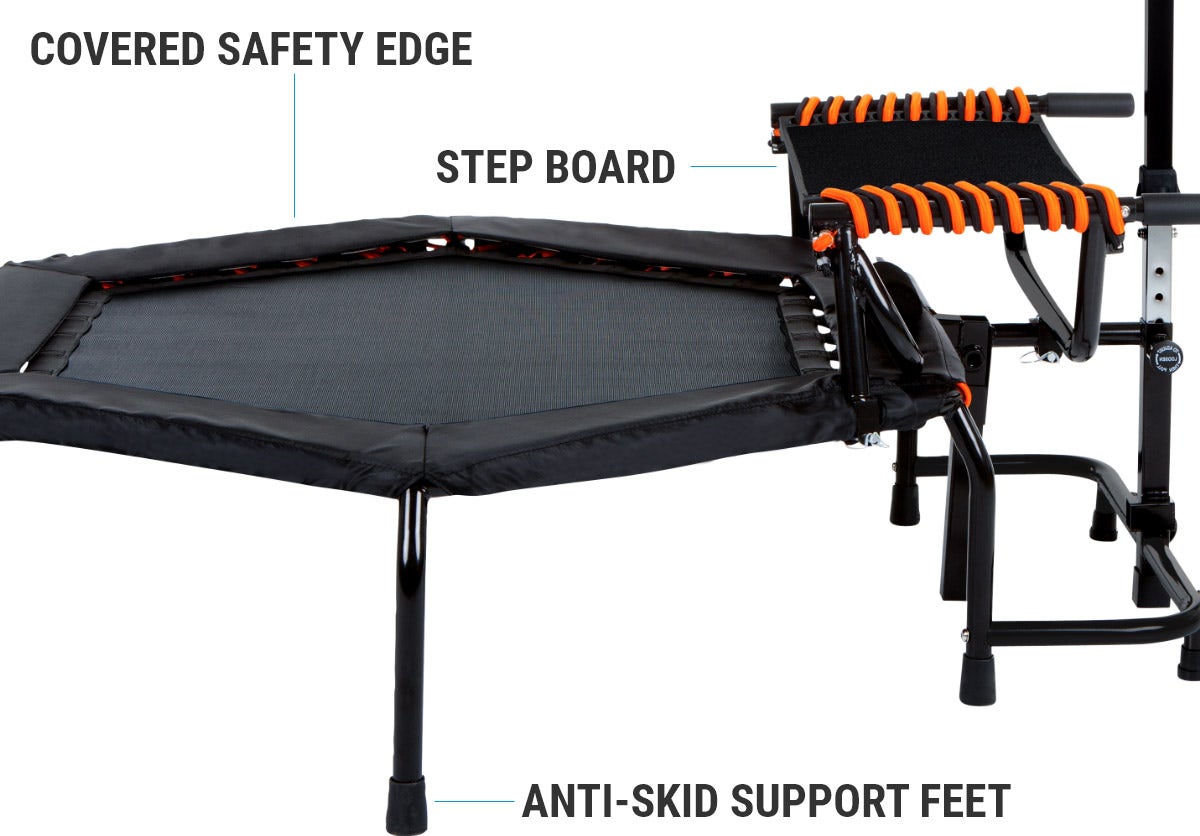 Robust and safe
For high-intensity training sessions
The highly robust construction of the JumpStep trampoline can withstand the most rigorous jump exercises. The anti-skid support feet make sure that the trampoline stays put while you train. A safety cover around the edge prevents missteps or injuries, but can also be removed in seconds if you prefer.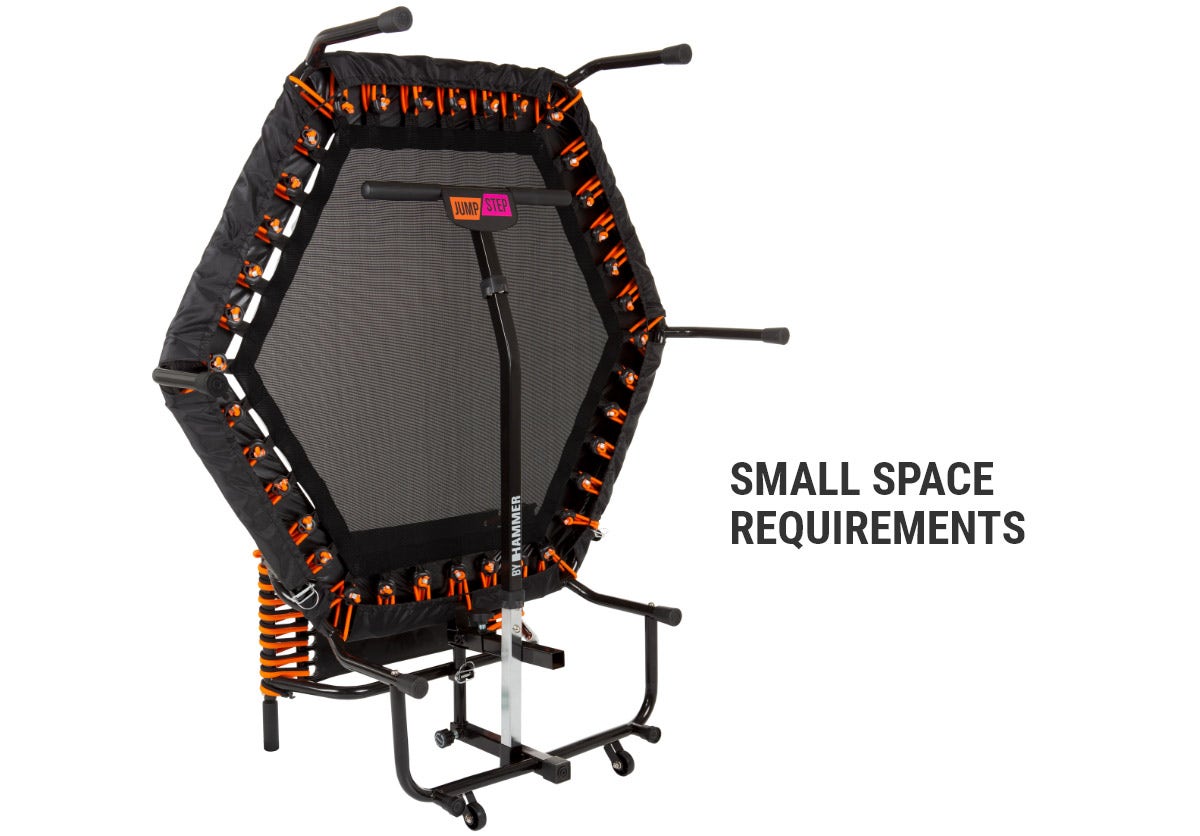 Space-saving set-up
Easy to store
The sophisticated design means that your JumpStep can be set up in seconds and needs very little space to store when it is not in use. The T-bar is removed in one step, then simply upend the trampoline and store it anywhere in your home. Perfect for small apartments!
Dimensions and weight
Build up size (L x W x H)
139 x 133 x 139 cm
Overall step board size
45 x 72 cm
23/5000 Step board jumping surface
31 x 44 cm
Height step board to jumping surface
20 cm
Other features
Transportation rollers
Yes
Shipping
Delivery time
3-6 working days
Scope of delivery
JumpStep
Delivery Information
Delivery to the apartment door
Private use
on the main frame
10 years
Clients ask, our fitness experts answer
Do you need more information about the product? Ask your question here. Our fitness experts will answer quickly and easily.
2 questions already answered
Question:
Wie hoch sollte ein Raum mindestens sein damit man das Trampolin drinnen benutzen kann? Ich bin 1,82 m groß. from Daniel
Answer:
Tab 1
Hallo, wir haben es getestet. bitte 250cm einkalkulieren
Question:
Die Gummiseile nutzen sich sicher mit der Zeit ab. Bieten Sie auch passende Ersatzteile an? from Helen
Answer:
Ersatzteile sind selbstverständlich erhältlich. Diese können über
service@hammer.de
bestellt werden!