Kinomap Like on clouds - experience intense cardio training
The Fly RX is not just an elliptical trainer, but a fitness experience in a class of its own. This unique device offers you the feeling of walking on clouds, while at the same time intensively working and shaping your buttocks and thigh muscles. With its modern technology and generous multimedia equipment, including a 10" TFT touchscreen console, training is not only fun, but also motivates you again and again.
High-resolution display
Our 10" TFT touchscreen offers a first-class user interface. With pre-installed apps like Kinomap, you can start your fitness journey right away.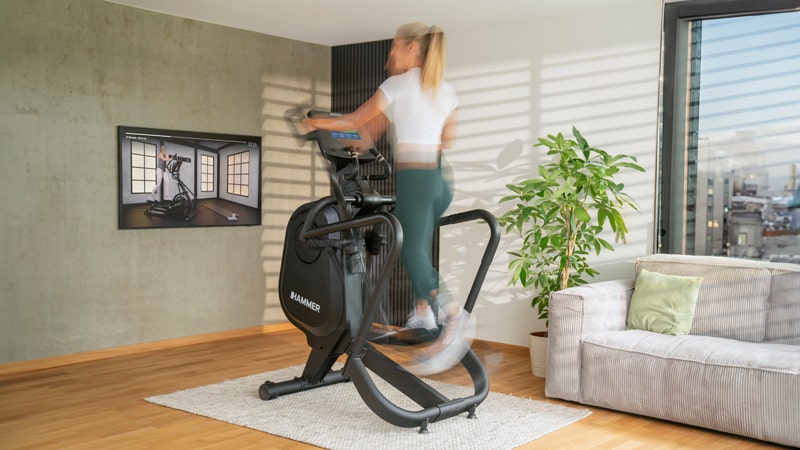 Product Highlights
Check out all the features of the Fly RX!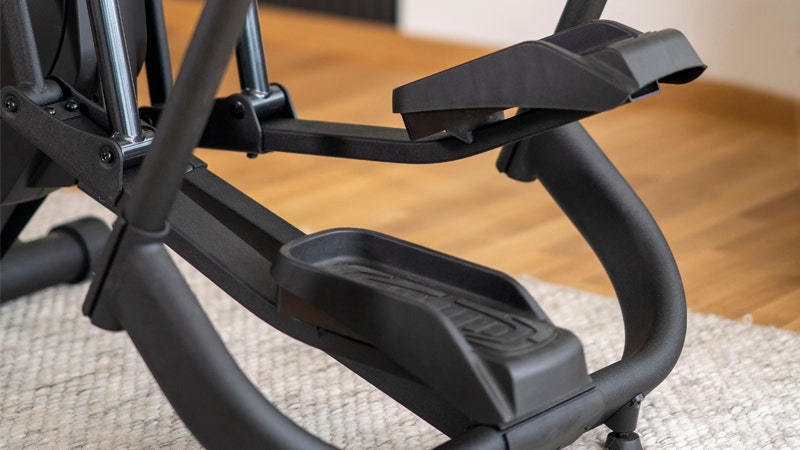 Weightless
The design with free-swinging treads not only ensures a smooth and joint-friendly workout, it also lets you walk on air.
Discover your favourite workout
With HAMMER Workouts we constantly offer you new and motivating courses with your elliptical trainer. Work out with our expert trainers and achieve your own individual fitness goals in 10 to 50-minute workouts. No matter if you use your smartphone, tablet or laptop, without an additional subscription.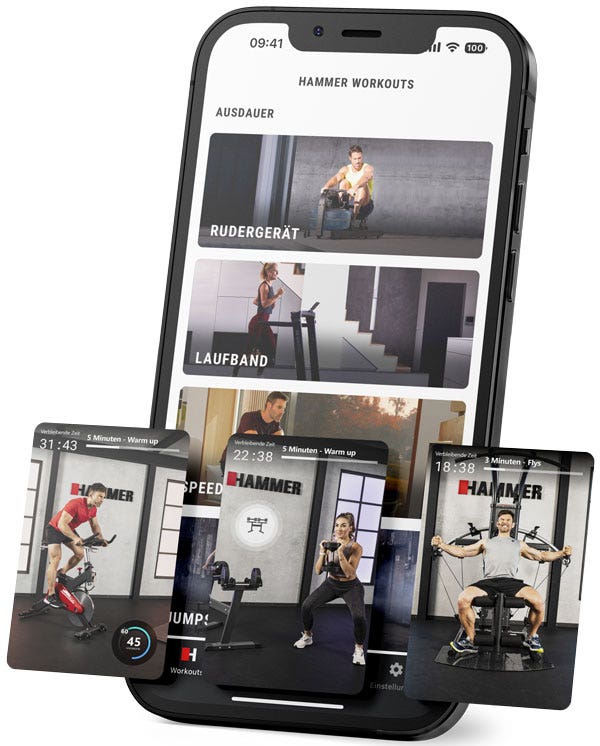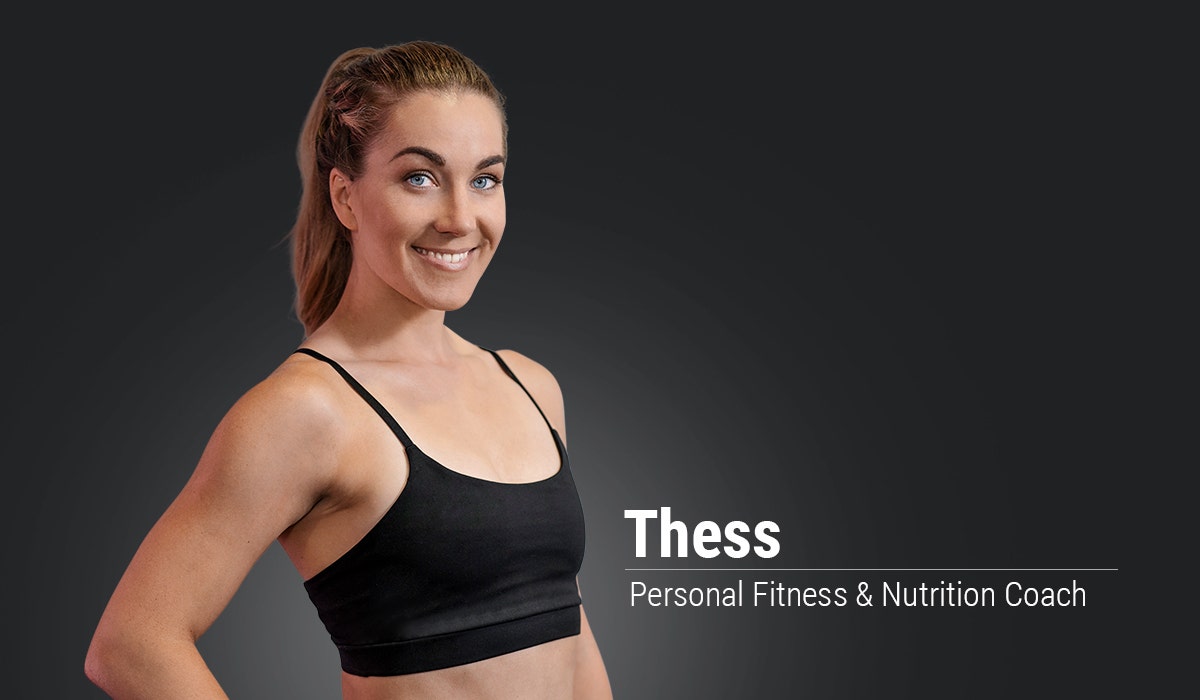 Expertise of our trainers
"What really sets the Fly RX apart is its versatility. With the adjustable stride length and different grip positions, you can customise your workout to suit your individual needs. The intense movement of the Fly RX simulates climbing a mountain or walking on stairs. This means your glutes are activated with every step."
Crystal clear touch controls
The 10" TFT console features pre-loaded apps such as Spotify, Chrome and Kinomap to make your workout more entertaining. The display also shows you all important training parameters in real time. In addition, 21 different training programmes are available, including 12 hill and valley profiles.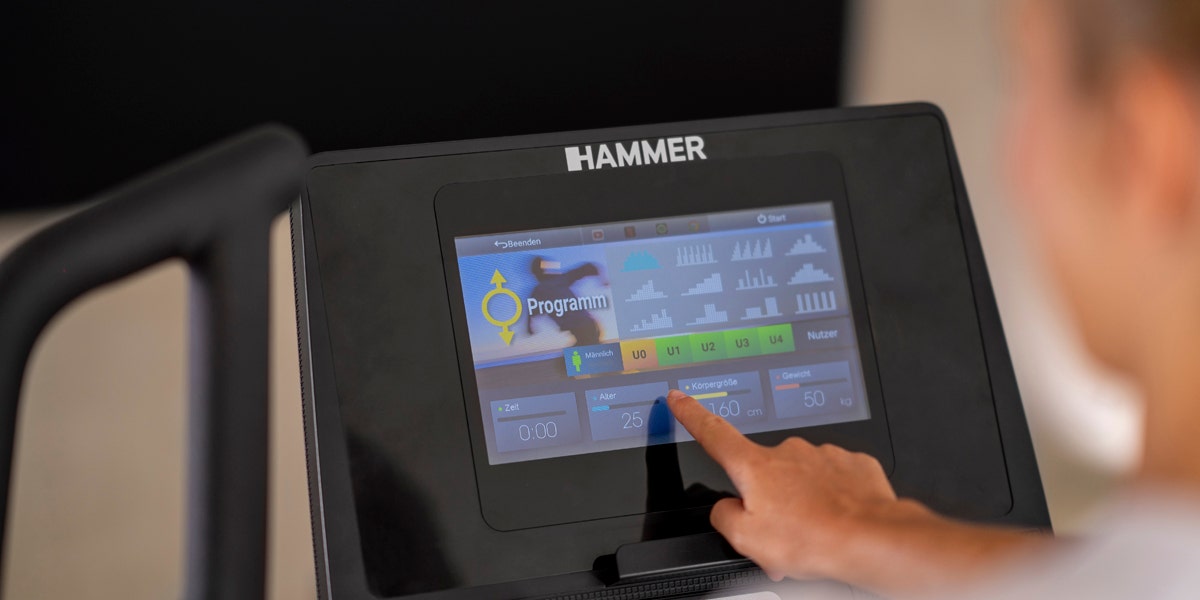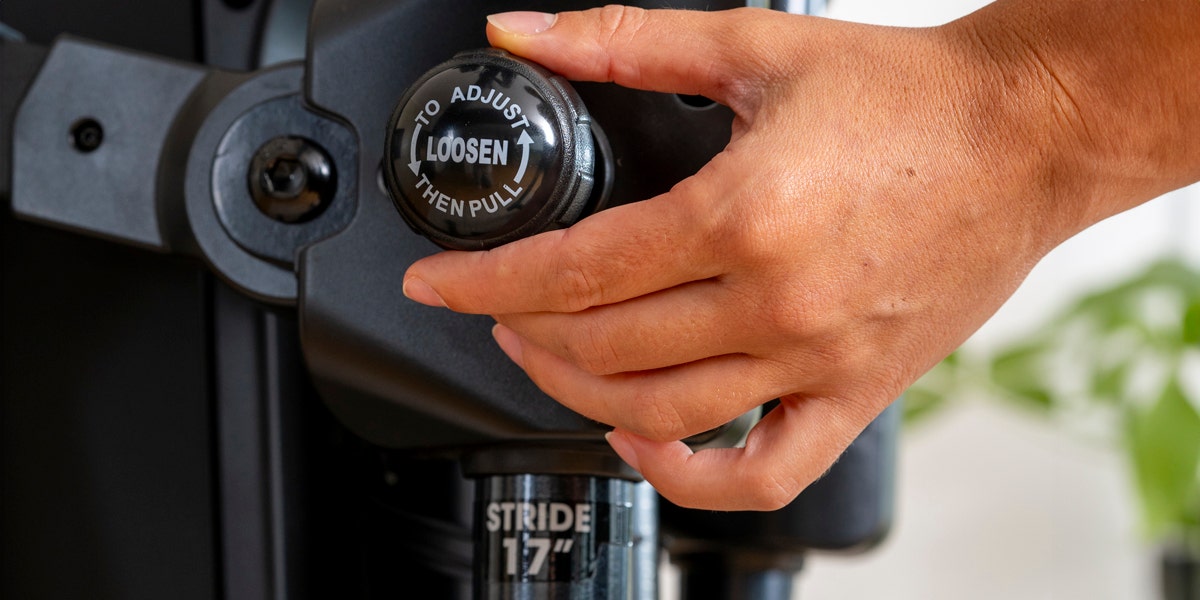 Optimal stride length
This innovative function allows you to adjust the length of your stride individually. The stride length can be varied between 45 cm and 55 cm in two different settings. This allows people of different heights to find the optimal stride length for their training.
Adjusting the stride length also offers the possibility to simulate different running styles. With a shorter stride length, the movement is more similar to that of a stepper, which works the muscles of the buttocks and thighs particularly intensively. If you increase the stride length, you simulate a fast run or an outdoor jog.
Ergonomic hand positions
Whether you prefer a wider or narrower grip or want to keep your wrists in a certain position - with the Vario grips you can flexibly adjust your arm position during training. This not only adds variety to your workout, but also activates different muscle groups.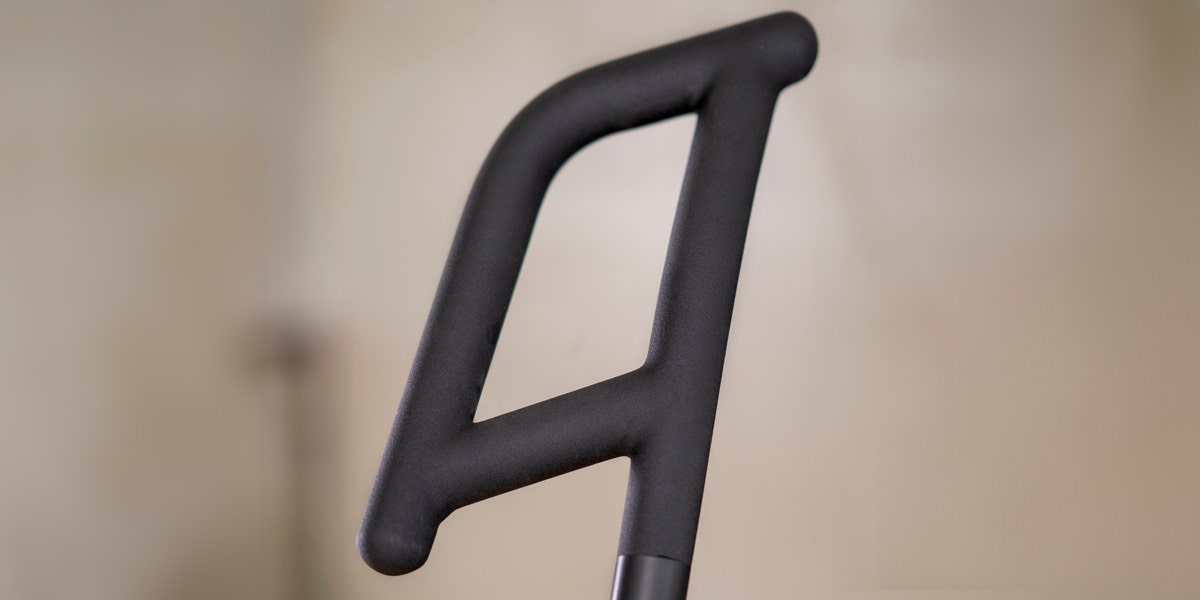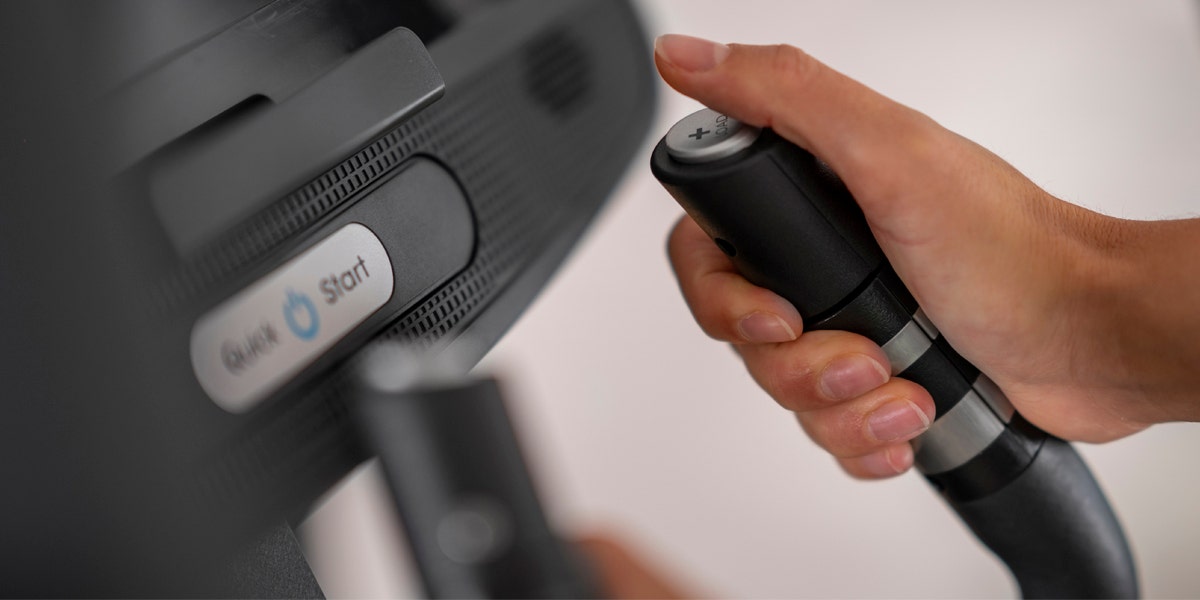 Pulse-controlled training programmes
The 21 training, 12 fitness and 4 heart rate programmes ensure an optimal workout. In combination with the precise pulse control directly on the handles, you always have the intensity in view. From a gentle 30 watts to a challenging 400 watts, you can adjust the resistance to suit you.
Sky is the Limit
With the Fly RX, you'll experience a workout that feels like you're floating on air. The Fly RX's free-swinging treads provide a particularly smooth and natural movement that almost feels like floating in the air. Your feet glide effortlessly across the floor as the elliptical works quietly and smoothly.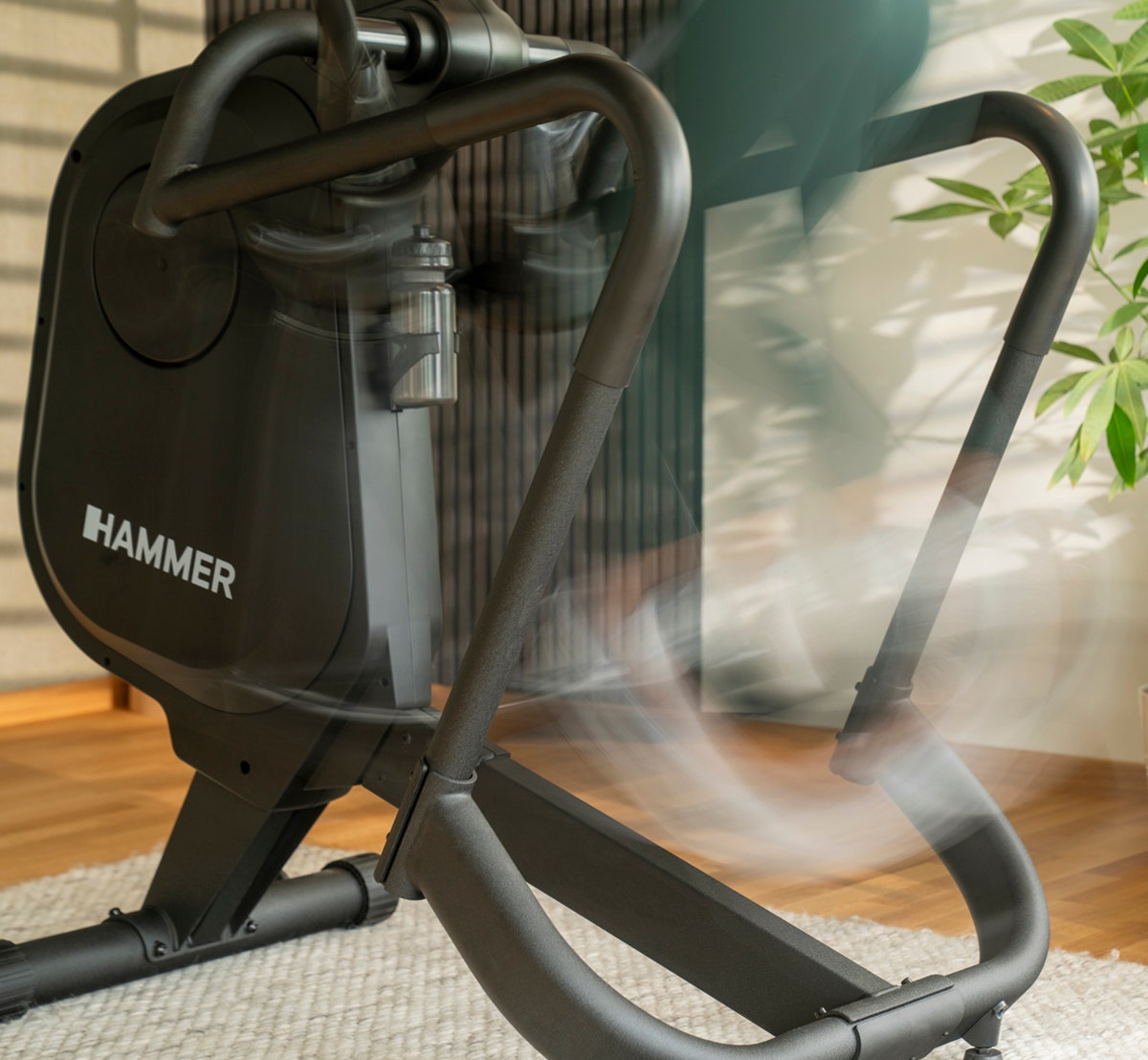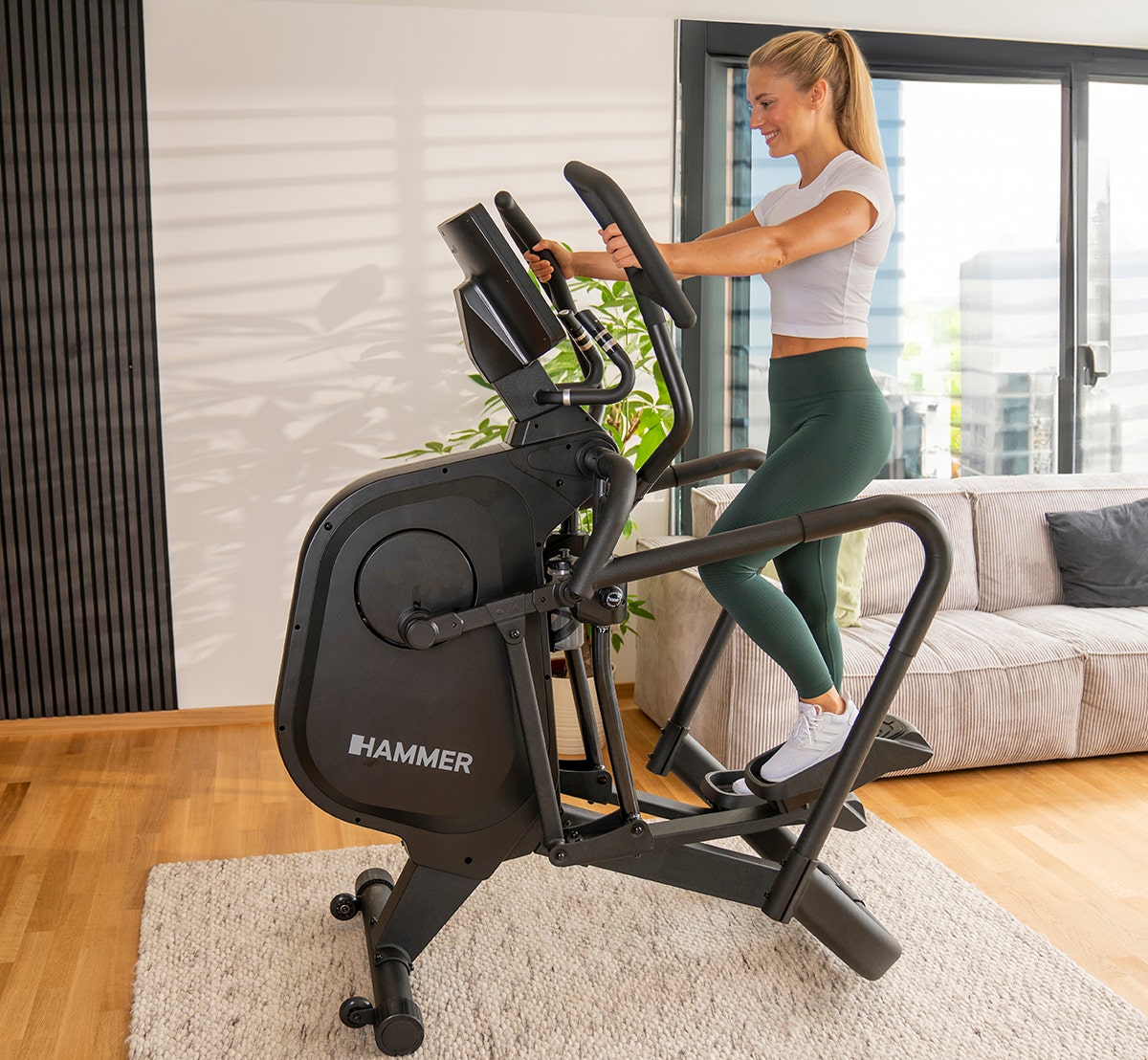 The lateral frame minimises sideways movement, giving the machine tremendous stability and contributing to the unique running experience. Whether you're exercising comfortably or pushing yourself hard, the Fly RX gives you peace of mind.
With the 12 kg flywheel mass and the whisper-quiet, wear-free magnetic brake system, we offer you the basis for a first-class training experience. The maximum load capacity of 150 kg is a further indication of the above-average quality of the Fly RX.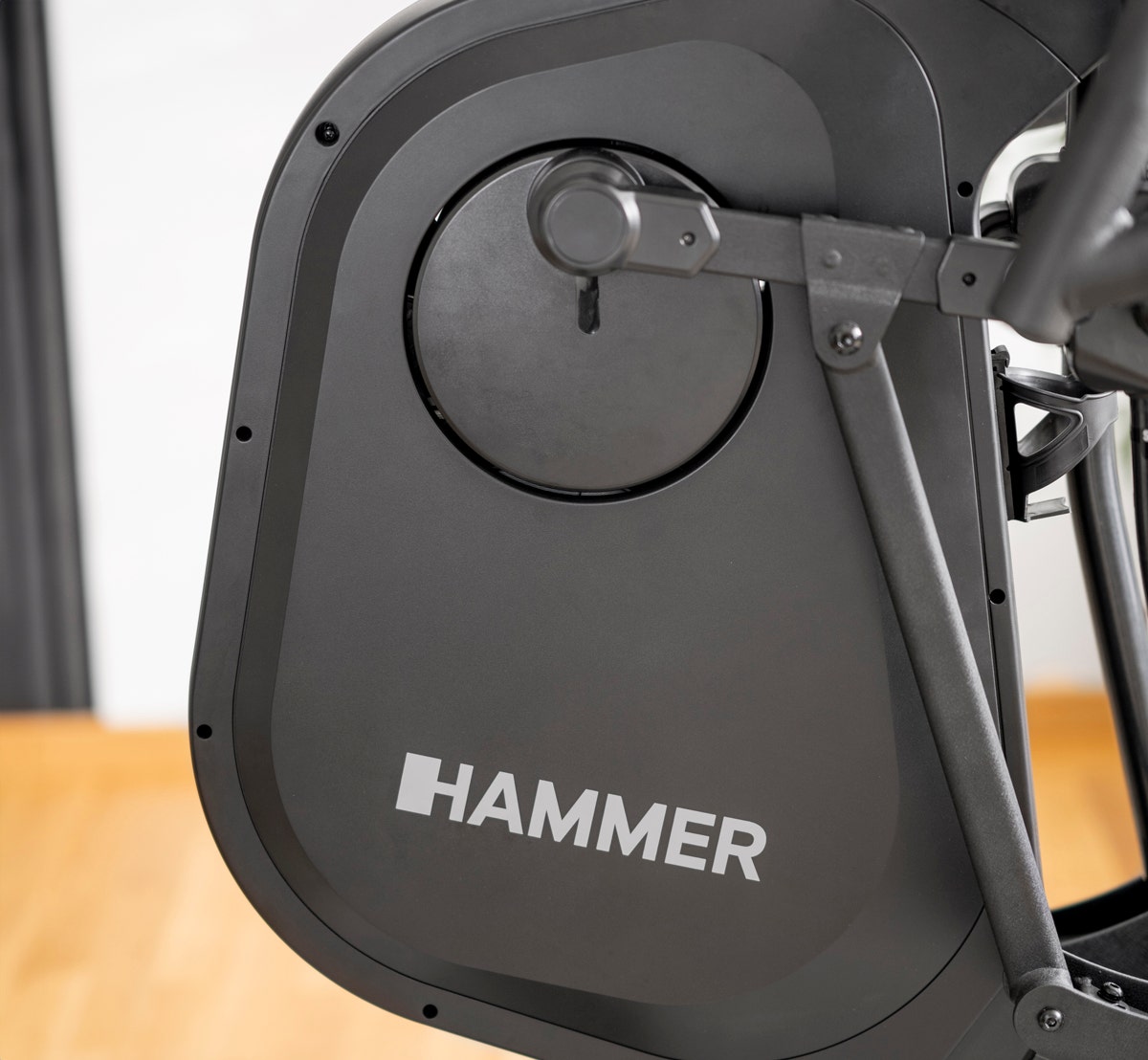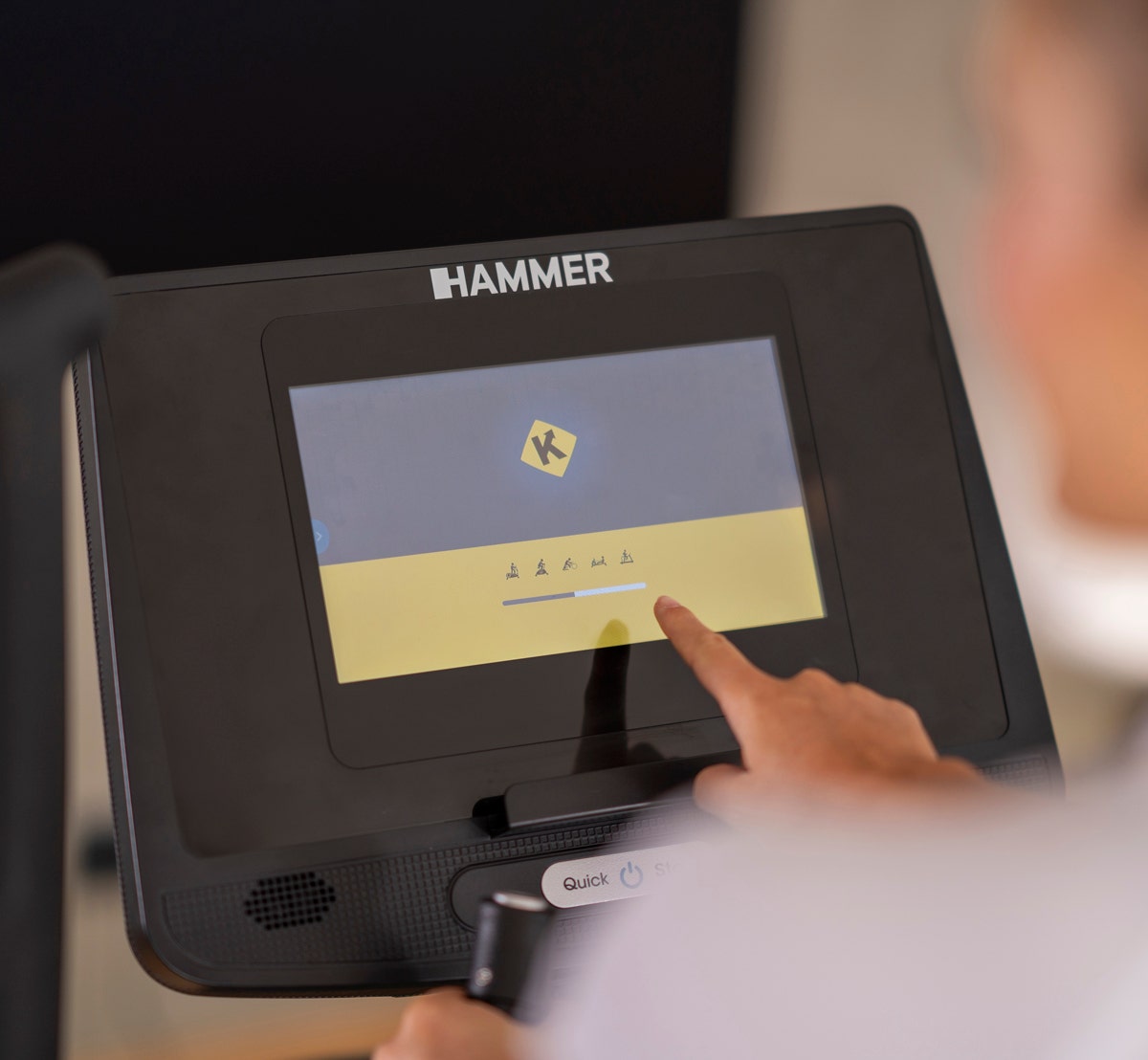 Get access to a world of exciting workouts with the pre-installed Kinomap app. The innovative fitness app allows you to track virtual routes around the world. You can immerse yourself in nature and run along the most beautiful routes, whether in the forest, by the sea or through vibrant cities.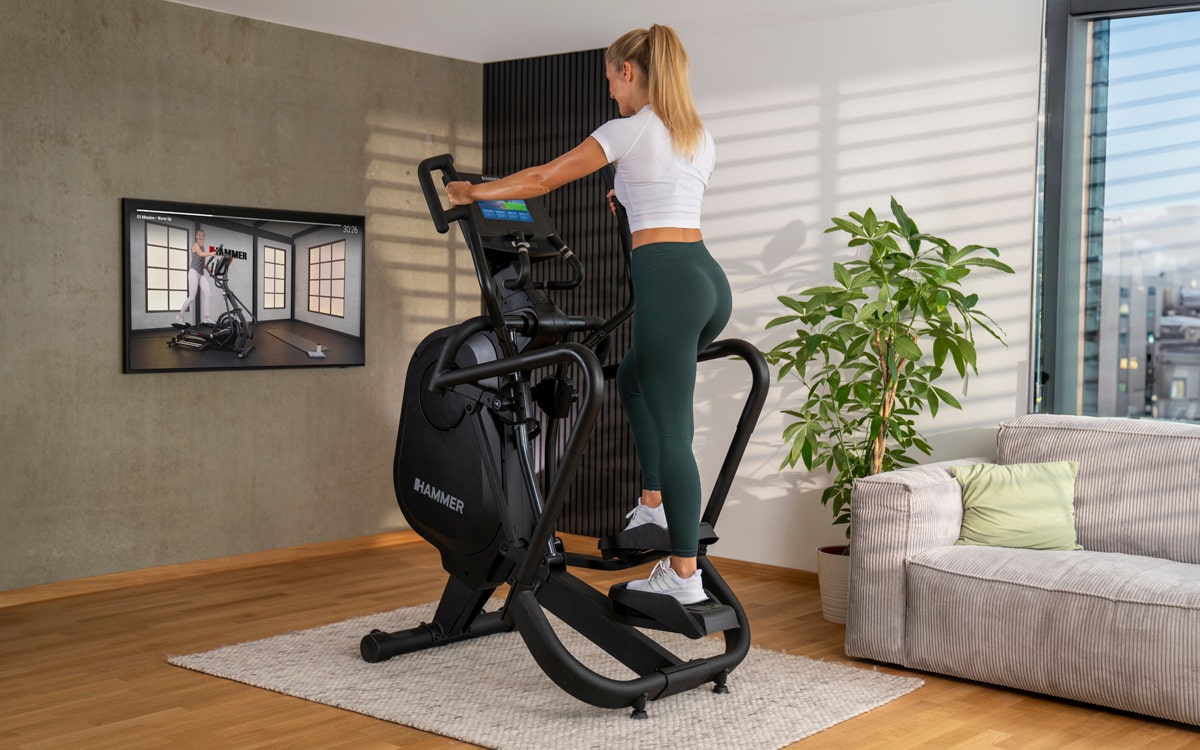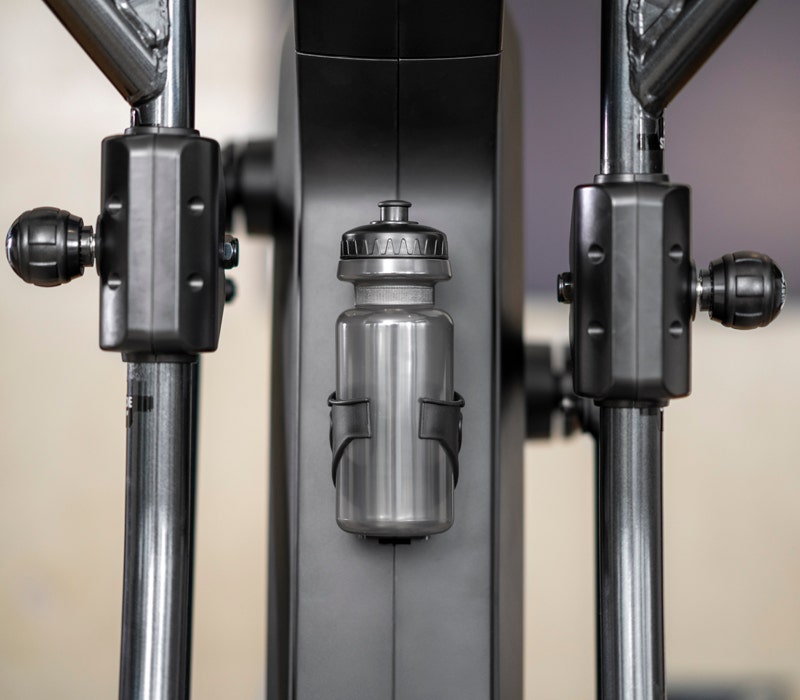 Stay hydrated
The Fly RX is the perfect training partner and even features a handy water bottle holder. Stay hydrated and focused while enjoying your workout!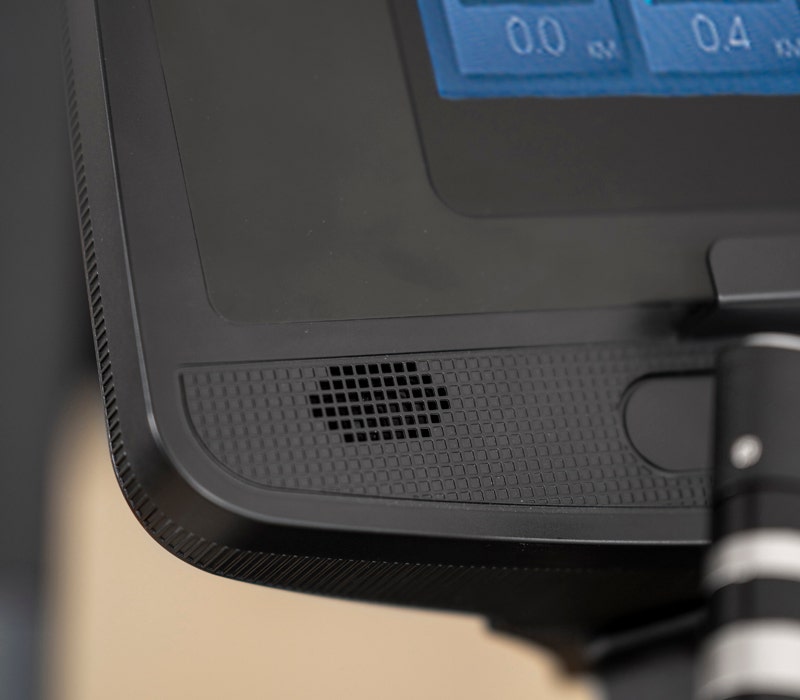 Increase your motivation and train with even more enthusiasm on the Fly RX, thanks to the high-quality integrated speakers. Enjoy crystal clear sound and let your favourite music inspire you as you work towards your fitness goals.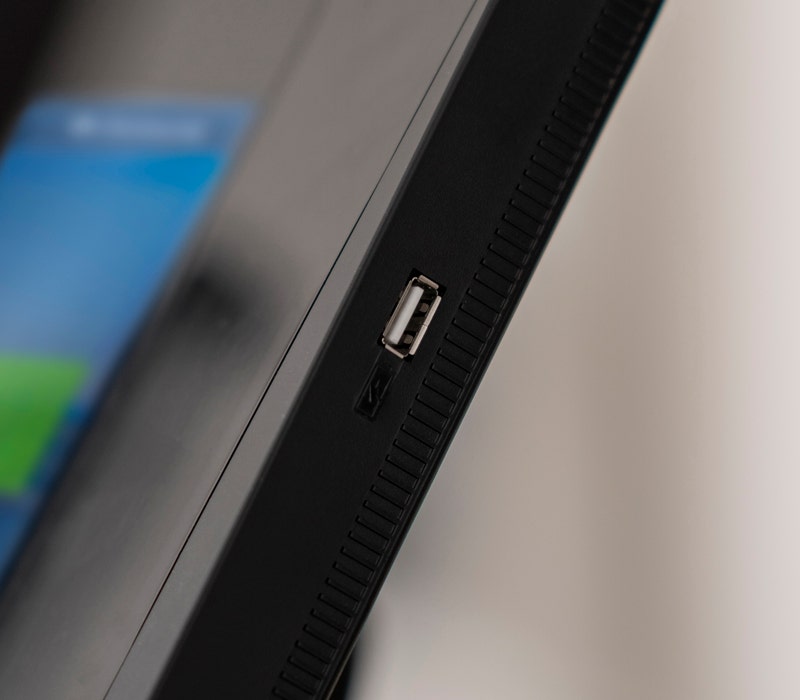 Always fully charged batteries
A USB port keeps your batteries charged so you can focus on your workout. The handy USB port allows you to charge your smartphone or tablet during your workout, without interruption.
Computer
Display
10" Inch TFT Touchscreen with Android Softwar
Multimedia
App, Speakers, Tablet support, USB
Integrated pulse receiver for chest belts
5 kHz
Display
Load profiles
Distance, Speed, Heart rate, Calories, RPM, Watt, Time
Programs and profiles
Heart rate controlled programmes
4
Adjustable pulse limit
Upper pulse limit
Drive/brake system
Drive system
Grooved belt
Load control
RPM independent
Braking system
Permanent Magnetic
Resistance adjustment
Computer controlled
Dimensions and weight
Build up size (L x W x H)
158 x 92 x 167
Other features
Transportation rollers
Yes
Stride
45 - 55 cm 2x adjustable
Performance
30 - 400 Watt
DIN Norm
DIN EN ISO 20957-1/9
Shipping
Delivery time
4-8 working days
Scope of delivery
Fly RX '23
Delivery Information
Delivery to curbside (Please leave your phone number when ordering, so we can arrange a suitable delivery date for you)
Private use
on the main frame
10 years
Clients ask, our fitness experts answer
Do you need more information about the product? Ask your question here. Our fitness experts will answer quickly and easily.
Our recommendation for you