Kinomap
Zwift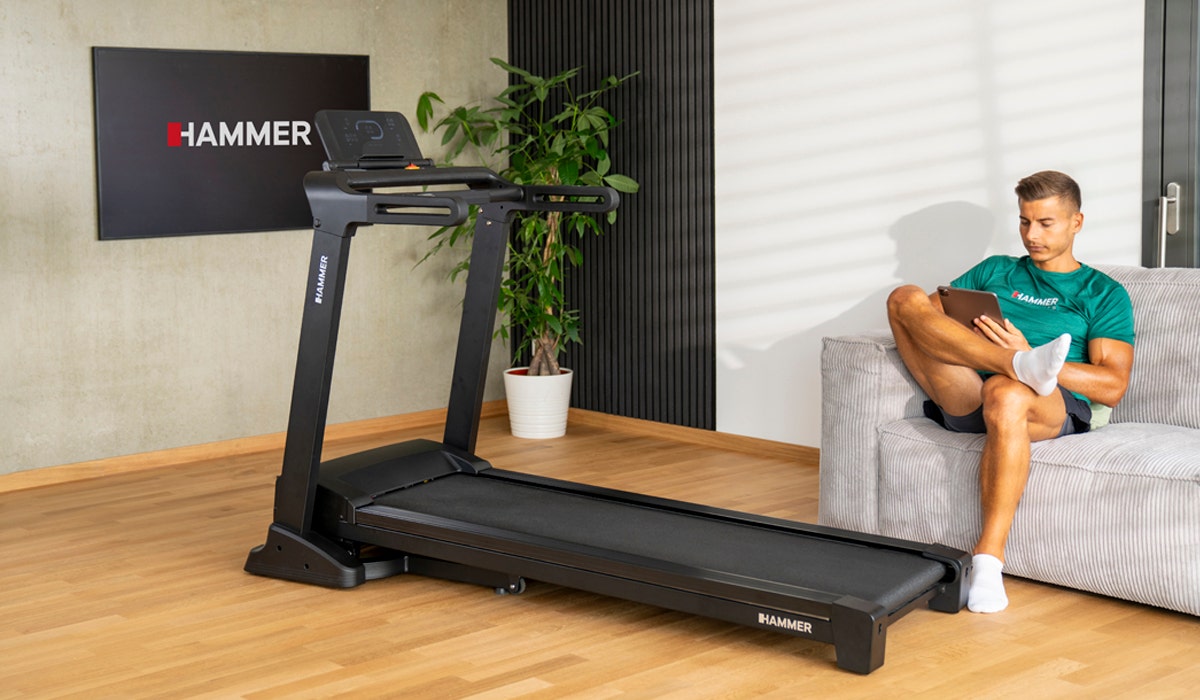 Unbeatable value for money - whisper-quiet and with an even more powerful endurance motor!
Experience a completely new dimension of running training with the FlyRun 4.0. With a peak power of 5.5 hp, it offers a maximum speed of 24 km/h. The extra-wide treadmill surface of 152 x 50 cm guarantees you enough space for a safe and comfortable workout. Thanks to digital connectivity, the FlyRun 4.0 allows you to use Kinomap and Zwift, among other things, to make your training interactive and entertaining. Another highlight is the tilting black backlight display with integrated tablet and smartphone holder. Thanks to the Pro Solid construction, the display and hand rests are decoupled and remain stable and wobble-free even during intensive training sessions.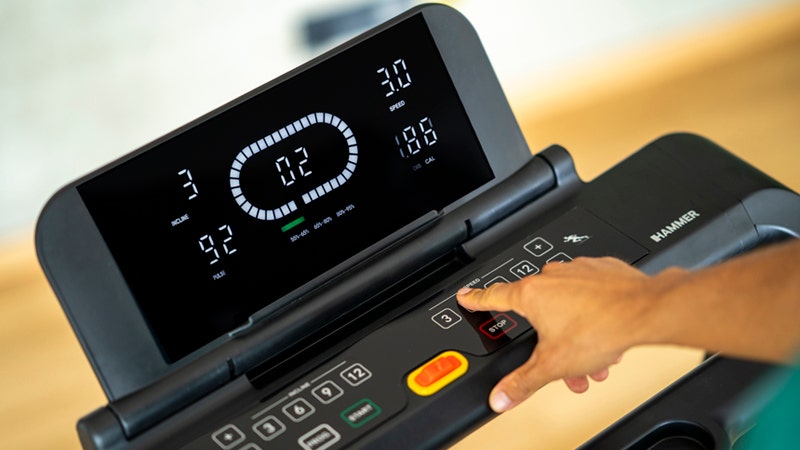 High-resolution slim display
Tiltable display with integrated heart rate monitor and clear, large display of your important training parameters.
Convince yourself of all the features of the FlyRun 4.0!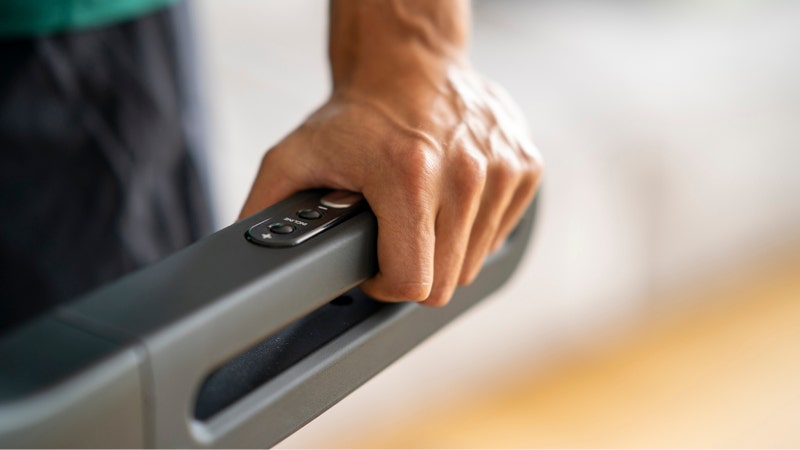 The recess allows the hand rests to be gripped ergonomically and also enables you to control your heart rate comfortably and adjust the incline and speed.
Discover your favourite workout
With HAMMER Workouts, we constantly offer you new and motivating classes with your treadmill. Work out together with our expert trainers and achieve your individual fitness goals in 10 to 50-minute workouts. Whether smartphone, tablet or laptop, no additional subscription required.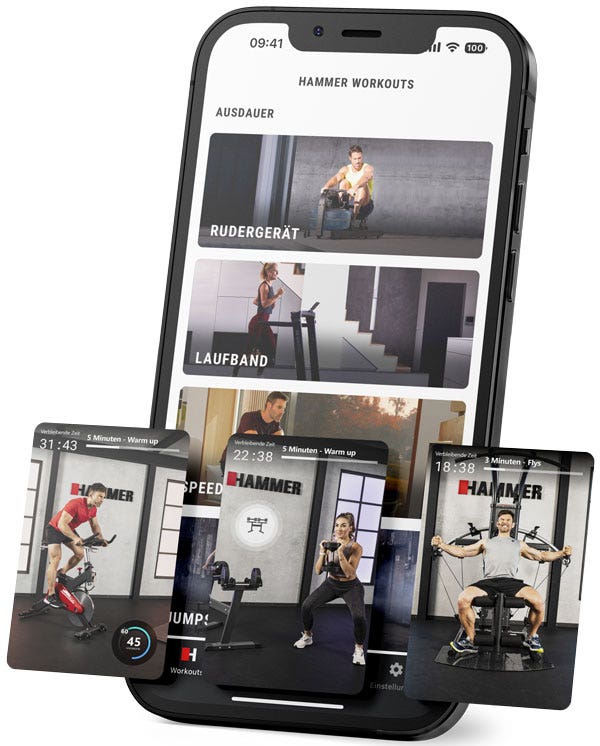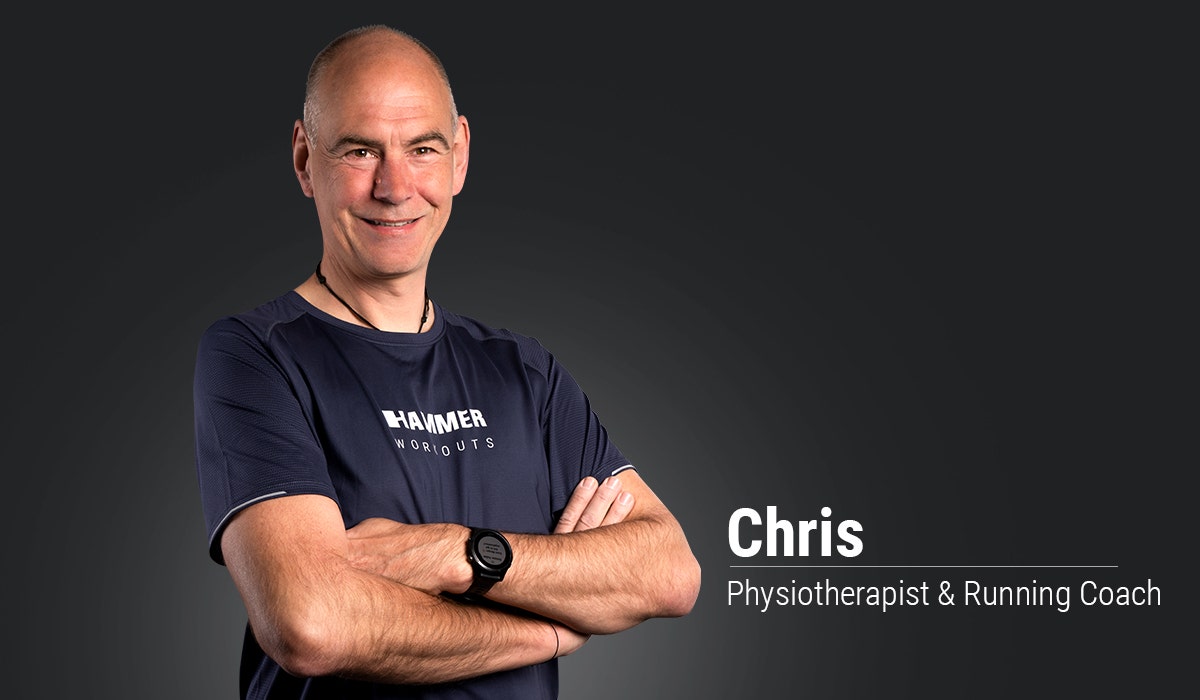 Expertise of our trainers
"For me, the FlyRun 4.0 is the key to pain-free and effective running training. With a powerful motor, a generous running surface and state-of-the-art cushioning technology, the FlyRun 4.0 is a runner's dream - and an injury nightmare."
Green light for your heart
The high-resolution LED display provides all training data as well as an innovative pulse traffic light with LCD colour technology. This allows you to monitor your heart rate clearly and quickly at a glance. A wide range of training and health programmes round off the training options of the FlyRun 4.0.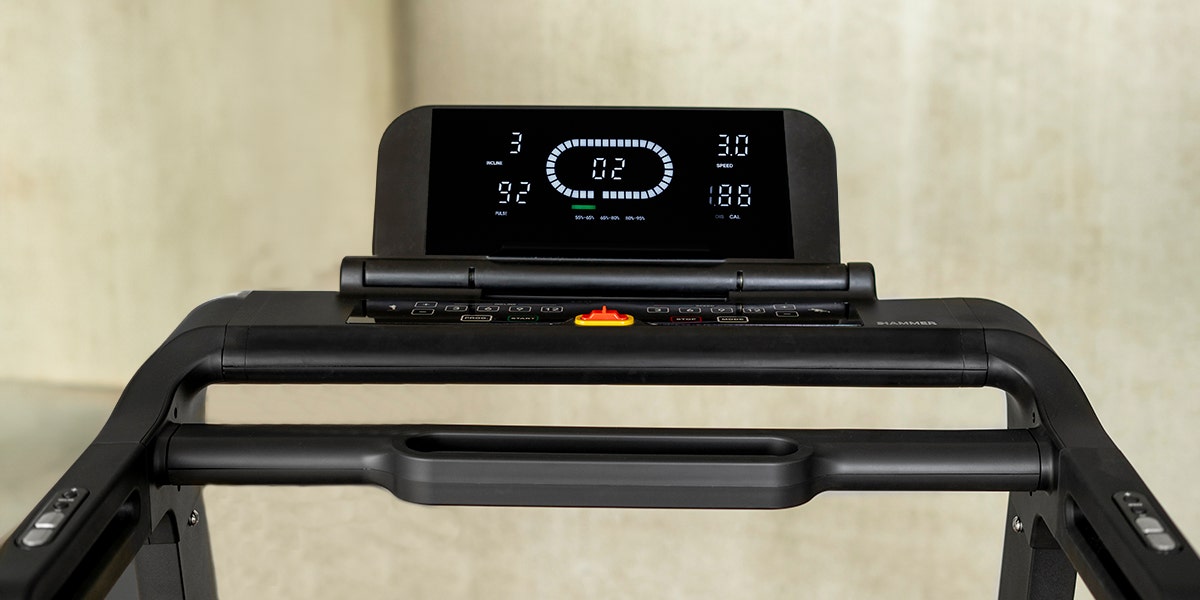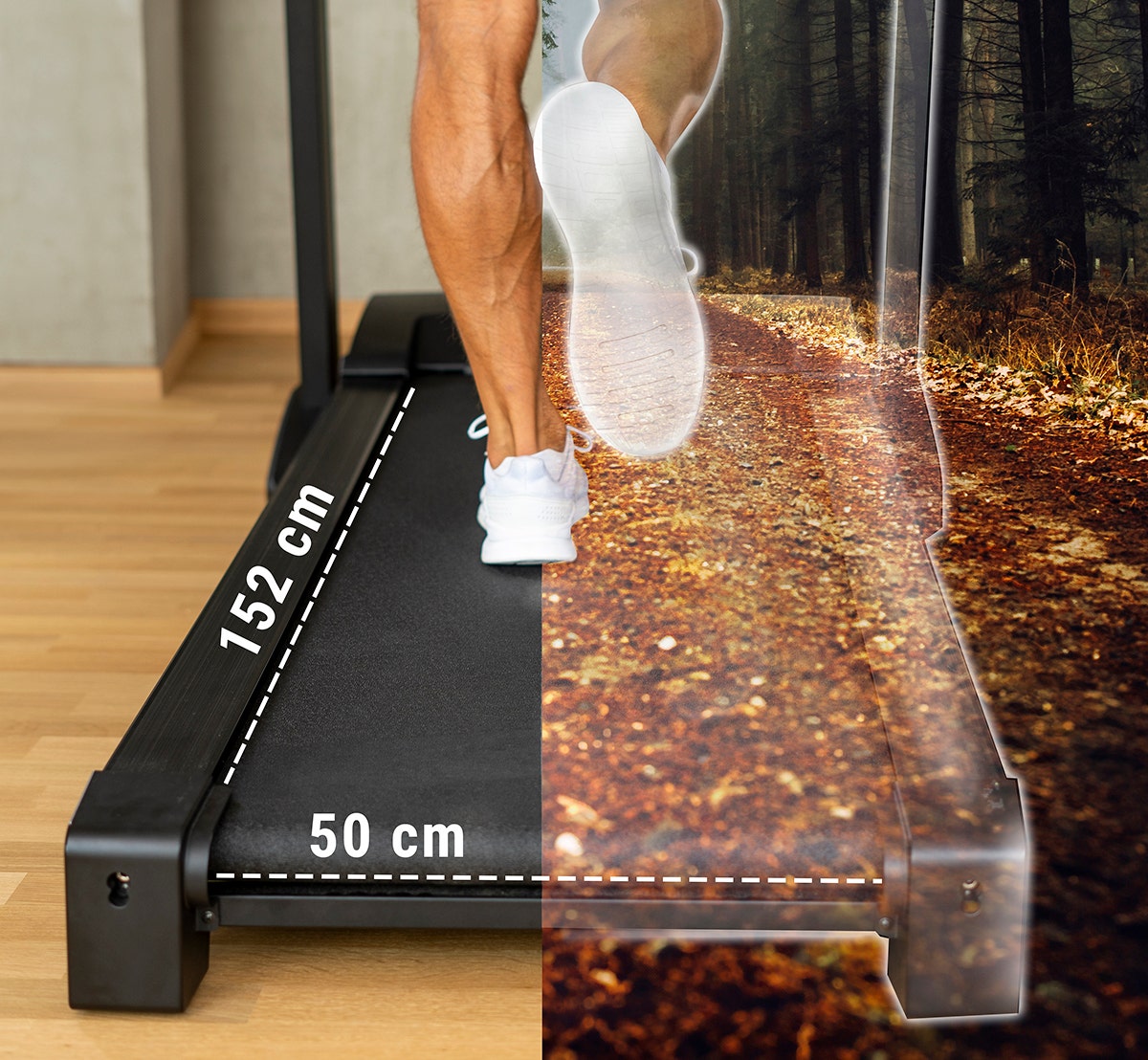 Perfect cushioning technology
The extra-wide treadmill surface of 152 x 50 cm not only offers you enough space, but also safety during your running training. The non-slip surface, the soft running belt and the perfect cushioning technology allow you to run as if you were on forest paths and soft surfaces. The result is an absolutely joint-friendly workout.
Decoupled frame technology
This innovation ensures maximum stability, eliminates all vibrations and also guarantees a wobble-free display. The robust design impresses with an above-average service life even with intensive use and offers a high load capacity of up to 150 kg body weight.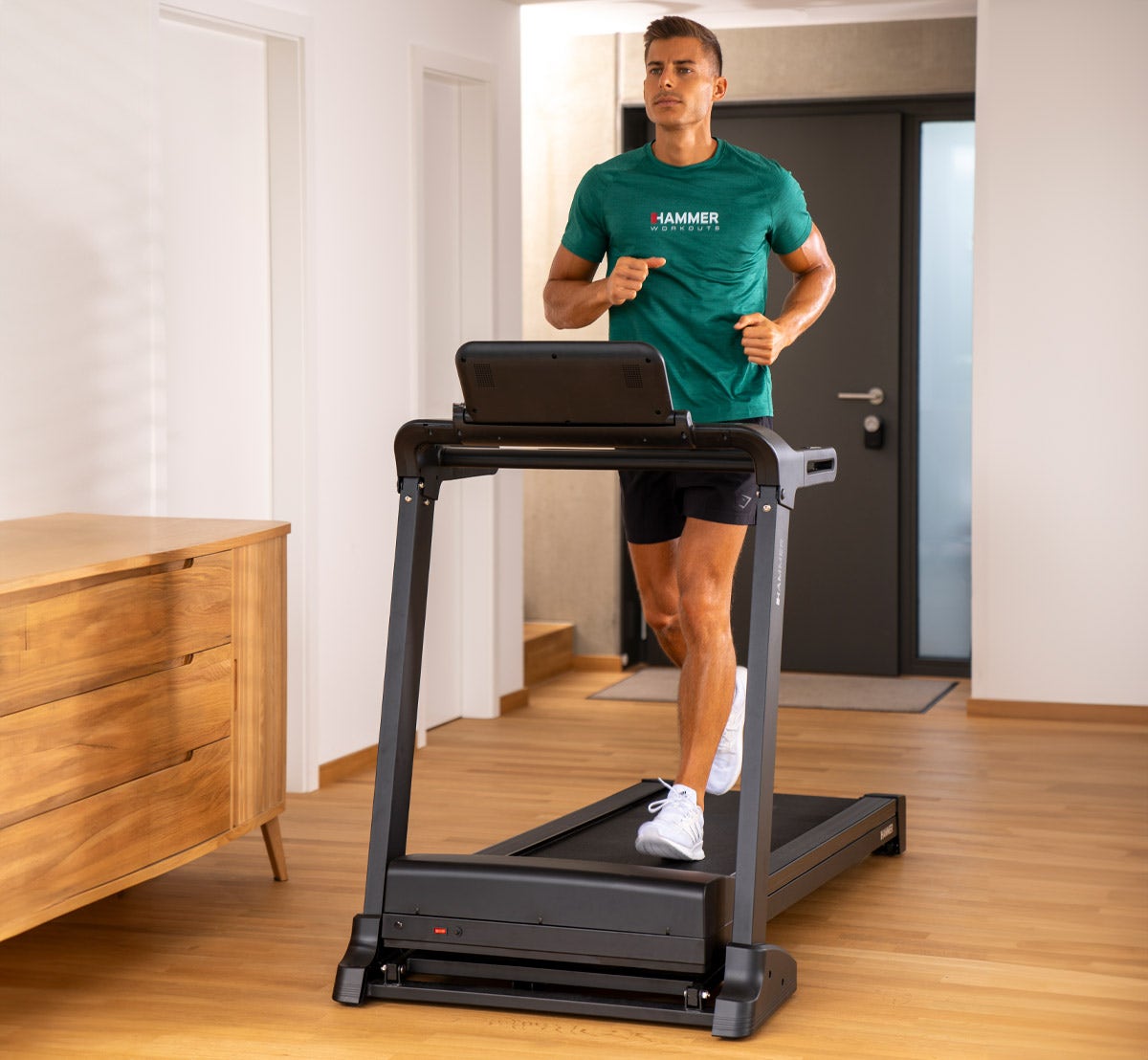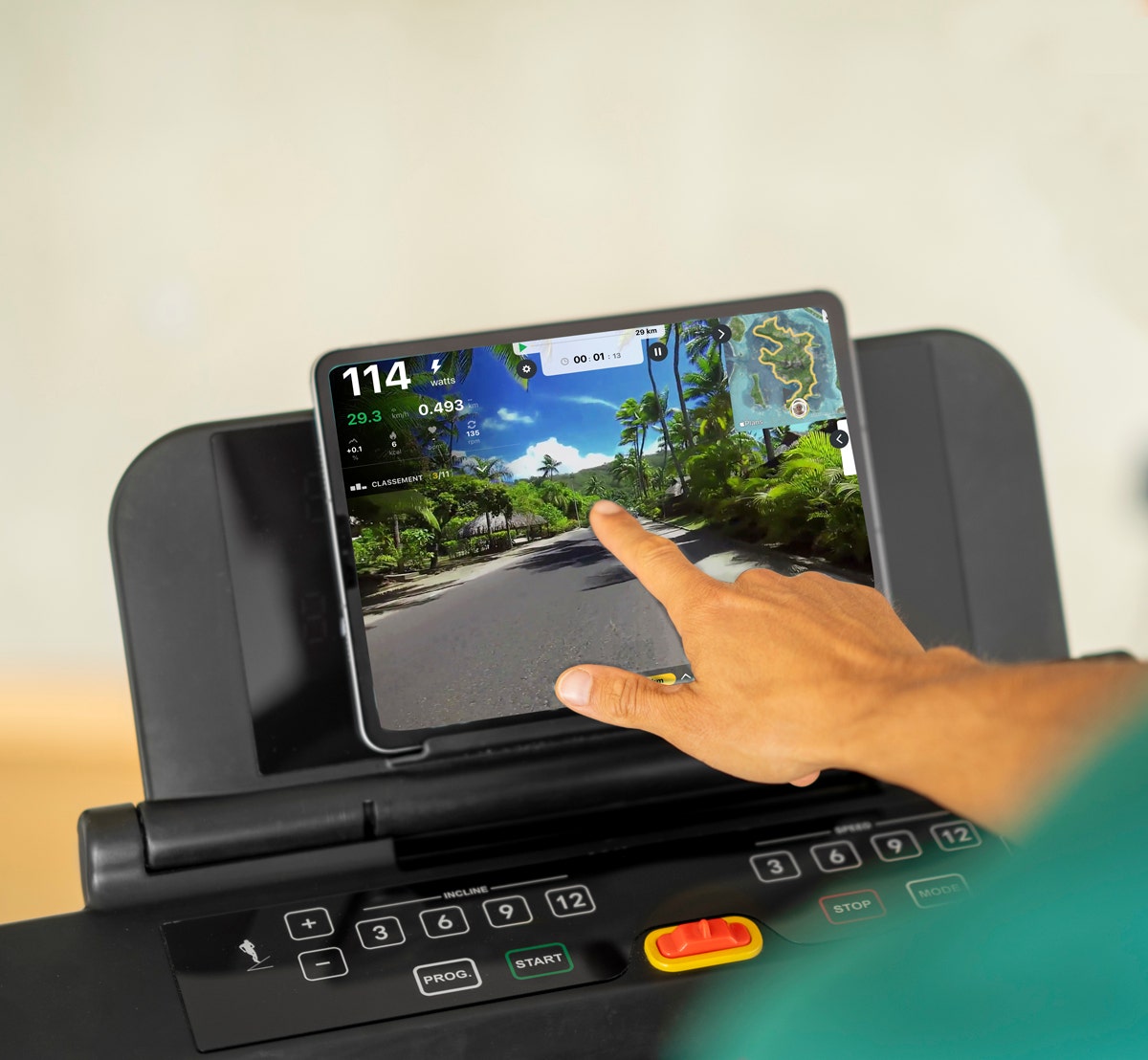 Compatible with Zwift & Kinomap
Take your training to the next level with our FlyRun 4.0, compatible with the popular Kinomap and Zwift apps. Immerse yourself in virtual training worlds, experience interactive routes and train in a community with other fitness enthusiasts. With the seamless integration of Kinomap and Zwift, you can personalise your training, track your performance and be motivated by realistic environments.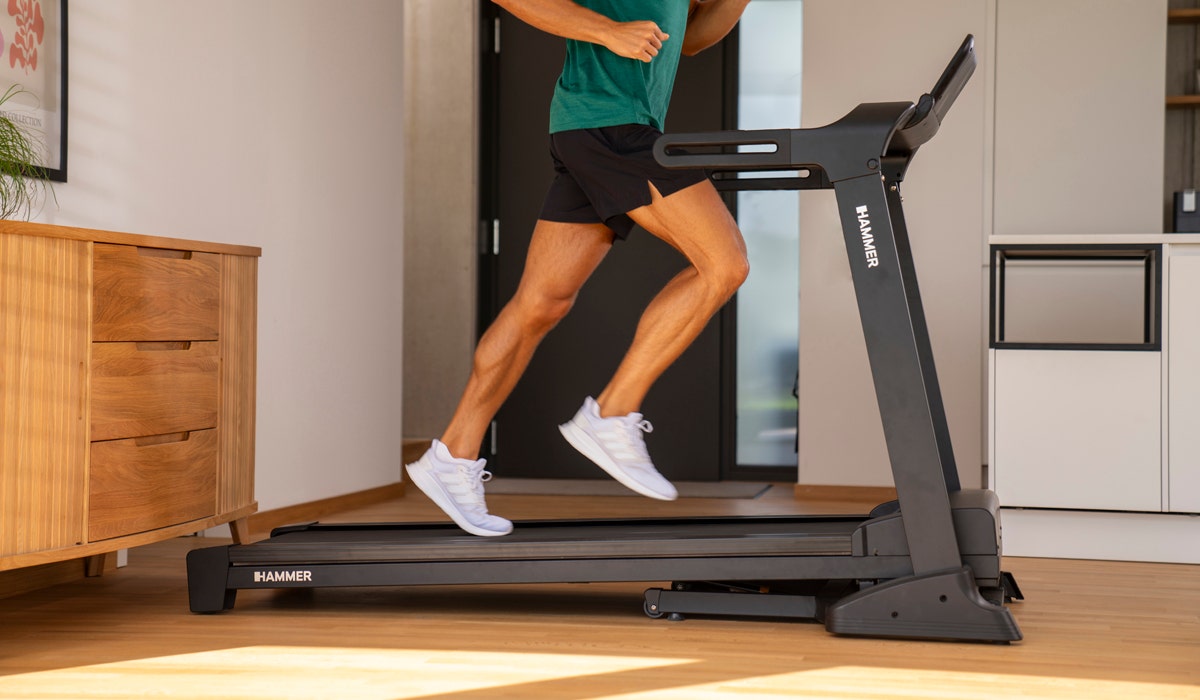 Whisper-quiet endurance motor
The motor of the FlyRun 4.0 is a real powerhouse that takes your running training to a new level. With a peak output of 5.5 hp, this motor offers exceptional performance and reliability. It is not only powerful, but also whisper-quiet and durable. This means you can train in peace and quiet without any disturbing noises. At the same time, you can rely on the motor to offer a long service life even with intensive use.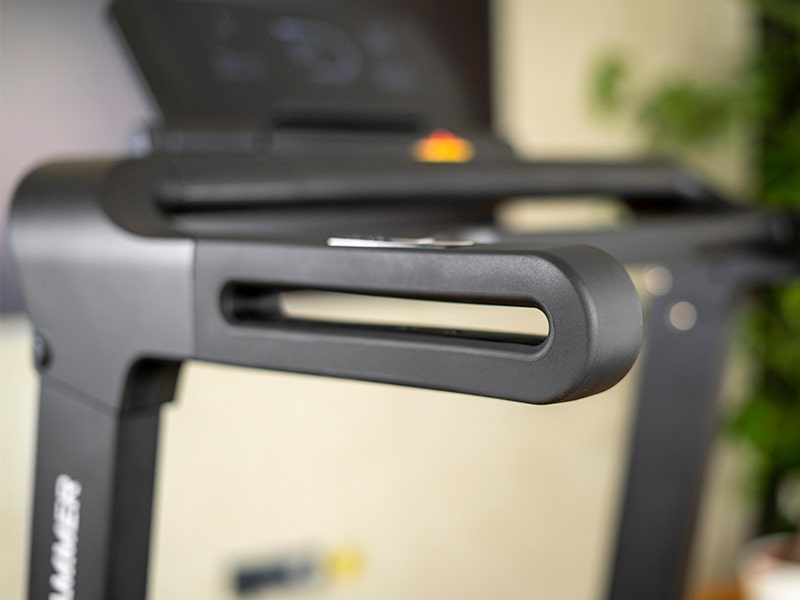 Modern design and ergonomically optimised
The hand rests of the FlyRun 4.0 are ergonomically shaped and therefore offer a firm grip even while running, allowing the quick selection buttons for speed and incline to be operated safely. They also harmonise perfectly with the modern and sleek appearance of the treadmill.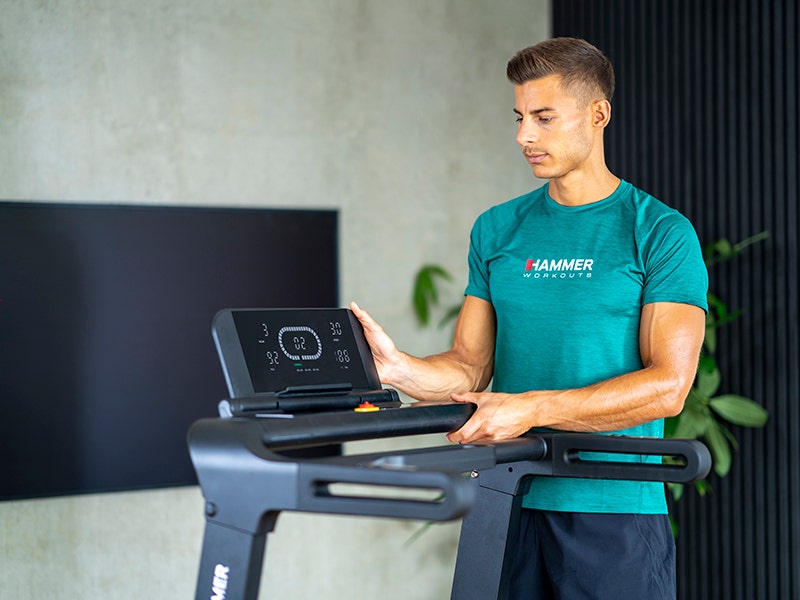 Tiltable display
The tilting display allows you to adjust the screen angle to your liking. Whether you prefer to look flat at the display or prefer an elevated position, you are in control. Another nice-to-have: the right angle prevents any kind of reflections.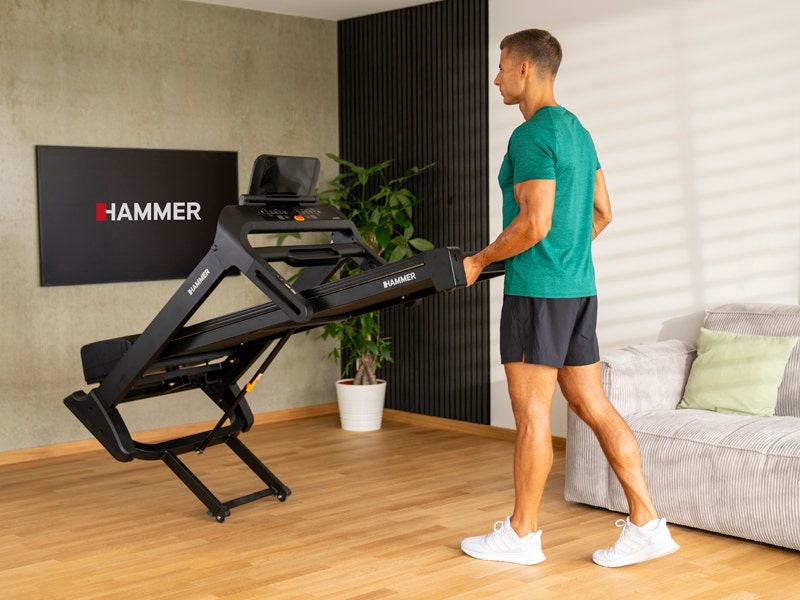 Always mobile
Whether you want to move the FlyRun 4.0 around the room or conveniently push it to the side after training - our high-quality transport castors allow you to move the treadmill effortlessly. The soft castors are particularly "floor-friendly" and prevent any kind of scratches.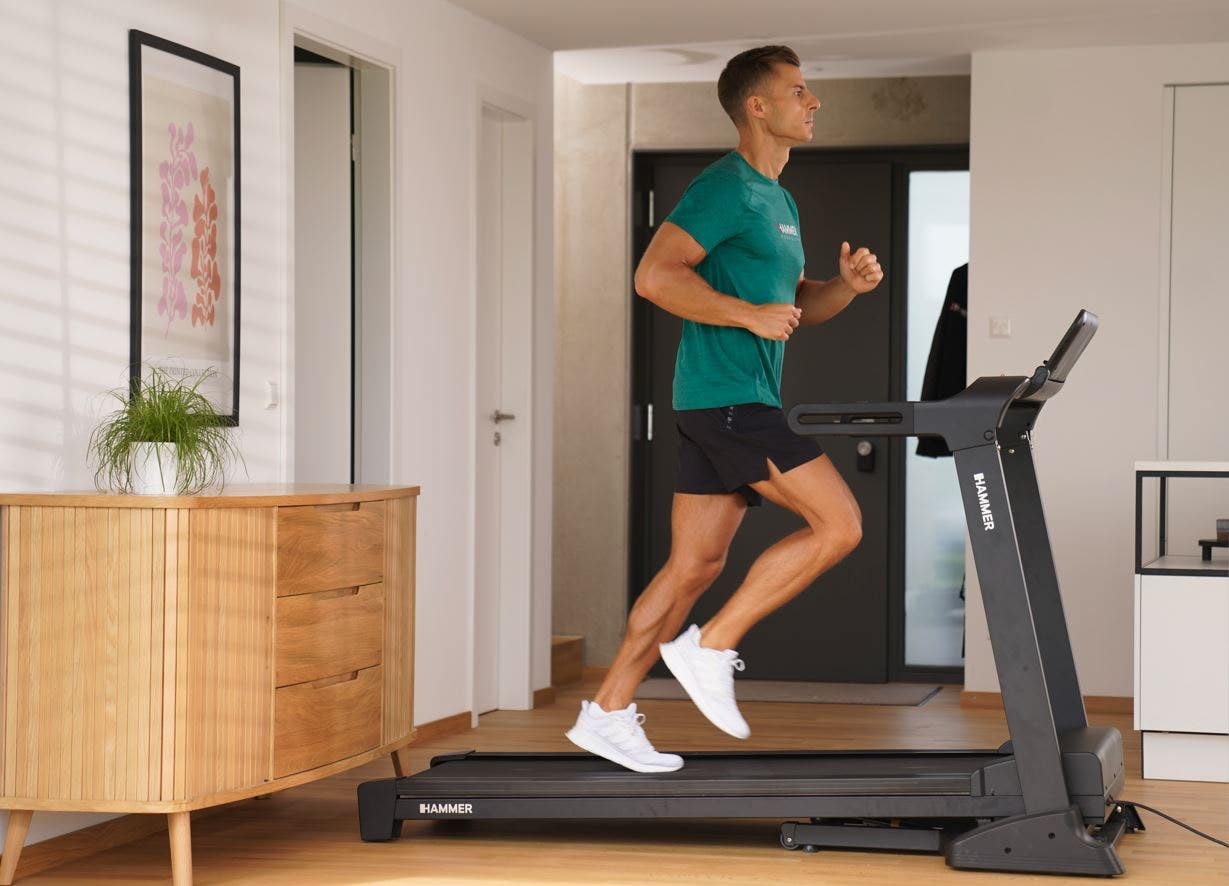 Space-saving is still missing
In every corner
Simple pulse control & quick selection buttons
The hand pulse sensors allow you to monitor your heart rate during your workout and adjust your intensity accordingly. For even more accurate results, we recommend using a chest strap, also available in our shop. Thanks to the quick selection buttons for speed and incline, you can customise your running session to suit your needs.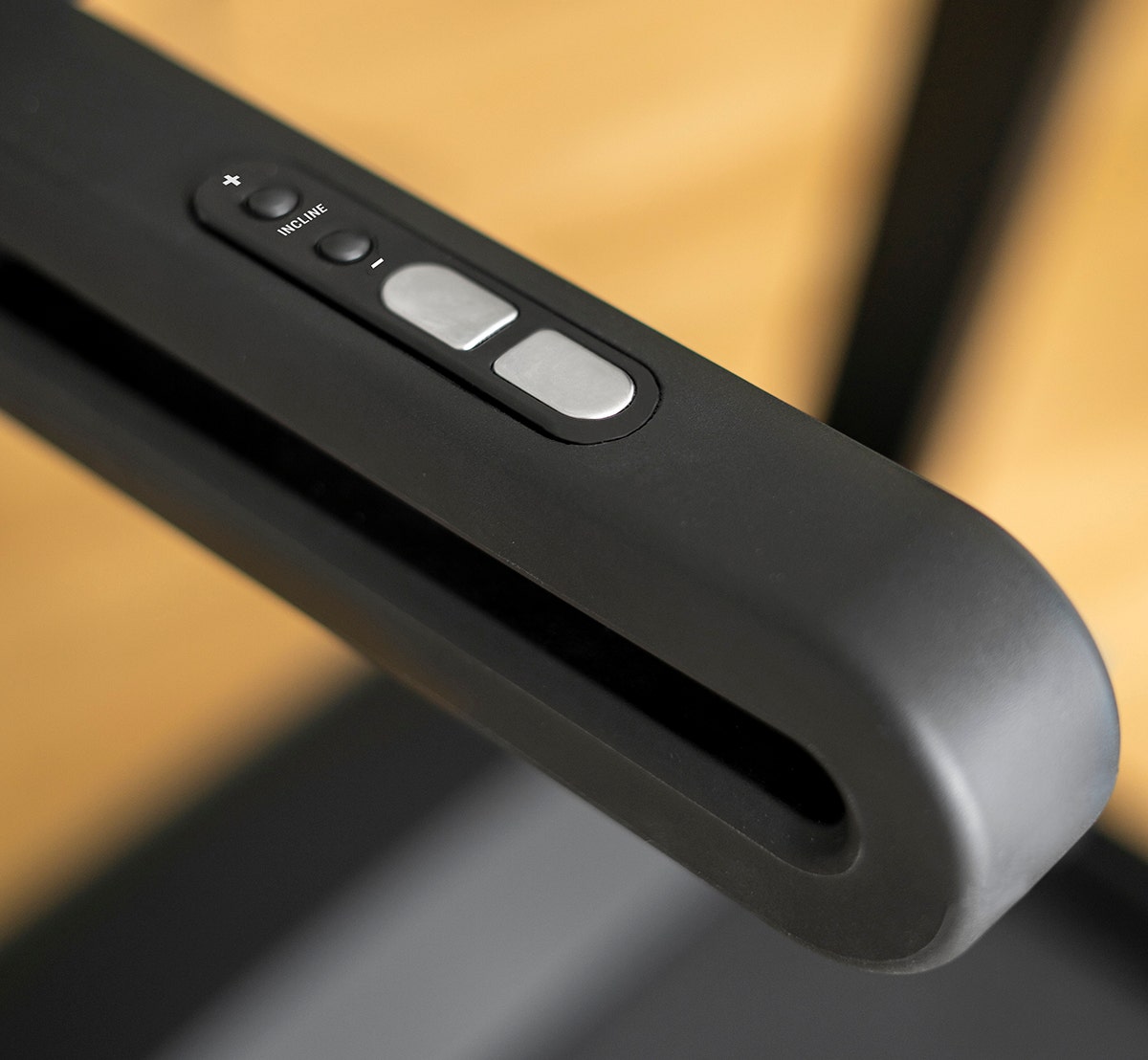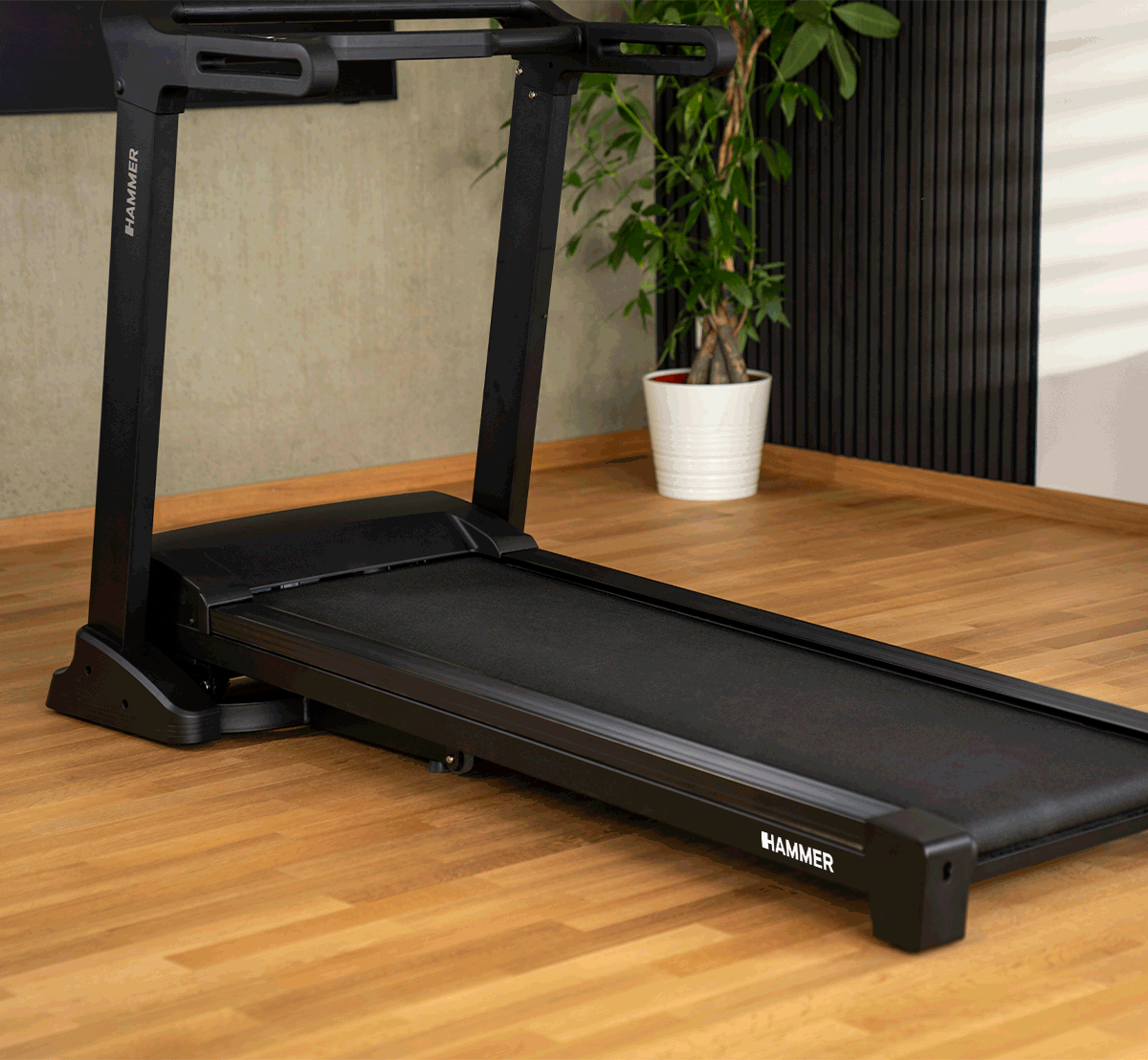 The FlyRun 4.0 treadmill gives you ultimate control over your training intensity. Our 15-step incline function transforms the flat running surface into a challenging incline of up to 12 %. At the same time, your training becomes more intense and your leg muscles are strengthened.
Start your workout straight away - our FlyRun 4.0 comes 95% pre-assembled so you can start your workout in no time at all. No time-consuming assembly or complicated installation, just unpack and start! Thanks to the quick-folding mechanism, your treadmill can be stowed away after training to save space.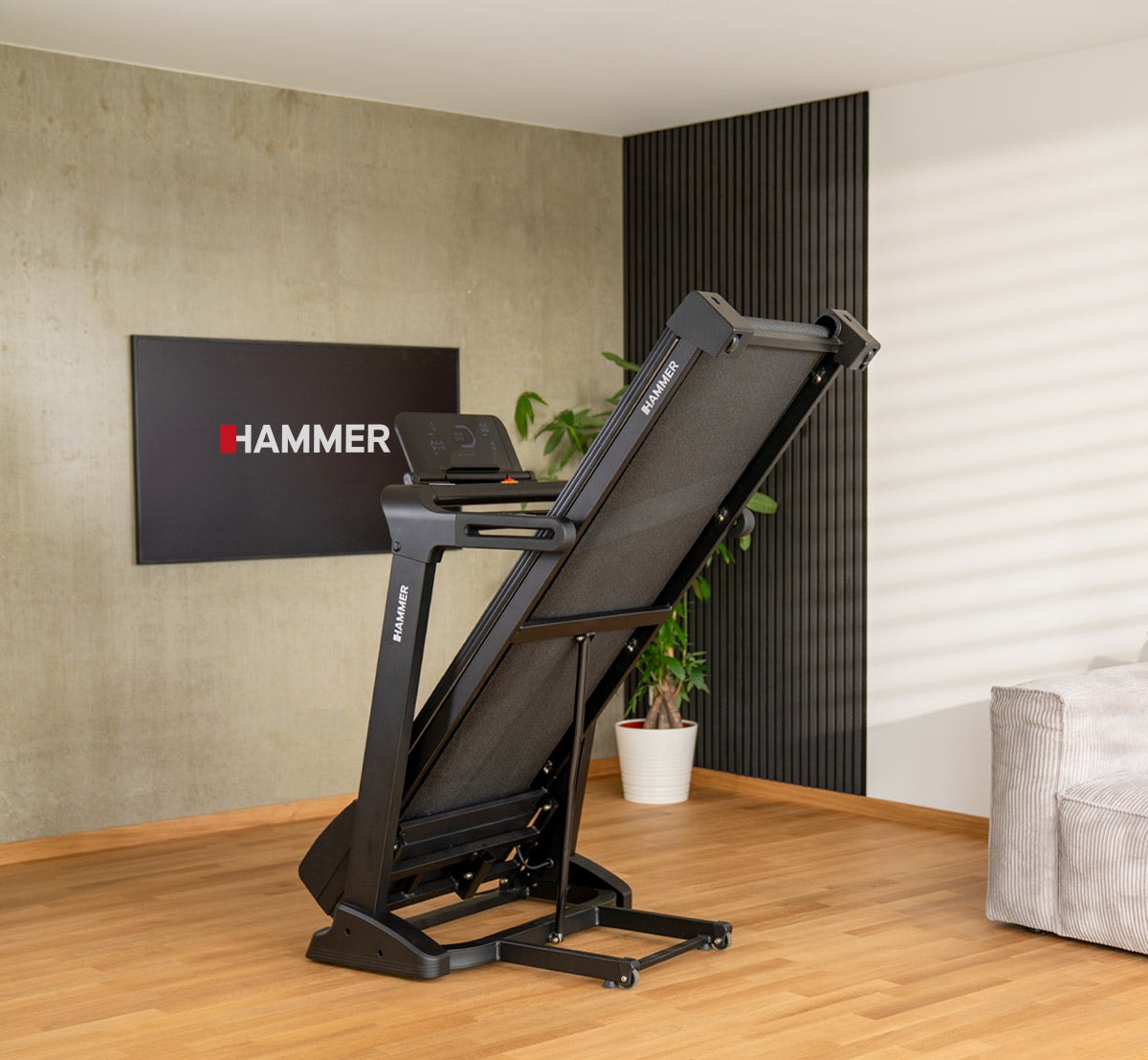 Computer
Multimedia
App, Bluetooth, Tablet support
Integrated pulse receiver for chest belts
5 kHz
Display
Load profiles
Distance, Speed, Heart rate, Calories, Incline, Time, 400 m lap, Pulse light
Programs and profiles
Heart rate controlled programmes
3
Dimensions and weight
Build up size (L x W x H)
181 x 83 x 130 cm
Folding dimension (L x W x H)
124 x 83 x 154 cm
Other features
Incline
0-12% automatically adjustable in 15 steps
Transportation rollers
Yes
Performance
DC 2.75 hp (continuous power) / 5.5 hp (max. power)
DIN Norm
DIN EN ISO 20957 -1/6
Shipping
Delivery time
4-8 working days
Scope of delivery
FlyRun 4.0
Delivery Information
Delivery to curbside (Please leave your phone number when ordering, so we can arrange a suitable delivery date for you)
Private use
on the main frame
10 years
Clients ask, our fitness experts answer
Do you need more information about the product? Ask your question here. Our fitness experts will answer quickly and easily.
Our recommendation for you
Alpine TFT

Special Price

€1,899.00

Regular Price

€2,399.00

Technum

Special Price

€1,499.00

Regular Price

€1,799.00