FINNLO Ellypsis E3000
The perfect body transformer. Joint-friendly and innovative training at home.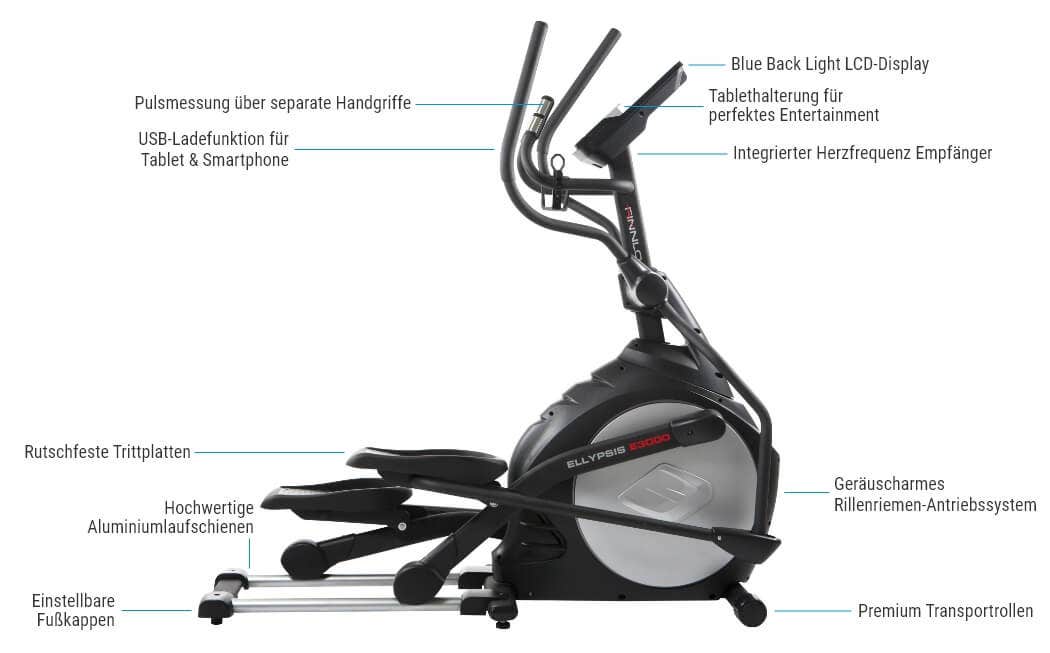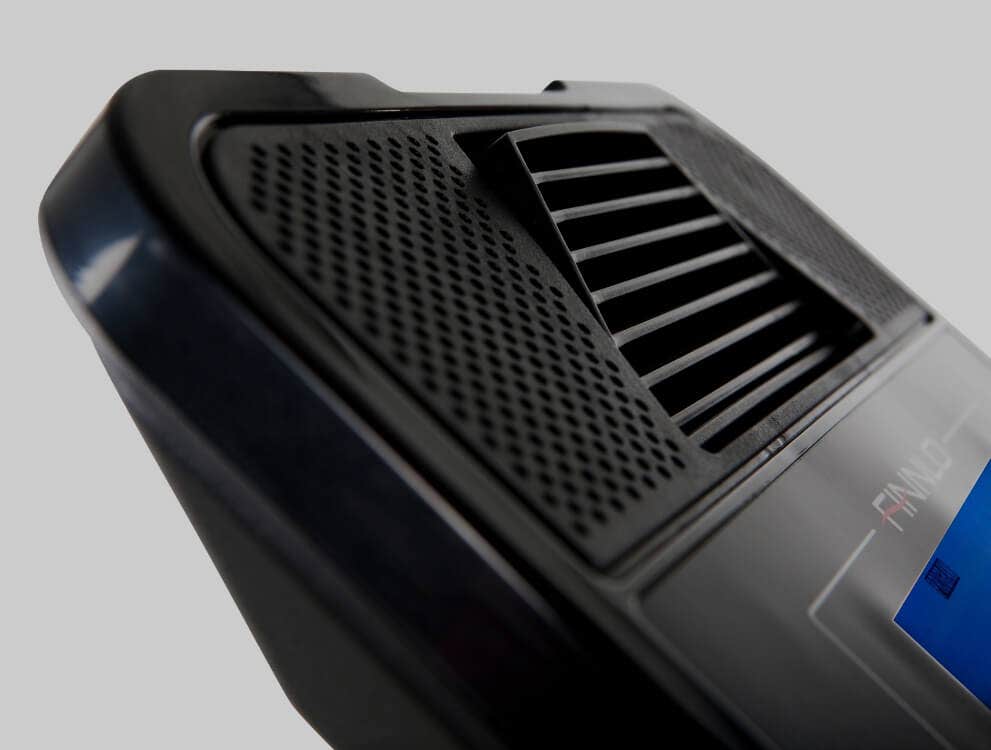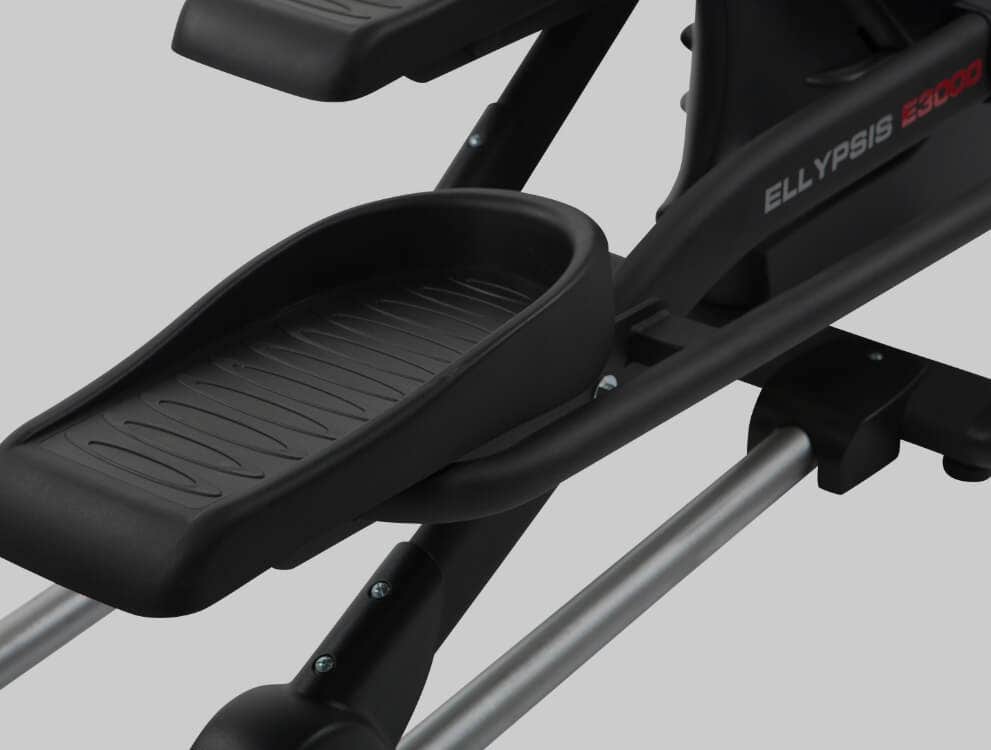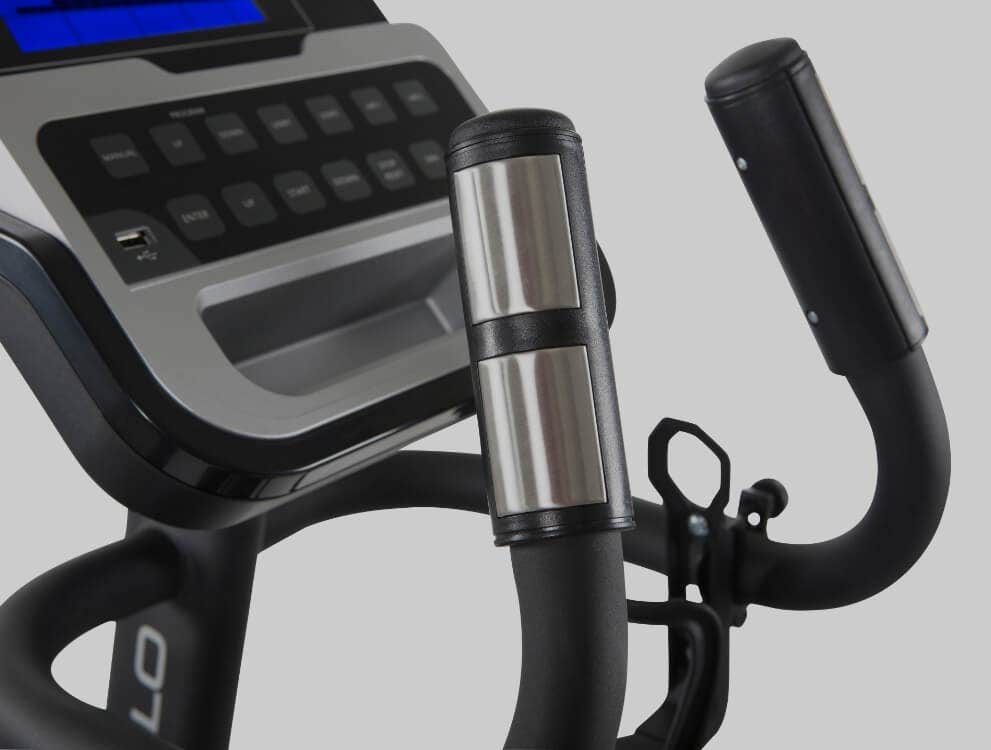 High-end premium elliptical trainer
Push yourself to your limits with the amazing variety of fitness programs
A cardio workout machine that combines high-impact, joint-friendly cardiovascular training with perfect body sculpting. In short – your perfect training partner. The Ellypsis E3000 by FINNLO is the perfect fitness solution if you are looking for a meaningful starting point for successful fitness training or just want to get more physical activity into your daily life. Your fitness levels will increase quickly and your workouts won't strain your joints. The holistic motion sequence used when working out with the FINNLO Ellypsis E3000 will activate multiple muscle groups in your upper and lower body, which will mean more calories burned in each session than on an ergometer, for example.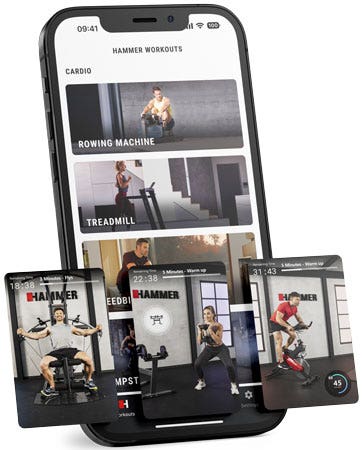 Discover your favorite workout
With HAMMER Workouts we constantly offer you new and motivating courses with your crosstrainer. Work out together with our competent trainers and achieve your individual fitness goals in 10 to 50 minute workouts. All in one place and without an additional subscription.


Put your body through its paces!
Healthy neck and joint-friendly workouts at home
Become one with the elliptical motion and push yourself to your limits! The small pedal spacing and the perfect ellipsis of this machine ensure an extremely comfortable and joint-friendly elliptical workout. The FINNLO E3000 with Ergo-Neck ensures the perfect spacing of the moving arms to prevent neck strain. This feature sets this machine far apart from other, less sophisticated elliptical trainers on the market.
Set yourself workout goals!
You will be fit, toned and bursting with energy
What your E3000 can help you achieve:
Increased fitness and a more robust cardiovascular system
Excess body fat will melt away because of the better stimulation of your metabolism
Connective tissue will tighten – say good-bye to cellulite around the legs and buttocks!
Simultaneous workout for multiple muscle groups in the legs and upper body for increased calorie burning
Balanced training for ambitious runners and cross-country enthusiasts
General increase in well-being as stress hormones are eliminated
Modern training computer
Easy to operate in conjunction with cardio and resistance programs + quick selection buttons
All functions of the Ellypsis E3000 are controlled via the on-board training computer with a clearly laid out Blue Backlight LCD display and the selector buttons. The display permanently includes 5 performance values: Distance travelled, time, calories, speed and step frequency. 5 exercise profiles with various uphill programs, plus 2 heart rate programs ensure variety and motivation and offer a great selection for achieving your fitness goals. The quick selector buttons are very easy to use. For example in the heart rate program you can set an upper and/or lower heart rate limit, and the on-board computer will calculate fluid adjustments of the resistance to keep you on track. The speed-independent load control can be set in 15 increments.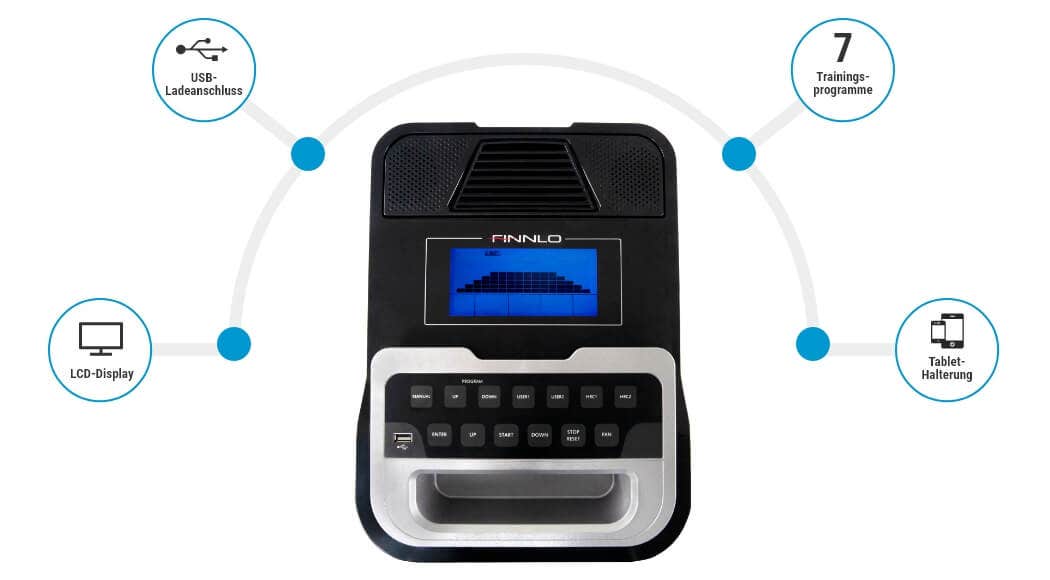 Innovative extras for varied workouts
USB port, tablet holder + fan
The Ellypsis E3000 can be set up for 2 individual user profiles. The computer menu is intuitive and the 13 selector buttons make operation easy for users of any age. You can charge your smartphone or tablet while you train and place it securely on the tablet holder. The integrated fan can be activated via its own button. The Ellypsis E3000 connects to mains electricity via an adapter.
Training 2.0
Discover the world on a virtual tour via BitGym on your tablet!
Discover the world while training at home. Bring the world into your living room while you create new workout challenges for yourself every day. The BitGym training app delivers the route of your choice to your tablet via video. The faster you step, the quicker you move through the scenery, e.g. a forest or along the seaside. The interactive experience will help keep you motivated for longer.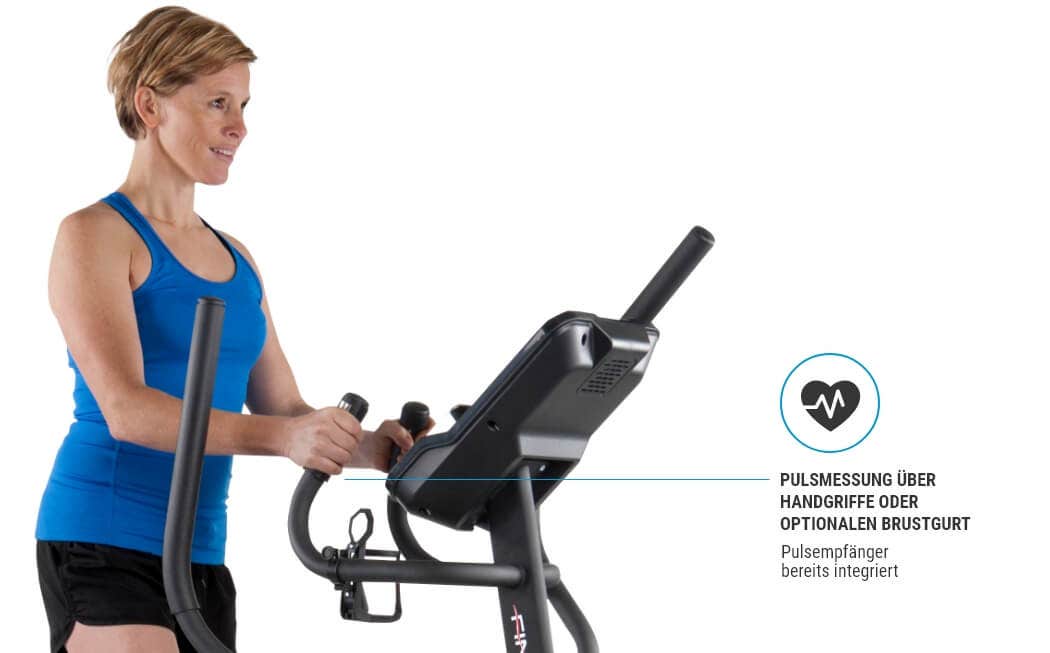 The choice is yours!
Heart rate measurement using separate hand grips or the optional chest strap
Heart rate-oriented training with the Ellypsis E3000 will help you achieve your workout goals with more consistency, while your overall fitness and endurance improves and you achieve the weight loss you were looking for. Your heart rate is the key! Heart rate measurement occurs via the hand sensors on both hand grips or an optional chest strap. The two oval contacts on the hand grips are the sensors that measure your heart rate from your palms. You can optionally use a chest strap, because the on-board training computer comes equipped with a chip for wireless transmission of your heart rate (5.0 - 5.5 kHz). Your heart rate is displayed on the training computer display at all times. The two heart rate programs are designed for optimal fat burning or cardiovascular training.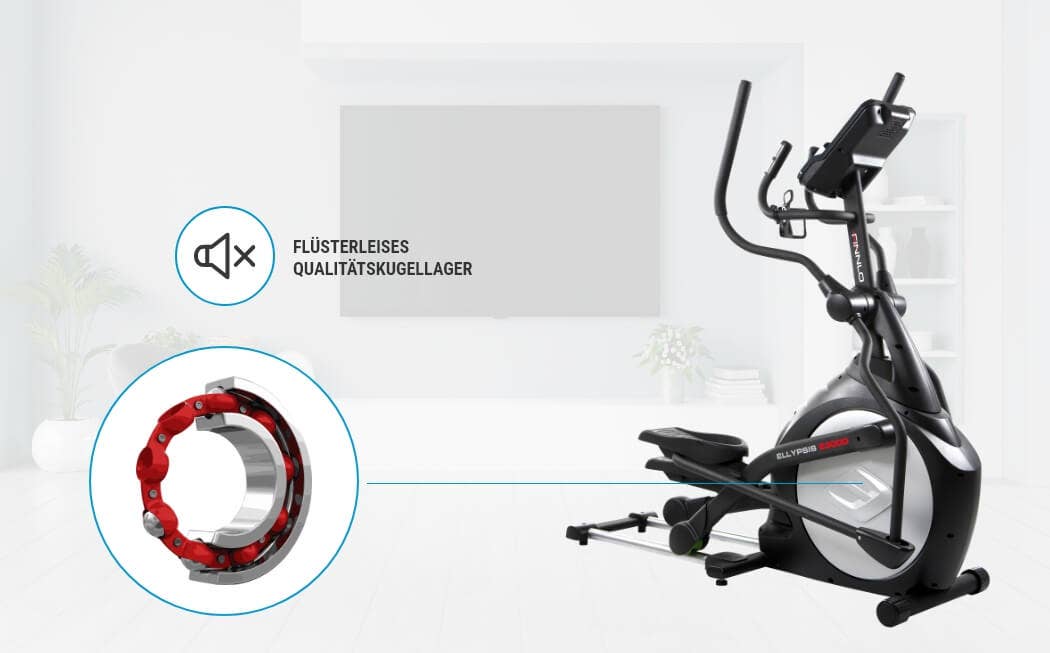 Quietly reaching your workout success
Whisper-quiet workouts with an electrically adjustable magnetic braking system and dynamic ball-bearing motion
The modern technology included in your Ellypsis E3000 sets it miles apart from other commercially available elliptical trainers. An 16 kg flywheel mass, combined with a highly professional ball bearing technology, creates a sensationally smooth and unique running motion. You can feel the smooth motions of the machinery in the E3000, which propels you towards your fitness goals with every step you take, adding even more motivation to your workout!
The high-performance V-belt ensures a perfect power transfer without any slippage. Now you can concentrate fully on your workout without annoying your neighbours with repetitive scraping sounds or clatters and clangs that are so often part and parcel of simpler fitness machines. You can train at any time – night or day – in front of the TV or while listening to your favourite tunes without disturbing anyone.
.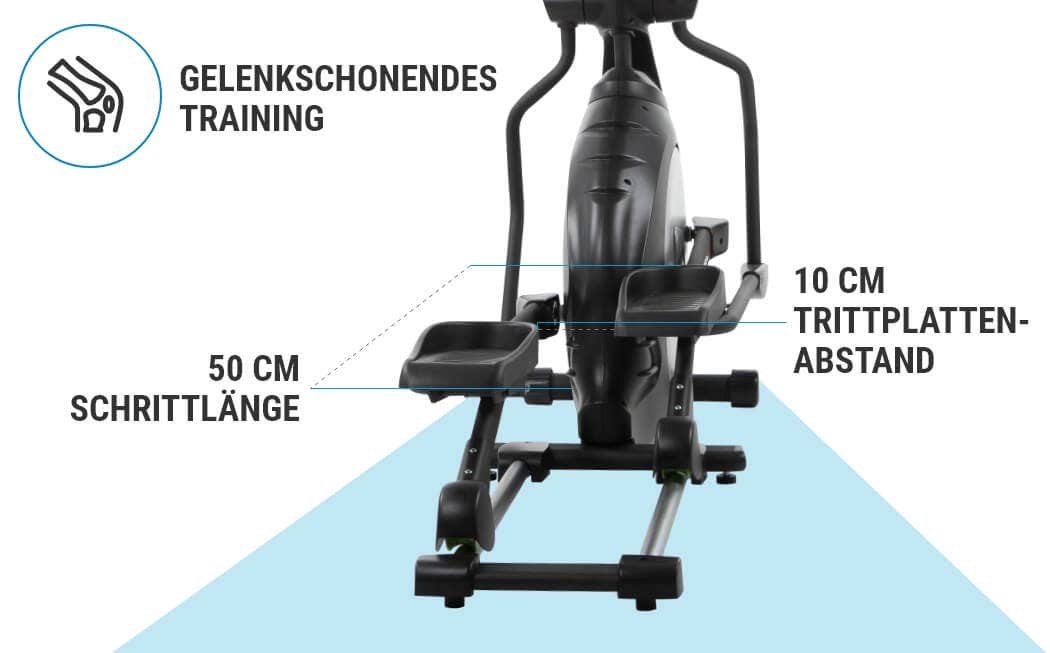 Highly sophisticated motion sequence
Joint-friendly workouts
A step length of 50 cm and extra flat motion sequence ensure a very joint-friendly and super effective workout. The footplate distance is 10 cm and max. lift from the ground is 47 cm. You can feel the perfection of your movement that allows you to concentrate fully on getting fit!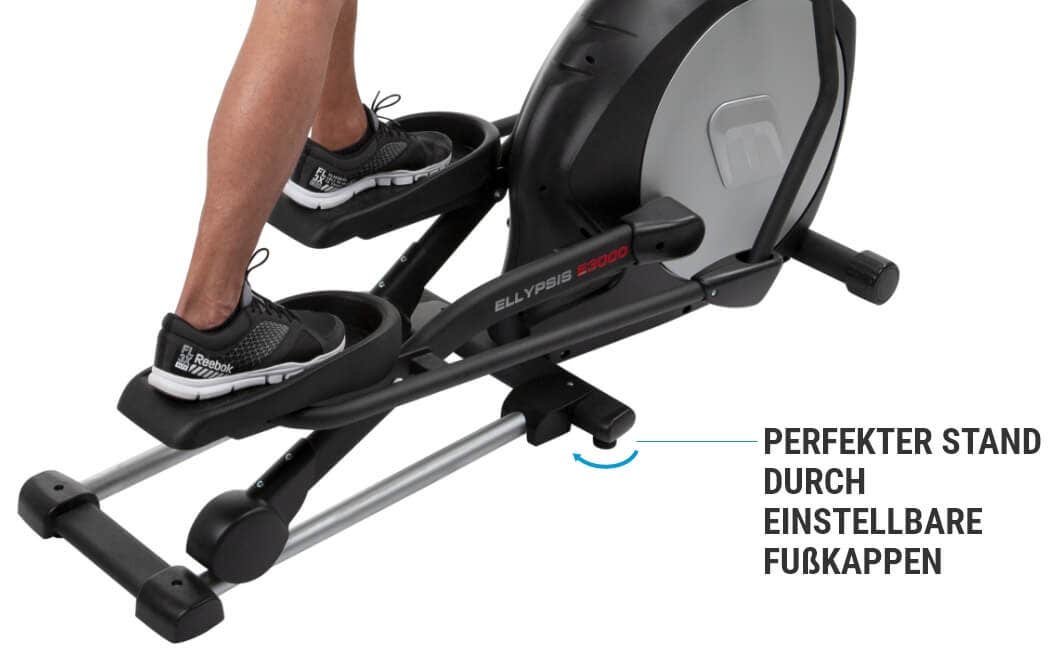 Mobil and safe
4-point floor contact system to level out uneven flooring
The 4-point floor contact system of your Ellypsis E3000 has the machine standing perfectly stable for your safety. The adjustable foot caps help level out any uneven areas on the floor. Once you have completed your intense workout session, the Ellypsis E3000 can be moved easily to one side of the room via the two integrated transportation rollers attached to the front. The compact dimensions of 165 x 55 x 158 cm mean that your Ellypsis E3000 won't take up too much space.
Computer
Multimedia
Tablet support, USB
Integrated pulse receiver for chest belts
5 kHz
Display
Load profiles
Distance, Speed, Heart rate, Calories, RPM, Time
Programs and profiles
Heart rate controlled programmes
2
Adjustable pulse limit
Upper and lower pulse limit
Drive/brake system
Drive system
Grooved belt
Load control
RPM dependent
Braking system
Permanent Magnetic
Resistance adjustment
Computer controlled
Dimensions and weight
Build up size (L x W x H)
165 x 55 x 158 cm
Other features
Transportation rollers
Yes
DIN Norm
DIN EN ISO 20957-1/9
Shipping
Delivery time
4-8 working days
Scope of delivery
Ellypsis E3000
Delivery Information
Delivery to curbside (Please leave your phone number when ordering, so we can arrange a suitable delivery date for you)
Private use
on the main frame
10 years
Clients ask, our fitness experts answer
Do you need more information about the product? Ask your question here. Our fitness experts will answer quickly and easily.
Our recommendation for you